When You Go

Paris, France
Getting There: Depending on your U.S. departure city, airlines serving the two airports of Paris, Charles de Gaulle and Orly, are: American, Air France, British Airways, Continental, Delta, Lufthansa, Scandinavian, Swissair, TWA, and United. Web links are listed in this magazine's Airlines page.
You won't need or want a car in Paris. Taxis are available at the airport to take you directly to your hotel. Train and metro connections are also available. If you are continuing your journeys throughout France by car from Paris, it is recommended to rent a car from the United States before traveling. Most major car rental agencies service both Orly and Charles de Gaulle airports. The 1-800 phone numbers and Web links are listed in this magazine's Autos page. The road map, Michelin France, is recommended for your driving in France.
Staying There: Paris lodging is often booked out, so it is wise to reserve ahead. Hotels are available in all the districts of the city. The guidebooks below recommend a number of good establishments. The Paris Hotels web site below is an excellent internet resource for finding and booking lodging. My wife and I had an excellent experience in renting an apartment in Paris in the Latin Quarter, close to Place St. Michel. This is a good option if your stay will be for a week or longer: www.flat-paris.com.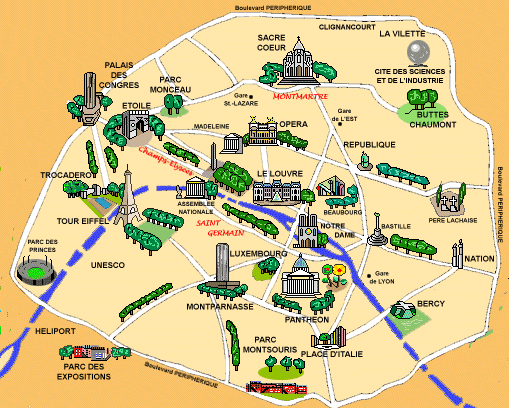 Paris Map -- Courtesy: Tourism in France
Practicalities: Paris is divided into districts (arrondissements). Addresses have the following format: [number, street (arrondissement number). Metro strop.] For example the address for the Delacroix Museum is: [6, rue de Furstenberg (6e). Mo St-Germain-des-Pres.]. The Pariscope guide for current events lists international time (17h30 means 5:30 pm), price in Euros (E), and days of the weeks (tlj = every day, Lun = Monday, Mar, Mer, Jeu , Ven, Sam, Dim = Sunday). Your hotel receptionist can help you if you get confused.
Four important French words are bonjour (good day), bonsoir (good evening), s'ill vous plait (please), and merci (thank you). Many of the waiters and cab drivers may seem a little arrogant to foreigners, but a smile, patience, and these four words will make a big difference if you don't speak French. The French population is generally very industrious, genial, and they know how to savor the joy of life (joie de vivre).
Recommended Guide Books:
Rick Steves Paris: The best guide for the best that Paris has to offer, saving you time and money in the process.
Rick Steves France. A great chapter treatment of Paris; the best itinerary for France.
Michelin Pocket Paris Atlas: Indispensable when you are trying to find a specific location.
Access Paris: Info by district, with recommended shops, cafes, restaurants, and complete site information.
Return to Paris Kaleidoscope article.