Paris Kaleidoscope


The "City of Light" Has Many Facets
The Gothic flying buttresses of Notre Dame Cathedral, illuminated by floodlights, soared into the Parisian night sky. Periodically, a Bateau Mouche filled with sightseers created a ruffled wake in the Seine River. My wife and I were seated at a table on the Kiosque Flottant, a café barge docked just across the Seine from Paris' central island, Ile de la Cite. As we sipped a nightcap brandy we reveled in thoughts and talk of another incredible Paris day: a dim walk through the Catacombe's cave of skulls and bones, a sunny picnic in the Luxembourg Gardens, an afternoon visit to Centre Pompidou's Museum of Modern Art, café time at Place Stravinsky near the colorful fountain, dinner at a brasserie, jazz in the Latin Quarter, and an evening stroll to the River Siene. Now, as a close to the day, we had but a 200-meter walk to the Latin-Quarter apartment that we'd rented for the week.

We are "hooked" on Paris. We start or end every trip to Europe with a multi-day stay in the City of Light, lured by the incomparable variety of history, art, architecture, monuments, boulevards, gardens, plazas, and the energetic café and night scene. Each visit leaves us with new impressions and memories, and eager to return for more exploration.


Notre Dame towers over the Seine
River and the Kiosque Flottant.
Paris Orientation
If you are a first time visitor, jump right into the action by taking a walking tour centered on Ile de la Cite (Central Paris Walk below). Then branch out and put together your own daily agendas based on your personal interests. As suggestions, some of our favorite sites and attractions are listed by category below. You can center a day's activities in one city district, or with the convenience of the Metro you can easily "hop around." Take it at a leisurely pace and be sure to leave time to "do as the Parisians do" – sit in a café for conversation and people watching. It's half the fun of Paris.
| | |
| --- | --- |
| The Eiffel Tower and Seine River | Paris jazz club scene |
A complete guidebook such as Rick Steves' Paris or Access Paris will arm you with the information to plan your daily itineraries, save money, avoid the crowds, and find the best cafes, restaurants, and clubs. For a rundown on the current events, including music, arts, theater, movies, and restaurants, buy the weekly issue of Pariscope at a newsstand or tobacco shop (tabac). Also, be sure to obtain a metro map, available at most hotels, and a detailed street map with street numbers, such as Michelin Paris Pocket Atlas.
Central Paris Walk
This self-guided Paris walk (map below) introduces you to very heart of the city. You'll feel the history and the energy at every site and with each river view. Allow a half-day to explore and enjoy a café and lunch break. You'll start on Ile de la City, the island in the Seine River that was the original Parisii fishing settlement in 300 B.C. Start by touring Notre Dame Cathedral. The engraved façade is incredibly detailed with hundreds of figures rising up to the gargoyles on the towers above. Then walk to the far end of the island and visit the Deportation Memorial at the Square de l'Ile de France. Descend into the memorial where 200,000 points of light represent the 200,000 French people who died in Nazi concentration camps in WWII. Now cross the bridge, Pont de l'Archeveke, to the Left Bank (south of the river), and continue along Quai de la Tournelle to Rue St. Julien, where you'll find two of Paris' oldest churches, St. Julien and St. Severin , as well as a variety of Latin Quarter shops. Follow St. Severin to Rue Harpe, through the heart of the Latin Quarter to Place St. Michel and choose one of the many cafes for a break.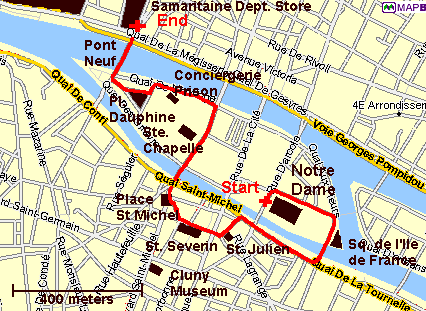 Central Paris walk (Map base from MapBlaster)
If you're in the spirit to learn more about Paris history, take a detour 200 meters south on Blvd. St. Michel to the Cluny Museum, filled with artifacts and tapestry from the middle ages. Now continue your walk crossing the bridge, Pont St. Michel, back onto Ile de la City to visit the beautiful Gothic church, Ste Chapelle. Both Notre Dame and Ste. Chapelle date from the 1200s, but Ste. Chapelle takes the prize for beauty due to its incomparable stained glass windows. Continue on Blvd. du Palais to Quai de l'Horloge along the river and find the ancient Conciergerie Prison, used by French royalty to torture enemies of the crown, then later used by the French Revolutionaries as pre-guillotine lodging. Walk to the far end of the island through beautiful Place Dauphine, then cross the river on Paris' oldest bridge, circa 1600, ironically called Pont Neuf (new). You are now on the Right Bank at the Samaritaine, Paris' largest department store. Take the elevator to the top floor and find the terrace for a Paris panorama. The view encompasses the Arc de Triomphe, Eiffel Tower, Napoleon's Tomb, Notre Dame, and Sacre Coeur church. You are now well initiated to Paris!
| | |
| --- | --- |
| The Arc de Triomphe | Stravinski plaza, fountain, and cafes |
Favorite Paris Sites
Mix and match your explorations according to your interests and moods. You'll never run out of new places to visit. For example, Paris has approximately 100 museums. Add the day-trip possibilities outside of the city to places such as Versailles, Giverny, etc. and one could spend a lifetime here. These are our current favorites.
Cathedrals:
Notre Dame: No. 1 in Paris for its size, location, and history...Who did I see peeking down from the bell tower?
St. Chapelle: The most beautiful stained glass windows anywhere.
Sacre Coeur: The white marble church is visible from all Paris atop the Montmartre hill.
Plazas:
St. Germain des Pres: The church, the energy, and the cafes make this spot.
Place des Vosges: This Marais district square is lined with classy 18th century homes
Place de la Contrescarpe: In the Latin Quarter; full of students and history.
Place Stravinsky: Next to the Centre Pompidou; outlandishly fun fountain.

Gardens:
Luxembourg: Watch the local kids and their boats in the fountain pool.
Tuiilleries: Bordered by the Seine, Louvre, Place de la Concorde -- a perfect location.


Local Montmartre color
Museums:
Louvre: The world's largest museum also has the best overall collection.
Orsay: Our favorite due to its focus on impressionism -- Renoir, Monet, Degas, etc.
Carnavalet: Covers Paris history in an exciting fashion. Good treatment of the Revolution .
Marmottan: Approximately 100 works by Monet.
Rodin: France's top sculptor is displayed in a beautiful mansion and gardens.
Delacroix: The home and studio of this 19th century classic style master.
d'Art Moderne (Centre Pompidou): Funnest museum: Warhol, Chagall, Matisse, etc.
Picasso: This aristrocratic mansion from the 1600s houses a large rotating collection.
Jacquemart-Andre: An interesting mansion from mid-1800s, with great Italian art.
Maison de Victor Hugo: Author's home on Place des Vosges brims with history.
Monuments and Boulevards:
Place de la Concorde: Grand statues, the Egyption obelisk, and the most traffic.
Eiffel Tower: The famous tower deserves a trip up its elevator for the view.
Blvd Champs Elysees: The chicest and highest energy boulevard in the world.
Arc de Triomphe: Napoleon's famous arch commands Blvd. Champs Elysees.
Blvd St. Germain: Filled with plazas, shops, restaurants, and cafes.
Cafes:
Les Deux Magots: The best known Paris café, home to Hemingway, Sartre, and others.
Café de Flore: A few doors down from Les Deux Magots.
Kiosque Flottant: It's the location -- a barge floating on the Seine near Notre Dame.

Sacre Coeur church sits atop Montmartre
.


Renoir's "Country Dance" & "City Dance"
at the Orsay Museum
Jazz Clubs and Music:
Caveau de la Houchette: No place in town jumps like this underground club with 30s-50s swing.
New Morning: on Place de la Republique, a place for true jazz connoisseurs.
Eglise Americane: Free is a very good price; concerts from chamber music to jazz.
Shopping:
Forum des Halles: This underground mall is full of shops.
La Samaritaine: Paris' largest department store.
Lafayette Galleries: Paris' most beautiful department store is a block from Opera Garnier.
Movie Houses:
UGC Cine Cite in the Forum les Halles: 18 cinemas, many American films (V.O.).
Varied:
Bateau Mouche: Touristy river cruises, but worth the views from the river.
Paris sewers: Egouts site at Pont de l'Alma accesses 500 meters of ancient sewers.
Catacombes: You won't believe it, a mile-long quarry tunnel lined with bones and skulls.
Promenade Plantee Park: Newly landscaped, three-mile promenade atop an old rail bed.
Pere Lachaise Cemetery: Where Paris' most famous people are buried, including Delacroix,
Gericault, Oscar Wilde, Sarah Burnhardt, and Jim Morrison.
Outside Paris (day trips):
Versailles: Incredible! Did people really live like this? King Louis XIV's spot.
Chartres: A beautiful Gothic church and interesting town.
Giverny: Where Monet lived the last forty years of his life… Water lilies, water lilies.
Auvers sur Oise: Small village and home where Van Gogh lived his last three months.
Chantilly: A beautiful chateau, grounds, and stables at "just the right" aristocratic scale.
Click here for details to plan your own trip to Paris, France.
Les Furnanz
Photos by Rita Furnanz