It begins with a fourteen-hour flight from New York to Doha, Qatar, then another four to Kathmandu. Add some of the scariest air time you can imagine into Nepal's second-most populous city, Pokhara. Still ahead is a eight-hour, body-jolting, four-wheel jostle as you Maytag along a slender roadway etched between a vertical wall and a 200-foot precipitous plunge. When you finally unload in Kagbeni, 9,000 feet up in the Upper Mustang region of the Himalayas, it takes a bit to absorb what you've been through and where you are.
Travel can be a reward or an escape, a celebration or a catharsis. It can be educating, surprising, even life changing. And it's always interesting what ignites the travel bug. For Boulder resident Jeff Blumenfeld, it began with a cross-country bus trip and has led him to the tallest mountains, driest deserts, snowiest landscapes, and most remote outposts around the globe.
Growing up in the Catskill Mountains of southern New York State, he watched an annual influx of summer visitors to the fancy resorts in and near his small town. Travel seemed evolutionary for many of them and he yearned to understand. Nourishing this desire, his parents sent him on a summer YMCA teen bus tour criss-crossing the country.
And as Jeff puts it, he's "been high on adventure" ever since!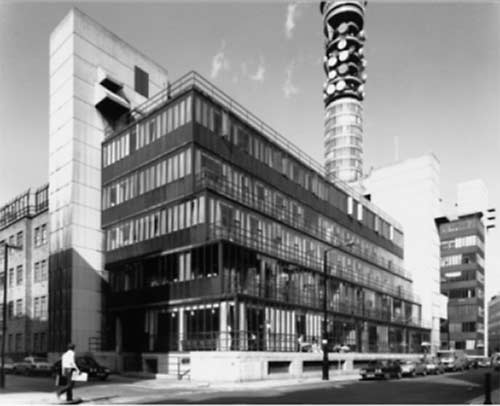 Attending Central London Polytechnic College in the 1970s allowed Jeff to indulge his travel urge.
Heading to London for a semester during his junior year of college, he made good use of a four-day class schedule and affordable student air and train fares to explore the British Isles and northern Europe. He chuckles over shaking hands with an Irish skeleton from the Crusades and discovering that even a hovercraft can't prevent seasickness crossing the English Channel.
After nearly five decades, Jeff still picks London as one of his most interesting destinations, seeking out lesser-known, off-the-beaten-path attractions like the Imperial War Museum and Churchill's War Rooms, and prowling the flea markets on Portobello Road near Notting Hill and enjoying the diverse opinions freely expressed at Hyde Park Corner not far from Buckingham Palace.
But London was only the start of his world-wide adventures.
After studying public communications at Syracuse University, Jeff went to work at a PR firm in New York where he was assigned the account for a ski equipment manufacturer. It was the perfect fit for a kid who started skiing at age 5, and whose knack for promotion included the then-16-year-old driving a dog sled team through Central Park as a ski show stunt for his local ski hill.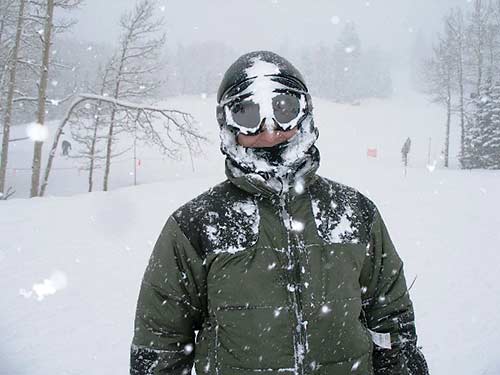 Passionate about downhill skiing, Jeff has kept a log of every ski day since 1972 –
over 900 of them. He hopes to someday ski his age in a single season but work
keeps getting in the way. Believing it's often all about the snow, he pronounced
this day of non-stop powder runs at Park City one of his best days, ever.
In 1980 Jeff opened his own PR firm, Blumenfeld & Associates, focusing on outdoor sports and recreation, special events and adventure marketing. His long list of clients includes familiar names like Coleman, Duofold, Du Pont, Eddie Bauer, Lands' End, Michelin, Ralston Purina, Timberland, Timex, Virgin Atlantic and W.L. Gore. Projects have included taking a team of ski instructors 12,000 feet up into the Andes Mountains of Argentina to test ski apparel, and heading to Chile to organize the first downhill ski race in Antarctica, featuring 1964 Silver Olympic-medal winner, Billy Kidd.
| | | |
| --- | --- | --- |
| | Jumping upward – or would that be downward? – from the bottom of the world, Jeff's glad gravity doesn't let him fall off the planet. He pauses after going ashore on Antarctica , relishing the extraordinary opportunity to walk among 10,000 nesting adelie and gentoo penguins. | |
Earth's southernmost continent proved so captivating, in 2010 Jeff volunteered to chaperone a group of international high school students on a Students on Ice (studentsonice.com) tour to the Antarctic peninsula, providing lectures on the subject of exploration. It was to be one of the most educational places he has been, with the chance to go ashore and learn about the wildlife. He declared it an "FOMO" experience: "You hardly wanted to go to sleep over Fear Of Missing Out on another golden sky, pod of whales, or iceberg sighting."
Jeff is well qualified to lecture on the topic of exploration. While living in Connecticut, he was an adjunct faculty member of NYU. Now residing in Boulder, Colorado, he is an Adjunct Professor at the University of Colorado Boulder.
So much for presentation abilities, what about the "expedition" side of it, you ask? Let's start with being a Fellow of the Explorers Club, toss in a Fellow of the Royal Geographical Society in London, and include membership in the American Alpine Club just for good measure. Jeff knows and practices what he teaches.
| | | |
| --- | --- | --- |
| | An avid fisherman, Jeff enjoys an evening on Long Island Sound with current Explorers Club President Richard Wiese, creator and host of the Emmy award-winning TV series "Born to Explore." Fly fishing off the Sound can be difficult; on many occasions he reports getting "skunked," having caught nothing more than seaweed. | |
Created in 1904, the NY-based Explorers Club is an "international multidisciplinary professional society dedicated to the advancement of field research and the ideal that it is vital to preserve the instinct to explore." Members of the Explorers Club have been the first to the North Pole, first to the South Pole, first to the summit of Mount Everest, first to the deepest point in the ocean, and first on the surface of the moon.
Jeff was sponsored into the Explorers Club by Polar explorer Will Steger, whose teams and sled dogs trudged their way to both the North Pole and across the vastness of Antarctica. He says, "To have sat through presentations by Sir Edmund Hillary, Neil Armstrong, Buzz Aldrin and Carl Sagan were highlights of my adventurous career." Director of Communications for the Explorers Club while living in Connecticut, Jeff is now Chairman of the Rocky Mountain Chapter.
His Fellowship in the Royal Geographical Society, founded in 1830 "for the advancement of geographical sciences," has included providing two presentations on adventure marketing. In 1994 Jeff launched ExpeditionNews, a monthly on-line newsletter and blog, to share updates and insights in this field.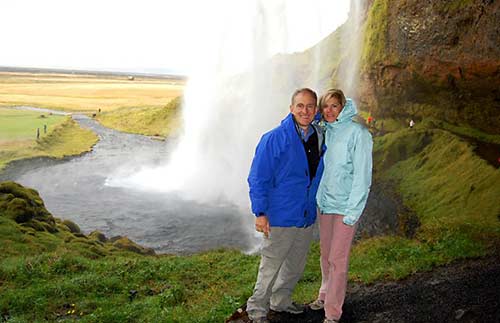 Over a dozen trips in twice that many years, Jeff – here with wife Joan –
can never get his fill of Iceland's mind-boggling beauty.
As part of his promotion of the travel industry, Jeff's study for the Greenland Tourist Board found him heading nearly 200 miles north of the Arctic Circle. But nearby Iceland proved to be the most surprising place he has been. He is amazed "how incredibly clean and pure Iceland can be, combined with the country's great art and culture, and fresh foods. I've been there 15 times in 25 years and have learned a few Icelandic words myself. Hands down, the place I'd most like to revisit."
An island nation about the size of Ohio skirting the edge of the Arctic Circle, Iceland inspired Jeff to help promote their small day-ski resorts and a golf tournament under the Midnight Sun. Astronauts were sent there in 1965 and 1969 in preparation for the Apollo moon mission, the perfect training ground in field geology, preparing them for work on the surface of the moon. When the 2019 Icelandic documentary film, "Cosmic Birth," was made focusing on the human side of the journey to the moon and viewing earth from a quarter million miles away, Jeff was honored to be asked to participate on camera.
Other trips have taken him to Anadyr, an isolated port known as the easternmost "official town" in Russia; to an Eskimo village on Canada's Baffin Island; time in Yellowknife, capital of Canada's Northwest Territories. Include two weeks in Nome and Anchorage, Alaska, while promoting an expedition across the Bering Strait, and you might get the impression Jeff spends a lot of time near the Arctic Circle.
| | | |
| --- | --- | --- |
| | Cub Scouts sparked Jeff's love of the outdoors, which he shares with his family. He and daughter Jenna hike the mountains surrounding Chamonix, France. Back in Colorado he poses with his father, 90 years young at the time, atop the Continental Divide. | |
Traipsing around remote regions of our planet isn't all about work for the Blumenfeld household. Jeff's wife, Joan, was a customer service rep for a Vermont-based skiwear company when they met, and their first date took them to the slopes of Killington, VT. Daughters Julie and Jenna grew up immersed in the outdoors, skiing and travel. Barely middle-school-age, they had already accompanied mom and dad to Europe, Iceland and much of the Caribbean. Jeff reminisces, "Riding pony-sized Icelandic horses across a field near Reykjavik are one of the highlights of their childhood." They still love to visit any place in Europe that broadens their horizons, with memorable experiences during a visit to Spain remaining a standout destination.
An enthusiastic kayaker and sailor, Jeff was media relations director
for the longest nonstop sea voyage in history - the 1,152-day journey made by Reid Stowe from 2007-2010 without resupplying or pulling into any harbor. While living in Connecticut, Jeff spent most summer weekends paddling along the shoreline. Now landlocked in Colorado, he doesn't regret trading the sea for the world class skiing offered by the nearby Rocky Mountains.
For Jeff, travel must do more than R&R. He says, "I am a lousy vacationer, bored silly sitting on a beach or touring umpteen churches on cruise ship excursions. Being a regular tourist is not enough for me. I want a meaningful role when I travel. I long wondered how I could explore the world and help the less fortunate even if I didn't possess specialized skills."
Which brings us to Nepal. Jeff recalls his most perilous travel moment ever was "crossing a raging river in Nepal on expedition. The water was above the windshield wipers of our Land Rover. Our driver, who spoke no English, took a huge risk crossing there and I was petrified." But that trip also became his most rewarding.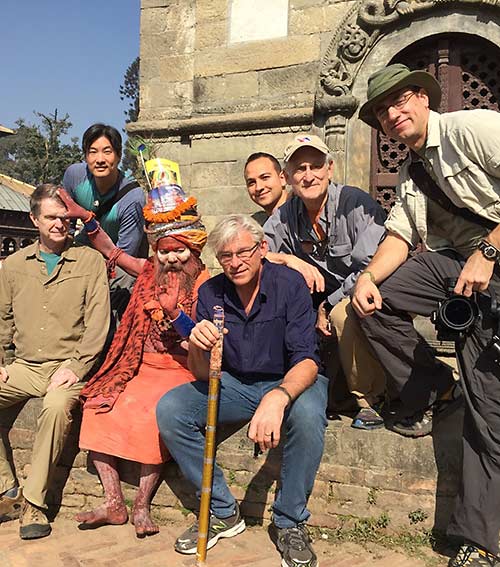 Sightseeing in Kathmandu while recovering from a very long flight,
the Dooley Intermed team received a blessing from a Sadhu, or holy person.
For just $2 US, they figured it couldn't hurt.
Looking for ways to continue traveling and exploring but also giving back, Jeff signed up as Communications Director for the Dooley Intermed Foundation (dooleyintermed.org) which was sending a team of ophthalmologists to Nepal, where it is estimated 80% of blindness is avoidable or curable. In May 2013, the "Gift of Sight" expedition provided eye screening, eyeglasses, and needed surgeries to over 700 impoverished Nepalis.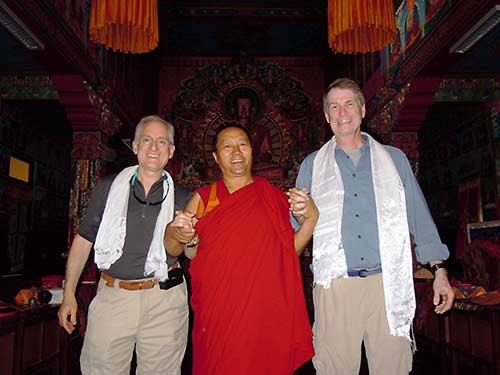 Jeff (left) and Gift of Sight expedition leader, Dooley Intermed president
and fellow Explorer Club member Scott Hamilton (right)
accept ceremonial khata scarves from a Buddhist monk,
bestowed in appreciation of their efforts to perform
cataract surgery in the remote hillsides of Nepal.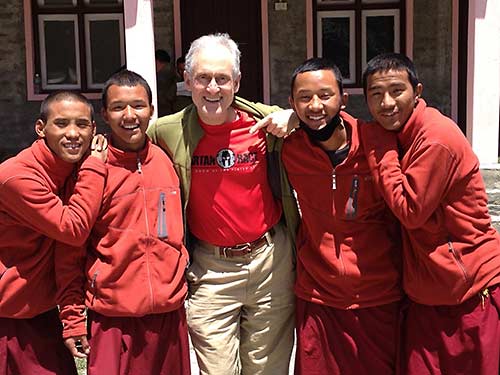 During both medical missions, local Buddhist monks
able to converse in English, Nepali and Tibetan
were enlisted to assist the doctors and patients.
It was such a success, Jeff signed on again, and in December 2017 arrived in the Upper Gorkha region, epicenter of the massive 2015 earthquakes. In four days they examined over 800 patients and performed 71 surgeries. Jeff says these are his most rewarding trips of all, "Seeing formerly blind Nepalis gain their eyesight after years of blindness thanks to a cataract medical mission."
Watch the 2017 Gift of Sight documentary here: https://vimeo.com/256732590
Always ready to share what he learns, in 2009 Jeff published You Want to Go Where? How to Get Someone to Pay for the Trip of Your Dreams, chronicling a number of ski expeditions to the North and South Poles. Revised into a how-to guide for fund-raising expeditions and adventure journeys, it was re-released in 2014 under the title Get Sponsored: A Funding Guide for Explorers, Adventurers, and Would Be World Travelers.
Appreciating that other travelers also want to expand their horizons yet give back and make their trips more meaningful led to his latest book, Travel With Purpose: A Field Guide to Voluntourism, released in April 2019 (travelwithpurposebook.com). Aimed at anyone who travels, Jeff shows how easy it can be to volunteer time while on vacation, or just pack needed medical or school supplies in your luggage that can be donated upon your arrival.
Jeff believes, "Everyone should lend a hand wherever they go, whether for an hour, a day or a week," anticipating they "will find voluntourism more meaningful, more memorable, and perhaps transformatively life-altering."
But he cautions to investigate your volunteer work carefully, an example being some dubious Nepalese orphanages housing children who have parents living in rural villages. Jeff's Top Five tips for all travelers includes: Stay safe, don't pet the monkeys or dogs, make sure bottled water hasn't been resealed, food must be piping hot or unpeeled, and keep your vaccinations up to date.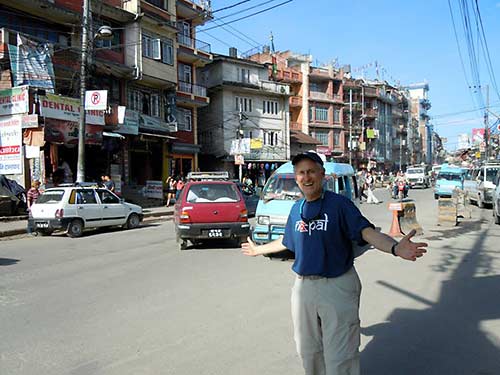 Jeff isn't big into souvenirs, noting, "Experiences are what matter most in my life.
Yet when I saw this shirt in Kathmandu with the Nepal flag on it, I knew I needed one.
Nepal is the only country in the modern world that does not have a rectangular national flag.
It's said that its sharp points represent the Himalayas."
For some, travel seems to be a competition about how many passport stamps they can collect, or hitting the highlights so they can "been-there-done-that" with the selfies to prove it. Others just want somewhere to tune out and recharge. No problem with those reasons, but what separates the experienced traveler from the tourist is really caring about and wanting to understand their destination: Who are the people? What is their culture? What is their history? And how can I make a difference?
Step beyond your comfort zone and you might discover a new purpose in life. It can lead to places you'd never think to visit, people you'd never imagine meeting, and experiences that educate your mind and touch your soul.
Jeff believes he's had "an extraordinary life full of unique experiences, and I like to think it ain't over yet." New Zealand is still at the top of his Bucket List. "From everything I hear, it sounds like my kind of place."