If you've been to British Columbia, Canada, you probably know about the town just south of Vancouver and its Asian food scene. We're talking about Richmond, with its 200-plus Asian restaurants, cafes, mall shops and whatnot along a single three block stretch of Alexandra Road.
It's got such authentic Chinese, Japanese, Malay, Korean that the joke is that folks come here FROM Asia to get good food.
Well, there IS more to Richmond than just what locals call "Food Street."
There's the weekend night market. There's Vancouver International Airport (no kidding) and its hotel's gourmet restaurant and another hotel within sight of the night market with an enthusiastic chef that, when he's not creating edible art, runs a mini cooking school for budding young chefs on his staff.
| | | | | |
| --- | --- | --- | --- | --- |
| | | | | |
| | Richmond Night Market | | Inside Richmond Public Market | |
There's the Olympic Oval with its Olympic museum and a lineup of interactive wanna-be-Olympic-athlete rides.
There's this couple in an industrial warehouse nook who have brought science (and ultimate deliciousness) to chocolate.
And Steveston, with perhaps Canada's most expensive pizza (how does $850 sound to you), a killer museum showcasing early immigrant/worker life and, of course, the waterfront.
So, yes, there's more.
Richmond is 74 percent Asian descent, mostly from China, Hong Kong and Taiwan. This dates back to the handoff of Hong Kong to China in 1997. Until then, since both Hong Kong and Canada were part of the British Commonwealth, it was easy to move here. And those who could, did.
Today, locals call it a trip to Asia without the jet lag.
But first, of course, a bit about the food scene.
Rather than concentrating on Food Street as so many people do, we went farther out, revisiting one of our fav unsung spots, sampling a couple of places from the area's "Dumpling Trail," diving into Korean shave ice and, of course, the weekend night market.
Our first stop...HK BBQ Master. To visit, you duck into the covered parking garage beneath Richmond's Superstore (Canada's answer to Costco). The expected roast ducks, chickens and ribs hang in the window. If you are serious about coming, you MUST be here before the place opens at 11am. We arrived at 11:10 and already, there were no seats. Good news -- the place is planning an expansion, adding at least a handful more tables.

What's good here? BBQ pork is everyone's favorite, followed closely by their version of cracklings and soya chicken.

That chicken is a story by itself. They make their own soy sauce using a chicken broth base...with sugar, salt, sesame oil, rock sugar and 10 "mystery" spices. It comes warm to the table.

BBQ duck, pork and chicken at
HK BBQ Master, Richmond BC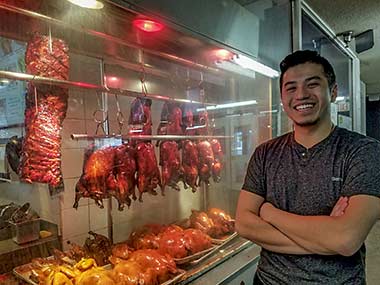 BBQ meats in window of HK BBQ Master
"For the chicken, we get the soy sauce boiling, then turn off the heat and push the chicken down, add spices, a bit of white wine and let it sit maybe 50 minutes," said Anson Leung, the owner's son who often runs the place.
"How and when to put in the chicken makes all the difference in how it comes out." The result is fork tender, a touch sweet, a bit salty and absolutely delicious.
At Samsoonie, we met Korean food as art.

The kimchi came as an assortment of different types arranged on a wood palette. It's salted, fermented veggies...pungent, sharp, highly seasoned. But the table fav was pork belly in a graceful circle of slices on a granite palette. Pork belly, with its melt-in-your-mouth meat topped by a crispy rind, is one of those things that play to the most basic of human cravings - fat and salt. Like potato chips, you can NOT stop at one.

Samsoonie is also part of Richmond's Dumpling Trail. Richmond lists 20 places on the "trail," which takes you the length and width of the city. The trail pamphlet says it best: "The crispy, chewy, pot sticking, pan fried, deep fried, stuffed with soup, stuffed with meats kind of dumplings. And on this trail, no hiking is required -- just an empty stomach."

And how.

Kimchi as art
We finished our mini tour at Snowy Village Cafe...another of those easy-to-miss storefronts in an easy-to-miss strip mall. Their specialty is Korean shave ice, known as bingsoo. The ice is finely shaved to a weightless fluff to which is added sweetened condensed milk and fruit - and in our case, LOTS of mango. So much mango, so much icy spun silk, so much creamy sweetness that it took four of us (one of whom is 6-foot-5) to finish it.
But Richmond isn't all Asian food.
Steveston, where, incidentally, the TV series Once Upon A Time and The Crossing were filmed, is where the boats come in with their fresh catch.
On weekends, especially, you can wander the dock and pick up fish that was alive hardly a few hours earlier. Dungeness crab, urchin, prawns, black cod, lingcod, salmon, tuna. The list goes on and on. And yes, you can bring it back into the US.
| | | | | |
| --- | --- | --- | --- | --- |
| | | | | |
| | Fish for sale at Steveston dock | | Fresh shrimp for sale dockside in Steveston | |
| | | | | |
| --- | --- | --- | --- | --- |
| | | | | |
| | Homemade bread for sale in Steveston | | Cafe along Steveston waterfront | |
"There are two things you absolutely have to get in Steveston," a local friend told us: "Fish and chips, and ice cream." (On a hot day, don't miss Screamers' root beer float with soft serve).
But also take home fresh bread, made by Nick Cohen at his Romanian Bakery. Yes, the signature loaves are $30. But there's a smaller version, just as tasty, for $10.
Oh, and what is billed as Canada's most expensive pizza, courtesy of Steveston Pizza Company. Yep, for just $850 it comes with, as the menu points out, a "medley of tiger prawns, lobster ratatouille, smoked steelhead, Russian Osetra caviar, snowed with Italian white truffles."

Ok, who does that? Not us.

But one Seattle family did pop for the $52 version that was laden with shrimp, crab legs, tiger prawns and smoked salmon. They were happily smacking their lips as we watched. The surprise of the trip was a pair of gourmet restaurants in hotels, one actually in the Vancouver International Airport and the other not far away.

$52 pizza in Steveston
Chef Robert Uy runs The Apron restaurant in the Westin Wall Centre, practically walking distance from the airport and overlooking the weekend night market. The restaurant is ground floor, unassuming, decidedly breakfast nook in feel.
That is, until dinner arrives.
We loved the blow-torched tuna Aburi appetizer, but our taste buds nearly proposed to the Haida Gwaii halibut. The fish came dusted with tamarind and lime powder, seated gently in a coconut green curry broth. The combination of tangy citrus with a hint of coconut and just enough curry complemented rather than overpowered what is a delicate fish. Our mouths are watering as we write this.

Seared tuna at Westin Wall Centre Hotel Restaurant
Uy's real joy is creating new chefs. He told us about a 19-year-old who was so eager to learn, he went from raw to accomplished cook in two weeks. Uy loves nothing more than running what amounts to a mini chef's school for those eager to learn.
Then, there was Globe@YVR, the Fairmont Vancouver Airport hotel's gourmet restaurant. There is a very special package for those with a comfortable travel budget ($1,099 Cdn for two) that includes a Signature room, private tour of nearby Steveston and cooking clinic by Executive Chef Colin Burslem.
Yes, we learned how to properly cook crispy fried halibut cheeks. Yes, they were melt-in-your-mouth delish, served with home made tartar sauce and a tangy rouille. And yes, we learned about how many things a chef can do with a single fish.
"We use it all," Burslem said.
The skin becomes chicharron (fried into chips), the filets become dinner, the cheeks become their own special thing, the rest of the meat becomes ceviche, and the bones go into stock for broth.
Forgot to ask about the eyeballs. They surely go into...something.
We drove home the next day with leftovers. LOTS AND LOTS of leftovers.
We were still nibbling on BBQ and chocolates days later.
If only we could have preserved the shave ice.
INFO
Richmond is south of Vancouver in lower mainland British Columbia. It's a half hour by car or the Canada Line Skytrain from downtown.
Beyond the wealth of Asian eating there is more:
* Steveston with not only the whole fish-laden dock scene but also Britannia Shipyards National Historic Site...eight acres of buildings dating back to 1885 and stories of early life. How you lived and worked depended on where you came from. Europeans were managers and lived in relative comfort. First Nations (Indian) women lived with their children in longhouses, families separated by blankets. Chinese men lived sometimes 100 crammed into a building hardly 100 feet long and 50 feet wide while earning maybe half what the Europeans made. You can wander all these buildings, furnished much as they were back then.
| | | | | |
| --- | --- | --- | --- | --- |
| | | | | |
| | Preserved immigrant bedroom at Britannia Shipyards Historic Site | | Manager house kitchen at Britannia Shipyards Historic Site | |
* The Richmond Night Market, running Friday, Saturday, Sunday and holiday Mondays. It's the largest night market in North America. With 400 booths, half food - half trinkets, ranging from Lego kittens and kitschy socks to psychic readings. Heavy on Asian food, there's just about anything you might want from seared pork belly and Rotato (chips on a stick) to shrimp-stuffed crab claws to the ubiquitous spun dragon beard's candy (think Chinese cotton candy) to cinnamon-laced French fries. A tip: Sunday and holiday Mondays have lighter crowds. This year it runs May 11 to Oct. 8, starting 7pm.
| | | | | |
| --- | --- | --- | --- | --- |
| | | | * The Richmond Olympic Oval. Yes, someone actually repurposed an Olympic site and it's thriving. This place is part gym, complete with climbing wall and beachfront with well-muscled guys doing burpees, and part museum. The newly opened Olympic Experience is an interactive museum featuring, among other things, all the medals and torches, including the first torch from 1936. But most fun is the interactive "sport simulators." Try the ski jump, the kayak and the race car while screens bring you down the racecourse. The bobsled lets you control your turns and gives you your run time. And the race car has you try to balance between speed and survival. | |
| | Interactive ride at Richmond Olympic Experience | | | |
* Wild Sweets, unexpectedly located in a warehouse complex, is for the chocoholic in you. For $45 Cdn in the Meet the Makers session, you get owner Dominique Duby's expansive history of chocolate and a step by step tour of how he goes from beans through roasting (an intensively delicate process), refining, something called conching (to mix sugar into the chocolate "liquor"), aging, packaging and so much more (14 steps in all). Duby explains that many chocolatiers don't hassle with the "finding and processing the beans" part, but he and his wife do.

And through all this, you slurp (tea made from coco plant husks that smells of chocolate but tastes more like green tea), hot chocolate and more chocolate nibbles than any sane person can swallow in a sitting. Among the more fascinating parts...pairing specific chocolate with not only wine (more difficult than you think since both red wine and chocolate are heavy in tannin) but, yes, beer. The "wine" chocolate is sharp and heady, the beer chocolate is so mild, it almost comes off as plastic. And yet, both work. Oh, and don't miss his chocolate as art murals. They really ARE art.

Duby also explains that he and his wife Cindy have partnered with a chemist at University of British Columbia to research the scientific side of chocolate.

Chocolate clinic at Wild Sweets
Contacts:
* Richmond, BC - https://www.visitrichmondbc.com/
* Steveston - https://www.visitrichmondbc.com/discover-richmond/steveston-village/
* Britannia Shipyards National Historic Site - https://www.richmond.ca/culture/sites/britannia/about.htm
* Richmond Night Market - https://www.visitrichmondbc.com/food-and-drink/night-markets/
* Richmond Olympic Oval - http://richmondoval.ca/
* Wild Sweets - https://www.dcduby.com/