You've heard the old adage "you can't get there from here," but for snow sliding enthusiasts the truth is quite the opposite in this case: you CAN get there from here and pretty much everywhere in Salt Lake City's ski environment, and quite easily as it turns out. Utah has long been known to receive the "greatest snow on earth."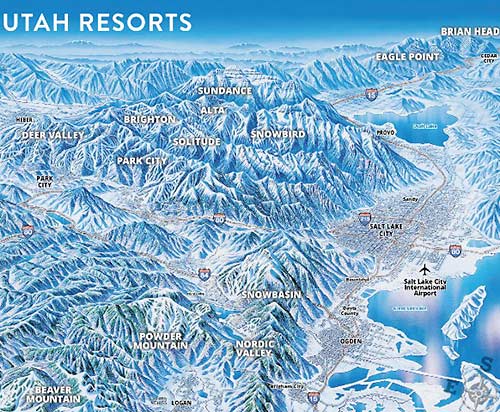 (image courtesy Ski Utah)

Salt Lake City International Airport benefits from direct flights in and out of most major U.S. mainland airports. Even departures from cities like Anchorage, Honolulu, Mexico City and Quebec City offer same-day arrivals with just one connecting flight. And by 2020, a new airport will welcome visitors with amenities such as charging stations at every seat and the ability to move twice the number of passengers of the current 50-year-old facility.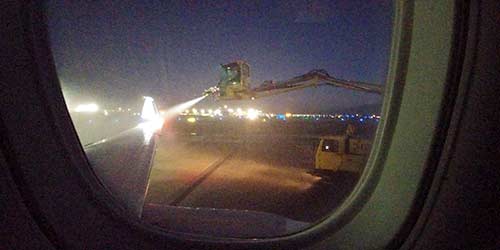 Snowstorms barely pause the action at Salt Lake City International Airport.
When temps drop and moisture blows in, a fleet of machines keeps air traffic
flowing thanks to an efficient de-icing station. (photo by Vicki Hoefling Andersen)
Perhaps the biggest challenge is picking your snowbound destination: ten ski resorts are barely an hour away, and over half of them are easily reached without even touching a personal steering wheel. There are rental car companies aplenty, but the wide choice of shuttles and ride-share options alleviate the general hassle of winter driving and dealing with sometimes treacherous road conditions. You'll also avoid the dreaded "Capacity Reached" signs that dash the hopes of folks looking for a place to park. The resorts aren't that overcrowded, but with the available transportation options there's no need to fill base areas with parking lots.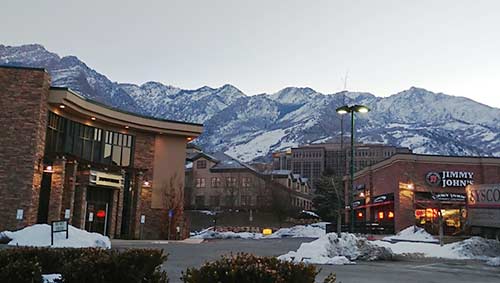 Sunrise over the Wasatch from Cottonwood Heights.
(photo by Vicki Hoefling Andersen)
Salt Lake City averages about five feet of snow a year, but if you're headed to Big or Little Cottonwood Canyon, keep in mind those areas are blessed with eight times that amount. A great option is utilizing the Utah Transit Authority system, whose network of ski buses (RideUTA.com/Services/Ski-Bus) allows you to stay in Salt Lake City with its extensive range of accommodations, dining, shopping and other services, and easily explore the Cottonwood resorts: Alta, Brighton, Snowbird and Solitude.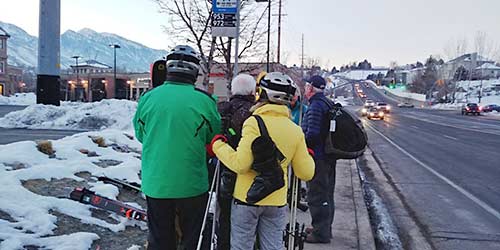 UTA Ski Bus stops are convenient and well-marked.
(photo by Vicki Hoefling Andersen)
Frequent Ski Buses, every 15-30 minutes during prime hours, allow members of a group to come and go as they desire: hit the mountain for first tracks or sleep in, head back for a hot tub soak or close the lifts down. Buses have interior ski corrals, and plentiful lockers at the resorts make it easy to bring everything you need and leave it right in the base area. And if you stay in the Cottonwood Heights area of east Salt Lake City, in the foothills of the Wasatch Mountains, you are only 30-45 minutes from some of the most celebrated deep powder skiing on the planet.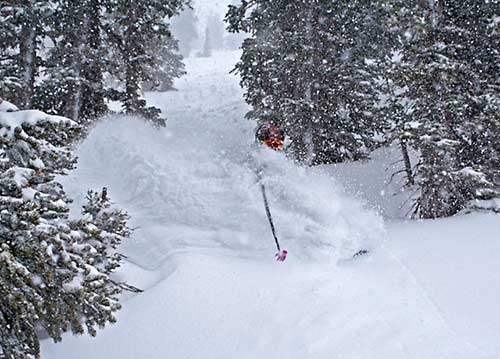 Andria Huskinson checks out a Utah Powder Day,
part of the job requirement as Alta's Communications Manager.
(photo by Colton Rice, courtesy of Alta Ski Area)
Cold air passes across the Great Salt Lake before rising over the Wasatch Mountains, producing "lake effect" snow with an 8.5 percent water density. This unbelievably desiccated fluff unloads over 500 inches a year on the Cottonwood Canyons resorts, making for some of the deepest snowfall in the world. Dumps average a foot every five days, December through March, and more than six-and-a-half feet in April. At least a foot of snowfall within a 24-hour period is proclaimed a Utah Powder Day, so keep your snorkel handy because they have about 18 of them every winter.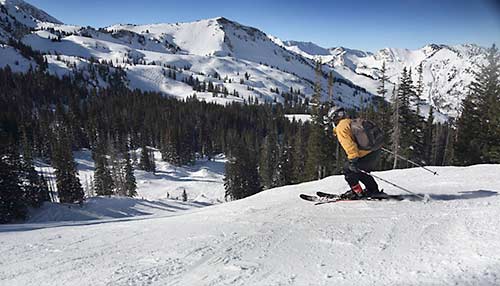 View of Little Cottonwood Canyon from Alta. (photo by Dino Vournas)
Although separated only by a ridge, each Canyon has its own distinct history and personality. Little Cottonwood, home to Alta and Snowbird, was etched into its dramatic but classic U-shape by an immense glacier. The variety of minerals left behind included silver and gold. Thousands of miners arrived, two smelters and a mule-drawn railroad were built to process the ore, and the workers spent their off hours downing libations in more than the two dozen saloons and pool halls, and indulging in an indeterminate number of pleasure palaces.
Runs at Alta run range from black diamond beauties to baby-butt smoothies.
(photos by Dino Vournas, above left, and courtesy of Alta Ski Area, above right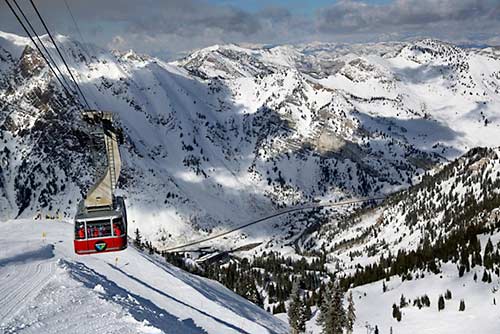 Although classified for 125 passengers, capacity is usually capped at 100
for skiers and their gear on the tram at Snowboard. (photo by Dino Vournas)
Snowbird is the newbie in Little Cottonwood Canyon, cranking up her lifts in 1971. But the area's mining history was launched in 1869 with the discovery of what proved to be the richest silver deposit in the Wasatch. The Bird's 2,500 lift-served skiable acres is somewhat evenly divided across ability levels. It encompasses lengthy groomers, powder-laden bowls, glade-lined plunges, and nearly endless hike-to terrain with goodies like cliffs from which you can launch yourself. (Notice I say "You"…) Cat Skiing adds another 1,000 acres of playground. Enjoy 3,240 feet vertical, a terrain park, night skiing, 1 Tram, 6 high-speed Quads, 4 Doubles, and North America's only Ski Tunnel.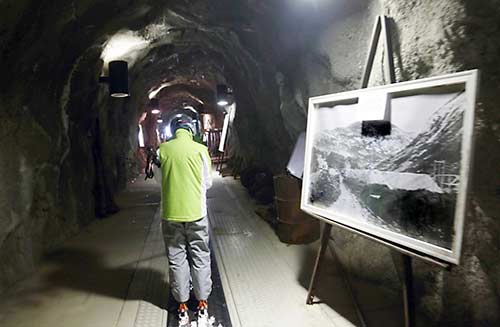 Opened in 2005, a 600-foot-long conveyor belt glides through the mountain
between Gad Valley and Peruvian Gulch transporting snow sliders into the 500-acre Mineral Basin.
The four-minute ride passes displays of mining equipment and photos highlighting the history of the region. (photo by Dino Vournas)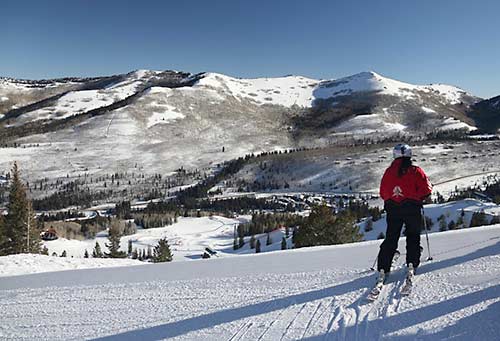 View of Big Cottonwood Canyon from Solitude. (photo by Dino Vournas)
On the North side of the ridge between the Canyons, the river-carved Big Cottonwood Canyon is a cavernous formation nearly twice the length of its sibling. It seemed ideal to Scottish immigrants William and Catherine Brighton, and in 1857 they homesteaded 80 acres. Near the head of the Canyon sit Brighton and Solitude, less well known to outsiders but worthy destinations in their own right.
Views at Brighton include the second tallest peak in the Wasatch, Mount Timpanogos (11,752'),
and Heber Valley, known as Utah's Little Switzerland. (photos by Dino Vournas)
Brighton is the kind of place where you can toss your ski bag in the corner where it remains untouched. Opening in 1936 as Utah's first ski hill, a nice variety of terrain and top-to-bottom trails plot their way down 1,875 feet of vertical and across 1,050 skiable acres. Three terrain parks, night skiing, 5 Quads including 4 high-speed, 1 Triple.
Access gate cautions entry into Honeycomb Canyon, long and narrow with black and double-black chutes. Start with mid-week January, add bluebird skies, decorate with drool-all-over-yourself snow,
then toss in the uncrowded slopes that prove Solitude was aptly named: a snow sliders heaven.
(photos by Vicki Hoefling Andersen)
In its first season under Alterra Mountain Company ownership, Solitude continues to rock the Canyon. You'll find almost every type of terrain, and the grooming staff does a top notch job. Six Quads including 4 high-speed, 1 Triple, 1 Double and 1 Surface lift drape across 1,200 skiable acres, with 2,494 feet of vertical peppered in blue and black runs. A sizable base provides an array of lodging, dining and shopping, and the Nordic Center offers 20 km of cross-country trails and 10 km for snowshoeing.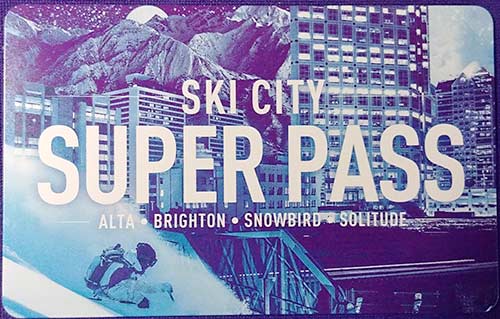 With the Ski City Super Pass you can hop on a Ski Bus near your Salt Lake City accommodations,
step off at the base of the ski resort, click into your bindings and head directly to the lifts.
And it's an awesome deal! (image by Vicki Hoefling Andersen)
One of the best bargains in all of skiland is the Ski City Super Pass (SkiCity.com/Super-Pass), a combination lift ticket and bus pass. The UTA partnered with Alta, Brighton, Snowbird and Solitude, so for about $100/day you not only bypass the ticket office to hit the slopes, you also have free transportation on the bus, ski bus and TRAX light rail across the city and into both Cottonwood Canyons. You can customize your Pass for how many days you want to ski, plus there are no black-out dates. And it includes discounts on rental equipment at participating locations in the City.
Renting equipment is a great option to simplify your trip and have a chance to demo the latest gear. Ski Butlers (SkiButlers.com) will come to your room and fit the equipment you want -- even goggles and helmets. And if you aren't satisfied, they provide on-mountain support for adjustments or swap-outs.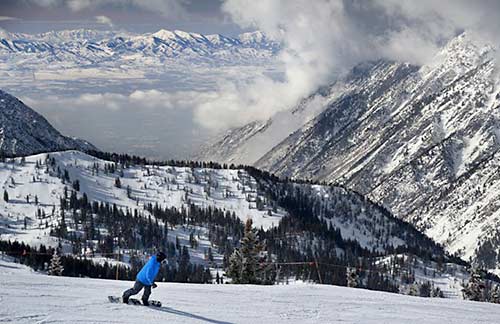 Nearby Salt Lake City is visible from Snowbird.(photo by Dino Vournas)
Park City is less than an hour from SLC and serviced by numerous shared and private shuttles. PC's two resorts include one of the largest in the US, and one of North America's toniest.
After Park City Mountain Resort incorporated its next-door neighbor, the former Canyons Ski Resort, in 2015, the 7,300 skiable acres now makes it the largest in the U.S. and #2 in North America. The 3,200 foot vertical and 7 terrain parks have a network of 4 Gondolas, 6 Six-Packs, 14 Quads, 7 Triples, 4 Doubles and 6 Surface conveyances.
Nearby Deer Valley goes beyond car-valet-service, fresh-flowers-in-the-restrooms and no-snowboards-on-the-slopes with a Gondola, 13 high-speed Quads, 5 Triples and 2 Doubles covering 2,026 skiable acres with 3,000 feet of vertical.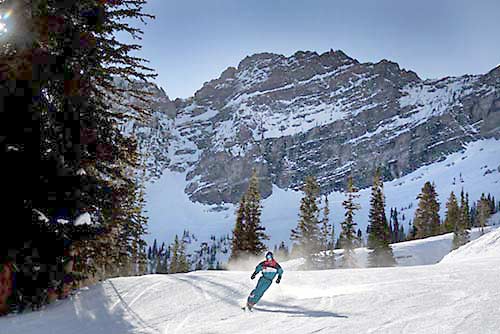 Alta scenery (photo by Dino Vournas)
Also less than an hour from SLC and best reached by rental vehicle are Nordic Valley (1,000′ vertical, 120 skiable acres, 1 Triple, 2 Doubles, 1 Surface lift, terrain park, night skiing), Powder Mountain (2,205′ vertical, nearly 8,500 lift-accessible skiable acres, 2 terrain parks, night skiing, 5 Quads including 1 high-speed, 1 Triple, 2 Surface lifts), Snowbasin (3,000′ vertical, 3,000 skiable acres, 3 terrain parks, 1 Tram, 2 Gondolas, 1 Six-Pack, 2 Quads, 3 Triples, 2 Surface lifts) and Sundance (2,150′ vertical, 450 skiable acres, night skiing, 2 Quads, 2 Triples, 1 Surface lift).
Three more resorts are within a few hours' drive: Beaver Mountain (1,700 feet vertical, 828 skiable acres, a terrain park, 3 Triples, 1 Double, 1 Surface lift), Brian Head (1,320' vertical, 650 skiable acres, 2 terrain parks, night skiing, 1 high-speed Quad, 6 Triples, 1 Double, 2 Surface lifts), and Eagle Point (1,500 feet vertical, 650 skiable acres, 2 terrain parks, 1 Quad, 1 Triple, 2 Doubles, 2 Surface lifts).
Easy air access, a reliable system of ground transportation, over a dozen terrific winter playground destinations, plus legendary snow. Can you wonder why Salt Lake is Ski City, USA?
Note: Table of Contents image of Sam Cohen at Alta by Lee Cohen, courtesy of Alta Ski Resort.