I first discovered the power of Vincent van Gogh's painting when I visited Amsterdam's van Gogh Museum in 2004. That event led me to research and write an historical novel, Finding Vincent, to capture the essence of his art, family, and acquaintances through the last years of his life in France.

The painter moved from the Netherlands to Paris in 1886. In 1888 he relocated to Arles, where Paul Gauguin joined him for three months. He spent a year at nearby St. Remy asylum, then in 1890 moved north of Paris to Auvers-sur-Oise where he committed suicide. In that four year interim, he completed hundreds of works. Worldwide interest in Vincent and his art is the basis for the popularity of these enchanting locations.

Paris's Montmartre

After some fun days exploring Paris's major sites like the Eiffel Tower and Arc de Triomphe, it's worth a trip to the northern hilltop district, Montmartre, where Vincent lived and painted. A great starting location is Place du Tertre. This large, flat square sits atop Montmartre hill and is surrounded by shops and restaurants. Filled with stands, flowers, displays of art, numerous artists paint scenes or portraits. Visible from the square is the Basilica of Sacre Coeur which dominates the Paris skyline.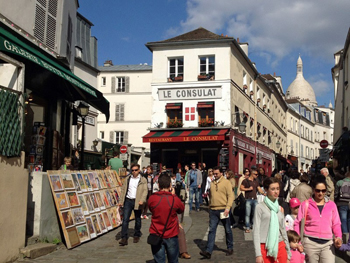 ·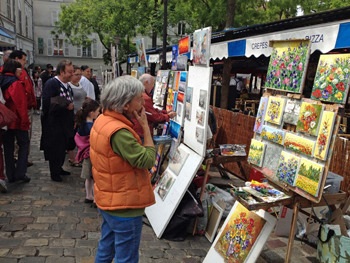 Place du Tertre Montmartre art scene

The grande walking lane, rue de l'Abreuvoir, winds down from the top of Monmartre. Here you'll feel like you are in a small French village, not in the huge general bustle of Paris. When you curve around to reach rue Lepic, hang a right and continue on to address #54. Vincent lived here with his brother Theo for two years. Although not open to the public, the facade still echoes what it would have looked like in the late 19th century. You can imagine Vincent carrying his easel up the hill to paint the nearby windmills and scenes from the Montmartre lanes.

A great nearby stop for lunch or snack is the café at the Musée de la vie Romantique (Museum of the Romantic Life). It's a ten-minute walk from the van Gogh apartment to 16 rue Chaptal at the foot of Montmartre. This nineteenth century mansion has a second floor museum devoted to paintings and sculptures of Paris's Romantic Age.

Winding Montmartre lane 54 rue Lepic (public domain photo)

Arles


Arles is a mid-sized town in southern France's region of Provence-Alpes-Cotes d'Azur. Its main claim to fame is the Roman Amphitheater, a World Heritage site, constructed by the Romans more than 2,000 years ago. It is used today for sporting events and bull fights. Other famous Roman sites include the theater, still used for stage productions, and ruins of the ancient Roman aqueduct. Nearby is the renown Pont du Gars three-tiered aqueduct, and the beautiful natural area, Camargue Nature Park, where you can can take a safari to view its marshes, wild horses, and flamingos.

Vincent van Gogh lived at several locations in Arles including the famous Yellow House that he depicted in one of his well-known paintings. He appreciated the sun-filled days and quiet life style. He frequented the bar, now called Café van Gogh, that he captured in a famous work. Take a guided walking tour of the sites and landscapes that Vincent painted, and visit Foundation van Gogh that houses temporary exhibitions of his art and his evolving style. His artist friend Paul Gauguin joined Vincent for three months in Arles. It's believed their mutual competition caused the severed-ear incident that led to Vincent's stay in nearby St. Remy asylum.

Roman Ampitheater Cafe van Gogh

You will particularly enjoy the entrancing Arles Street Market every Wednesday and Saturday morning which is open throughout the year. Besides the numerous produce stands, there are many displays of goods and crafts. A sunny morning is well spent here exploring the wares as well as the surrounding cafés and restaurants.

One of the best seaports to visit in southern France is the village of St. Tropez. It is a two-hour drive from Arles and worth the trip. Boat rentals and tours are available. The enchanting village also awaits your self-guided walks along the harbor and to the village square.

Along with the desire to just experience St. Tropez's charm, I also traveled here to research the haunts of other famous painters who befriended van Gogh, such as Paul Signac.

Arles Street Market St. Tropez Harbor

Aurvers-sur-Oise

The village of Auvers borders the Oise River and lies just a few kilometers north of Paris. The surrounding farmland is known for its wheatfields, captured by van Gogh in several of his paintings. Vincent lived in Auvers only three months before he committed suicide near one of those fields. He lived at the Ravoux Inn, where he spent the last hours of his life. The room where he died is visible to the public. At the nearby cemetery is his gravesite and his brother's, Theo, who died six months later.


Wheat field near Auvers Ravoux Family Inn

Gravesites of Vincent and brother Theo



Many of the 77 paintings that Vincent painted in Auvers are his best known masterpieces. These include the village church, a portrait of Adeline Ravoux at the inn, and the well-known portrait of Dr. Gachet. Vincent had moved to Arles to be treated by Dr. Gachet for his mental problems. It's claimed that Vincent commented that he felt the doctor needed more help than he did. [Author's note: All of the seven photos from Auvers shown here are public domain images].

Auvers Church van Gogh painting Adeline Ravoux - VG painting Dr. Gachet - VG painting



Writing the Book



My years-long research of Vincent van Gogh's life in France was absorbing and included many unforgettable travel moments. All the characters in my novel had known the artist. It wasn't hard for me to choose Armand Roulin as the hero of the story who in 1895 goes in search of Vincent's art for Johanna van Gogh, widow of Vincent's brother Theo. The story line follows Armand as he discovers where Vincent had lived and his acquaintances. Along the way he meets Adeline, and a romance ensues. As the back cover invites: "Join Armand as he travels in the intriguing steps of the artist and meets contentious Paul Gauguin, Camille Pissaro, and other renown artists. Will Armand be able to meet Johanna's ambitious goals?"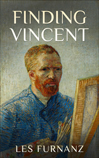 Finding Vincent in e-book or paperback
at Amazon.com
When You Go: Useful Web Links
- Van Gogh at the Atelier des Lumières in Paris (through 5 January 2020)
https://www.atelier-lumieres.com/en/van-gogh-starry-night
3-minute video with song "Vincent" covered by Jim van der Zee: https://1funny.com/magical-van-gogh-exhibit/
- Paris Montmartre District
http://www.aparisguide.com/montmartre/
https://www.thelocal.fr/20150526/paris-ten-unforgettable-streets-to-walk-down
https://uk.hotels.com/go/france/couples-things-to-do-paris
- Arles and region


https://en.wikipedia.org/wiki/Arles
https://www.thecrazytourist.com/15-best-things-arles-france/
https://www.provenceweb.fr/e/bouches/arles/arles.htm
https://www.arlestourisme.com/en/arles-in-provence.html


- Auvers-sur-Oise and Region


https://en.wikipedia.org/wiki/Auvers-sur-Oise
https://www.vincentvangogh.org/farms-near-auvers.jsp