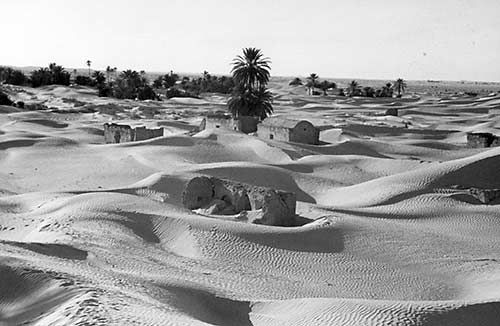 Douz sandscape in the Tunisian Sahara
It was a cool winter day when, along with a tour group of Canadian tourists, we left Kairouan's magnificent Islamic monuments on our way southward to the edge of Tunisia's Sahara. Soon, I sat daydreaming as these historic splendid structures were obliterated by thoughts of oases, camels, sand dunes and the serenity of the desert. I was awakened from my fantasizing by the voice of our guide, Abd al-Fatah. "We will stop in the Roman city of Sbeitla for lunch, then drive onto beautiful Tozeur. You will love it! Some call it the 'Pearl of the Djerid (palms); others label it 'Paradise of the South'."
"But did we not come to see oases and desert?" Jane, a lady in our group asked. Abd al-Fatah smiled, "We will glory for a while in seducing-decadence, before tackling mountains and deserts."
At Sbeitla, called by the Romans Sufetula, we stopped for lunch, then explored a part of the extensive ruins. From among these were the Diocletian Arch, the preserved baths and an oil press, the three Capitoline Temples dedicated to the gods - Juno, Jupiter and Minerva - and a reconstructed Roman theatre seating 3,000 spectators.
Southward, about an hour after passing Gafsa - once the Roman city of Capsa, set amid 300,000 palms - we reached Tozeur, an oasis city surrounded by greenery. It is the commercial and political centre of Tunisia's date-producing Bled el-Djerid (country of palms), 1.6 million of which surround Tozeur and the nearby oases. Their lush sea of greenery and tasty deglet nour (finger of light) dates, have helped immensely in drawing the visitors from the four corners of the world.

A tourist town par excellence with the most modern of tourist facilities and a beguiling appeal, Tozeur features a remarkably styled architecture - in recent years subsidized and encouraged by the Tunisian entrepreneur, Abderrazak Cherai, who almost singlehandedly has made the town famous.

Under his encouragement, the city has become saturated with the traditional beige sun-dried bricks, molded in arabesque relief, and set in an attractive geometric pattern around Moorish arches and facades of shops. Their patterns resemble the decorations of the locally woven colourful carpets and fabrics that are displayed, along with superb Berber jewelry, in the shops.

Tozeur mosque
The highlight of our visit was its exceptional museum, Dar Cherait, built and filled with replicas of Tunisian life by Cherai and his German wife. One of the finest folkloric museums in the world, it is built in the authentic style of southern Tunisia's traditional palaces. Inside are rare manuscripts, traditional jewelry, ceramics and much more. However, its top attractions are the many excellent wax figures of traditional artisans at work and scenes of past Tunisian life.
| | | | | |
| --- | --- | --- | --- | --- |
| | | | "Today, we will explore the mountain area where parts of the movie, The English Patient, were filmed." The voice of Abd al-Fatah boomed as early next morning we gathered to climb into our jeeps. Soon I was fondly looking back at the modern yet ancient Tozeur as we began our journey to explore some of the country's finest oases. My five companions, as well as myself, were excited. All were anxious to see the countryside, especially the lunar mountains where sections of the movie were filmed. Jamal, our driver, who had for 15 years taken tourists to these oases was upbeat. "It's a great trip! You will see a fantastic landscape." | |
| | Tozeur snake charmer | | | |
A few minutes later, as we had passed the palm groves of Hamma, Jamal explained that these groves were like no others. From their mineral springs flowed water around 650 centigrade - too hot for watering the groves. Hence, they are cooled in a water plant before reaching the palms.
After driving through a barren landscape for about an hour, we came to the oasis of Chébika, formerly the ancient Roman post of Ad Speculum, cuddled by the foothills of the Atlas Mountains. Stopping at the edge of the oasis, Jamal pointed to a high point in the village. "Look at those abandoned homes dominating the oasis and seemingly hanging from the rocks! Don't they look as if they were destroyed in war? This village, like many others in southern Tunisia, was destroyed in 1969 by a 20-day downpour. It was a great catastrophe." He continued, pointing to a scattering of homes spread-out below the destroyed town. "This is the new Chébika. It's always the same. When nature destroys, man always rebuilds."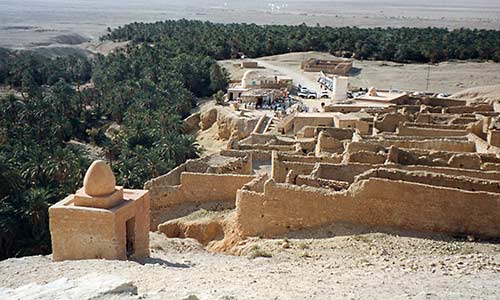 Ruins of Chébika
Abd al-Fatah, who had followed us in another jeep, led us along with the other members of our tour group up the small mountain overlooking Chébika. Up we climbed on a tourist- marked trail huffing and puffing, stopping a few times to rest. A young Tunisian lad, sitting by the pathway, seeing that I was lagging behind, smiled, saying as I passed, "Crazy American! Why climb? Is not better eating hamburgers?" Perhaps, he has a point, I thought to myself as we reached the summit.
Looking down on the village, old Chébika appeared like a bombed town, guarding below the new village of some 750 souls, set amid 20,000 palms, some pushing up from the rocks. Breathing in the cool-fresh mountain air in a serene atmosphere, I soon forgot the tiresome climb. As we walked down through the destroyed village, Abd al-Fatah remarked, "I always feel it worthwhile taking tourists up this hill, just to see their contentment as they rest at the summit."
Leaving Chébika behind, for a while we followed the foothills of the Atlas, then climbed upwards to about 750 m (1,845 ft). A few moments later, Jamal stopped the jeep and pointing to a high ridge on the other side of a deep valley said, "Beyond that ridge is Algeria. If you like, take a picture from here." He smiled, "I'm not taking you there."

A short drive further on, we turned off the main road to view the Tamerza Waterfalls - a narrow column of tumbling water. No sooner had the driver stopped his jeep, when Jane piped up, "This is what they call a waterfall? They haven't seen Niagara Falls!"

Back on the road, we drove through an amazing moon-like landscape until we reached Tamerza Hotel - a luxury abode where the crews filming parts of Star Wars and The English Patient stayed. From its windows we had a spectacular view of the lunar-like hills where these movies were filmed.

Below, the town of Tamerza, the ancient Ad Turres, appeared barricaded behind a range of granite mountains. One could plainly see the old village sitting empty and appearing asleep, overshadowing the new town below. Bordering a river, flowing across a rocky landscape, this town, besides being the location for the two recent movies, is also where Biblical scenes from other cinematic productions took place.

Climbing to peak overlooking Chébika
I was reminiscing about the tender love scenes in The English Patient when I felt Abd al-Fatah's hand on my shoulder. "Let's go! It's time to return." It was as if he had seen the same glaze on the other tourists' faces when he laughed, "You must be a romantic. Forget it! It's not real." For me, fantasies or not, the lure of The English Patient had brought me to one of the most beautiful mountain spots in Tunisia. I had no regrets.
| | | |
| --- | --- | --- |
| | | |
| | Tunisia, Kaiouan Great Mosque minaret | |
| | | |
| --- | --- | --- |
| | | |
| | Tunisia, Kaiouan Great Mosque interior | |
The next morning, southward from Tozeur, we crossed Chott el-Djerid, the largest of the 250 salt lakes in Tunisia. Appearing like a floating shimmering white mirage, the Chott, 22 m (72 ft) below sea level, in prehistoric times was joined to the Mediterranean from which today it is divided by a low mountain range. Pliny, Herodotus and other ancient writers considered it a sacred lagoon, forming the basis for many of their fantastic tales.
Past the Chott, we drove between palms planted in the sand as if standing guard against the encroaching dunes, until we reached Douz - a tourist town on the edge of the Sahara. Traditionally known for its handicrafts, Berber jewelry and breeding of the North African version of the famous saluki dogs, it has become a tourist centre par excellence - an ideal place to join safaris into the Sahara.
| | | | | |
| --- | --- | --- | --- | --- |
| | | | | |
| | Author prepares for his camel ride | | Author begins his camel ride | |
Almost everyone in our group was now excited as we neared Zaafrane, some 14 km (9 mi) to the south. Suddenly, before us, atop the sands were dozens of camels on their knees half asleep and chewing their cuds - their owners lazing around waiting for customers. It was a panorama of a desert scene par excellence. Beforehand, the camels had been hired at $15 per head by our tour company. This included a young man to lead the animal for a two-hour ride across what appeared to me to be the Beau Jest Desert.
After the ride as I climbed off my kneeling camel, a handsome haughty-looking young man offered to take me on a 15-day journey camel ride to where Libya, Algeria and Tunisia meet. As to price, he said, "For you, it would be only 60 dinars per day, including your food and tent." I smiled as I felt my saddle sore behind. "I have had enough camel riding to last me for a long time."
That night in our luxury hotel in Douz, still bothered by an aching backside, I had a somewhat restless sleep. In my almost realistic dreams, palm trees, oases, sand dunes and camels intermingled as I relived my journey to the edge of Tunisia's Sahara. The next day as we breakfasted in the atmosphere of 21st century luxury, I thought to myself, "Deserts and camels might be romantic, but the luxuries of modern life are what I really yearn for.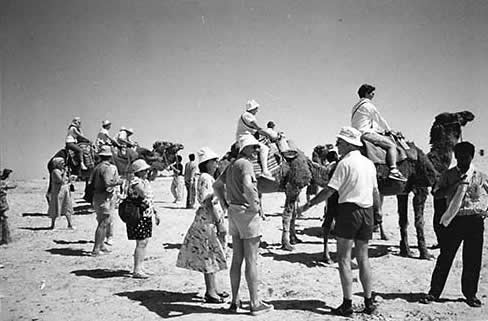 Zaafrane tourists renting camels