New mountain bike and paddle adventures await at state parks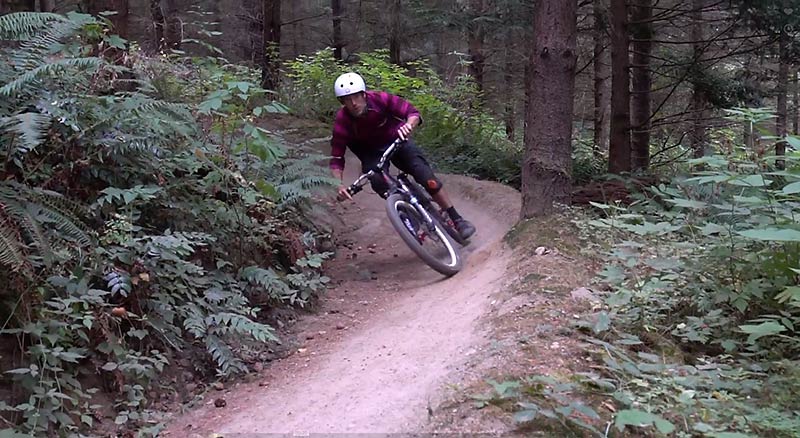 Mike Storm, owner of Intrinsic Flow, a mountain biking guide and shuttle service business based in
Bellingham, WA takes a ride on trails at Larrabee State Park.

Aug. 22, 2018
Summer is winding down.
But there's still time to squeeze in some last-minute adventure while the weather is nice. State parks concessionaires are ready with ample opportunities that satisfy even when you don't have much time.  
We're excited to welcome two exciting new businesses offering outdoor adventures at parks.
Paddle EZ kayaks and paddleboards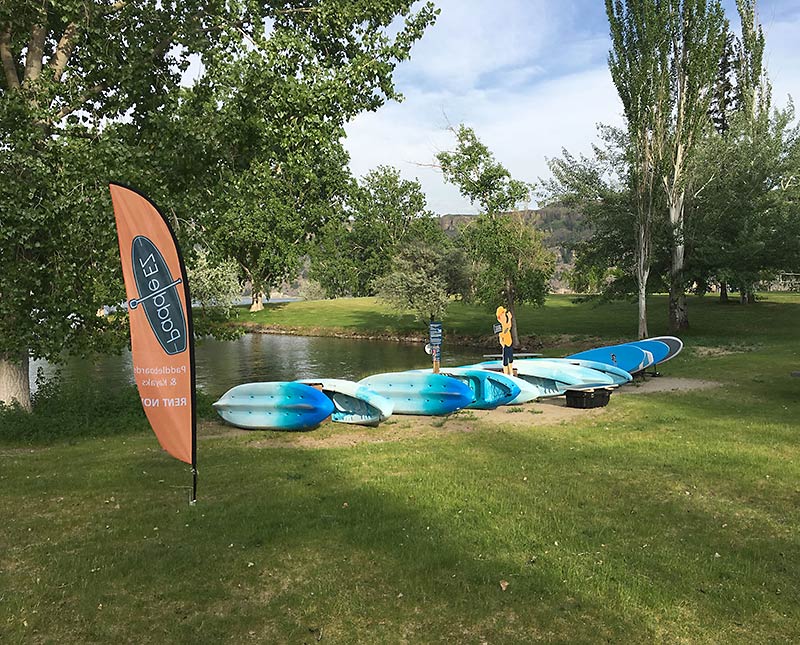 Get your paddle on the easy way with a stand up paddleboard or kayak from a Paddle EZ site,
such as this station at Steamboat Rock State Park in Washington State.
Want to try kayaking or stand up paddleboarding?
Now you can, and it could not be "EZ-er!" Texas-based entrepreneur Scott Koester created Paddle EZ to make it simpler to go for a peaceful paddle at remote locales. Paddle EZ now has locations at four Washington state parks: Alta Lake, Battle Ground Lake, Lake Chelan and Steamboat Rock.
Reservations for the self-service rentals are made online. Log in to paddleez.com, choose a park and you will be issued a PIN number. Plug the PIN into the Paddle EZ locker station at the park, where a stand up paddleboard or two-person kayak await. Rental cost, including safety equipment, is just $18 per hour.
Note: There are no on-site instructors, but the company includes some tips and instruction videos on its website.
Intrinsic Flow mountain biking shuttles and guides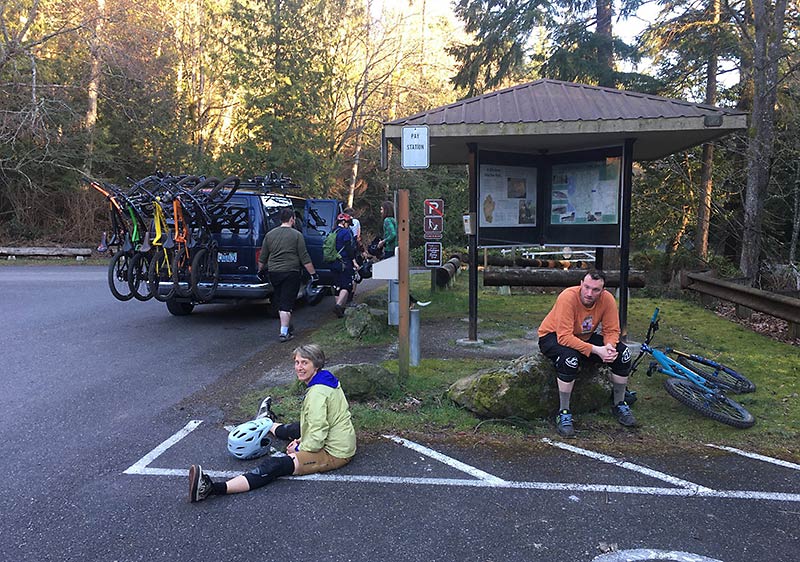 Catch a ride to a ride! Mountain bikers get ready to ride the Intrinsic Flow shuttle to Chuckanut Ridge Trail.
The fun part of mountain biking: going downhill. The not-so-fun part of mountain biking: going back up again.
That's why mountain biking enthusiast Mike Storm and his Bellingham-based company Intrinsic Flow now offer bike shuttle service at Larrabee State Park! Larrabee has more than 15 miles of bikeable trails and some exciting mountain bike experiences for the seasoned rider. The shuttle service has regular runs in the morning and afternoon between the bottom and top of the scenic Chuckanut Ridge Trail.
Log on to the company website and choose how many passes (rides) you want to purchase. Meet your shuttle at the Long Lake/Clayton Beach parking lot at the appointed time, and get set for a bumpy, exhilarating ride down the ridge! Three rides cost $33.
Eager to try out mountain biking or want to get better at it? Intrinsic Flow also offers instruction and clinics where you can learn everything from the basics to jumps and wheelies! Private lessons are also available.
There's more in store!
Interested in even more state parks adventure opportunities?
Get more details here!

Hungry from all that fun you had with adventure concessions?
Try our food vendors! Mmmmm!

Ever have a great time trying out a new passion with a state parks concession?
Tell us about it! Share your story and pictures here!  

Learn more about Chuckanut Ridge Trail

Look for the Paddle EZ signboards, such as this location at Lake Chelan State Park, for a great day on the water!

All photos courtesy of Paddle EZ and Intrinsic Flow.