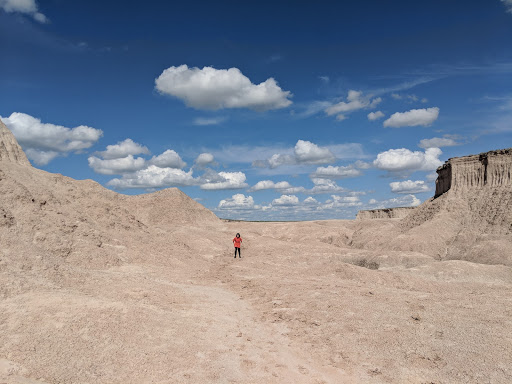 Erysse Elliott in South Dakota's Badlands National Park in 2018. It's a perfect place to get lost.
How to find yourself on vacation
Don't bother trying to find yourself on vacation, most travel experts tell me. You won't. Journeys of self-reflection, pilgrimages, and gap years are meaningless.
I beg to differ.
Now that the busy summer vacation season is over, it's the perfect time to think about a truly transformative travel experience that facilitates self-discovery. No more quick, one-week, prefabricated vacations for the masses. Something for the entire family -- and something life-changing.
It's possible, but several elements need to be in place. They include an inspiring place, a compelling reason to get lost and found, and a little discipline. But I'm here to tell you it's doable.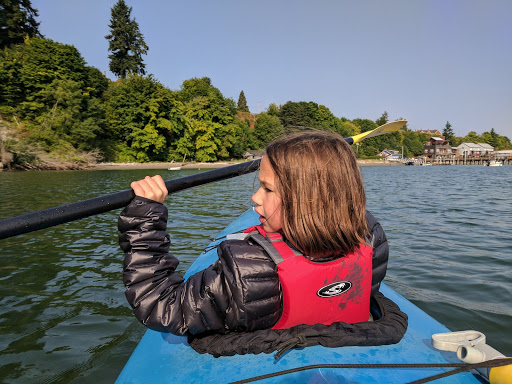 Erysse Elliott paddles off Whidbey Island in Washington State in 2017.
Want to find yourself on vacation? Find a place where you can get lost
As counter-intuitive as it might sound, you first have to get lost. And by "lost" I mean, go somewhere you can clear your mind. You can even take the family with you.
The solitude of a kayak on Washington's Possession Sound is the ideal place to shift your brain into neutral. Oh sure, you can see civilization from your vessel -- Hat Island, Priest Point, Mukilteo -- but you're also perfectly alone in your kayak.
I had the company of my 10-year-old daughter when I ventured into the choppy waters of the sound last summer. Even though the strong currents threatened to pull us out of the bay in our tandem, it was a perfectly serene moment.
A little dangerous? Maybe. But that's what why you wear life preservers.
Playing it safe and never getting outside of your comfort zone also means there's nothing to find. Your vanilla vacation is as predictable as, well, vanilla. And who wants a vanilla vacation?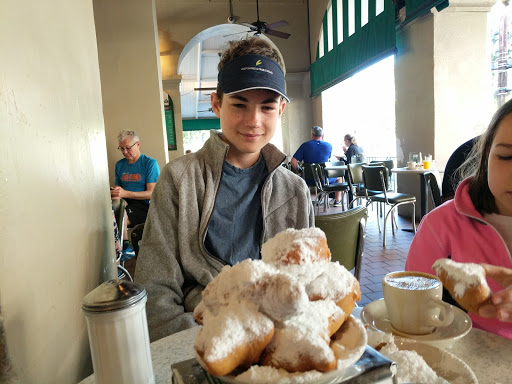 Aren Elliott in New Orleans' Café du Monde in 2017.
Why am I here?
The next critical ingredient to finding yourself on vacation is the circumstance of your journey. You need a reason to travel, to get lost, and then to find yourself. For my family, a recent road trip from Florida to California was the perfect excuse to get lost -- or in our case, to get away from a difficult personal situation.
For the sake of the kids, I won't go into the details of our personal circumstances. Let's just say you can look at us -- three kids and a dad -- and figure it out yourself. By the time we arrived in New Orleans, we were physically and emotionally drained. I figured the antidote would be an early morning trip to Café du Monde for coffee and beignets. Hot chocolate for the kids.
That stopover marked a significant turning point. A little sugar and caffeine on a sultry morning in the Big Easy can change your perspective. There's something about the way New Orleans feels on an early spring morning, the cobblestones still slick from an overnight rain, which sets everything right.
At some point, I think it dawned on us that we were on the right path in every sense of the word. It wouldn't be an easy path, but we were heading in the right direction. It all came into focus over French donuts smothered in powdered sugar.
These small journeys of self-discovery can be more profound than the big ones. We were not coming to profound realizations about the meaning of life. Just, maybe, small truths about the meaning of our lives. Like, take things a day at a time. Savor the small pleasures, even if they involve carbs and caffeine.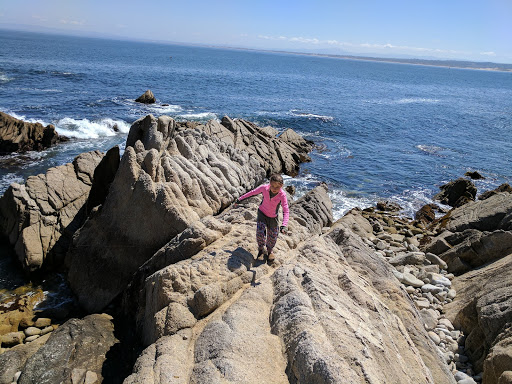 Erysse Elliott on the rocks in Monterey, Calif., in 2017.
Finding the discipline to find yourself on vacation
The final ingredient to a finding yourself on a vacation is discipline. And it's the hardest part. When you travel, working hard to reach a goal isn't always at the top of your to-do list. That's understandable, since it's your vacation.
Some of our best trips have included strenuous activities, like long hikes, arduous boat rides to uninhabited islands, or long rides in a Land Rover to reach a remote part of West Africa. These are all necessary for self-discovery. Or, put differently, you won't learn anything about yourself by staying in your room and watching TV.
Discipline means waking up at a reasonable hour, not sleeping until lunchtime. It means setting out to do something even when there's nothing to do. And it means staying curious and asking questions about your surroundings, even when you don't feel like it.
These are difficult habits to teach kids. They want to stay in their room and watch TV when they travel, don't they? And don't you dare mention the "H" word -- hike -- because they'll find a thousand reasons why they can't. And explore? Seriously, I sometimes can't get my children to agree on anything except a predictable fast food meal, which I immediately veto. Because that's not the path to discovery. It's a path to sameness.
Self-discovery isn't easy. The stars have to align in the right place, with the right purpose, and with the right attitude. You can't force it, either. In time, your kids will come to their own conclusions about who they are and what they're doing in this world. If you plan it right, that time will be when they're traveling the world with you.
Christopher Elliott's latest book is "How To Be The World's Smartest Traveler" (National Geographic). He edits the family adventure travel blog Away is Home. You can follow his adventures on Twitter or Facebook.
© 2018 Christopher Elliott.