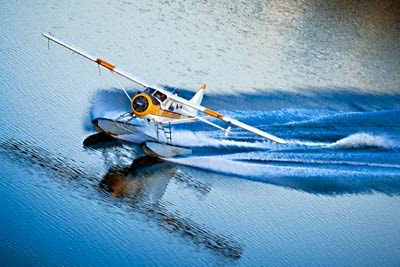 Seaplane heading Photo courtesy of Seaplane Adventures
You can travel the world in search of adventure - and we have done a lot of that. But there are times when adventure is just around the corner from home - at least it is when you live on a houseboat just around the corner from Sausalito's California's Seaplane Adventures, the only floatplane operation in the world that is located on a mud flat.
Seaplane Adventures offers sightseeing flights as thrilling and adventurous as you can imagine – so we booked one to celebrate a birthday.
| | | | | |
| --- | --- | --- | --- | --- |
| | | | | |
| | Boarding from the floats on the mud | | Taxi over the mud | |
| | Our flight was scheduled at a time when the tides were low on Richardson Bay - one of the sub-bays of the greater San Francisco Bay. The plane's floats sat directly on the mud, but our pilot assured us that we would slide over the slippery surface to reach deeper water for takeoff. | | He was right...the mud offered no barrier to the deeper waters over toward Strawberry Point where the former Golden Gate Baptist Theological Seminary sat on the hilltop. | |
| | | | | |
| --- | --- | --- | --- | --- |
| | | | | |
| | Takeoff as viewed from the houseboats | | Takeoff past the houseboats | |
| | As viewed from the deck of our houseboat, the plane leaves a foam trail behind, as its floats become twin speedboats gaining enough speed for the wings to lift us up. | | As we took off, we could view our neighborhood - the houseboat community of Sausalito - with a fog bank coming in from the Pacific Ocean over the Marin Headlands. | |
| | | | | |
| --- | --- | --- | --- | --- |
| | | | | |
| | Belvedere and Tiburon | | Passing San Quentin | |
| | Soon we were up in clear sunlight. Flying over Racoon Strait we saw the prime residential areas of the Tiburon Peninsula and Belvedere, which used to be an island. Now it is connected with the peninsula by a lagoon-spotted housing development. | | Further on the prison at San Quentin came into view. There has been a prison here since the gold rush days when a sailing vessel, abandoned by crewmembers who were in a rush to get to the gold fields, was towed here to be used as a floating jail. Later, some of the prisoners were pressed into labor to build a prison on land. Today, it is an overcrowded facility, housing, among other things, California's only death row. | |
| | | | | |
| --- | --- | --- | --- | --- |
| | | | | |
| | The Fog Flows over Marin | | Further up the rugged NorCal coast | |
| | As we headed north over Marin County, the engulfing fog flowing over the hills was spectacular. | | Turning west we came to the even more spectacular rugged coastline with its sheer cliffs dropping from the wooded hillsides to a surf-pounded sandy strip. | |
| | | | | |
| --- | --- | --- | --- | --- |
| | | | | |
| | Small Seaside Town of Bolinas | | Now down coast to the Golden Gate | |
| | Not all of the coast in the area is undeveloped. The small town of Bolinas, at the entrance to the lagoon of the same name, is remote. Its residents appreciate that - they won't even let the transportation department put a sign at the turnoff from Route 1 telling tourists how to get to their town. | | After the glories of the Northern California Coast, it was time to turn back south to approach the entrance to the San Francisco Bay with its world-famous Golden Gate Bridge spanning the narrows. | |
| | | | | |
| --- | --- | --- | --- | --- |
| | | | | |
| | Over the Golden Gate Bridge with the Presidio and Crissy Field | | Past the Marina | |
| | As we passed over the bridge we had a clear view of the greenery of the Presidio, which - before it was turned over to the city to become a park - had been the oldest continuously operated military base in the western hemisphere. It was an army post for Mexico before the creation of the California Republic and the admission of the Golden State to the United States. | | Flying along the northern edge of the City and County of San Francisco, we passed the Marina from which we'd thrilled to the sight of the super-fast wing-sail catamarans of the 2013 America's Cup. They hit speeds nearing 50 miles per hour as the Oracle team representing the USA beat Team New Zealand by some 44 seconds in the final race. | |
| | | | | |
| --- | --- | --- | --- | --- |
| | | | | |
| | Fort Mason and Aquatic Park | | Maritime National Historical Park | |
| | Just past the Marina lies Fort Mason which had been the Army's principal port of embarkation during World War II, but which is now a cultural center. Next to that is Aquatic Park, home of the Maritime National Historical Park. | | The Maritime Park includes in its collection of historic vessels an 1886 square-rigger, an 1895 schooner, and a 1914 paddlewheel tug. Most prominent of all, however is an1890 steam ferryboat, the Eureka, which while built before the advent of horseless carriages, was eventually rated to carry 120 cars along with 2,300 souls. Also visible below is the SS Jeremiah O'Brien, one of the 2,710 liberty ships built during World War II. | |
| | | | | |
| --- | --- | --- | --- | --- |
| | | | | |
| | San Francisco's Cruise Ship Terminal | | The Transamerica Pyramid building | |
| | Following the curve of the Embarcadero to San Francisco's east shore, we flew over the new Cruise Ship Terminal at Pier 27 where the Grand Princess was preparing for its departure to Puerto Vallarta with as many as 2,600 passengers and 1,150 crew members. | | Pulling in over the city itself, we flew past the Transamerica Pyramid building and other skyscrapers in the old Financial District. | |
Proceeding further south we cross over Market Street and see the new skyscrapers dominating SoMa (South of Market) including the Salesforce Tower. At over 1,000 feet, it is both the tallest structure in the photo and the second tallest building in the US west of the Mississippi River. (The Wilshire Grand Center in Los Angeles tops out 30 feet higher.)

Beyond the tower can be seen the Bay Bridge with its western section connecting San Francisco with Yerba Buena and Treasure Islands and its newly-constructed eastern span, a unique self-anchored suspension bridge, connecting to a long causeway into Oakland.

Market Street and the Salesforce Tower
| | | | | |
| --- | --- | --- | --- | --- |
| | | | | |
| | Over the Giant's AT&T Park | | The new Suspension System for the Bay Bridge | |
| | Just south of the Bay Bridge we flew over AT&T Park where the San Francisco Giants play. The stadium also hosts huge-screen showings of the work of the San Francisco Opera and live concert shows by the likes of James Taylor. | | A turn back over the bay to return to Sausalito took us out beyond Yerba Buena Island for a close-up look at the suspension system of the Bay Bridge, the widest bridge in the world. Its single tower hoists the continuous suspension cable to support the two directions of traffic on one level, unlike the western section, which has two levels. | |
| | | | | |
| --- | --- | --- | --- | --- |
| | | | | |
| | Over Alcatraz | | "Anchor Outs" on Richardson Bay | |
| | No tour of the bay area would be considered complete without a good look at Alcatraz Island and its prison buildings. Even the ferryboats plying the bay allow time to pause so tourists can snap shots of "the rock." | | On our final approach for a landing on Richardson Bay we have a fine view of downtown Sausalito and the boats anchored in the bay. Some of these are home to "live-aboards" also known as "anchor outs," and not all of them are in pristine condition. The scene is serene on this calm day, but life aboard can be challenging and even dangerous when the weather flares. | |
| | | | | |
| --- | --- | --- | --- | --- |
| | | | | |
| | The houseboats seen through the propeller | | The well named Adventure | |
| | We bank over the houseboat community once again and prepare for a final touchdown. | | Once back on the mud at the dock, we can't argue with the name of the company that is displayed on the plane's tail ... an adventure indeed. | |

LINK: Seaplane Adventures