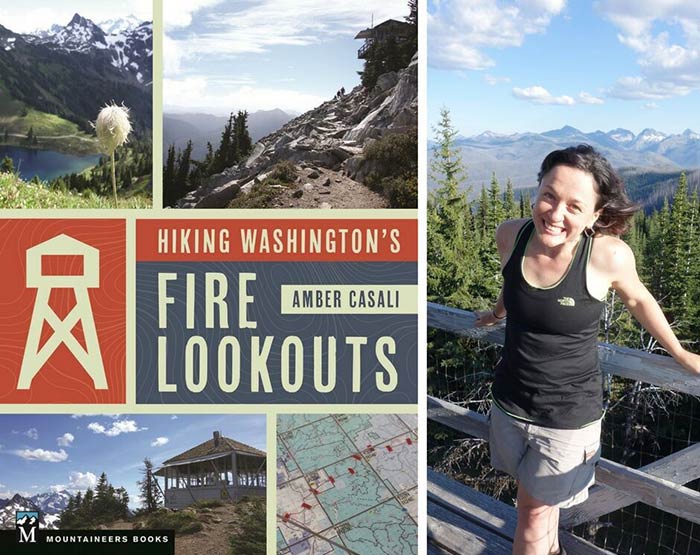 Author Amber Casali and the cover of her new book (photos below by author)
Looking out for Cascade forest fires is still alive and well long after Jack Kerouac so famously spent the summer of 1956 on Desolation Peak. That's in the North Cascades National Park, in the most northern of Western Washington Counties. Two of Kerouac's books grew out of his wilderness experience: Desolation Angels and The Dharma Bums.*
As luck would have it, getting to Desolation Peak so you can see what Kerouac saw, is mapped out as a featured hike in Amber Casali's new book Hiking Washington's Fire Lookouts. On nearly eight pages of maps, hiking details, campgrounds on the route, and lore (even quoting Kerouac), Casali gives total and complete details of what is required of the hiker and what the hiker might expect along the route. There is even a Ross Lake boat option for those who want to shorten the trek. She's clear, however, that is not a hike for the faint-of-heart.
Casali's spirited writing makes clear that she loves the hikes as much as she enjoys sharing them with us - she is a gift to our understanding of our great outdoors. This is a very cool book!
| | | | | |
| --- | --- | --- | --- | --- |
| | | | | |
| | Park Butte Lookout | | Heybrook Lookout | |
Features of Hiking Washington's Fire Lookouts include:

• 44 fire lookouts—those that feature access by trail
• All lookouts are accessible during the typical summer season
• Only lookouts that are still standing—no hiking up to a barren mound of broken concrete!
• Routes are not technical—hikers just need boots, trekking poles, and, probably, lunch
• Lookout history, anecdotes, and full-color photos throughout
Each lookout description features the year it was constructed; access details, including overnight stays and winter access; location and land manager; roundtrip distance on trail; trail elevation gain; lookout's elevation; map info; trailhead GPS coordinates; information about any permits or fees; and driving directions to the trailhead. Introductory chapters provide an overview of Washington State's lookouts, as well as information about their upkeep, lookout architectural types, and general hiking tips, while an appendix provides an overview to a handful of additional lookouts in the state that are not hikable.
Hiking Washington's Fire Lookouts is available for $21.95 from The Mountaineers.
*For more on Jack Kerouac's Desolation Peak experience and thoughts, see http://www.historylink.org/File/8034
| | | | | |
| --- | --- | --- | --- | --- |
| | | | | |
| | Mount Pilchuck Lookout | | Atop Mount Heybrook Lookout | |