It was just a routine physical. I listened to my doctor in disbelief.
"You have Type II diabetes," he announced.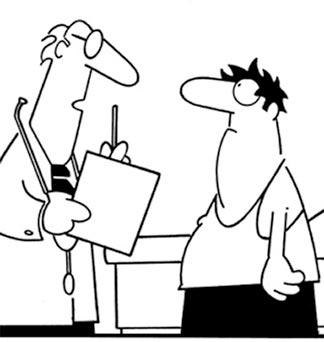 "You can go ahead with your Alaska cruise next week. It's your choice. You can enjoy all the ice cream, fine wines, gourmet food, and irresistible desserts -- or lose weight and save your pancreas. In fact, you must lose weight immediately."
I'd had no symptoms, and I'd never had any major health problems. But I had been gaining weight.
We'd planned our cruise months ago. It was fully paid and non-refundable. We'd be traveling with a group of other journalists. Included was a pre-cruise event in Seattle where we'd stay at three different five-star hotels with outstanding restaurants. Food and wine, paired appropriately, would be featured.
I consulted with my wife Sylvia, who was also quite worried by the diagnosis I'd just received.
"The doctor is right; we've always gained weight on cruises. And if either of us gains any more we'll outgrow our clothes en route," she said.
Readily available ice cream between meals had been my downfall on earlier cruises. We don't have desserts at home, so in spite of firm intentions, my willpower had always disappeared.
This was a triple crisis! We'd be risking not only our collective willpower, but also our wardrobes and my health. But I really didn't want to miss the cruise and the chance to meet other journalists.
I'd just read about "The 17-day Diet", by Dr. Mike Moreno. He claimed one could lose between 10 or 12 pounds during the first 17 days. The review described it as "nutritionally sound." While it sounded too good to be true, a friend reported that her sturdily-built daughter (a registered nurse who approved of the diet) lost weight quickly when she went on it.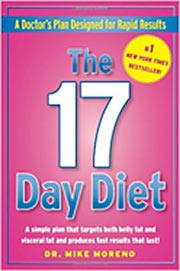 My own doctor had suggested that I might possibly reverse the diabetes diagnosis by losing weight. I bought the book.
"We'll have to drastically change our eating habits," I reported. "No more martinis or wine. But nearly any kind of food imaginable will be available on a cruise. So why not go?"
Sylvia agreed. "I could lose a few pounds, too. I don't want to tempt you by eating things in front of you that you shouldn't have, so I'll go on the diet too."
When we joined the writer's group in Seattle, we learned that Washington State is second only to California in its number of wineries. So instead of associating apples with Washington, we now think of the state in connection with fine wines.
This view was reinforced -- quite forcefully -- as the trip proceeded.
All three upscale hotels listed in our itinerary were comfortable and very luxurious with high-ranking restaurants. Activities mentioned included "three wine pairing dinners" as well as "tasting stops at some of Washington's choicest working wineries" and a "wine and small bites culinary experience" at Chateau Ste. Michelle.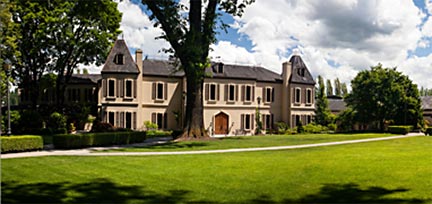 Chateau Ste. Michelle, Woodinville.
There were two things we didn't understand when we signed up.
1. The other writers wrote mostly about wines and fine food. Many had wine newsletters, or columns, or websites. But I'm a travel and destination writer, with a few first-person recollection pieces to my credit.
2. We assumed that the scheduled tasting of multiple wines involved swirling it in one's mouth to experience the flavor and bouquet, then expectorating in a supplied receptacle -- like we'd read about. We'd be adhering to the doctor's orders if we wouldn't actually be consuming wine. What could go wrong!
We joined the group for the first time at the excellent Boka restaurant at the Loews Hotel 1000. The food was exquisite and the service outstanding, qualities that were standard for the rest of the trip. We tried to be subtle about refusing bread, starches, and desserts.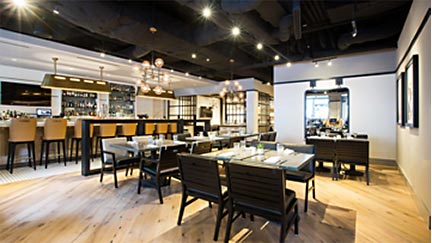 Boka Bar Restaurant, Hotel 1000
In a process to be repeated on subsequent days, an expert provided several wines for tasting -- called a "flight" -- and explained how they should be combined with the various foods being served. With four or five offerings, and one-and-a half to two ounces poured for each participant at each course, no arrangements for disposing of the wines after tasting were provided. But no wine went to waste. If one writer didn't care for a particular wine, another quickly consumed it.
We didn't drink the first sample, and turned down subsequent pourings.
The Boka Bar Manager, Mi-Suk Ahn, very perceptively noticed we were declining wine, and she creatively designed pairings of non-alcoholic mixed drinks to go with every course. She also explained all the herbs and juices she'd chosen to go with each. This was fun for us, but even more fun for her! She is a creative, enthusiastic person, and was thoroughly enjoying herself.
In Woodinville wine country, tasting stops at some wineries were scheduled. We were beginning to feel a bit awkward. The group leader had emphasized that we were expected to participate in all the activities with the group. But wouldn't it be rude to go to a winery and refuse the wine? That evening, at another gourmet dinner, another selected flight of top wines was generously poured.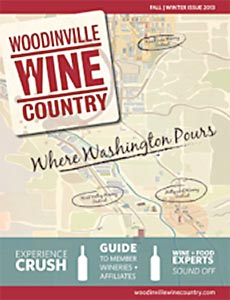 "How many wines have you tasted today?" I asked the woman sitting next to me. She thought about it, then replied, "About seventeen." I did the math -- that amounted to more than a quart! I'd feel a buzz after one glass, and never would have been able to keep up the pace. (Nor did I need the 680 or so calories.) Yet only one person in the group exhibited signs of intoxication.
We learned another new word. Wine experts are referred to as "oenophiles." One was a photographer who took appealing close-up shots of the beautifully presented food and wine.
Our willpower had saved us from temptation thus far. Our next challenge was the cruise.
We boarded Holland America's beautiful WESTERDAM for a one-week cruise to Alaska, with "The 17-day Diet" book in my suitcase.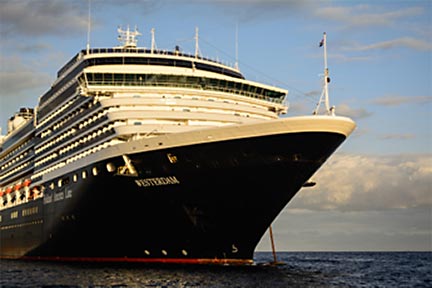 Westerdam
Our cabin was overheated when we entered, and the air conditioner wouldn't turn on, so I phoned to report it to the cabin stewards. They apologized and when we returned from dinner it had been fixed. And there was a gift with a note from Guest Relations: "Please accept this plate of chocolates as a token of our most sincere apologies for the inconvenience you have experienced regarding the temperature in your cabin."
This was the first of a string of nearly constant temptations. But it's the thought that counts. While this gesture was greatly appreciated, and made us feel quite special -- a feeling that was reinforced many times during the week -- we resisted the chocolates.
"The 17 Day Diet" presents different menus for each of four phases. The starting program permits unlimited vegetables and low-fat protein like fish or chicken, and two servings of fresh fruit and yoghurt each day. We ordered our first dinner off the menu, and said no to bread, butter, potatoes, wine, and dessert. Our waiter noticed this and quietly alerted the maître 'd to our unusual choices. Soon a headwaiter appeared at our table.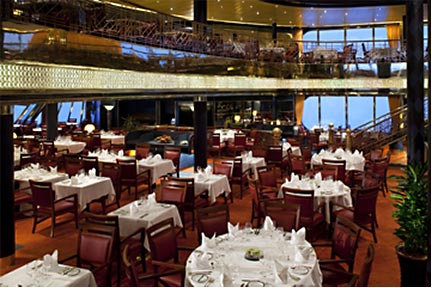 Vista Dining Room on the Westerdam.
"Please let us know what foods you will be requiring, and I'll make sure your waiters always have everything available," he told us graciously.
The dining room service, in our experience always fine on earlier Holland America cruises, had just moved up to a six-star rating in our opinion. And the quality of the food was even better than we remembered. Each evening, one of our waiters would go over the following night's menu with us so they could plan ahead. If there were a salad with an ingredient that wasn't on the diet, it would appear exactly as we ordered it without us having to remind our waiters.
For breakfast, the diet suggested a cup of hot water with fresh lemon juice, green tea, an egg white omelet without cheese, and fresh berries. (We skipped the breads, sweet rolls, waffles, blintzes, pancakes, and cereal).
A required mid-morning snack called for fruit and non-fat, unsweetened yoghurt. (The latter was the only thing the ship couldn't provide.) However, there was always a basket of fresh fruit in our cabin.
We went to the Lido Buffet for lunch, where we found a profusion of salads, eggs, fish, chicken, vegetables, and the other items we needed.
At dinner, our waiters introduced us to Pellegrino sparking water, which (almost) took the place of the fine wines we were missing.
While the WESTERDAM loaded all its food in Seattle, the fresh food stayed so fresh that we began to wonder if they maintained a hydroponic greenhouse on board! While unable to uncover the cruise lines' secrets of keeping food fresh, there are references on the web to CO-2 pads as well as nitrogen and argon storage compartments.
A typical day onboard for our writers' group included a seminar or two, an occasional tasting hosted by a Washington winery, and a cocktail party before dinner. We showed up for these, but after a glass of sparkling water we tended to fade while the group grew more animated and people's voices increased to painful sound pressure levels.
At the end of each day, we'd find several extravagantly generous and elegant gifts from the writer's club waiting in our cabin. Bottles of wine and various chocolates figured heavily in the offerings. Occasionally there would be spices or baking mixes, or cookbooks. We'd have had to lug several empty suitcases along to get these items back home.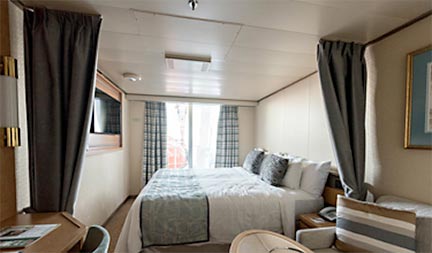 The gifts of food and drink all appeared on the diet's "do not consume" list, except for a natural sweetener made from leaves.
"These are all donated by organizations sponsoring us," we were advised by the group leader, "so be sure to mention the products by name in your articles."
Now this presented a serious challenge. We'd have had to insert names of 25 or 30 products, many from competing wine and candy companies. And how could that be interesting to our readers? (Don't worry; we won't bore you with the list.)
Our cabin stewards enjoyed chocolate, and we gave most items to them. We did bring home a tiny vial of Do Do Organics' Daily Facial Serum, which Sylvia liked, and a jar, provided by Red Barn, of Lavender Chocolate Body Butter, which is great for chapped lips. (When reentering the United States after the cruise, the US Customs and Immigration Officer stuck his finger in the Body Butter, then into his mouth, and by the look on his face I concluded that the flavor did not suit tastes.)
We overheard one writer say that the average person was expected to gain a pound and a half a day on a cruise. But these were not average people, and a fair number of them were far from slender. If they were adding the gifts of food and drink to their daily intake, they'd likely put on two pounds a day.
The WESTERDAM has an extensive library/internet cafe (with a gourmet coffee shop serving scones, and an ocean view) and we weren't the only passengers who took armloads of books back to our cabins. The weather was wet and cool. Rather than going ashore we were enjoying the appealing ambiance of our floating resort. Curling up with a good book was a treat.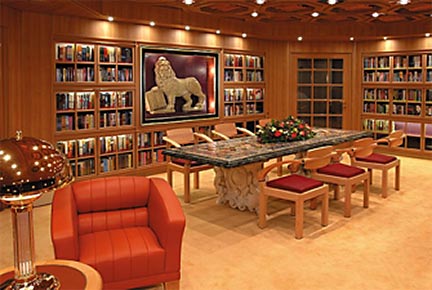 The WESTERDAM sports several eating venues for meals. There are two small, fancy restaurants for an extra fee. Then there is the regular dining room, the Lido's extravagant buffet, and room service. Throughout the ship, we succeeded in ignoring the many walk-away snack opportunities ("free" as they were included in the price of the cruise), which included ice cream cones, candy, and cookies.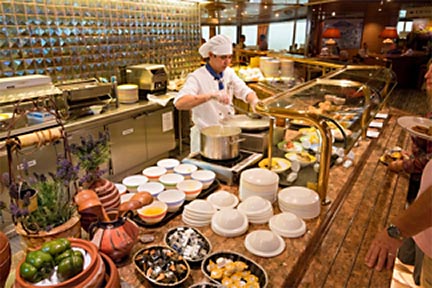 Tantalizing buffets!
Our diet was amazingly fulfilling, and I didn't crave any of these goodies that usually tempted me so much.
Our port stops were scheduled for Sitka, Ketchikan, Juneau, and Victoria BC. We'd visited all of them before, and the weather was wintry. We skipped them, along with shore and shopping excursions, and decided to concentrate on shipboard life this time.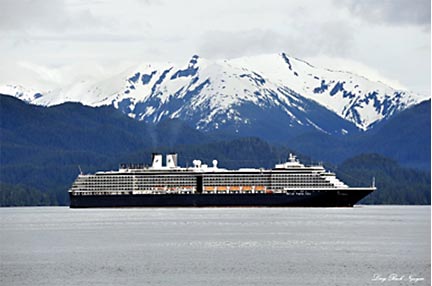 Westerdam in Sitka.
A program about Alaskan volcanoes and glaciers, one on creating personal greetings cards and another teaching one how to edit photos online were interspersed with exercise and dance lessons. Movies, bridge games, gambling in the ship's casino, and Mass alternated with stage shows and cocktail hour recitals by a piano and string quartet. Sylvia signed up for a Tai Chi class, a pedicure, and a new hairstyle while I enjoyed a hot tub soak. This is just a sample of what one could enjoy in one day.
Holland America had improved an already impressive level of service since our last cruise, which was several years ago. The disembarkation procedure was now quick and easy. On earlier cruises, we'd had to vacate our cabins and wait in the public rooms to be discharged. Now, by giving each passenger a color-coded tag for their luggage, the process was instant and we stayed in our rooms until our tag was called.
As we disembarked, a luggage handler intercepted us, led us to our color-coded suitcases waiting in the departure lounge, and helped us into a taxi -- all within 7 or 8 minutes. So the cruise ended on a high note.
While being teetotalers was not something we'd have preferred to be, we managed just fine. This didn't make us popular with the other writers, but my doctor would be pleased. Cruise ships don't provide scales (no surprise there) but I had pulled my belt in three notches by the end of the trip.
We returned home, and I climbed onto the scale. I'd amazingly lost a pound each day! Now, two months later, Sylvia is 16 pounds lighter, and I'm down by thirty-two pounds. And my medical tests have shown my blood sugar is back down to a normal range.
The writer's organization had insisted we all submit a write up about the experience to them. We were wondering how to conclude the article when an email arrived from the club director. This is the article we sent to them – and the email provided the appropriate ending.
It stated that since we had "missed several activities," we teetotalers would not be invited to renew our membership.
We'd been drummed out of the club!