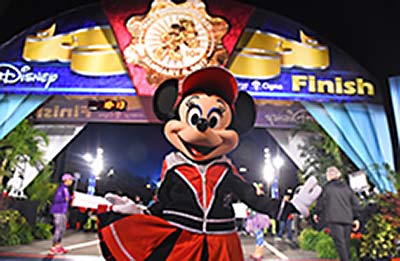 The Disney Marathon finish
Mentioning the name of Walt Disney World, Florida's mega-entertainment attraction, can result in strong reactions. Some would rather die (figuratively speaking) than be caught at the ("overly commercial") Mouse House. Other feel just the opposite, perceiving the Magic Kingdom's entrance arches as the gates to heaven.
My oldest daughter, Julia, is of the latter variety. When in college a few years ago, she joined the Disney College Program – twice. Her second gig was a post-graduate internship as a wedding consultant. For the uninitiated, there's a wedding chapel near the Grand Floridian Hotel. Julia's days as a consultant gave her an inside view of the Disney experience. Being so far from home eventually caused her to return to her home state of Wisconsin.
But she also missed her days at Walt Disney World. She wanted to experience the theme parks in a new way. So she began running races at Disney.
Relatively few people are aware of the several runs held each year at Walt Disney World. The longest of these runs is a marathon held in early January.
Julia signed up for the January race, which promised to be a special one as it commemorated the race's 25th anniversary. The first event in 1994 attracted 8,200 runners. Today, more than 25,000 runners competed on a course that now runs through four Disney theme parks and winds up in the EPCOT parking lot. (No, runners do NOT get free admission to the parks. Disney is smarter than that when it comes to revenue opportunities).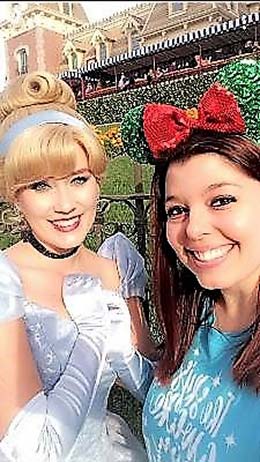 Julia poses for a post-run photo with Cinderella,
who was the "focus" of the Disney Princess Half-Marathon Run in 2017.
(Julia Cherkinian selfie)
Another aspect of my daughter's "secret" is that – although she has been in training for almost two years – she had never run a marathon. This would be her first, and she would have lots of company – almost as if she were running a marathon in New York or Boston.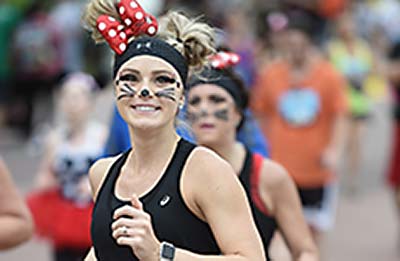 One of the fun features of the Disney marathon, which is part
of a four-day event featuring 5K, 10K and half-marathons
before the full marathon, is the costumes worn by the runners.
Here are some scampering Minnie Mouses.
(Photo courtesy of Walt Disney World)
This year's Disney marathon was held on January 8. It began in darkness on a chilly morning (an understatement). It was only about 37 degrees when runners gathered at 3:30 a.m. (in the pitch dark) for the 5:30 a.m. start (still dark). One of the aspects of this race that runners look most forward to is running past Cinderella's Castle in the Magic Kingdom at sunrise.
If this sounds like enough of a challenge (arriving at 3:30 a.m.), then you haven't heard what else to expect from the Dopey challenge (this is the title of completing the full four races, consecutively: the 5K, 10K, half-marathon and full marathon). Amazingly, veteran runners know that if they want to be a part of the following year's run, they must sign up on the first day of applications (yes, the computer system may crash temporarily) Registration for the 2019 run opens sometime in March.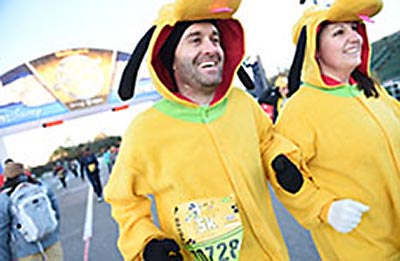 Since the "core" Disney characters are featured in this run,
these marathon runners pay tribute to Goofy.
(Photo courtesy of Walt Disney World)
Readers of this article may still have a chance to to run in or near the Disney theme parks. The Star Wars half-marathon is on April 19-22, and the Wine and Dine Half-Marathon is on Nov. 1-4. It's likely that all slots will be filled by the time you read this article, however.
The January event always features the chance to run through all four Disney theme parks: The Magic Kingdom, Hollywood Studios, EPCOT and Animal Kingdom. Since some of the parks will be open to "guests" before the race finishes in the EPCOT parking lot, areas are neatly roped off to keep strollers and runners from colliding.
One passionate runner we talked to after the race talked about why this run is her favorite: "every time I see Cinderella's castle at sunrise, I still get tears in my eyes," she said.
While running through the parks is undoubtedly the favorite part of the marathon, the marathon has its tedious moments as well. Runners must do three miles inside the ESPN Wide World of Sports Complex, followed by a the course's less-than scenic construction sites.
For those interested in signing up for the Disney runs, the ESPN sports complex serves as "runners' central." It's where runners pick up their bibs and maps, and where newcomers can attend talks on how to successfully pace themselves for the 26.2-mile race.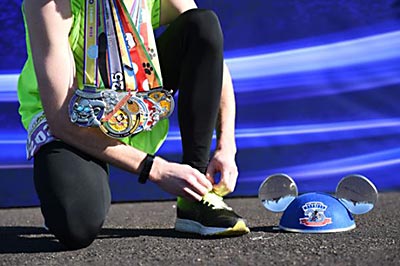 "Going the distance" means careful planning and a
rigorous training schedule for those tackling the marathon.
(Photo courtesy of Walt Disney World)
Runners who complete four races in four consecutive days are considered to have met the Dopey challenge. The challenge begins with a 5K run, followed by a 10k run, a half-marathon and a full marathon. During the week of this event, runners can be seen wearing their large medals in the theme parks. Those who complete the entire Dopey challenge can receive a total of six medals.
Worn together, the runners can easily be heard from a distance as the medals make a distinctive clanking noise. It's as if swimmer Mark Spitz had shown up wearing all his Olympic gold medals at once. The runners smile and wave at each other in solidarity as they stand in long lines to get on some of the theme park rides.
One piece of advice my daughter heard over and over from seasoned runners: don't rush through the race. Take your time. Make it fun. Take in everything around you – the runners – the cheering crowds – and what the empty, early morning Disney parks look like. My daughter must have listened. When running through Animal Kingdom, the last of the four parks on the course, she decided to take a break and go on the Mt. Everest roller coaster ride.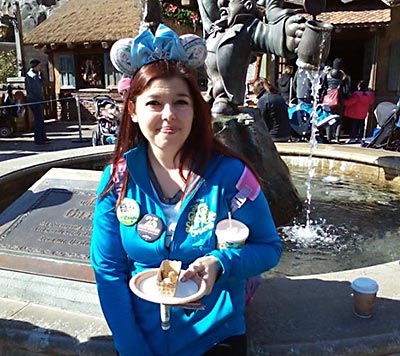 Julia poses at Gaston's Fountain while eating a confection near Belle's castle.
After four chilly days, the sun finally managed to warm Disney guests –
at least for a couple of hours. Julia is wearing some special, marathon-related
buttons (including one that announced her status as a first-time marathon runner.
(Photo by Anne Siegel)
In her pre-race planning, Julia was smart enough to sign up for a hotel on Disney property. The one she chose was the Art of Animation, Disney's newest hotel. It must have been a favorite spot for runners, judging from the fact that the cafeteria offered a high-carb menu item specifically geared to runners.
If you are thinking of staying at the Art of Animation hotel, do keep in mind that the large cafeteria turns from a quiet oasis into a frenzied mob scene whenever runners return from the current day's race. Although each runner receives a complimentary snack box at the end of the run, quite a few must have required more substantial sustenance.
Another plus for staying within the Disney complex is that special buses are provided to shuttle runners (and spectators) to and from the starting line and finish line. On marathon day, which involves 25,000 runners, this was a godsend. At 11 a.m., traffic crawled to a stop as spectators flocked to see their friends and family cross the finish line. Disney furnished special lanes specifically for its own buses to avoid this congestion (although it was still slow going to the finish line).
| | | | | |
| --- | --- | --- | --- | --- |
| | | | | |
| | Another plus of attending an early-January run is that visitors can still see most of the holiday decorations at Disney. This photo was taken along Main Street in the Magic Kingdom (Photo by Anne Siegel) | | At night, Cinderella's castle transforms into a "snow"-covered wonderland before the park closes at night. (Photo by Anne Siegel) | |
The finish line scene suggested a party. A huge arch towered above the runners – large enough to accommodate dozens of runners at the same time. Although the serious runners completed the race in less than three hours, the number of finishers grew larger and larger as it got closer to seven hours after the race began. A DJ blared out tunes such as Queen's "We are the Champions" and Katy Perry's "Roar." In between songs, an announcer called out the names of teams finishing from around the world. Peru and Africa were among the teams heard by this spectator.
Gawkers and fans can watch the finish line action from bleachers set up nearby. As they crossed the finish line, it was interesting to note that runners displayed a full range of emotions, from tears to celebratory hugs and shouts.
Some of the US teams were dressed in a bit of whimsey, such as the all-male pink flamingo team. Costumes of every sort whizzed by, from Goofy and Minnie Mouse to Buzz Lightyear and Woody (from "Toy Story"). Tinkerbell costumes seemed to be among the favorites, perhaps because runners could identify with "flying" through the course. Peter Pan costumes were popular, too.
When it was all over (seven hours after the race began), Julia was exhausted but proud. She had to walk slowly and gingerly with each step for the rest of the day. This mother/spectator jumped up and down, shouting "You did it!" Given the amount of enthusiasm from her mom and some Wisconsin friends, you'd think Julia had won an Olympic gold medal. And, in own way, she had.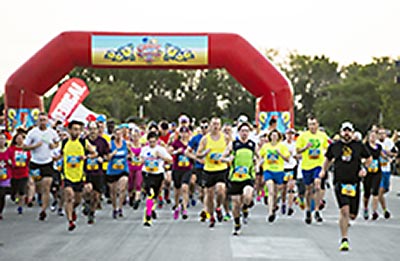 Hundreds of runners cross the finish line
at the end of the final Dopey challenge race.
(Photo by Walt Disney World)
| | | | | |
| --- | --- | --- | --- | --- |
| | Anne Siegel (seen here at Frank Lloyd Wright's home in Spring Green, Wis.) is a Milwaukee-based freelance theater and travel writer. Her travel stories have appeared in many national magazines and major daily newspapers across the U.S. | | | |