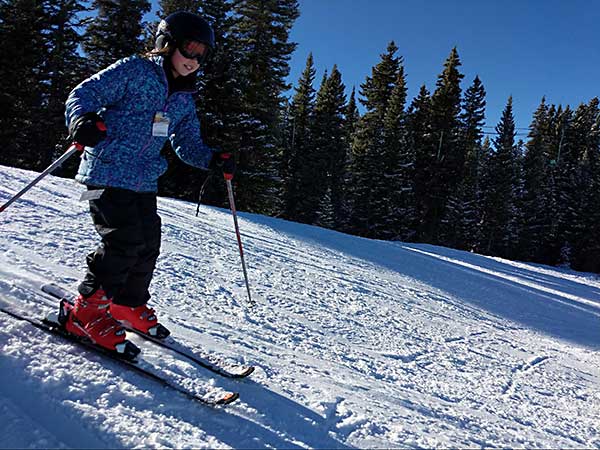 Purgatory sounds like a scary anecdote from Mrs. Olson's Sunday School class. As in, "If you sin, you will end up skiing the slopes of Purgatory for all eternity."
That wouldn't be such a bad thing, come to think of it.
Just a half hour drive north of Durango, Colo., Purgatory Resort is as quirky as it sounds, as long as you don't get too deep into the literary references. Named after nearby Purgatory Creek, the mountain resort went all-in on a Dante Alighieri theme -- you know, the early Renaissance Italian poet who wrote The Inferno -- with slopes named Hades, Paradise, and, of course, El Diablo. It is also vintage Southern Colorado: part cowboy, part hippie, and a world away from the more image-conscious ski resorts farther north.
And then there's Durango, a place I've visited many times, but never with my three kids, ages 11, 13 and 15. It's the quintessential western town, with a charming historic district, plenty of great restaurants and enough hiking trails to keep you and your children on the move for the entire visit.
Dante would also be inspired by nearby Pagosa Springs, where the thermal waters bubble out of the earth at a scalding-hot 144 degrees. That's some inferno! And he'd probably appreciate always-frozen Wolf Creek, a frequently overlooked ski resort nearby that is known for its abundant snow.
But I'm getting ahead of myself. My family's adventure began with a drive from Colorado Springs and a visit to Great Sand Dunes National Park & Preserve. A climb to the summit of these mounds of sand, with the snow-capped peaks in the background, is a reminder that you're passing through a special place. I mean, how else do you describe a Saharan desert next to the Sangre de Cristo Mountains?
Alright, I have to be honest. It's a La Niña winter here in Colorado, which means it's warm and almost snowless. So when we arrived at Wolf Creek, we didn't think there would be anything to ski on. We were wrong. Wolf Creek was open for business, and we spent a fun-filled day taking family-friendly runs, which is to say, nothing too steep and intimidating.
After we checked into The Springs Resort & Spa in nearby Pagosa Springs, we also discovered what visitors do to thaw out after a long day on the slopes: They immerse themselves in one of the resort's mineral pools. And when I say "hot" I mean hot. The pools range from a comfortable 88 degrees in Paradise to a hot-hot-hot 109 degrees in The Burg.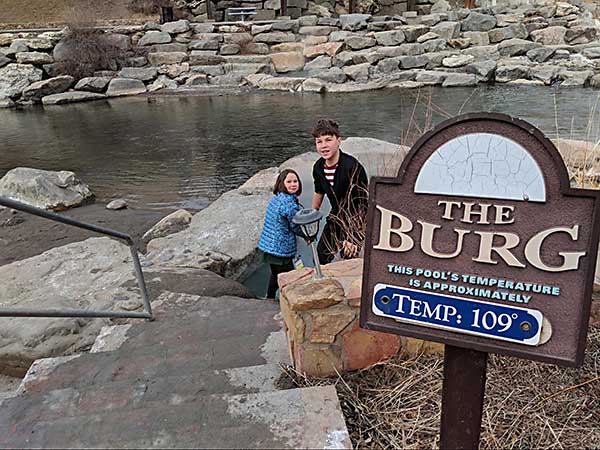 Our next stop: Purgatory. Luckily for us, the weather gods blessed us with an overnight dusting of fresh powder. The next morning was a Chamber of Commerce day featuring a cloudless blue sky and a blanket of new snow on which to ski. Although insufficient snow meant that only about a quarter of the resort's trails were open, it was still an incredible experience.
My kids ended up in a lesson with a dude named Thomas, who took them to all the awesome places children like to ski and snowboard -- those little runs with moguls, jumps and other interesting things that adults tend to avoid. I met up with friends and explored the trails I remember from long ago when the world was a simpler, saner place.
Purgatory has a little something for every skier level: almost-flat green runs that seem to go on forever; challenging blue runs that, at this altitude, can leave even an experienced skier breathless; and steep-as-a-cliff black diamond slopes that'll put the fear of God in you. (Just can't get away from the theological references today, can you, Chris?)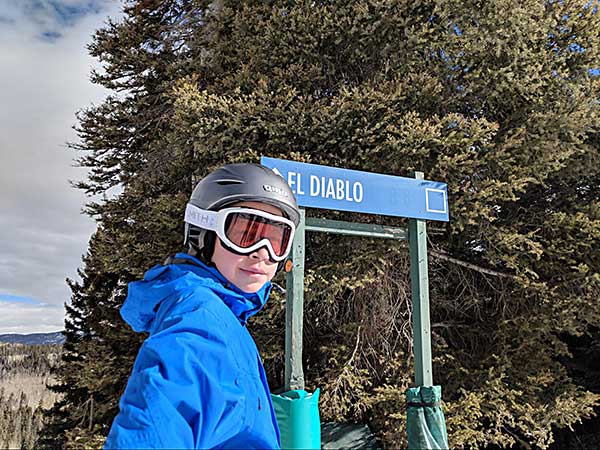 In sharp contrast to Purgatory, Durango was completely snowless. And that's OK. Sure, snow would be nice, but there's no mountain here to ski. Instead, we wandered through town and stumbled upon a museum that I'd never known about: The Durango & Silverton Narrow Gauge Railroad Museum. It's hidden behind the rail station, and if you make it out to Durango, you absolutely have to visit. The facility, part of the still-operating narrow gauge railroad that runs up to Silverton, is filled with fascinating artifacts. Those include a series of operational locomotives and trains in a 15-stall roundhouse and a 1913 Curtiss Headless Pusher Model "D" biplane, the first aircraft to serve Durango. And there's the smell -- a faint whiff of coal, tar and old mothballs that gives it that aroma of authenticity. It felt like we were taking a walk through history.
In past visits, I've ventured out to Mesa Verde National Park and up to Silverton on the railroad. But on this adventure through Durango and Pagosa Springs, the skiing and museum were enough. They left us exhilarated and exhausted.
It almost had me hoping for a little detour to the Ninth Circle in Dante's Inferno, where the skiing is probably pretty decent. (You know, the circle that's always frozen.) But Mrs. Olson would not approve.