'When I first caught sight of it I was 50 miles away and afoot, alone and weary. Yet all my blood turned to wine, and I have not been weary since," wrote naturalist John Muir about Mt. Shasta in 1874.
There is certainly something mystical and uplifting about this mountain. At 14,179 feet, it is joined to a smaller sister called Shastina.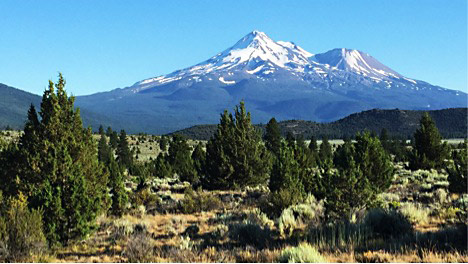 Mount Shasta
Thousands tramp over Shasta's icy slopes each year heading for the summit; only about one in three make it to the top. Why? Perhaps because this is just a partial list of the equipment the climber will need:
Ice ax with leash tied to your person (To prevent its sliding down the mountain and colliding with the next hiker) Climbing helmet Mountaineering boots
Crampons
Sleeping bag rated for thirty degrees below freezing
Carry-out bag for all your trash and waste
Fortunately it is possible to get a close look at the icy peaks without a climb. Near California's northern border, it is clearly visible from Oregon. In fact, we can see it from our living room in Klamath Falls 55 miles away—as the crow flies (although crows probably can't reach that altitude). From the north, we see a mirror image of its shape instead of the often-photographed southern side. As a bonus, we Oregonians see its glaciers, which give us a cooling sensation even when temperatures are in the nineties.
The peaks are located in the Shasta/Trinity National Forest north of Redding, California. The idea of a Mount Shasta National Park found expression as early as 1888 in the writings of the naturalist, John Muir. In "Picturesque California," which he edited, Muir says:
"The Shasta region may be reserved as a national park, with special reference to the preservation of its fine forests and game…Very little of the region can ever be more valuable for any other use—certainly not for gold nor for gain...."
The lucrative practice of clear cutting swaths of forest obviously never occurred to Muir. The National Forest currently has permits issued to several logging companies, so it won't become a National Park anytime soon.
We have observed the pair of big mountains from several angles. If you are aboard Amtrak Coast Starlight #14, you will travel high right over Shasta's immense shoulder and enjoy a dazzling close-up experience at sunrise.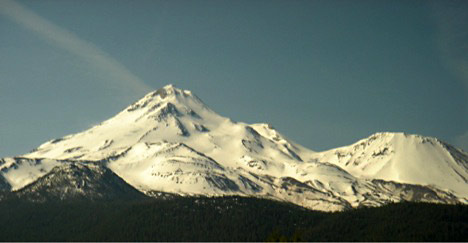 View from window of Amtrak's northbound Coast Starlight.
On the North Gate trail, on the northwestern slope, seriously geared-up hikers passed us, one moving speedily uphill on crutches.
There is a western view of Shastina from Mt Shasta City, where we have enjoyed excellent meals at Lilly's.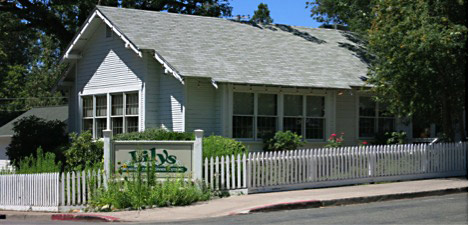 Lily's Restaurant, Mt. Shasta City, California
From the southeast, Mt. Shasta still dominates the landscape, but blends into a completely unfamiliar shape as viewed from McCloud, CA.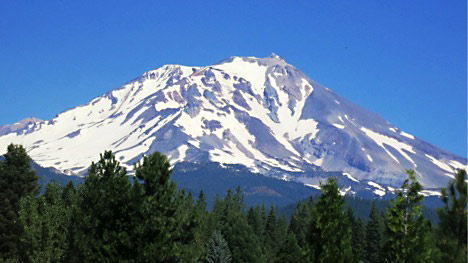 Looking north to Mt. Shasta from McCloud, California.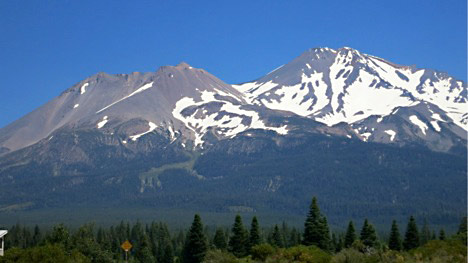 Big Sisters, Mt. Shasta and Mt. Shastina.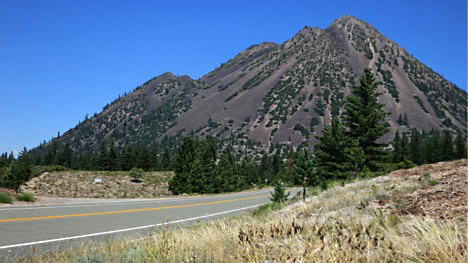 Mt. Shasta's little brother, Black Butte.
Oddly, although this rock pile appears to be black under certain lighting conditions, when you pick one of the rocks, it looks tan with small spots of black.
During our walk up the precarious trail to the summit of Black Butte, a young boy was overheard saying to his Dad, "One false step here and you're history, right?"
Shasta's arresting aura seems different than the other Cascade volcanoes that march northward from Mt. Lassen in California into Oregon and Washington.
It has led to some interesting legends.
Wikipedia has this to say about it: "California's Mount Shasta has been the subject of an unusually large number of myths and legends. In particular, it is often said to hide a secret city beneath its peaks. In some stories the city is no longer inhabited, while in others it is inhabited by a technologically advanced society of human beings or mythical creatures. "Indian legend "According to local Indian tribes, Mount Shasta is inhabited by the spirit chief Skell who descended from heaven to the mountain's summit. Skell fought with Spirit of the Below-World, Llao, who resided at Mount Mazama by throwing hot rocks and lava, probably representing the volcanic eruptions at both mountains. Writer Joaquin Miller recorded various related legends in the 1870s."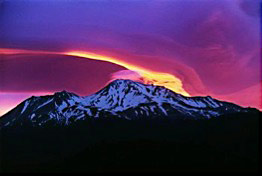 Sunrise on Mount Shasta.
From Wikipedia:
"Lemuria
Centered on a hidden city of advanced beings from this lost continent, Lemuria is often a focus for non-native American legends The legend grew from an offhand mention of Lemuria in the 1880s. In 1899, Frederick Spencer Oliver published "A Dweller on Two Planets," which claimed that survivors from a sunken continent called Lemuria were living in or on Mount Shasta. Oliver's Lemurians lived in a complex of tunnels beneath the mountain and occasionally were seen walking the surface dressed in white robes. In 1931, Harvey Spencer Lewis using the pseudonym Wisar "Spenle Cerve wrote a book (published by the Rosicrucians) about the hidden Lemurians of Mount Shasta that a bibliography on Mount Shasta described as "responsible for the legend's widespread popularity." This belief has been incorporated into numerous occult religions, including "I AM" Activity, The Summit Lighthouse, Church Universal and Triumphant, and Kryon.
"Saint Germain
"According to Guy Ballard, while hiking on Mount Shasta, he encountered a man who introduced himself as Comte de Saint-Germain. Saint Germain is said to have started Ballard on the path to discovering the teachings that would become the "I AM" Activity religious movement.
"JC Brown
"According to a legend, JC Brown was a British prospector who discovered a lost underground city beneath Mt. Shasta in 1904. Brown had been hired by The Lord Cowdray Mining Company of England to prospect for gold, and discovered a cave that sloped downward for 11 miles. In the cave, he found an underground village filled with gold, shields, and mummies, some being up to 10 feet tall.
"Thirty years later, he told his story to John C. Root who proceeded to gather an exploration team in Stockton, California. 80 people joined the team, but on the day the team was to set out, Brown did not show up. Brown was not heard from again."
We have observed signs of religious worship on the slopes of Mt. Shasta—rocks arranged in circular patters, twigs wound with colorful pieces of yarn, and a solitary woman wearing an odd dress of heavy homespun material were some of the signs.
Once, a bus full of Japanese tourists debarked on a valley near Shasta and arranged themselves, meditating, around the shores of a small lake that reflected the mountain.
Hiking up from the old ski resort parking lot, past Green Butte, we encountered, at nearly 10,000 feet, a small group of awe-struck tourists from the Czech Republic.
Shasta seems to be world famous not only geographically but also inside spiritual and religious circles!