The perennial attractions of Palm Springs may always be golfing and swimming, but there are far more adventurous ways to explore this unique desert environment. Late fall is a wonderful time to check out this desert oasis. Temperatures range from 70-90 degrees. Look for reduced rates at hotels before the peak winter months arrive. And you'll find far fewer visitors in the fall, too.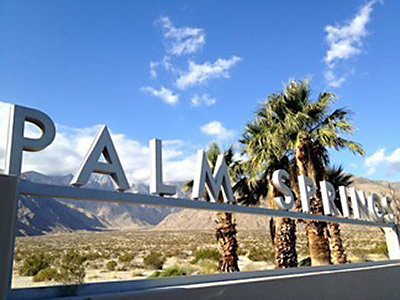 Endless sunshine and relaxation for winter-weary travelers
have made Palm Springs a popular winter destination since
the late 1930s. (Photo: Courtesy of Palm Springs Bureau of Tourism)
For starters, try to arrive in Palm Springs by air – preferably to the sleek, modern Palm Springs International Airport, located just minutes away from downtown Palm Springs. The airport has a warm and welcoming feel (unlike most city airports). Once you land, if you are waiting for luggage to come off the plane, you can count the number of golf bags going through the baggage carrousel.
Once you are all settled in, you may want a different aerial view than you got during your flight. Early risers may want to float through the skies in a hot air balloon ($299) from nearby Palm Desert. The trips, which are dependent on weather reports, depart early in the morning. Reservations are a must.
Or you could take a more reliable form of aerial transportation that's less reliant on weather conditions – and far less expensive.
That would be the city's famed aerial tram (about $26, with some pricier packages that include lunch or dinner). Reservations are recommended, especially at peak season. Or you can drive along the long road that takes you the tramway's base station, go to the box office and purchase tickets for a tram later that day.
Before you step into the tramcar, keep in mind that the temperature is likely to range from 80 degrees at the base station to perhaps 35 degrees on the mountaintop. If you want to wander through the wilderness trails once you get there (recommended), be sure to bring a warm jacket, hat and even mittens! Once you've made it to the top, check out the full restaurant, bar and, of course, the gift shop. One year, two of my girls got embroidered emblems of the tram that later were sewn (by me) to their green Girl Scout sashes. They were a hit, as well as a lasting memory.

One way to save a few bucks is to purchase snacks, fast-food items and drinks directly OUTSIDE of the restaurant. But for a glorious view of the Coachella Valley below, there's no denying that the restaurant offers some of the best views. If you're planning to hike along the trails instead of enjoying a leisurely meal, you'll have equal access to these spectacular sights from the nearby cliffs. If you plan to arrive just before sunset (highly recommended), you'll see the city lights begin to glitter below while stars crown the heavens above. If you have enough time, stop and watch a fascinating film about how the tramway was constructed. You'll see more than a few of the old tram cars strewn around the grounds near the base station and parking areas.

The world's largest rotating aerial tram cars take visitors up a 2 1/2 -mile climb to the top of the San Jacinto range. The ride takes about 10 minutes. (Courtesy of Palm Springs Bureau of Tourism)
For those who'd rather enjoy historic aircraft while keeping your feet firmly on the ground, a must-see attraction is the Palm Springs Air Museum. It's located behind the main Palm Springs airport in 65,000-square-feet of climate-controlled hangars. Like the tramway, this could easily be a half-day excursion. The museum is an educational non-profit organization, and its goal is to preserve war planes and honor our veterans. Don't miss the section dedicated to Bob Hope, one of the original Hollywood celebrities to build a home here. Among the artifacts is a golf cart that resembles Bob Hope's face. There is plenty of military memorabilia, too. Tickets are $17-10, with family group prices; free for active military and their families.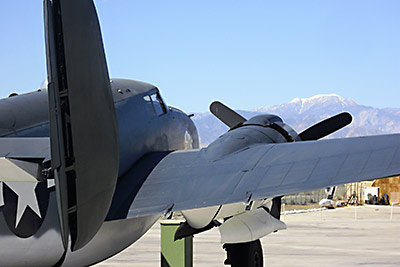 More than 30 flyable planes, films, exhibits and a flight simulator
are at the Palm Springs Air Museum. During World War II,
the desert became a training ground for General George S. Patton's troops
as they prepared to invade North Africa. (Courtesy Palm Springs Bureau of Tourism)
Be sure to chat with the friendly volunteers, most of whom are veterans that now live in the valley. Some of the pilots can point to the exact aircraft they flew during World War II. The museum has the largest collection of flying WWII aircraft.
For rugged road warriors – or those who'd like to pretend they are – hop aboard a bright red jeep and hang on. The jeeps are operated by Desert Adventures, and most of the guides are part-time retirees. The Indian Canyons Half-Day Tour ($135) is one of many different tours available. This one takes visitors into the ancestral home of the Agua Caliente Indians. Spectacular canyon formations rise above the paved road, as guides tell you of the history, legends, and culture of the Cahuilla people.
The back of the jeeps is covered by netting so riders don't fry in the desert sun. Guests should be mobile enough to easily get on and off the jeep at certain spots. Some of the most beautiful sights are the oases, which feature 150 species of plants. Life-giving water bubbles up from the earth to nourish tall, lush palms and ground cover.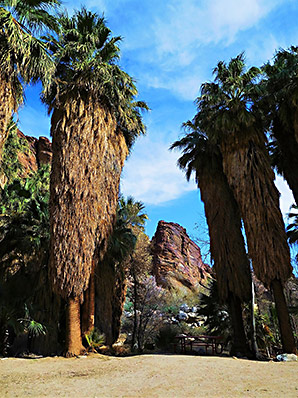 At various oases, the strong mid-day sun
is mercifully blocked by tall palms. Guides
carry ample supplies of water and granola bars
for thirsty and hungry guests.
(Courtesy Palm Springs Bureau of Tourism)
At one point during the trip, a one-mile hike takes visitors into the heart of where the Cahuilla lived. Along the way, guide Phil La Greca points out a scrawny, prickly bush. He says it was the Cahuilla's drug store. Various parts of the plant were boiled and eaten (or spread on like a cream) to prevent indigestion, headache, and to help heal wounds.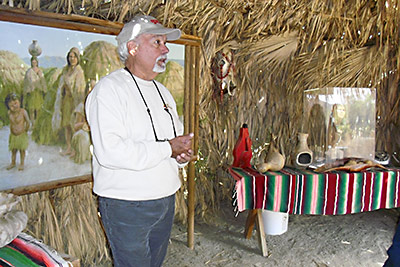 Desert Adventures guide Phil La Greca describes
some of the Native American ceremonies held in a
reconstructed tent/exhibit. Cahuilla Indian artifacts
and art are incorporated into his talk. (Anne Siegel photo)
While the daytime tour is great for non-golfers, another option is the San Andreas Fault Sunset Tour ($135). Driving off-road on a private, 800-acre preserve along the San Andreas Fault, you'll learn about the area's geography. As it gets dark, the canyon rock change hues, eventually throwing sharp shadows against neighboring cliffs in the silent desert. As the stars come out, the guide will point out constellations in the clear mountain air.
For the more active adventurer, horseback riding and bicycling are two great ways to view the landscape from a more personal perspective.
Smoke Tree Stables in Palm Springs has been around for more than 50 years. One-hour guided tours are offered at most times of the year. You don't need to call ahead for a reservation, but arrive a few minutes before the ride starts. If possible, wear leather boots or athletic sneakers, and jeans are preferable to shorts.
If you are the only person who shows up at the appointed departure time, you automatically get a private guided tour for no additional fee. You'll be walking the horse on somewhat rocky trails, eventually winding up at an oasis. The shade at the oasis is a welcome break from the relentless sun.
If you'd rather ride solo, private rides are available for an extra fee. For the ultimate experience, try the Murray Canyon Haul Rides ($120). Horses are trailered to scenic Indian Canyons and the ride follows along a stream. Lunch is provided, too.

One of the horseback guides stables her own steed
at the Smoke Tree Stables. (Anne Siegel photo)
For those who can still proficiently pedal a bicycle, many tours are offered by Big Wheel Bicycle Tours. One of the most popular is the Earthquake Canyon Express Downhill Bike Adventure, a 20-mile ride on paved road that descends along the San Andreas fault. Unlike its name, however, don't expect to see live volcanos or cracking ground during your expedition. And even the "all downhill" part is somewhat of a misnomer, too. If you jump on your bike while facing a strong wind, be prepared to pedal all the way.
Thankfully, a van driver trails the group, ready to pick up any tired cyclists (or swap out a bike with a punctured tire for a spare one in the back). Hotel pick-up and drop off is available. Or, if you have your own rental car, you can meet at a designated coffee shop. Tours ($95) depart daily at 8 a.m. and 1 p.m. When the driver advises riders to take their time and stop to take in the sights, pay attention. This is not a race; watch how the terrain changes from craggy stone cliffs at the outset to green, fragrant citrus fields near the end of the ride.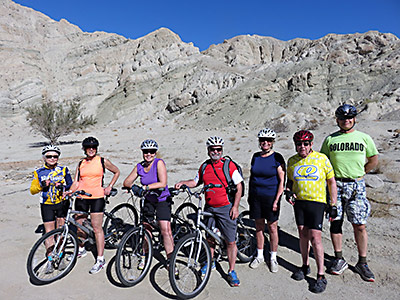 A jubilant group of riders celebrates the end of their downhill bike adventure.
For the author (shown in this photo), the ride has offered a fantastic opportunity
to meet other visitors from several US states, and Canada. (Anne Siegel photo).
Although the early ride may cause some grumbling from late risers, keep in mind that it's a whole lot cooler than the afternoon ride. Pack a light jacket and sun screen. No matter which ride you choose, there's a stop for a free date shake at a date-packing operation along the way. The shop, located in the middle of an agricultural area, is a good place to pick up some boxed dates while sampling a half-dozen varieties of dates grown here.
Attractions and prices are subject to change. Listed here: Palm Springs Aerial Tramway: first tram up departs at 10 a.m. Last tram down is at 9:30 p.m. https://www.pstramway.com; hot air balloon, (various dates), https://www.adrenaline.com/ ; Palm Springs Air Museum, open 10-5 p.m. daily; https://palmspringsairmuseum.org ; Desert Adventures Eco-Tours, jeep tours daily; https://red-jeep.com/; Smoke Tree Stables, horseback riding daily (in season), https://smoketreestables.com ; Big Wheel Tours, bicycle tours daily, https://bwbtours.com/tours/.
| | | | | |
| --- | --- | --- | --- | --- |
| | Anne Siegel (seen here at Frank Lloyd Wright's home in Spring Green, Wis.) is a Milwaukee-based freelance theater and travel writer. Her travel stories have appeared in many national magazines and major daily newspapers across the U.S. | | | |