"Ahhh, San Diego!" my wife exclaimed. As we basked in Seaport Village sun, we licked our CoffeeCoffeeBuzzBuzzBuzz ice cream cones, swayed to music of the onstage Peruvian flutist and guitarist, and gazed at San Diego Bay yachts. We glanced in appreciation at our nearby rental bicycles. In the course of the next few days we would become even more dazzled by what San Diego has to offer. Summarized below are some major highlights.



Downtown



The

Gas Lamp quarter

has 17 blocks of assorted historical buildings, including David-Horton House Museum, dating from 1873. Nearby is the beautiful Horton Grand Hotel. Another worthwhile old house is now Half Door Brewing Co. offering its own beers and a wide food fare. We enjoyed its wooden deck overlooking the Padre's baseball stadium, Petco Park, and cavorted with fun and rowdy fans before the season opener.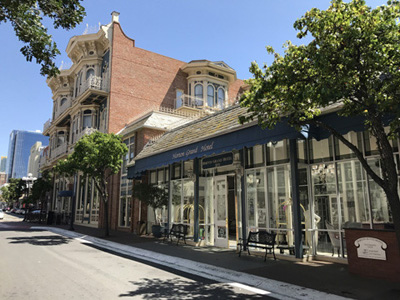 ·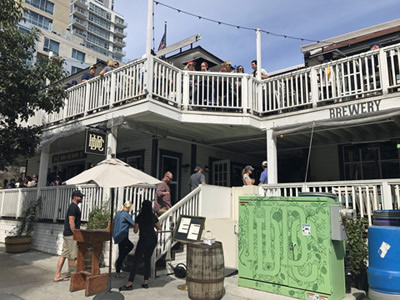 Horton Grand Hotel Half Door Brewery and Pub

Nearby, the new San Diego Library houses almost every English book in print. It's nine floors of beautiful modern architecture has a dome structure apex and roof-top city views.

One of the best places for a night out in the city is Little Italy. We dined almost every evening in this tasty quarter on India Street, stretching between Ash and Fir. Here you'll find more than a score of Italian eateries, coffee shops, gelato stops, and bars. The area's namesake blue neon sign spans the street in the center of the action. Harbor Music Hall hosts a variety of entertainment events.


Little Italy San Diego Library

Shoreside



San Diego Bay's

Promenade

stretches for a couple of miles from the Convention Center to Broadway Pier and the Maritime Museum. With no motor vehicles and entrancing bay views, it's the perfect place for strolling or cycling.

Along the way is the

Embarcadero Marina

, filled with activity of the hundreds of sailing and motorized yachts that moor here. The park at the north border is a great spot to enjoy a picnic lunch, fly a kite, or lounge on the grass.

Embarcadero Marina North Marina Park

Neaby

Seaport Village

is filled with enticing single-story gift shops and restaurants. It also includes an open-air stage, picnic tables, and dessert and coffee shop options. We couldn't pass up the entertainment, snacks, and gift shopping opportunities.



Broadway Pier Ferry

makes hourly 15-minute trips to Coronado. It's the perfect terminus for the promenade, and it provides quick access for pedestrians and cyclists to the wonders of Coronado Peninsula across the bay.

Seaport Villlage Fountain Seaport Village Promenade

Coronado

After arriving at the Coronado Ferry Landing, pedestrians normally opt for the peaceful mile-long walk through neighborhoods along B Avenue to Hotel del Coronado. Cyclists equally appreciate that beautiful route, lined with Craftsman-era homes and mansions. Cyclists can also easily take the three-mile route that winds along the shore and past Coronado Golf Course to reach the hotel. The peaceful ambiance of Coronado lured us for two days of enjoying its sights.

Hotel del Coronado

was built in 1888 with the vision of its founders to make it "the talk of the Western world." It realized that dream and became a National Historic Landmark in 1977. We couldn't refuse ourselves a luxurious, expensive lunch overlooking the hotel, its pool, and the Pacific Ocean beach with rolling shore break.


San Diego Skyline from Coronado Ferry Hotel del Coronado

Balboa Park

The varied attractions of Balboa Park include 17 museums, many performing arts venues, lovely garden trails and the

San Diego Zoo

. The zoo merited a full day visit to its 100 acres filled with more than 650 animal speces. Pioneered by its zoological society, the open-air, cageless exhibits have led to the zoo's world-class ranking. A real highlight was the polar bear viewing. Our thoroughly enjoyable and educational day passed too quickly in the warm springtime sun.

Ballboa Quadrangle Architecture Zoo's Polar Bear

We returned for a second full day to Balboa park for additional highlights. The California Quadrangle is surrounded by buildings, including the Balboa Museum of Art from the 1915 opening for the Panama-California Exposition Other nearby attractions include the 200' Spanish colonial Califonia Tower, the Japanese Garden; and the Botanical Building and Lily Pond.

Botanical Building and Lilly Pond Spanish Village Art Center

The small and friendly Timken Museum of Art offers a varied old European collection, including a Rembrandt and Italian Renaissance, French, Dutch, Flemish, and American masterpieces spanning 600 years. The foyer is adorned with Parisian 17th century tapestry.

We couldn't pass up spending a good part of the afternoon exploring the Spanish Village Art Center. The site has over thirty varied studios representing scores of talented San Diego artists. The friendly proprietors gladly explained their artistic wares and the range of opportunities in San Diego.

North to Old Town and Mission Bay

Old Town San Diego is located a few miles north of downtown. We loaded our bicycles on a tram for a 15-minute ride there. The historic adobe ranch homes and businesses date from 1820-1850. They rest peacefully today in their original setting. A highlight is Casa de Estudillo, the multi-room estate of an early prominent family. The town was established as a Spanish Mexican settlement before annexation by the United States. Kit Carson was a member of the group that first raised the American flag in 1846.

Old Town Casa Tres Amigos

We ended our vacation with a day at Mission Bay Beach, lying on the sand and viewing the surfing. We've decided to add nearby Mission Bay Park, Sea World, and Mission Bay kayaking to the "must-dos" list for our next vacation in dazzling San Diego.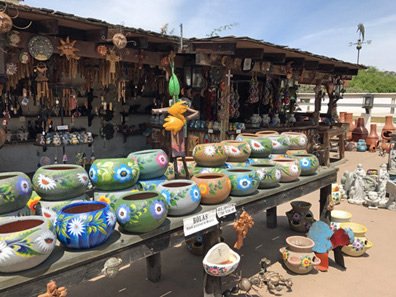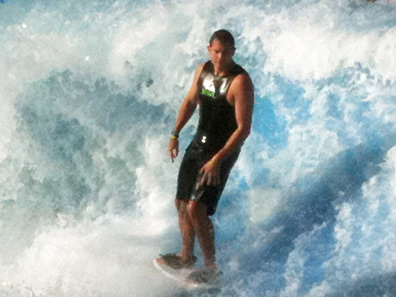 Old Town Crafts Mission Bay Boarder

When You Go
Air/Car/Lodging/Dining
Standard Web searches easily provide needed information for flights, car rentals, lodging alternatives, and dining. Use Google's maps for San Diego orientation, and locate the Gaslamp, Little Italy, Shoreside Promenade, Seaport Village, Corona, Balboa Park, Old Town, and Mission Bay regions. There is a broad range of lodging and dining options.
Public Transportation, Bicycles, Rides, Etc.
A real plus for the San Diego visitor is the availability of public transportation and the location of the airport near the town center. We were able to spend multiple days touring without an automobile. Bike rentals were economical and readily available at Bike Revolution, 522 6th Avenue, in the Gaslamp quarter. Bicycles can be mounted on public trams, buses, and ferries for longer excursions. Also note the availability of chauffered Uber, Lyft, and Freeride vehicles throughout the downtown area. They are especially convenient for nighttime travel.
About the Authors

Les and Rita Furnanz originated High on Adventure magazine in April 1997 and were active writing partners until February 2004. On occasion they continue to contribute HOA articles. They visit France, Germany, and Hawaii every year and other world locations from time to time. They are still saying, "Yes... we are High on Adventure!"