| | | | | |
| --- | --- | --- | --- | --- |
| | It is momentarily dismaying to approach a ski resort and see the entry road lined with half-completed, Tyvek-wrapped 8-story buildings. Under other circumstances I could get excited about a master plan that includes all these beautiful ski-in/ski-out accommodations except this dream has been on hold now for nearly ten years. As Village Drive curves around this puzzling scene, the parking lot shows definite signs of life with a cluster of yurts dotting the base area, and chair lifts rising above gladed trails and bowls buried in white. | | | |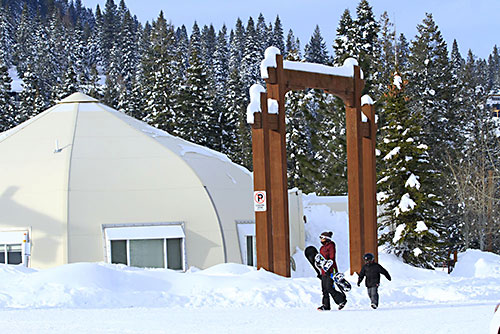 Yurts dotting the base area at Tamarack house dining venues,
daycare and the Sports Dome (Photo by Larry Turner)
When it opened in 2004, Tamarack was on its way to becoming North America's first permitted four-season resort since Beaver Creek, Colorado, opened nearly a quarter century earlier. Then the financial crisis of 2008 struck. The yurts, intended to be temporary housing for the ski shop/day lodge and a couple of restaurants, have been permanent fixtures for nearly a decade.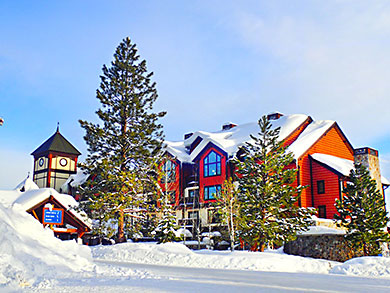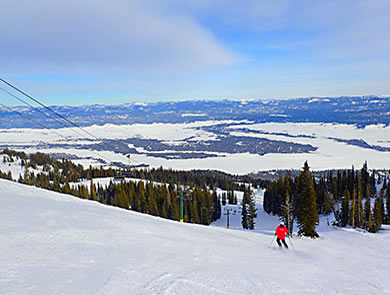 Many properties and most of the ski runs include a view of Lake Cascade (Photos by Larry Turner)
Investors flocked to purchase vacation abodes, many with views of Lake Cascade, a 47-square mile reservoir on the North Fork of the Payette River in west central Idaho. But rather than enjoying winters playing on the slopes, and summers chasing golf balls, a few years ago they watched in dismay as one of their chairlifts was repossessed. Homeowners who have held their breath to see what happens next took action last fall and purchased the resort operations.
As one of the newest resorts in North America, Tamarack is a determined survivor. They have a word for the grit needed to overcome their challenges: Tamitude.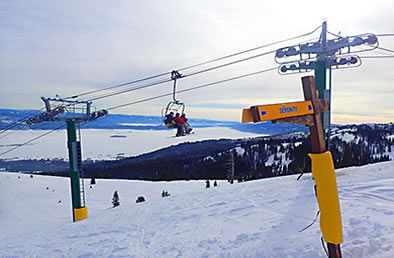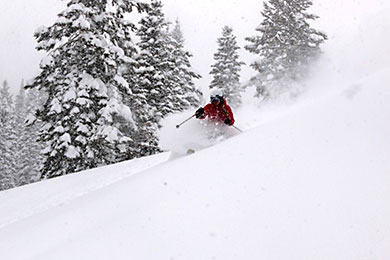 The Summit Express ride covers an 1,100-foot vertical in less than four minutes and provides access to snow-laden bowls (Photo on left by Larry Turner, photo on right courtesy Tamarack Resort)
Unloading at the 7,700-foot apex of West Mountain, the Summit Express serves up a variety of blue and black runs. Glades and bowls dot the upper portion of the mountain, but it takes a few minutes before you're ready to explore while you take in the 360-degree view encompassing the Payette National Forest, the Long Valley and Lake Cascade.
A prime cruising run, Lower Bliss ripples in steps and drops along the boundary of the resort (Photo by Vicki Hoefling Andersen) Heading far skier's right, Upper Bliss is a double-blue more comparable to a black at many resorts, but so smooth it sets up a rhythm under your feet as it undulates in endless stair step fashion along the boundary line of the area. Mix it up by opting for Oo-La-La, a black run that tickles your fancy for a bit before dropping you midway into Bliss.

Skier's left off the Summit serves up some short black pitches and great cruisers. Like many of Tamarack's runs, Salsa and Upper and Lower Serenity make you want to turn the boards lose in high-speed, wide-radius turns that seem to go on forever. With the lack of crowds, you feel you can do so safely at Tamarack.

Photo by Vicki Hoefling Andersen
| | | | | |
| --- | --- | --- | --- | --- |
| | A fun top-to-bottom run, Upper Showtime drops from the Summit and weaves through some glades until it reaches the Tamarack Express, where it follows the fall line alongside the chair. Next season debuts the Hibernator Glade for intermediate-level skiers who love zigzagging through the trees. | | | |
| | | | Photo courtesy Tamarack Resort | |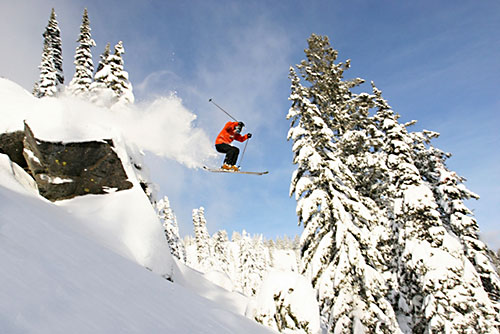 Tamarack's terrain includes a nice mix of cruisers and glades,
cornices and steep pitches, and they continue to develop new lines.
Lifts also provide access to thousands of acres of backcountry terrain,
and to keep snowsliders safe, theresort offers a one-day
Backcountry Skills course. (Photo courtesy of Tamarack Resort)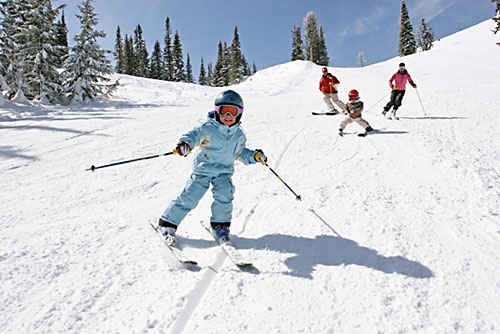 Within easy boot-clomping distance of the base area, Rock Creek Poma,
Mutton Buster Magic Carpet and Discovery Chair access beginner terrain
with short transport times up confidence-inspiring slopes. Novices can
also ride the Tamarack Express and head skier's left onto Waltz
for a long meander down the mountain on a tree-lined path.
This lift also serves some nice blue terrain including Lower Serenity,
Lower Showtime and Encore. (Photo courtesy Tamarack Resort)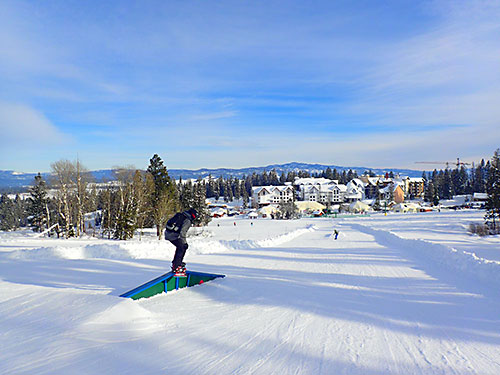 For those who prefer slopestyle, Discovery Terrain Park, skier's left off the Discovery Chair,
is the perfect place for newbies to launch their calling. For a nice variety and quantity of
features and jumps, skier's right off Tamarack Express will drop you
onto Homestead Terrain Park. (Photo by Larry Turner)
Photos courtesy MCCVB, Map courtesy Tamarack Resort
At Osprey Meadows Nordic Center, skinny ski enthusiasts, snowshoers and fat tire bike riders enjoy 15 kilometers of groomed trails across open meadows and through stands of Tamarack trees, aspen and fir.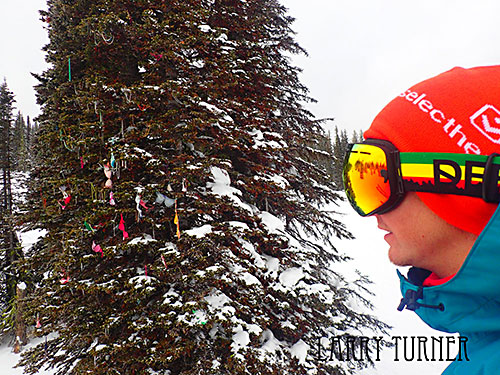 In the grand tradition of many unflappable ski resorts, riders on the Buttercup Chair
have added colorful contributions to the Panty & Bra Tree. (Photo by Larry Turner)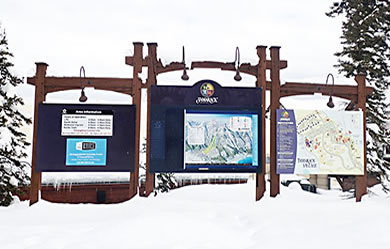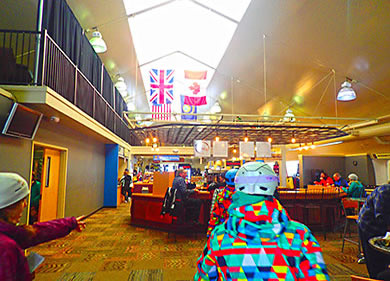 Well-placed sign boards around the resort make it easy to navigate. Inside the Sports Dome at the base area, Discovery Square, you'll find a rental and tuning/repair shop, retail store, snowsports school, activities desk and lift ticket sales,
and the Hot Shots Coffee Bar. (Photos by Larry Turner)
Also in Discovery Square, the Seven Devils Pub is a great place to enjoy local craft beers while warming up next to the fireplace and enjoying big screen TVs. Dig into a Grilled Cheese Bruschetta or Crispy Fish Tacos, and follow it up with a Molten Chocolate Cake if you dare. Then head back outside and burn off some calories. Next door, the menu at Canoe Grill & Vertical Bar includes items like burgers, soups and pizza, and when the weather is inviting, take your food and libation out to the patio.

A snow-draped bear stands sentry over the entry to Seven Devils Pub.
(Photo by Vicki Hoefling Andersen)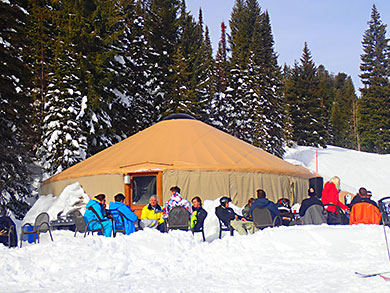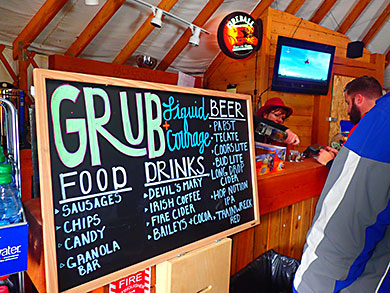 At the top of the Tamarack Express, Packer's Station Warming Hut offers a quick bite and a nice place
for a mid-mountain break. (Photos by Larry Turner)
In addition to accommodations, the Lodge at Osprey Meadows features Morels Lobby Bar with craft beers and top-notch wines. The Lodge is also home to The Spa at Tamarack where patrons can pick among a menu of massages, facials and other treatments. Wildhorse Daycare is a state-licensed facility situated conveniently in Discovery Square, and accepts children as young as six months.
Photos courtesy MCCVB
While many resort projects await completion, there are ample hotel rooms and vacation homes available for rent. It's worth spending some time exploring all the snowsliding options at Tamarack Resort. To mix it up a bit, snowmobile rentals and tours are available in nearby Donnelly or McCall. If you visit in late January-early February, don't miss the McCall Winter Carnival, drawing folks for over fifty years to a week-long celebration that includes everything winter from snow sculptures to snow golf and snow bike races. To unwind from all this activity, head to Gold Fork Hot Springs in Donnelly.
However long you stay, and whatever other activities you take in, you'll thank yourself for putting a winter sojourn at Tamarack Resort on your list.
411
www.TamarackIdaho.com
208-325-1000
Summit Elevation: 7,700'
Base Elevation: 4,900'
Vertical Drop: 2,800'
Lift Accessible Terrain: 1,000 acres
42 runs with a mix of 17% Novice, 45% Intermediate, 38% Advanced
6 uphill conveyances: Tamarack Express Quad, Summit Express Quad, Buttercup Quad, Discovery Chair, Rock Creek Poma, Mutton Buster Magic Carpet
100 miles north of Boise, 20 miles south McCall, 8 miles south of Donnelly