It was only after we detrained from Amtrak's Coast  Starlight #11 that we realized what we'd inadvertently done.
            We had duplicated the luxurious experience of being on a privately owned railcar, but without leaving our deluxe bedroom—the only thing missing was the open platform on the back!
            Private railcars are the ones you sometimes see, painted in the different colors of bygone railroads, on the rear of Amtrak trains.  Often owned by individuals, they occasionally are rented to well-heeled individuals such as Bill Gates. The considerable price, at about $8,000 or $9,000 per day, puts most of us out of the market.

Chicago, Milwaukee, St. Paul & Pacific Railroad- Milwaukee Road, "Wisconsin" Private Car No. 800464
We were fortunate to have been invited to ride on the private car "Montana", (the twin to the "Wisconsin" pictured above), on a short but scenic excursion from Klamath Falls to Portland. If it hadn't been for the elegant food and beverage service, Ted would have spent all day out on the open observation platform: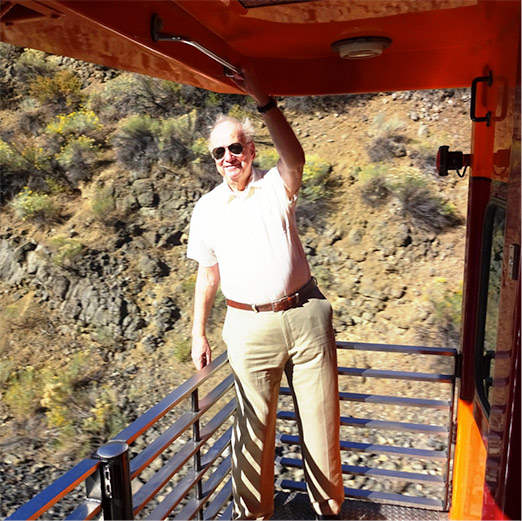 A  group of these railcars, which include sleeping, dining, and lounge facilities, are sometimes leased to tour operators, making the experience more affordable.   For an example, see www.traintrips.biz and click  "Western States Trains and Treasures,"  which includes visits to National Parks.
We've traveled with Trains & Travel International and thoroughly enjoyed a private train experience—much of it on track not used by Amtrak— on the Inside Gateway from Portola, California, to the Columbia River. The dining was authentic to the era, with linen, fresh flowers, and excellent multi-course meals served on china emblazoned with logos from the old name-trains that they originally belonged to. Some of the cars were the glass-topped domes, such as "Silver Solarium" pictured below, originally built for the luxurious pre-Amtrak California Zephyr.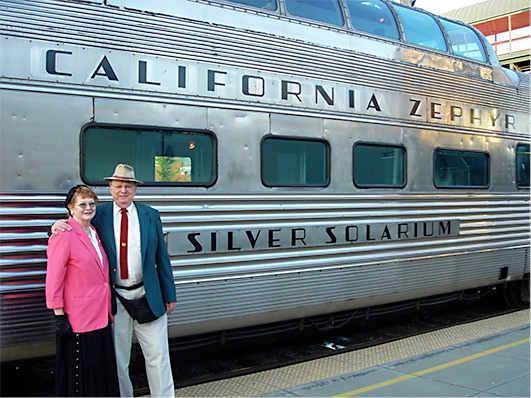 Ted and Sylvia are preparing to board in Emeryville, California.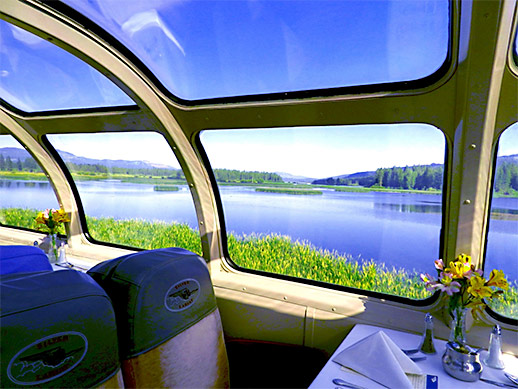 View from the dome of the former California Zephyr "Silver Solarium" dome car
Maintenance is an ongoing process with these cars, most of them dating back into the 1940s and 1950s. Replacement parts are often impossible to find and must be custom made.
            Some of these originated as business-cars for railroad executives. Like the corporate jets of their day, they were built  for the pre-Amtrak companies such as  Southern Pacific and Great Northern,  and used to entertain prospects who might be convinced to ship their products (grain, lumber, etc) on the freight railroad on whose car they were being entertained.
   Franklin Delano Roosevelt had the Pullman Company observation car Ferdinand Magellan rebuilt to his own specifications, which included a wheelchair lift and heavy security shielding as prevention from sabotage, the 20th Century term for what we call today – terrorism.
            Open platform observation cars were often leased by presidential candidates. Picture Harry Truman standing on a car's rear platform, waving his hat and wearing his unique grin. Crowds would gather to get a close-up look at candidates, and hear what they had to say through the specially-installed public address system.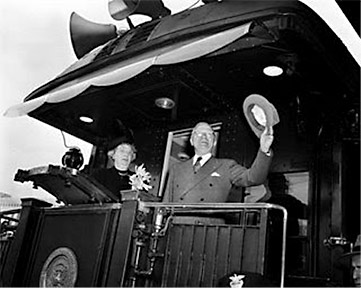 Inside, the typical business car has a lounge area with overstuffed chairs, a dining room featuring linen tablecloths, flowers, and silverware.  Three or four sleeping compartments with upper and lower beds came next. Some bedrooms were furnished with lower double beds.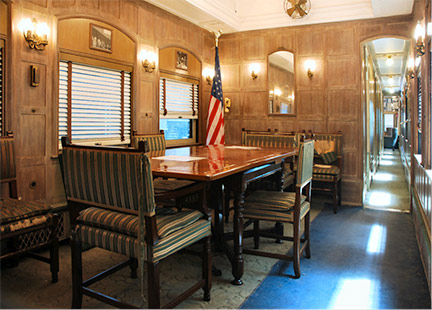 Dining room of the Ferdinand Magellan.
Next to the forward vestibule were compact crew quarters and a tiny kitchen where the chef prepared marvelous food in a space no bigger than a closet.
            Sometimes referred to as "private varnish," these private cars usually had lavish wood paneling which required a lot of polishing and pampering. Phased out when the individual rail companies got out of the passenger train business, which Amtrak took over, they were sold to individuals, tour companies, and tourist railroads. These cars have only private access and offer no through foot traffic onto or off the Amtrak cars.
Organizations such as Friends of the Cumbres and Toltec, supporters of the tourist railroad located on the border between Colorado and New Mexico, have run them behind Amtrak trains for fund-raising journeys.
              Wikipedia explains:
A private car could be added to the make-up of a train or pulled by a private locomotive, providing splendid upholstered privacy for its passengers. They were used by railroad officials and dignitaries as business cars, and wealthy individuals for travel and entertainment, especially in the United States. They were sometimes used by politicians in "whistle stop campaigns." Pay cars with less opulent sleeping and dining facilities were used by a paymaster and assistants to transport and disburse cash wages to railway employees in remote locations without banking facilities.
The above scenario will seem familiar if you've seen the film "Butch Cassidy and the Sundance Kid," starring Paul Newman and Robert Redford.
Back to our own Amtrak journey, which began on April 1, 2017. We needed a complete change of scene having been worn down by a lengthy winter with below-freezing nights that was still going on in Klamath Falls, Oregon. We booked a spur-of-the-moment trip to Santa Barbara.
You usually meet interesting people at meal times on the train, since you are seated with other passengers. But we felt too burned out to be sociable. So we didn't take meals in the dining car or visit the lounge car. We told our very pleasant car attendant that we'd be asking her for room service (available at no extra cost for Amtrak sleeping car patrons.)
           Our Superliner Bedroom was made up and waiting, and so we had our traditional toast to the beginning of a trip before retiring.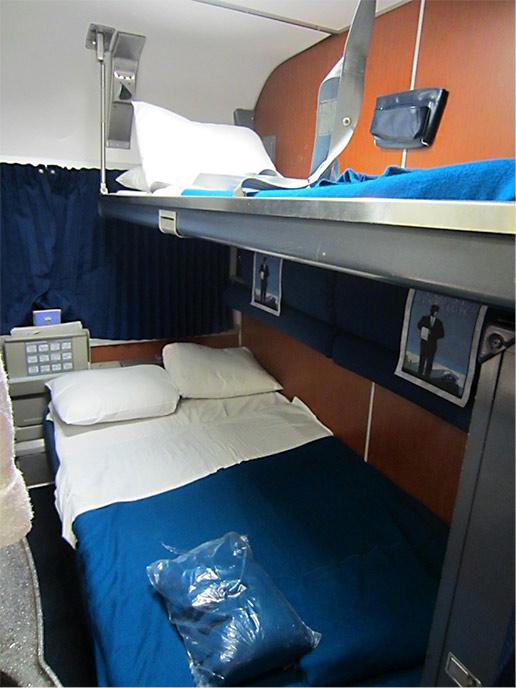 We could have outdone a private car journey by booking two bedrooms ensuite with two lower beds, as the lower berths are barely wide enough for two.  However, the private cars usually have just upper and lower beds. Since the upper must be reached by a ladder, this may be difficult for older passengers.
Breakfast served in our private bedroom featured beautifully arranged sliced fresh fruit, a croissant, cereal, yoghurt, juice, and coffee.
            After station stops in Oakland and San Jose, we headed south to the Pajaro River Valley with its ranches and fruit orchards.
            A cheeseburger lunch, again served in our room, was on par with middle range restaurant meals, and quite superior to "fast food" fare. Afterwards we took turns reading and napping on the sofa.
            Amazingly verdant hills and brilliant wildflowers throughout Central California were restful to both eye and soul. South of San Luis Obispo the tracks parallel a lengthy, unspoiled oceanfront area, once the neighborhood of President Ronald Reagan.
Surrounded by palm trees and Spanish-style buildings, we detrained in Santa Barbara.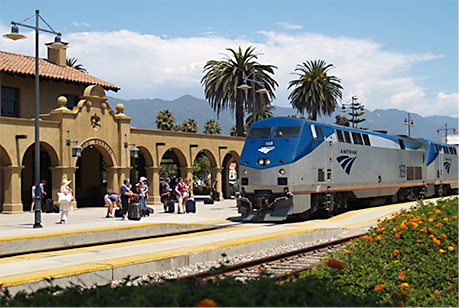 We'd enjoyed private dining, excellent food, blessed solitude, and very good personalized service – all hallmarks of a private rail car experience.  And we didn't have to pay $8,000 to do it!