Milwaukee, Wis., has been the headquarters of motorcycle giant Harley-Davidson since 1903, when 23-year-old William S. Harley started marketing his first motorcycle. Today, there are H-D factories here and even a museum filled with H-D memorabilia.
So it's no surprise that the growl of motorcycle engines is as much a part of Milwaukee's summer sounds as humming mosquitoes, the cheers at local baseball games and the laughter of children at outdoor pools. For the uninitiated, Harley motorcycles are considered "kings of the road." Harley drivers routinely nod or give a slight wave at the sight of another approaching Harley.
On May 25, nearly 100 motorcycles rumbled for a very special reason. Riders gathered early in the morning at the Harley-Davidson Museum. After downing coffee and doughnuts and collecting their t-shirts, they eventually took to the road. It was the Wisconsin Rolling Thunder chapter's 25th anniversary ride to Washington, DC.
Called "Run to the Wall," the ride is organized by Rolling Thunder, a non-profit group that honors POWs, MIAs and veterans in general. When the Rolling Thunder riders gather together in the Pentagon parking lot in Washington, DC. on the Sunday before Memorial Day, they are joined by more than a million motorcycle rider/supporters. At noon, they start their annual "protest ride" down Constitution Avenue. The ride brings renewed awareness to returning POWs and MIAs remaining overseas. It will take most of the afternoon for all the bikes to proceed to the Vietnam Veterans Memorial (commonly called "the Wall").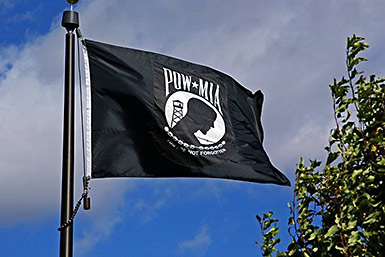 Motorcycle ride flag. Rolling Thunder is a non-profit group
focused on the return of POWs and MIAs' remains from overseas.
(Photo: Rachel Kuklick)
The process of getting from Milwaukee to Washington DC necessarily involves a 900-mile ride through seven states. It takes two days for the large group to reach its destination: a Motel 6 in Camp Springs, MD. Every year for the past 25 years, the group has reserved the entire motel for several days.
This year's ride from Wisconsin included Rolling Thunder members from around the state. Most of the riders are Vietnam veterans, now in their late 60s to mid-70s. "All of our state's chapters were represented in this year's ride," said Tim Thompson, Chapter 2 co-founder and board chairman.
Once the group settles in for the night, after unpacking gear and later meeting in the motel's grassy central courtyard, riders plan their next day's event. Camp Springs is about a 20-minute ride to the Pentagon parking lot.
Tenderfoot Joins the Ride
One of the "newbies" on board was this reporter. I rode on the back of a Harley Street Glide for almost the entire 900-mile trip. It certainly was an adventure with many twists and turns.
One interesting observation: the highway noise of 100 motorcycles is not deafening, especially if you wear a full-face helmet (as I did). Earplugs were routinely offered, but seldom needed. Another note: the helmet and a full rain suit will keep you 100% dry (unfortunately, this trip required riders to don rain suits more than once).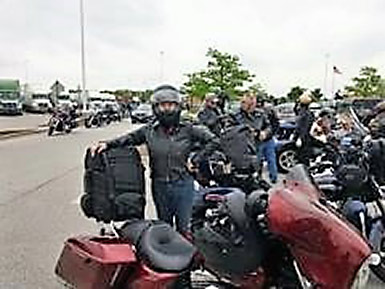 The author is ready to ride as a passenger
on this Street Glide. (Photo: David Brown)
Rain suits also come in handy for riders who don't have leather chaps. They help keep legs warm, which becomes more of an issue after sunset. The driver's body shields most of the cold from a passenger's torso. Having a very thick, heavy leather jacket (and leather gloves) are essential. If rain suits are needed, they go over outer clothes, including jacket and pants.
Another observation: one must have complete trust in the bikers ahead and behind. Riding "staggered" means the back tire of one bike is very close to the front tire of the bike behind. Considering that these bikes cruise at a speed of at least 70 miles per hour on the freeways, any minor glitch in this system could cause multiple injuries. There were at lea st six "trikes" (three-wheeled bikes) in our group, and – because of that configuration - they all were consigned to the end of the pack.
Unfortunately, it is possible to get leg cramps from riding motionless for a couple of hours at a time. However, the only thing that helps to alleviate the pain is to take the feet off the pedals, extend the legs momentarily, and rotate those feet for about a minute. Shifting weight to a different position is not recommended as the driver may be "thrown off" by the movement. Again, when traveling at +70 miles an hour, this is not a good thing. Another tip: Bring Advil.
Members Need Not be Veterans or Have Motorcycles
The experienced Wisconsin riders - most of whom belong to a local Rolling Thunder chapter - represent all walks of life, from retired lawyers to corporate executives, mechanics, electricians, landscapers and long-haul truckers. Many bike owners are retired now, but others take vacation days from work to "visit their brothers" whose names are etched on the Vietnam Veteran Memorial's black granite wall. And there are quite a few women on board, too. Some are passengers, while others ride their own bikes.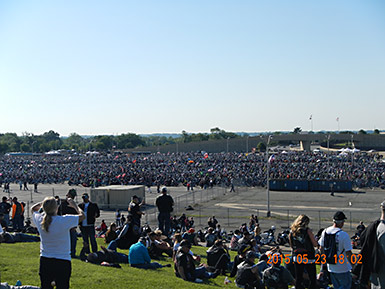 More than a million motorcycles line up in the
Pentagon parking lot for the long procession
down Constitution Avenue. (Photo Lee Stalsworth)
Although Rolling Thunder is frequently mistaken for being just a motorcycle club, it is a national organization that supports the return of POWs and MIAs from foreign wars. The name "rolling thunder" comes from the sound of an Apache helicopter attack during the Vietnam War.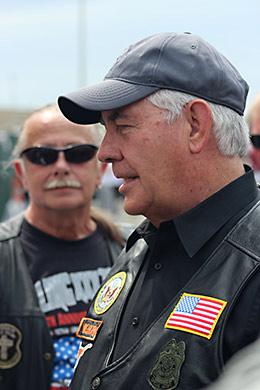 Secretary of State Rex Tillerson
with Rolling Thunder President Joe Bean
in the background. (Photo: Dan Grannon)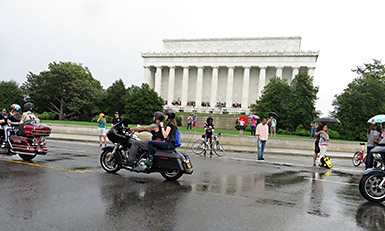 A bright sunny morning turns into a day of drenching rain
as the procession passes the Lincoln Memorial
(Following photos: all by Anne Siegel, unless otherwise noted)
Interestingly, it is not necessary to be a veteran or to own a motorcycle to belong to Rolling Thunder. For instance, Thompson, 62, is not a veteran. His older brother served in Vietnam in 1967-68. During that time, he was exposed to the toxic chemical Agent Orange. After the war, he suffered from more than one form of cancer and died at age 53. "When I join these guys for our activities, I do it as a tribute to my brother," Thompson said.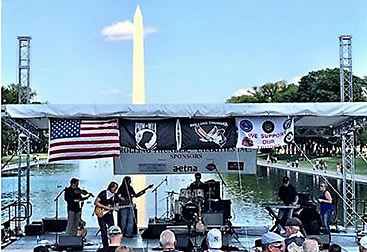 After the ride, a band plays near the Lincoln Memorial as
Rolling Thunder members gather to pay their respects.
(Photo: Rachel Kuklick)
One of the Wisconsin bikers, Ward Sikorowski, always attracts a special kind of attention. That's because a small customized trailer behind his bike holds his German Shepherd. Named Princeton, the dog initially was a rescue dog of sorts that Sikorowski got from some friends. Among his other talents, Sikorowski is a licensed dog trainer. These skills were key in turning Princeton into a well-behaved companion animal. Now, Princeton lives with Sikorowski and his wife in their West Bend, Wis., home.
| | | | | |
| --- | --- | --- | --- | --- |
| | | | | |
| | Wisconsin rider Ward Sikorowski poses with his German shepherd, Princeton. Sikorowski, 59, served in the Navy for two years. | | Princeton rides along on a trailer that his owner customized for the dog. A movable top and windshield protect Princeton during rides. | |
Princeton is a service dog whose presence relieves Sikorowski's stress. In the past, Sikorowski was involved in violent bar fights. He couldn't seem to control his anger. "I took in Princeton as a sort of rescue dog, and in turn, he rescued me," Sikorowski said.
Sikorowski served in the Navy from 1974-76. Although he was never deployed overseas, he knew a lot of guys who were. "I consider myself to be part of the Vietnam era," he said.
Sikorowski customized the dog's trailer himself. It has a sloping roof and windshield that can be adjusted according to the weather. Princeton seems happy to come along for the ride, and eagerly jumps into his trailer whenever Sikorowski pulls out his bike. Princeton even has his own set of goggles.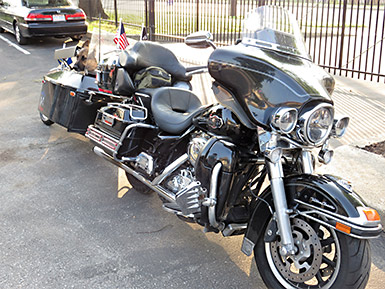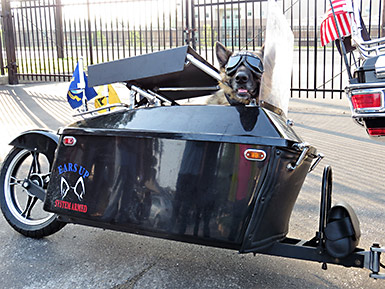 Sikorowski's Harley with the matching dog trailer
attached. Princeton is ready for a ride.
"Wall" Ride Requires Reliable, Powerful Motorcycles
Although Harley-Davidson does not sponsor the ride, their products are well-represented in this group. Powerful engines and reliability are needed for what Chapter 2 President Willie Lee calls a "tough ride. We ride fast, and we ride tight," he announces to the riders prior to take-off. He's not kidding. ("Riding tight" means that the bikes are slightly staggered on the freeways as explained above). It discourages cars or trucks from moving into their lane.)
Although the group has fundraisers and other projects throughout the year, the "Run to the Wall" ride is by far the chapter's most visible event. According to Thompson, it takes nine months of planning to ensure that Wisconsin riders arrive safely at their destination each year. This year, as in the past, a police escort led the way to the state line.
Along the route, more experienced members are assigned to block highway traffic when the bikes need to stop for more gas or a meal.
Still, there is always the unexpected hiccup. With so many bikes on the road, it's typical for a few to become disabled along the way. A couple of chase cars (hauling flatbed trailers) accompany the group. Disabled bikes are either given minor repairs at the time or tossed onto the trailers for a more thorough assessment in Camp Springs. It is not unusual for a few bikes to end up at the local Harley-Davidson dealer service department before they can again roar into action.
| | | | | |
| --- | --- | --- | --- | --- |
| | | | The Harley-Davidson dealership near Fort Washington, MD, is prepared for Rolling Thunder riders. On the day before the "Run to the Wall," the dealer provides free lunch, a cash bar and a band. It's a place where Rolling Thunder members gather and greet each other. (Also, it's a way to pass the time while the dealer's mechanics repair their bikes). (This photo and one below: Rachel Kuklick) | |
| | | | | |
| | | |
| --- | --- | --- |
| | | |
| | Some HOG (Harley Owners Group) clubs are exclusively for biker women, at least in name only | |
An Exclusive View of Artifacts Left at the "Wall"
Among the 2017 trip's highlights was a visit to the Museum Resource Center (MRCE – called "mercy"). This large, unobtrusive government building houses more than 400,000 artifacts left at the Vietnam Veterans Wall, commonly called the "Wall." The building isn't open to the public, but the National Park Services representatives open it regularly for the Wisconsin group.
That's because two Wisconsin Rolling Thunder veterans – Bob "Hoggie" Thompson, and Kenneth Pezewski – hatched a plan in the mid-1990's to create the largest memento ever left at the Wall. They thought it would be cool to make a bike completely of parts donated by motorcycle owners who knew of the project, and leave it at the memorial. The project took almost a year to complete.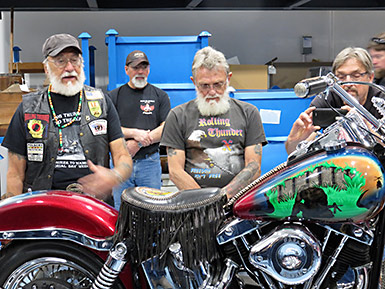 Ken ("Pollack") Pezewski (left) and Bob ("Hoggie") Thompson
talk about their idea to build a special motorcycle to honor veterans
at the "Wall." The work took more than a year to complete.
When the completed motorcycle arrived in Washington, DC.,
in the mid-1990s, it achieved the distinction of beng
the largest item ever left at the memorial.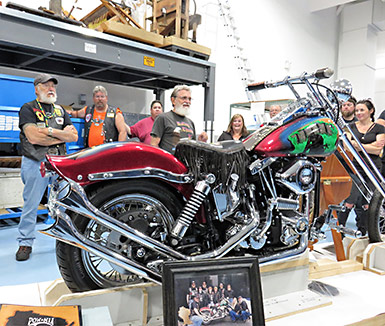 Rolling Thunder members have decreed that no one
is allowed to ride this motorcycle (sometimes referred
to as the "hero bike") until all the "brothers come home"
(remains from overseas are returned to the U.S.).
There's a long story about how National Park Rangers almost refused to let the motorcycle stay at the Wall after it was parked there. Cooler heads prevailed, however, and the bike had its moment in the sun. It gleamed like a shiny chrome coin in front of the reflective black wall.
After a while, it was shipped to MRCE and crated for posterity (until the Wisconsin riders return for a visit).
A Motorcycle Like No Other Even in the sterile storage facility, the chopper-style motorcycle is impressive. Some parts are chilling, though. On the gas tank, an artist painted a "nightmare" scene in which the Wall is shown untended and overgrown, with a silhouetted veteran crouching and crying in front of it. On the bike's front end, some 37 dog tags are dangling on one side. In the back, the bike's (real) license plate reads, "hero."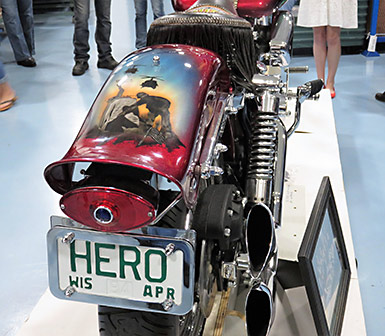 The "hero bike" has a legal, Wisconsin license plate.
The images appearing on the motorcycle's gas tank
and fenders were hand-painted by an artist, who
volunteered his services for the project.
So here rests the motorcycle, protected for posterity along with all the other things left at the Wall. These range from stuffed teddy bears to playing cards, 1960s-era combat boots, and many, many cards, signs and letters. Each item carries its own hidden meaning to those who left the items at the Wall, comforted by the fact that they will be treated with care when the park rangers take them to MRCE.
Memorial Day weekend always generates an overflow of items brought and left at the wall, and this year was no exception. One of the most memorable items was a small bottle of Jack Daniels, empty of its original booze, but full of the cremains of what probably was a Vietnam War veteran.
It's important, too, to remember that the "Run to the Wall" is part of a healing process for the veterans who participate each year. Many of those riding from Wisconsin have repeated the ride five times, 10 times, 15 times. They look forward to the camaraderie and making it a time of remembrance. Most of all, they are paying tribute to family members and buddies who are now gone, but whose names remain carved for posterity in the black granite wall. Even their mere presence is enough to demonstrate that these soldiers' sacrifices will never be forgotten.
| | | | | |
| --- | --- | --- | --- | --- |
| | Anne Siegel (seen here at Frank Lloyd Wright's home in Spring Green, Wis.) is a Milwaukee-based freelance theater and travel writer. Her travel stories have appeared in many national magazines and major daily newspapers across the U.S. | | | |