"HEY, MAN, that's atomic!" said the kid with the crew cut. His eyes popped as he leaned out of his Fotomat drive-up window and eyed my rental car. "Look at that dashboard! And those lines--it's half a block long! What is it, a Buick?"
In all the excitement, he nearly forgot to sell me my roll of film. This was no ordinary rental car, but a pale-pink 1960 Buick Electra convertible.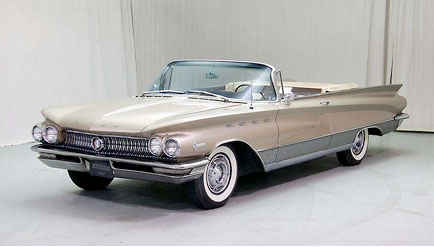 1960 Buick Electra convertible
The story began earlier in the year when I spied an article in "Business Week", titled "Who Says a Rental Car has to be Boring?" (Feb 2, 1987, page 90.) It described an unusual company in Beverly Hills called Dreamboats Rent-A-Car. Dreamboats' fleet consisted of classic convertibles from the 1950s and '60s.
Owning two vintage Buick Electras myself, a 1971 and a 1974, I had become accustomed to power, luxury, and a smooth quiet ride. Recent attempts to crowd my 6-foot-3-inch frame into what Hertz and Avis currently describe as "full-size" cars had driven me straight to the chiropractor. Contemporary cars that feature "enhanced awareness of the road" are not for me. I was ready for a new approach to the car rental market.
My long time best friend, going all the way back to high school days in Pennsylvania, had proposed that we meet in Los Angeles to visit the Merle Norman Automobile Museum in Sylmar. We both admire vintage cars, and now because of Dreamboats, we had the rare opportunity to drive one as well.
I phoned Dreamboats to learn more about their operation. A '62 yellow Buick Electra, a light-blue '60 Cadillac and '59 pink Cadillac, (the one with the most outrageous tail fins ever to appear on an car) all piqued my interest. Owner Pete Hyams assured me that they all had new paint, new tops, and new tires. And he was outfitting them with cassette tape stereo systems. I made a mental note to bring some of my '50s music cassettes along.
When we arrived in Beverly Hills, Dreamboats' fleet was on display, tops down, whitewall tires scrubbed, and ready to roll. My eyes were immediately drawn to a sumptuously sculptured, pale-pink, 1960 Buick Electra. Her license plate read "DRMBT 8."
I was reminded of the haunting voice of the anthropomorphic Plymouth Fury in Stephen King's novel, "Christine", as my Electra seemed to whisper, "Hey big fellow--let's cruise!"
But my buddy, Tony, didn't seem to hear that siren song. "A Lincoln Town Car would be cheaper," he mumbled skeptically, "We can rent one from Budget for only $39.95." This idea of driving around in a 27-year old automobile was causing some trepidation, his being accustomed to Pennsylvania cars, which tend to age prematurely due to adverse winter weather conditions.
"This is a California car," I pointed out quickly, before he resorted to kicking tires. "No rust, no corrosion. Look, there's even a sticker in the rear window with the phone number of a 24-hour towing service we can call in an emergency."
Dreamboats' mechanic checked the Electra over and switched on the ignition. The enormous 425 cubic inch (7 liter) "Wildcat" V-8 engine turned over and roared into life, spewing clouds of black smoke from its twin tail pipes before settling in to a clean burning rumble.
I slipped one of my "Do-Wah" tapes into the cassette deck. Sitting behind the massive steering wheel,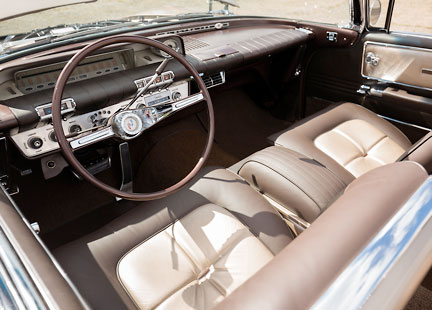 Buick Electra
I put my toe to the accelerator, and the Triple Turbine transmission moved us into Wilshire Boulevard traffic with nary a lurch or hesitation, merging to the harmonious voices of the Four Aces', "It's No Sin."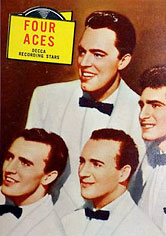 The Four Aces
In Beverly Hills, your Mercedes, Rolls, and stretch limos are commonplace. But Dreamboat Eight caused joggers to stop in their tracks and stare. Pausing at a traffic light, two kids pulled alongside in a moped and cheered us. A couple in a tiny new Chrysler convertible pulled up in the other lane, "What year is your Dreamboat?" they shouted. This car was a sensation!
We felt as if we had taken a time machine back to the Atomic Age, the Rocket Age, when futuristic ideas were still grabbing our imaginations. Our optimism hadn't yet been dimmed by pollution, oil shortages, or nuclear waste problems. Back in 1960, when Dreamboat Eight rolled off Buick's Flint, Michigan. assembly line, I'd just graduated from the University of Pittsburgh--and a luxurious car like this was out of my reach financially. This was a dream come true, and for only $69.00 a day.
"Unforgettable, that's what you are……." Crooned the voice of Nat King Cole from the stereo speakers.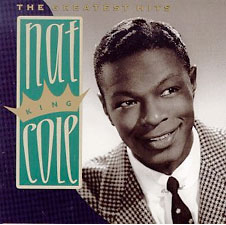 Nat King Cole
"Isn't it my turn to drive?", Tony asked.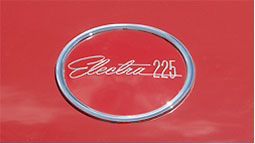 Electra insignia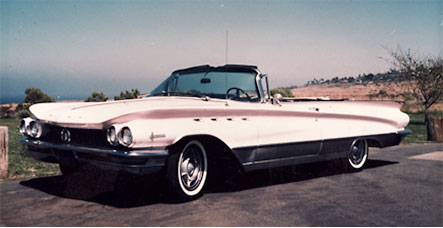 Dreamboat 8 at Rancho Palos Verdes, overlooking the Pacific Ocean. Photo by Ted Blishak
Postscript:
Two years later, Friday October 20, 1989. The All Class Reunion of the Ambridge (Pennsylvania) Area High School. I arrive at Greater Pittsburgh Airport on US Airways non-stop flight from San Francisco, just days after the San Francisco earthquake of October 17, 1989.
My high school friend Tony, who two years earlier, was nervous about driving around LA in an "old" Buick, picked me up in his newly purchased and restored 1959 Buick Electra convertible, in Chalet Blue!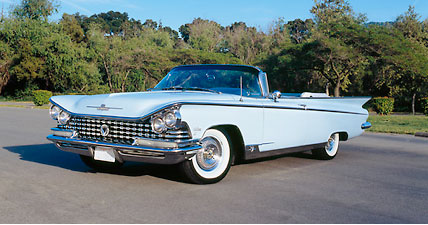 1959 Buick Electra convertible
Dreamboats' 1987 Rental Fleet
Dreamboats has long since closed their operation. Most of these vehicles have gone to museums and private collectors
$49.00 per day
'62 Buick Electra 225, yellow
'64 Buick Skylark, white
$59.00 per day
'61 Oldsmobile Starfire, champagne
'61 Ford Galaxie Sunliner, turquoise and white
'63 Buick Wildcat, black
'64 Pontiac Bonneville, red
'64 Buick Wildcat, red
'66 Mustang, red
$69.00 per day
'60 Buick Electra 225, pale pink ( DRMBT 8 ) (Not original) (The original color appeared to be Casino Cream, observed inside the trunk.)
'60 Chevy Impala, red
'60 Mercury Park Lane, coral
'60 Cadillac DeVille, light blue
'61 Cadillac DeVille, turquoise
'62 Thunderbird, red
'66 Thunderbird, yellow
$89.00 per day Crème de la crème
'59 Cadillac De Ville, pink, not available, rented to movie studio for filming, "Pink Cadillac"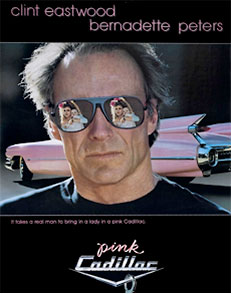 Clint Eastwood