With all this news about Zika, I recently went to the Florida Keys and South Florida mainland well protected. I had assorted bug repellents brimming with DEET, and also, a suitcase brimming with bug repellent clothing. 
     Clothing by the Insect Shield company isn't new, but its importance, now with the threat of Zika, is greater than ever.           
So I arrived with two armaments—my own clothing that had been impregnated with the company's Permethrin (the same stuff used in lice shampoos for kids) and their own repellent clothing, including a T-shirt and a nice scarf. Yes, for a fee, Insect Shield offers a service that treats your own clothing with Permethrin.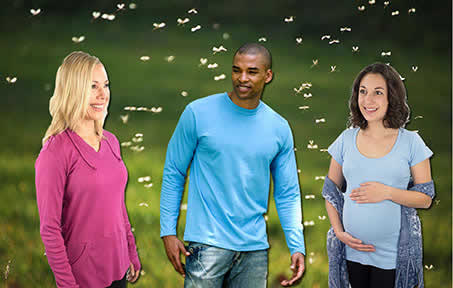 The company claims that tests have shown their treatment repels mosquitoes, ticks, ants, biting flies, chiggers and no-see-ums.
     When my own shirts were returned to me after being treated, I was surprised that they felt exactly as they had before I sent them - not stiff, still soft and with no chemical smell. The company's own clothing - a T-shirt and scarf - were the same. So I was ready.
     Well, in a week, I saw not a single mosquito. The wind blew and the Keys have a seriously active mosquito eradication program. Nary a skeeter in sight.
     To back this up, the Monroe County (lower edge of Florida's peninsula and the Keys) had not, to that point, reported a single Zika case.
    We did manage to scare up a single mosquito on my friend's south Florida farm, which is on the mainland, just north of where the Keys begin.  I can report that no mosquitoes were harmed in this test because our little guy didn't come near her. 

     I then sent the scarf with another friend heading for Brazil. Her report:

     "I draped the scarf over the top of my wide-brimmed hat, tying it around the front. The bugs would approach me, but would not get any closer than about five inches and would not land on me. Not only that, but it also helped keep the sun off my face when we were sitting in a boat for an hour or more waiting for a jaguar to move. I also tried just draping it around my shoulders like you would wear a shawl, and that also worked fairly well for keeping the bugs away."
| | | | | | | |
| --- | --- | --- | --- | --- | --- | --- |
| | Farmer Margie tries out insect shield t-shirt and scarf Cardozo | | | | Janet shows how she wore insect shield scarf in Brazil Cardozo | |
     The company has an assortment of repellent clothing - men's and women's shirts, T-shirts, pants, bandanas, scarves, hoodies, buffs, mini blankets.