I'm arching tight turns down Sluiceway, an intermediate run in the trough where CPR Ridge and T1 Ridge meet and flow towards the base of Kicking Horse Mountain Resort (KHMR). I realize if I return in a few months, I could play in the same substance currently beneath my skis, transformed into its summer persona. The massive snowpack will disappear, draining into tributaries which feed the rivers on which rafters and paddlers will make their own form of descent. It's an invigorating thought.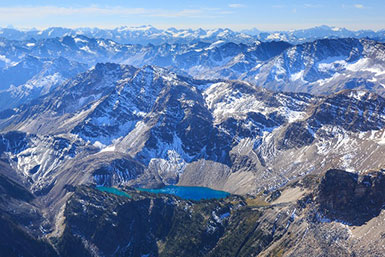 Pivotal to these pursuits is the small town of Golden in southeastern British Columbia, population about 4,000. Nestled at the confluence of the Columbia and Kicking Horse Rivers at 2,600 feet in what is known as the Rocky Mountain Trench, a pass between the Selkirk and Purcell ranges of the Columbia Mountains and the massive Rocky Mountains, the town of Golden averages about six feet of snow while the white stuff piles up 25-40 feet deep in the surrounding peaks.
The area was first explored by David Thompson in 1807 during his search for a passage to the Pacific Ocean. Seventy-five years later the area served as base camp for a survey crew mapping a transcontinental route for the Canadian Pacific Railway (CPR). With a settlement nearby called "Silver City," they named their hamlet "Golden City," later dropping the "City" as a bit too ostentatious. When the Trans-Canada Highway was built, the little colony became a proper town and people began to discover what the area has to offer.
| | | | | |
| --- | --- | --- | --- | --- |
| | | | The Kicking Horse River got its odd name in 1858 when a member of the Palliser Expedition, Canada's version of the U.S. Corps of Discovery kicked up a notch or two, was booted by his horse and thought at first to be dead. Fortunately he wasn't, and the moniker stuck. | |
Around the turn of the last century, the CPR realized the mountaineering and alpine exploration potential of the region and was savvy enough to invite some Swiss mountain guides. This successful endeavor drew international attention, and in 1911 the CPR developed Edelweiss Village about a mile from Golden, with homes for the guides and their families.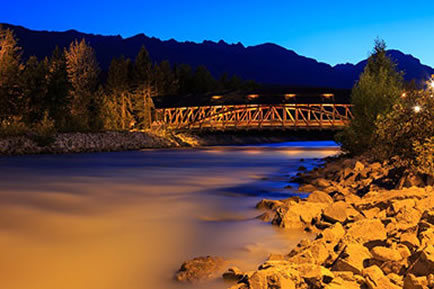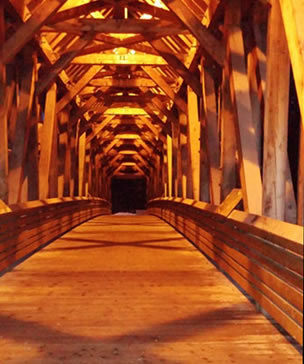 Spanning 152 feet across its namesake river, the Kicking Horse Pedestrian Bridge is the longest
freestanding covered timber bridge in Canada. Built of Douglas Fir in a Swiss design,
a stroll provides picturesque views of the river and town. (Image on right by Vicki Andersen)
Locals gather in the small plaza adjacent to the Pedestrian Bridge where you might be
lucky enough to encounter the Muspe Troope performing their fire show.
In the summer, a Farmer's Market features produce, homemade fare and craft items.

(Video by Vicki Andersen)
| | | | | |
| --- | --- | --- | --- | --- |
| | Fourteen miles downriver on the Columbia, 216 species make their home or stop-over at North America's longest protected marshland, the Columbia Wetlands. In the summer many visitors arrive by canoe or stand-up paddle board, switching to cross-country skis or snowshoes in the winter. Depending on the season you may spot elk, deer, moose, grizzlies, wolf, cougar or coyote. Beaver and river otter dwell along the shoreline, the latter playing with and feasting on trout, ling cod and kokanee salmon. Watch for herons. osprey, eagles, song birds and shore birds taking flight. | | | |
Whether paddle boarding on the Kicking Horse as it ambles through Golden or stoking your adrenaline on its Class II to IV white water rapids, the cloak winter lays on the mountains transforms into endless opportunities for summer entertainment. Lakes, waterways and reservoirs tease fishermen with rainbow, cutthroat and bull trout, char and lingcod.

What winter reveals as it melts away is dazzling. Golden is surrounded by six National Parks: Jasper, Banff, Yoho, Kootenay, Glacier and Mount Revelstoke. Add the nearby Selkirk and Purcell ranges and hikers hardly know where to start. Some warm up close to town on the 4-mile Rotary Trail, or partake of lift-served access at KHMR. Exhilarating hikes along the ridges of Mount 7 tempt some folks, and others use whirly-birds to reach remote terrain. The choices are inexhaustible.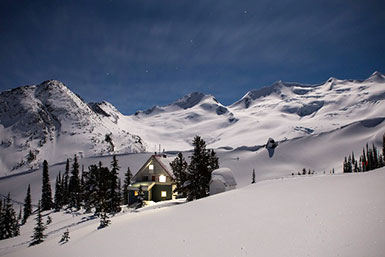 Treasured by skiers, snowmobilers and hikers, the region around Golden
boasts the most backcountry lodges in North America. The Sorcerer Lodge,
nestled in the heart of the Selkirks, is one of many inviting havens.
Two-wheel riders head to flower-draped high Alpine meadows and test their
acrophobia boundaries above Canyon Creek (above right).
Self-propelled two-wheel travelers face as many choices as those who love to prowl the wilderness on two legs. Three major trail systems - Moonraker, Canyon Creek and Mountain Shadows - tempt mountain bikers with over 60 miles of uphill and down, single-track and old roads, technical segments and easy sections. From Golden, a comfortable 1,000-foot elevation rise along the 4.7-mile CBT Trail leads to the Moonraker network. Don't miss the forested single track wandering a mile downhill before the stunning Canyon Creek more than 600 feet below, at which point the trail slowly looses elevation as it meanders along the creek for another two miles. If you love the "down" but not the "up" of biking, more than 30 lift-served trails at KHMR await, as well as a downhill park and numerous challenges.
| | | | | |
| --- | --- | --- | --- | --- |
| | | | Motorized off-road explorers find a nice array of forestry service roads providing routes to interesting trails, topography and views. The Mountain Shadows Trail system at the base of Mount 7 is open to multi-use including motorized vehicles. | |
Following in the footsteps of Golden's earliest recreationists, mountaineers still converge to test their mettle on three nearby North American "Classic 50 Climbs:" the East Ridge of the Bugaboo Spire in the Purcells, the West Buttress of South Howser Tower in the Bugaboos, and the Northwest Ridge of Mount Sir Donald in Rogers Pass. More than 60 sport climbing routes, ranging from grade 5.6 to 5.12, can be found at Spillmacheen Crags about 40 miles south of town, and the surrounding national parks offer nearly endless summits. In Golden, the Dogtooth Climbing Gym will help you get in shape and polish your skills.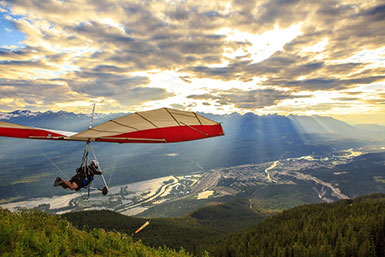 Some adventurers take advantage of the incredible thermals in the Rocky Mountain Trench to soar for hours and miles above this remarkable landscape. Mount 7 (above), a popular launching point for hang gliders and paragliders, is the site of eight world speed and distance records including a hang glider who flew 200 miles to Whitefish, Montana.
Whether from the air, land or water, bird and wildlife watching is a popular endeavor. In addition to the avians and mammals found at the Columbia Wetlands, the region is home to black bear, big horned sheep, mountain lions and mountain goats. At the Northern Lights Wolf Centre you can learn about Canis lupis and walk among them in their natural habitat. A one-of-a-kind experience can be found at Grizzly Bear Refuge at Kicking Horse Mountain Resort.
(Image on left by Vicki Andersen)
A 22-acre home created in 2003 for Boo, a grizzly cub orphaned at 5 months, the Refuge is the largest enclosed and protected grizzly habitat in the world. Situated a short walk from the Catamount chairlift, encircled by Stellar Jay and Wiley Coyote ski runs (a couple of Boo's favorite snacks?), you can often watch him forage and play, while a motion-activated camera in his den keeps an eye on naptime and hibernation season
Less than ten miles from Golden, Kicking Horse Mountain Resort receives an average 20-plus feet of snow each winter.

In the Kootenay Rockies region of southeastern British Columbia is a "Highway" revered worldwide among skiers and snowboarders: The Powder Highway. A collection of resorts famed for their deep and true powder conditions, circling clockwise from the route's northernmost point are Kicking Horse, Panorama, Kimberley, Fernie, Whitewater, Red Mountain and Revelstoke. The lengthy list of heli- and cat-ski operations in the area is astonishing. Just the names of these places gives powderhounds spine tingles.
Eagle's Eye restaurant is Canada's highest elevation eatery with 360-degree views,
fighting the salmon and elk for the attention of its patrons. (Image on right by Vicki Andersen)

Kicking Horse Mountain Resort includes 4,133 feet of vertical off the 8,033-foot summit of Blue Heaven, highest of KHMR's four developed mountains. An 8-person gondola, two quads and one double chair provide admission to 128 runs, four bowls and 85 inbound chutes across 2,825 acres of snowy playground. Perched at 7,705 feet at the top of the gondola, the Eagle's Eye is Canada's highest restaurant with a view encompassing three mountain ranges and five national parks. The Resort also has a tubing park, skating rink, and the Via Ferrata – a secured climbing route on the north face of Terminator Peak that includes two courses and a suspension bridge.
| | | | | |
| --- | --- | --- | --- | --- |
| | Cross-country skiers and snowshoers enjoy over 20 miles of groomed skate and classic trails at Dawn Mountain Nordic Centre at KHMR (above). The Dawn Mountain Chalet day lodge has a rental shop, an equipment work area, storage, kitchenette and lounge facilities. In town, a series of trails are maintained at the Golden Golf Club. Just 40 minutes away, Yoho National Park contains groomed trails around Emerald Lake. | | | |
| | | | | |
| --- | --- | --- | --- | --- |
| | | | | |
| | | | Two-plankers who prefer the backcountry head to world famous Rogers Pass, seen here at sunrise (image by Vicki Andersen), considered one of the planet's ski touring capitals. KHMR offers easy access to breathtaking terrain in the Dogtooth Range of the Purcells, with more possibilities in Yoho and Glacier National Parks. | |
| | | | | |
| | | | | |
| --- | --- | --- | --- | --- |
| | Downhill snow sliders who want to venture further afield head to Lake Louise, 53 miles and just over an hour's drive from Golden, or Revelstoke, Panorama or Sunshine Village - all just 86 miles and under a two-hour drive away. If you'd rather take to the air for your turns, check out three outfitters that are based out of Golden: Chatter Creek Cat and Heli Ski, Great Canadian Heli-Skiing, and Purcell Heli-Skiing. | | | |
Sledheads roam 150 miles of groomed trails in four maintained systems: Quartz Creek, Gorman Lake, Silent Pass and West Bench Trail (West Bench Trailhead image on right by Vicki Andersen). For more information about snowmobiling in the Golden area check out http://www.highonadventure.com/hoa16mar/vicki/golden-snowmobiling.htm.
Other popular winter activities include dog sledding and fat tire biking.
Winter or summer, along snow- or dirt-covered trail, in frozen or raging river, whether self-propelled or motorized, you will not run out of options or be bored using Golden as home base for your adventures. On land or water or in the air, this town will not disappoint aficionados of outdoor quests.