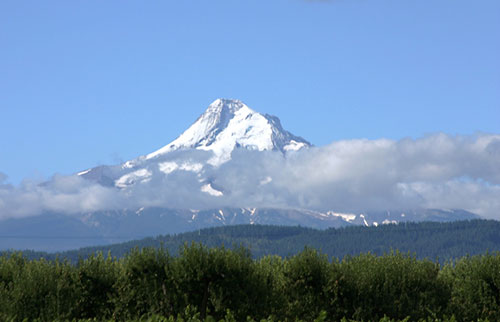 Mt. Hood's north side Image by Vicki Hoefling Andersen
She's incredibly distinctive, this lone volcanic peak appearing to sit on the very outskirts of a major American city. With her last significant eruption 235 years in the past, and a minor hiccup just over a century ago, she seems benign, beautiful and welcoming. Best of all, she's home to five different ski areas and a history of locals who have been trekking up and sliding down her slopes for more than 125 years.
Known as Wy'east to the Native American Multnomah tribe, Mt. Hood gained its current moniker in 1792 when a British Naval officer sailing up the Columbia River saw the majestic mountain and named it for a famed British naval officer. Traveling down the Columbia in 1805, Lewis and Clark's Corp of Discovery were awe-struck by this dormant stratovolcano and documented this peak in their journals as a "conocal [sic] form covered with snow".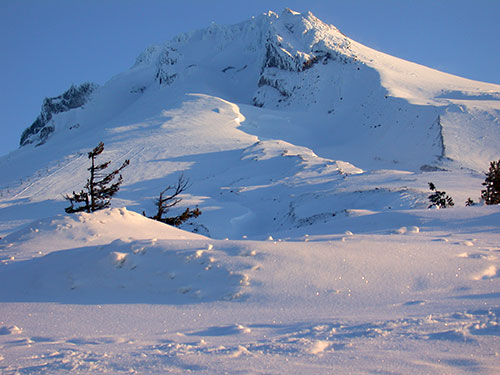 Mt. Hood upper slopes Image by John Hoefling
Mt. Hood's elevation is variously reported as somewhere between 11,239 and 11,250 feet, depending on which survey or scientific correction did the measuring. It is Oregon's highest point and fourth tallest mountain in the Cascade Range. Adorned with 12 named glaciers and snowfields and attracting climbers from around the globe, Mt. Hood is generally acknowledged as the world's second most-climbed glaciated peak after Mt. Fuji.
In 1845, when Sam Barlow decided to lead his small wagon train over the mountain rather than raft them down the Columbia as other travelers on the Oregon Trail had done, he had no idea what tribulations lay ahead. As much as they struggled, visitors right after the turn of the 20th century confronted nearly a three day journey to cover the 50 miles from Portland by wagon or car.
In 1890 the first documented skiers to challenge Mt. Hood chose the relatively easier-to-reach Cloud Cap on the north side. Four years later the Mazamas (a mountaineering organization based in Portland, OR) formed a club, and in 1900 organized their first ski trip to the mountain.
Sliding down hills on "Norwegian snowshoes," as skis were called in those days, became a popular winter pastime, but accessing the snowy slopes was still difficult. After five years of construction, the Mt. Hood Loop Highway opened in 1925 and winter enthusiasts could reach their playgrounds with much less stress and effort, especially the following year when the road was finally plowed all the way to Government Camp.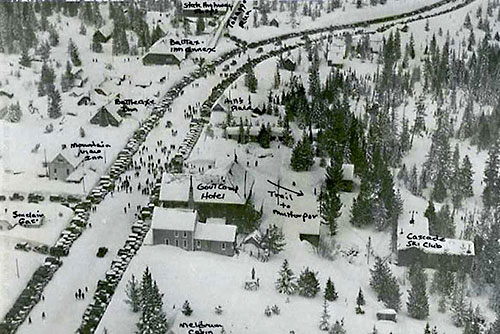 On winter weekends in the 1930s, Government Camp drew upwards of 10,000 visitors.
Image courtesy Mt. Hood Museum Photograph Collection
Christened with a name that certainly doesn't inspire visions of winter frolic, the village known to locals as "Govy" found its way onto the map when an army regiment, following Sam Barlow's path over the southwestern slope of the mountain enroute to Fort Vancouver in 1849, had to abandon their supplies in a snowstorm. The area became known as "Government Camp," and would launch the start of Mt. Hood's winter recreation boom.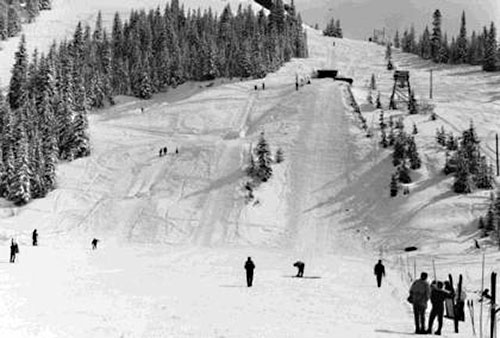 Swim jumping hill Image by Bill Pooley
In 1927, the newly-formed Cascade Ski Club starting hosting jumping competitions at a newly-built hill at Swim, on the south side of Multorpor Mountain. The jump hill boasted an impressive average grade of 59% with one section calculated at 64%, and the jumping events drew huge numbers of spectators.
That same year the Portland Advertising Club opened their Winter Sports Area about a mile up the mountain at the 4,000-foot level, which became the first ski area on the south side of Mt. Hood, the second oldest in the Pacific Northwest and the oldest continuously operating area in the United States. It started with a toboggan slide and snowplay area; then a rope tow was installed in 1934.
1937 was a banner year for the Govy area with another rope tow in operation at Skibowl, adjacent to Multorpor Mountain, and a first aid room for the inevitable incidents. Soon the Mazamas became one of the first organizations in the country to light their small slope for night skiing.
That same year, Timberline Lodge opened with a presidential dedication and the first running of the Golden Rose Ski Race, which would become the longest continually run ski race in the world. That same year the North Slope Ski Club fired up a 150-foot rope tow at nearby Cooper Spur. In 1939, when Timberline installed the Magic Mile, it was the second chairlift in the world, the first with metal towers, and the longest at 4,950 feet. The lift became such a celebrity it was the inspiration for the skier image on the Pee Chee folders carried to school by tens of thousands of baby boomers. By the time the chair was replaced in 1962, it was the oldest operating lift in the world.
A lot was going on behind the local ski scene during the 1930s which would impact skiers across North America. In 1931, Harold Hirsch started a new enterprise in the corner of his family's Portland tent manufacturing plant, and thus began White Stag, America's first manufacturer of clothing designed for skiers. To assist in designing these garments, he hired a student at Portland's Reed College, Emilio Pucci, who would go on to great fame as a clothing designer after he also helped lay out ski trails in an area at Timberline.
In 1938 a German family, fleeing the Nazis, arrived in Portland and purchased a small hat company. Naming it for the river that flowed by Portland, Columbia Hat Company would eventually morph into Columbia Sportswear, producing high-tech clothing worn by skiers around the world.
It was during the construction of Timberline Lodge in 1936 that word first spread about a "snow cat" developed to help build the hotel. Able to climb 40% grades, haul its own weight, and speed along at 25 mph, it would revolutionize winter trail maintenance around the world.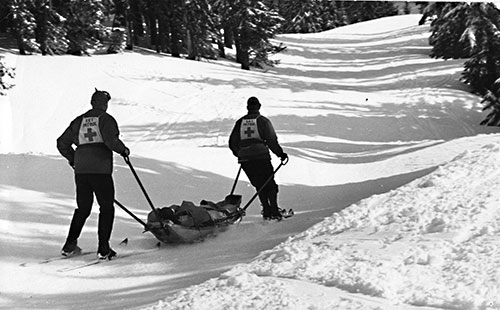 In 1938, Mt. Hood was among the first mountains to organize U.S. ski patrols.
When they admitted women in 1946, they were possibly the first in the world
to embrace both genders. Another Portlander was hard at work making
the burgeoning winter sport safer for participants; in 1939 Hjalmar Hvam
introduced the first usable releasing "safety" binding. His motto: Havoom with Hvam.
Image courtesy U.S. Forest Service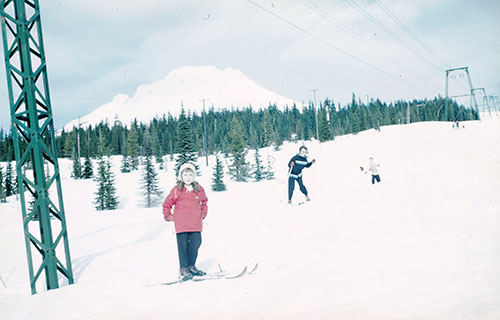 Late 1950s on the avenue-wide Glade Trail, following the old Skiway towers.
Image by John Hoefling
Skiers who wanted to visit Timberline faced a challenge. With no paved road from Government Camp to Timberline, the original plan was to bus people up to ski at Timberline and let them ski back to Govy via a network of new trails. Now only a memory to old timers, the Alpine, Blossom and Glade trails were unsigned, ungroomed and immensely popular. Long after the road was paved in 1948, shuttle buses kept busy running folks up the mountain just so they could ski the 2,000-foot vertical, 3 to 3.5-mile long trails. (I was especially fond of the Alpine Trail because I could ski it right up to the front door of my folk's cabin at Summit, while the Glade Trail deposited me right into the heart of Govy.)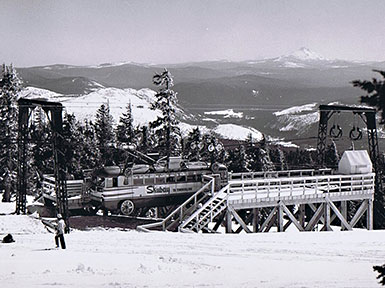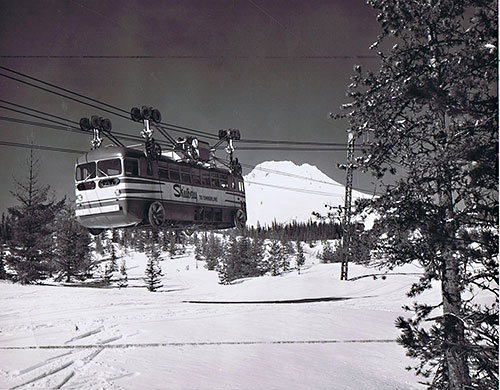 Skiway with Mt. Hood in the background, and the upper terminus at Timberline.
Mt. Hood's marvel was the cover story in the August 1951 issue of Popular Science.
Images courtesy Mt. Hood Museum Photograph Collection
Another short-lived dream to access Timberline came in the form of the Skiway, America's second aerial tram. Based on the sky-hook system used by loggers to move huge timber, it utilized city buses on a cable supported by a three-mile swath of towers from lower Government Camp to Timberline. Operating from 1951-53, it proved slow, unprofitable and unpopular.
After two years the Advertising Club sold their Winter Sports area, and in 1931 a wind storm took out the main toboggan slide. The replacement wooden slide was so long and so fast, it was nicknamed "Red Devil." It wasn't long before the dangerous slide was removed and in 1934 a rope tow installed. Four years later, the West family purchased Calverley's café which was situated on a parcel of land adjacent to the ski area. They renamed the building Summit House, and gave the name "Red Devil" to their ski hill, which by 1946 included a single and a double rope tow. Converting their ski hill into tubing in 1970, they finally sold the property which was redeveloped into housing for Timberline employees.
The former Winter Sports area, now known as Summit Ski Area, sold, shut down for a while during WWII, then reopened. Rope tows were added, new trails cut, and in 1959 a T-bar installed. The small, 306-foot vertical ski area added a chairlift in 1980, and is now a great place for a novice's venture into downhill sliding. In 1948 the Portland Junior Chamber of Commerce started the JC Ski School, which for a number of years provided free lessons to thousands of people. Starting in the early 1950s, their instructor roster included my father.
In the late 40s and 50s, Red Devil and Summit Ski Areas were immensely popular with neophyte skiers. Image above left circa 1940s, above right 1954. My parents met at Summit in the winter of 1949 when Mom (above right, at Red Devil) broke her ankle and Dad, a liftie and patroller at Summit, checked in on her the following week. Image on right by John Hoefling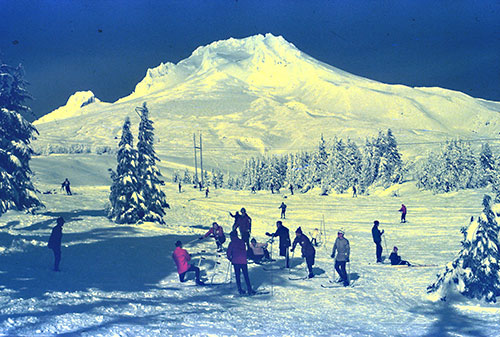 In 1961, the JC Ski School added the first amputee ski program in America. Image by John Hoefling

I had the great fortune as a child to spend my winter weekends growing up on Mt. Hood. While Dad taught at Summit Ski Area, my grandfather operated one of the Red Devil tows, my grandmother waitressed in the dining room at Summit House, my mom manned the candy/notions/equipment rental counter, and for a season or two, my uncle ran the other rope tow. The second story of Summit House was the West family's home and they turned over two spare bedrooms to my family on winter weekends. Sometimes we took a slight detour heading out of town Friday evening to stop at Columbia Hat Company and pick up orders for the shops in Government Camp.

Red Devil's rope tows were my first foray into uphill transport. Behind me (above left), Summit House is blanketed in snow, Multorpor Mountain in the background. Summit's T-bar (above right), on the other hand, was a constant test. Finding a partner roughly my own vertically-challenged stature meant the bar would stay at hinny-height and not slide halfway up my back. Best option, though, was riding alone so I could loop both arms around the bar and let it drag me up the hill. Images by John Hoefling

Mt. Hood Skibowl is the largest night ski area in the country
Images courtesy Mt. Hood Skibowl

Originally two separate areas, Multorpor and Ski Bowl, today's Mt. Hood Skibowl is one of the oldest ski areas still operating in the US. When Ski Bowl launched its first tow, you could ski free if you lugged a gallon of gas up the hill to feed the car engine powering your transport. Riders on Multorpor's first rope, installed in 1938, were charged 5-cents per ride. By 1961, when the Multorpor chair was installed, it was the fastest and highest capacity chair of its time. Five years later, after the two resorts merged, night-lighting was expanded beyond Multorpor's T-bar hill to eventually cover 34 runs and two terrain parks, conferring the designation "America's Largest Night Ski Area." Snow sliders can now choose among 65 runs on 960 acres, with 4 chairs, 3 surface tows and 2 conveyer lifts. The base elevation is 3,600 feet with 1,500 feet of vertical.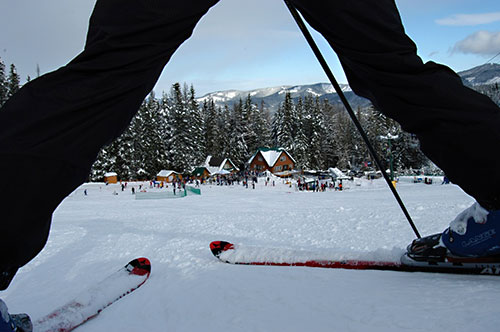 Cooper Spur Image by Michael Hildreth
On the northeastern side of the mountain, Cooper Spur added another rope tow in 1946. After its purchase by Mt. Hood Meadows in 2002, a double chair lift replaced a surface tow. Today beginner and intermediate skiers can enjoy 10 runs on 50 acres with 350-feet of vertical starting at the 4,000-foot elevation, as well as a tubing park and groomed cross-country/snowshoe trails.
Meadow's Yellow Chair, 1969, and base lodge, 1978, located at the 5,366-foot level of Mt. Hood images by Dick Powers

In 1967 when Mt. Hood Meadows commenced operation on the southeastern side of the mountain, its lifts were the first to have towers placed by helicopter. Ten years later the Hood River Meadows chair took the title of longest lift on Mt. Hood. An annual 430-inch snowfall allowed operation into June or July enabling the U.S. ski team to train there, including on a 6,000-foot downhill course, a rare summer find north of the equator. In 1995, the Hood River Express earned the honor of being named the "fastest chairlift in the world," covering more than a mile in under six minutes. The Ballroom Carpet, which began running in 2009, was the first enclosed surface lift in the Northwest.

| | | | | |
| --- | --- | --- | --- | --- |
| | | | | |
God's Wall (above left) drops into Heather Canyon, where 30-degree slopes, rocks and plunges are the match of any "extreme" terrain found at Northwestern resorts (image by Brian Robb). Cruisers meander down the mountain,
some with views of Cascade peaks including Mt. Jefferson and the Three Sisters (image by Steve Warila).
All this translates for snow sliders into 2,150 skiable acres with truly something for everyone. Six high-speed quads, five doubles and two surface conveyers drop snow sliders onto 85 named runs, a snowboard park and half-pipe, and 2,777 feet of vertical. At the Nordic Center, 15km of groomed track wander through the forest.
Image on left courtesy Timberline Lodge & Ski Area, on right by Vicki Hoefling Andersen
Up at 6,000 feet on Mt. Hood's southern slope, Timberline Lodge was drawing skiers by the thousands to its iconic building and burgeoning ski area. Constructed by the Civilian Conservation Corps during the Great Depression, the Cascadian-style lodge was a marvel of craftsmanship, placed on the National Register of Historic Places in 1972. If the Lodge looks familiar, you may remember that the exterior was used in Stanley Kubrick's movie "The Shining." (For more about the history of Timberline Lodge, check out http://www.highonadventure.com/hoa12apr/vicki/mt_hood.htm)
In 1938, Timberline hired Otto Lang to create a ski school and help struggling novice visitors. His school was a success. But after helping with ski scenes in the movie "Sun Valley Serenade," Otto caught the movie bug, moved to Tinseltown and began producing films instead of future skiers. A run skier's left on the Magic Mile carries his name.
Timberline's Pucci Chair (left) and Palmer Chair and Snowfield (right) Images by Vicki Hoefling Andersen
Unusual among ski resorts, Timberline's "base area" sits in the middle of the ski terrain, with lifts rising uphill and trails curving downhill from Timberline Lodge and parking lots. Depositing uphill skiers near the Lodge's swimming pool, the Pucci chair serves terrain originally laid out by clothing designer Emilio Pucci when he was working at White Stag.
Above the Lodge, the Palmer snowfield lured skiers with its year-round snowpack. In 1956, a portable Poma tow was erected, a summer race camp created, and within a few years you could watch ski teams from across the US and around the world train in the off season. When the long-awaited Palmer Chair opened in 1979, unloading passengers at the 8,540-foot level, lift-serviced summer skiing arrived in the United States for the first time.
| | | | | |
| --- | --- | --- | --- | --- |
| | | | Situated at 7,000 feet adjacent to the top of the Magic Mile and bottom of the Palmer lifts, Silcox Hut has served skiers since 1939. Built as the unloading station and warming hut for the original Magic Mile chairlift, this historic structure can now be rented for overnight stays including round-trip transport from the Lodge and dinner and breakfast, or used as a wedding venue. Image courtesy Timberline Lodge & Ski Area | |
Five high-speed quads, a triple and a double chair, and two surface tows deliver 41 trails plus various terrain parks stretched across 1,145 skiable acres. In the winter, weather permitting, you can take a snowcat to the top of Palmer and relish 3,690 feet of vertical in one continuous run, the most in the Northwest. Without a snowcat boost, winter vertical measures 2,150 feet and summer, Palmer to Lodge, serves up 2,616 feet.
For a century-and-a-quarter Mt. Hood has been enticing snow sliders to her slopes. She has entertained, thrilled and sometimes frightened them, but has always been a welcoming neighbor in Portland's backyard. A destination to be admired and savored, not just for skiers and snowboarders, snowmobilers and snowtubers, but for visitors in any season and who enjoy all sorts of outdoor adventures.

CooperSpur.com
Skibowl.com
SkiHood.com (Mt. Hood Meadows)
SummitSkiArea.com
TimberlineLodge.com
MtHoodMuseum.org