There's a lot to be said about Iceland but sometimes, pictures simply do the job. So this is a photo essay from my recent trip to the land of volcanoes, trolls, quaint villages and some absolutely wonderful food. All but a two of these (the fish restaurant and it's meal) were shot with my cell phone. Those cell cameras have come a long, long way.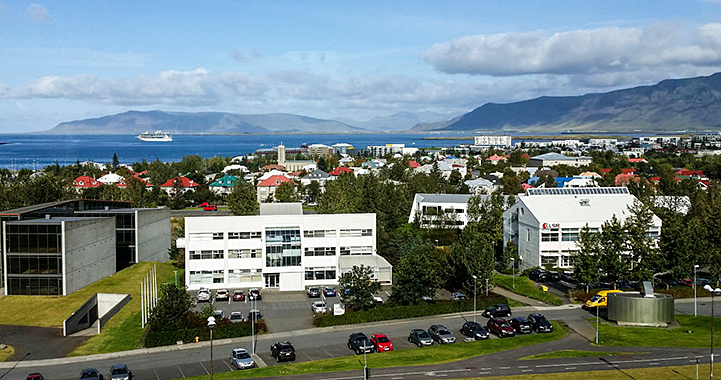 View of the waterfront from our hotel, the Hilton Nordica in Reykjavik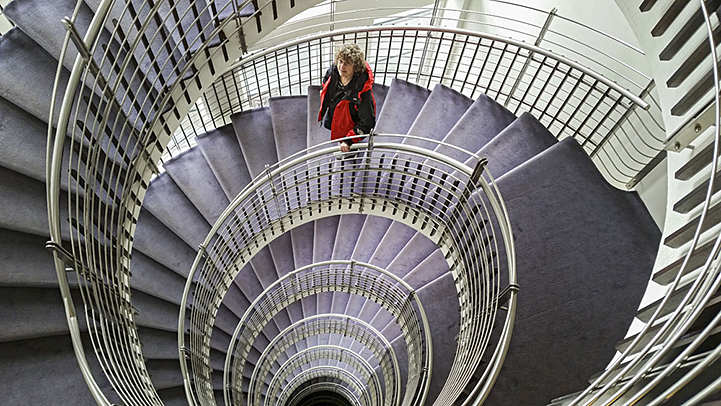 Spiral staircase in Hilton Nordica hotel in Reykjavik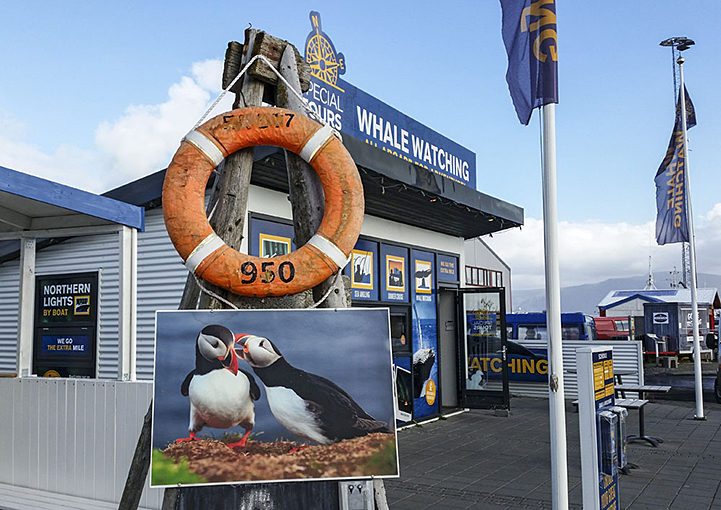 Reykjavik's waterfront at the Old Harbour, lined with boats waiting to take people to see puffins and northern lights.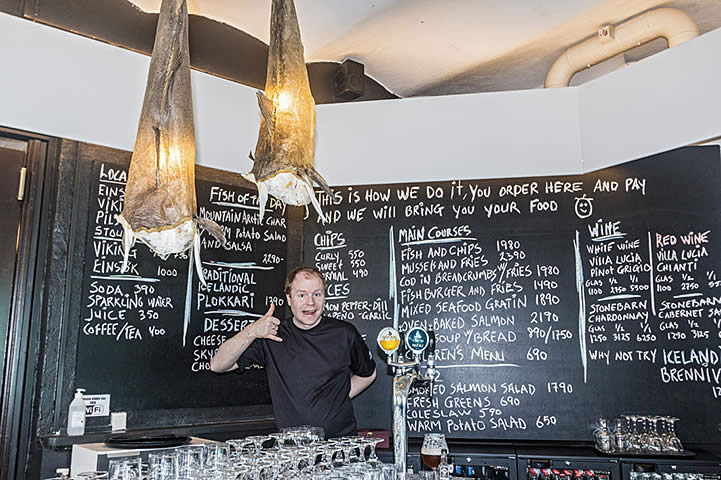 Fish, a local fish & chips restaurant in downtown Reykjavik, Iceland. The fish is better and cheaper
than at the usual tourist cafes. Inside, the menu is on a chalkboard lit by lamps made of cod fish.
| | | | | | | |
| --- | --- | --- | --- | --- | --- | --- |
| | | | | | Folks here are serious about their "hidden people." You can learn all about them at the Icelandic Elf School. The Icelandic road department has a troll expert on staff to make sure no roads pave over homes of the "hidden people."13 kinds of elves are thought to live on the island. | |
| | Fish & chips and beer at a local restaurant in Reykjavik | | The famous troll statue along Reykjavik's shopping street. | | | |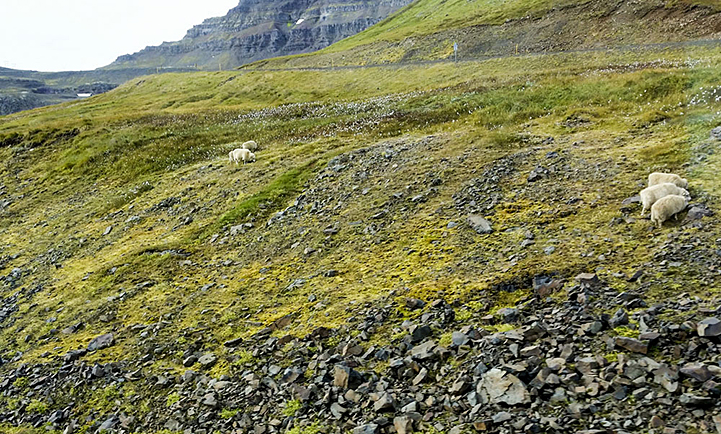 Sheep are EVERYwhere in Iceland. There are five times more sheep than people.
They are allowed to roam free in summer, then are rounded up each fall and spend winter indoors.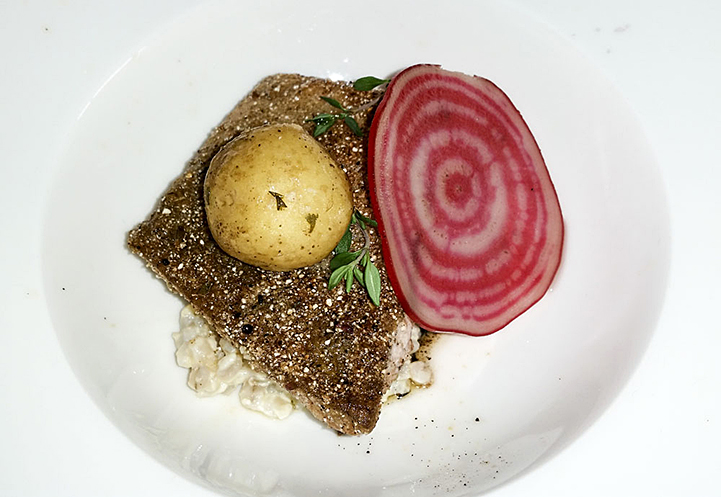 Arctic char, a northern fish that looks and tastes like salmon, served with potato, sliced beet and on a bed of risotto

Sliced reindeer. It was rare and so tender, you could cut it with a fork.
And no, it didn't taste gamey. Reindeer were imported to Iceland in the 18th century
but plans to farm them never quite worked out so now they run wild,
mostly along the east coast and are hunted by lottery.
| | | | | |
| --- | --- | --- | --- | --- |
| | | | | |
| | Sunshine pancakes are served all over Iceland when the sun finally returns to this arctic island. It's a thin crepe with berry jam and topped with whipped cream. At this farm, the sun returns Feb. 7. | | Duck breast pizza. For reasons no one can explain, folks in these northern latitudes LOVE pizza. Norwegians eat more pizza per capita than any other people on Earth. | |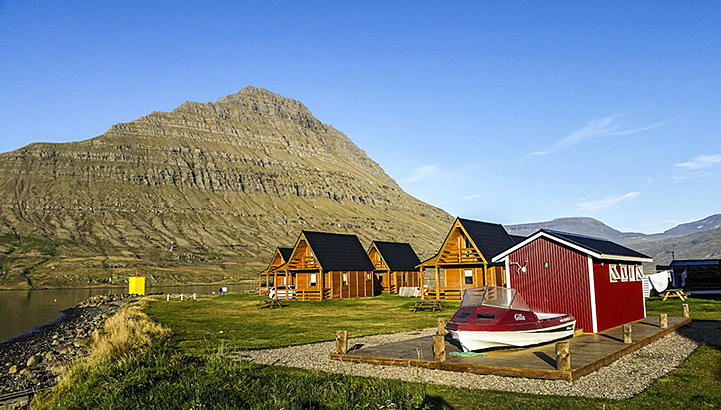 Cabins in the small town of Eskifjordur at Mjoeyri Guesthouse in eastern Iceland. That boat is actually a hot tub with a fantastic view of the town's fjord by day. That night, I saw a glimmer of northern lights while soaking in the nice, hot water.
| | | | | | | |
| --- | --- | --- | --- | --- | --- | --- |
| | | | | | | |
| | View of a small eastern Icelandic village from a window | | Corrugated metal is used virtually everywhere in Iceland for modern buildings. | | Hot cup of cappuccino topped with chocolate flakes in the town of Seydisfjordur in eastern Iceland | |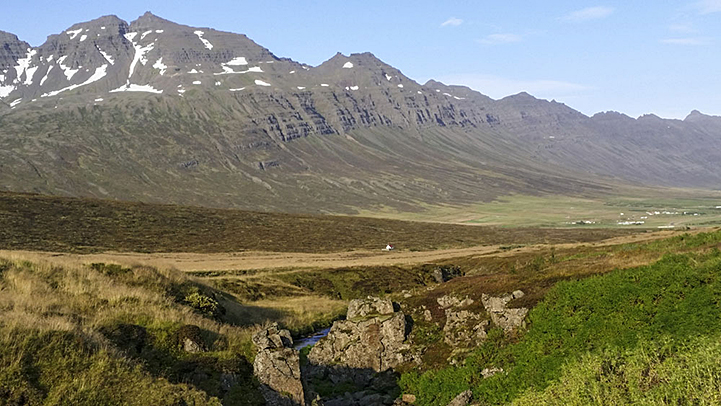 Gorgeous landscape in eastern Iceland. This range of mountains is near the small town of Neskaupstadur.