I was sore and beat but for the best of reasons. With just a handful of opportunities to pilot a snowmobile since we sold our own a decade ago, I jumped at the chance to explore some of the snowy playground around Golden in southeastern British Columbia.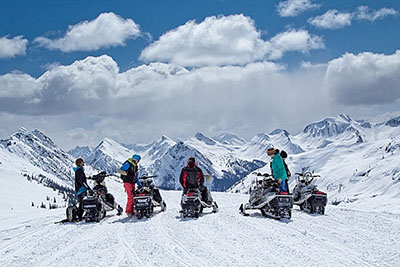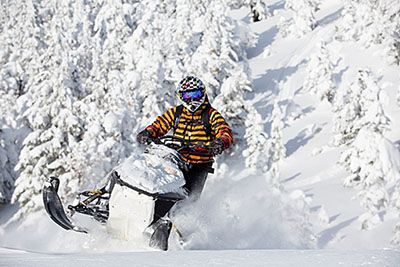 (images courtesy of Tourism Golden)  
We were a mixed group with two never-evers, two who had ridden perhaps a dozen times, me and our guide, Ryan Johannesen. In the summer, as co-owner of Glacier Raft Company, he leads groups on spine-tingling runs down many of the local rivers. In the winter he puts a grin on folks faces while enjoying the frozen variation of H2O.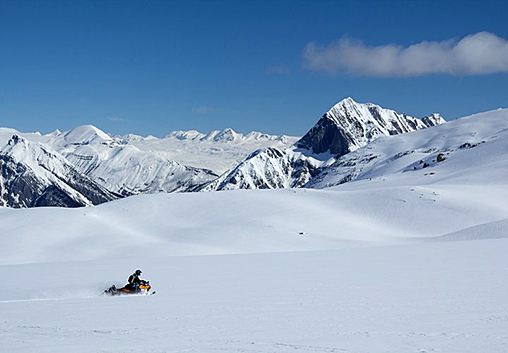 Golden nestles between the Columbia Mountains' Selkirk and Purcell ranges and the Rocky Mountains.
An average 32 feet of snow means sledheads usually enjoy riding from November well into May
with endless backcountry opportunities in addition to 150 miles of groomed trails.
(image courtesy of Tourism Golden)  

Overview map of snowmobile areas around Golden, British Columbia
(image from Snowmobile Trail Guide).
A quick stop at Mountain Motorsports in Golden equipped each of us with helmet, goggles, and a backpack of avalanche or avy gear including 2-way radio, beacon, probe and shovel. Expanding on their successful Golden Snowmobile Rentals & Tours company, Aaron and Kim Bernasconi also operate Mountain Motorsports, a Yamaha and Arctic Cat dealership, parts store and service department.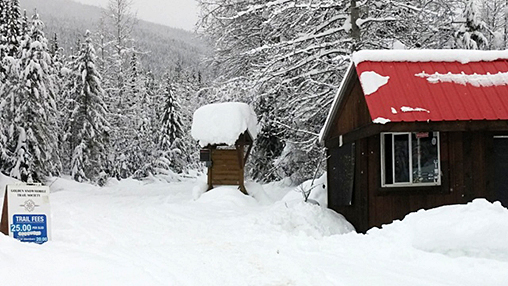 We met up with Ryan and a trailer-load of machines at the Quartz Creek trailhead
(above, image by Vicki Hoefling Andersen), about 28 miles west of town.
After a practice session with the avy equipment, we began the nine mile jaunt to a cabin of the same name.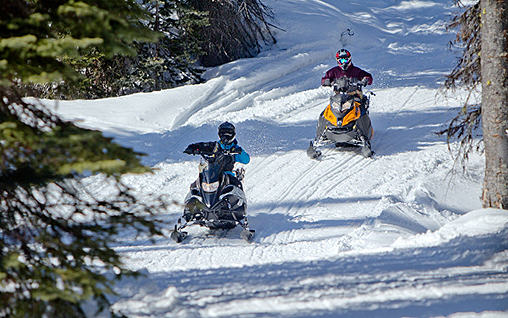 Blasting along the undulating trail through forests of fir and pine
as it segued from machine-groomed to sled-packed,
I was in a euphoric state of bliss. (image courtesy of Tourism Golden)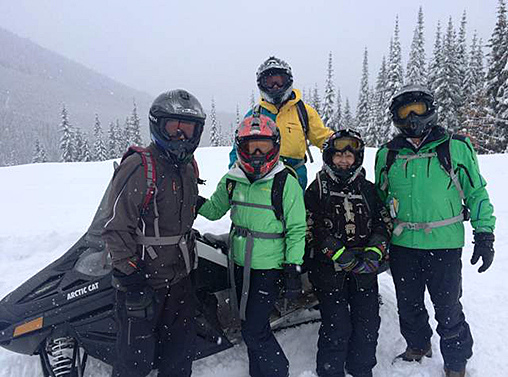 Scenic overlooks provided a snowstorm-obscured glimpse of the Dogtooth Range,
a section of the northern Purcell mountains (image by Ryan Johannesen).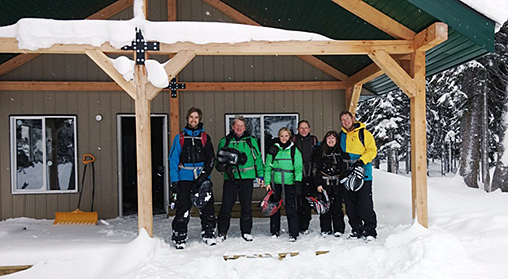 One of four major maintained areas easily accessible from Golden, Quartz Creek
appeals to all levels of riders and is the pride of the Golden Snowmobile Club.
Their cabin  (above, image by Vicki Hoefling Andersen) is outfitted with wood stove,
firewood, picnic table and outhouses, and welcomes anyone for a warm-up,
lunch stop,or use as an overnight emergency shelter.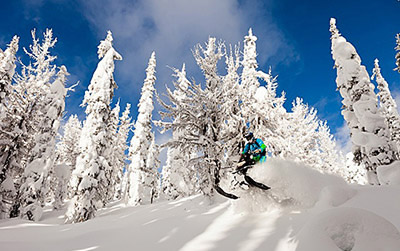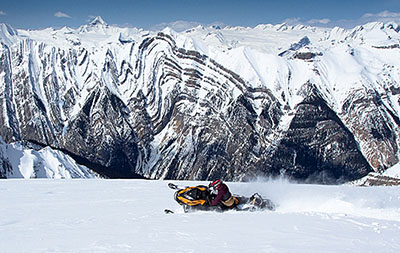 (images courtesy of Tourism Golden)  
We briefly skirted a few potential avalanche outruns, following a trail which eventually climbs to  8,500 feet. Beyond the cabin, Cabin Valley opens into a huge meadow prime for blasting through the five inches of freshies that had fallen overnight. Towering above this playground are imagined pathways with labels such as Top of the World, Roly Poly and Mega Bowl that beckon to hillclimbers and highmarkers. It is very important to be aware of avalanche hazard and where you are at all times. Much of the Quartz Creek area is bordered by areas closed to motorized use due to heli-skiing or Glacier National Park, which is just over the mountain ridges. Watch for yellow boundary markers and "no snowmobiling" signs.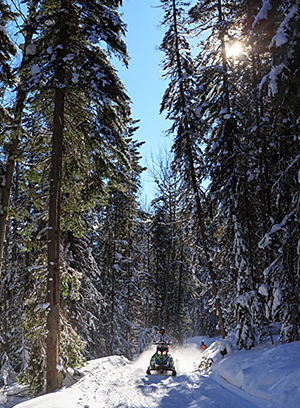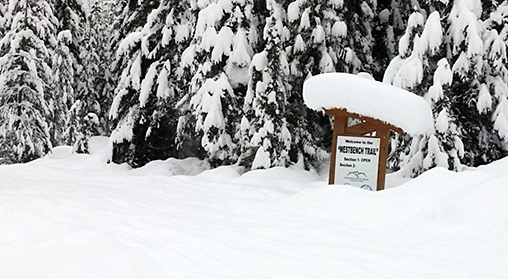 West Bench Trail, above left (image courtesy of Tourism Golden). Westbench Trailhead at Quartz Creek,
above right (image by Vicki Hoefling Andersen).  
From the trailhead at Quartz Creek, the Westbench Trail heads east down a 23.6 mile groomed route to the trailhead at Gorman Lake. New in 2012, it is a picturesque ride at a 3,600-foot elevation along the Columbia Valley. It's a great option for beginning riders who can relax and take in the monumental views of the Rockies and Dogtooths.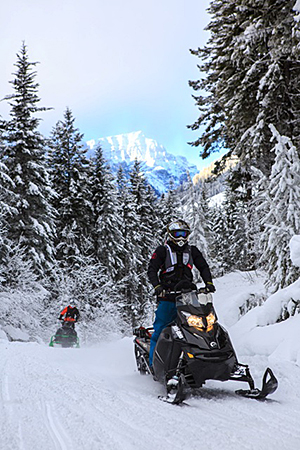 Gorman Lake accesses high mountain terrain loved by skilled zealots
(image courtesy of Tourism Golden).  
Gorman Lake is another area that draws experienced sledheads, especially those who love vertical challenges. The 12.5 mile trail is groomed a couple of times a week, and elevations reach 9,000 feet. Note: this is not recommended for beginners since numerous avalanche corridors line the access trails to the Upper Holt, Grizzly, East Quartz and Cirque areas.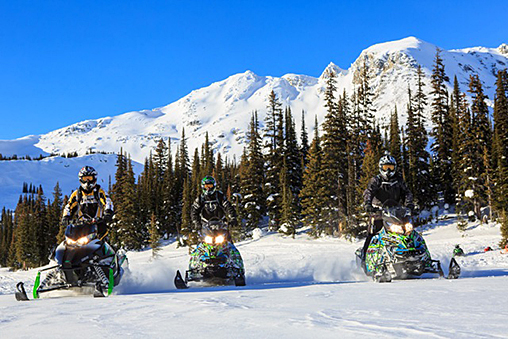 High (8,300 feet) alpine terrain at Silent Pass (image courtesy of Tourism Golden).  
The last maintained riding area near Golden, Silent Pass offers something for almost every level of rider, from wide logging roads to long trails over rolling hills to a back country cabin that can be reserved for overnight stays.  
Popular un-maintained areas include Blaeberry River, Chatter Creek, Eagle Pass, Hope Creek, Hospital Creek, Mount 7, Parson-Nicholson and Susan Lake. They offer trails and play areas perfect for families and less adventurous folks, as well as advanced and expert terrain and conditions.  
A daily trail fee of CAD $25 is required for the maintained areas of Quartz Creek, Gorman Lake, Westbench Trail and Silent Pass. It is highly advised that you have avalanche awareness and safety training and carry avy equipment with you. You might consider hooking up with a local guide or some riders who can point out slide-prone areas and non-motorized closures.  
Golden, BC snowmobiling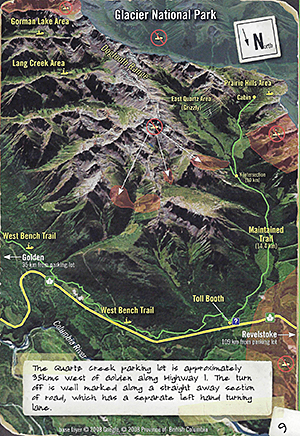 Quartz Creek map from Snowmobile Trail Guide.  
Whether you trailer in your own machines, rent sleds on site, or partake of a tour, be sure to grab a handy little pocket-sized Snowmobile Trail Guide published by Tourism Golden that is available at snowmobile shops and many tourist-brochure display stands. It includes a number of maps and recaps of the areas.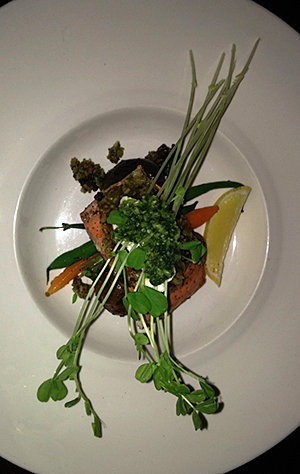 The West Coast Salmon at Cedar House Restaurant
affords the perfect culmination to a day at play in the mountains
(image by Vicki Hoefling Andersen).  
If you're looking for a great place to bunk up in Golden with enough parking for your trailer and equipment, Cedar House Restaurant & Chalets is a great choice. Eight fully outfitted chalets of various sizes, all designed, built and furnished by owner Darrin DeRosa, can accommodate up to 14 people. The main building houses a restaurant where chef Corey Fraser tweaks the menu to make use of as many seasonal and local ingredients as possible. Whether you stay here or are just passing through, treat yourself to at least one meal at Cedar House.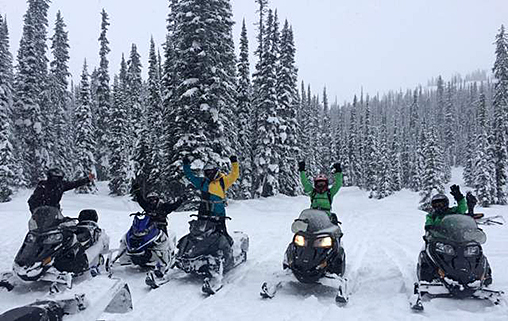 We celebrate a fun-filled and adventurous day at Quartz Creek
(image by Ryan Johannesen).  
This is the heart of heli-ski country, one reason for many of the closure areas. But its fame and draw for snowsliders also makes this a snowmobile Mecca with a reliable snowfall of true powder in epic portions. More than twenty lodges dot the back country and many are accessible to and welcome snowmobilers.  
If you prefer to stay in Golden, check out the newest hotel - the Holiday Inn Express-Golden Kicking Horse, that opened in January 2014. All 75 rooms include a microwave, refrigerator and safe. Holiday Inn's complimentary breakfast buffet includes cinnamon rolls.  
411
Tourism Golden  TourismGolden.com
Golden Snowmobile Club  SledGolden.com
Golden Snowmobile Rentals & Tours  GoldenSnowmobileRentals.com
Mountain Motorsports (sales, service & rentals)  Mountainmotorsports.ca
Cedar House Restaurant & Chalets  CedarHouseChalets.com