Making the inbounds adventurous is something skiers can do at Kicking Horse Resort in Golden, British Columbia. With 80 chutes, giant ungroomed bowls and tree glades - some only accessible by boot-packing climbs or long traverses - it can feel like you are in the backcountry. For safety reasons, all of the Kicking Horse areas are avalanche-controlled and -patrolled.
The ski group I was with had spent three days at Kicking Horse and nearby Revelstroke Mountain Resort where the terrain, views and challenges are amazing.
| | | | | |
| --- | --- | --- | --- | --- |
| | | | | |
| | Skiing untracked powder | | Ready to go 'bowling' | |
This day, Tina Lassen and I are going to see what the backcountry near Kicking Horse is all about. We meet our guide for the day, Charles "Chuck" Gerrard. He checks our gear and makes sure we have avalanche beacons, shovels, and probes as well as skins for our skis. These are standard issue for anyone going on a backcountry trip and are provided as part of our tour.
| | | | | |
| --- | --- | --- | --- | --- |
| | | | | |
| | Skiing a chute  | | Expansive mountain views | |
The lure of fresh, untracked powder, combined with easier access from lifts and all-terrain bindings that allow skiers to free their heels, has led to more people venturing out of bounds. This kind of skiing is often called slack country, side country or lift-assisted backcountry and has gained in popularity over the last several years. It is not uncommon to see people slipping under ski boundary rope lines with little idea of where they are going and the risks they are taking. Having a guide is important when a skier is new to an area and uninformed about the terrain or snowpack conditions. Several guide companies in and around Golden can provide one to several day trips into the backcountry via human powered snowmobiles, snowcats and helicopters. Guides are certified by the American Mountain Guides Association and undergo extensive avalanche, rescue and first aid training.
| | | | | |
| --- | --- | --- | --- | --- |
| | | | | |
| | Stairway to Heaven | | Still climbing | |
Because the avalanche danger was high, our plan was to stay close to the resort on low angle terrain. The Dogtooth range, which is close to the resort and a popular destination for skiers, is where we headed.
| | | | | |
| --- | --- | --- | --- | --- |
| | | | | |
| | Getting ready at the summit | | Down the chute | |
A gondola ride up and a quick ski partway down a ski run led us to a well-used skin track out of bounds of the ski area. A storm the night earlier dumped 10 inches of fresh snow and the powder in the ski area made it almost seem unnecessary to leave the inbound area. We put on our skins and switched our skis into touring mode. We also put on our avalanche beacons and checked to make sure our signals could be read.
Chuck broke trail up through the trees in his homemade split board. He makes three boards a year, mostly for friends. After he sees how they snowboard, he customizes the design for the specific person.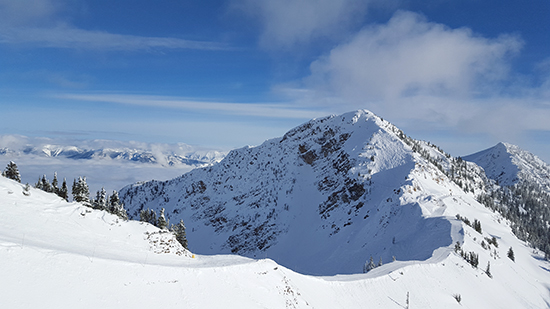 A world away
We wound our way up through black spruce until we reached an opening and took a break. A ridge separated us from the ski area. It felt like we were a world away from the gondola and lodges until we heard people whooping and hollering from the resort. We kept climbing up toward Rudi's Ridge, named after Swiss transplant Rudi Gertsch, who lives at Kicking Horse and runs the nearby Purcell Ski Lodge, which is accessible by helicopter in the winter. As we traveled up the ridge, Chuck and I checked out the snow conditions by digging small hand holes and determined the fresh layer was on top of a hard layer. As we went higher up the exposed slopes, we noticed more wind effected snow. Our goal was the small circle of prayer flags at the top of the ridge.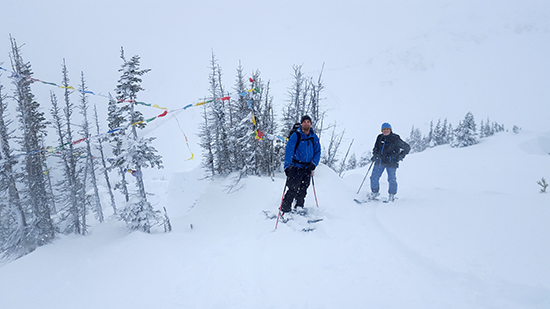 Chuck and Tina on Skiers on Rudi's Ridge
We stopped along the way to look down chutes and bowls that are skiable under other conditions. Amazing! Photos are impossible because it was still snowy and very windy on the ridge. We decided to ski down the more gentle slopes - and all we could see was fresh powder ahead. Tina, Chuck and I removed our skins in the shelter of trees near the top, then we followed Chuck down the slope. It felt like floating down the slope. When I stopped to take pictures of Tina all I could see were her head and shoulders above the snow as she made turns in the deep powder. I could do this all day.
| | | | | |
| --- | --- | --- | --- | --- |
| | | | | |
| | Tina in the powder | | A barely visible Tina | |
We were running out of time, but we decided to do one more lap. So we put on our skins and climbed partway back up then floated down again. This time we kept going back down into the trees until we skied under the ski boundary rope, back inbounds, onto a ski run and finished at base village. This is what I came to British Columbia for - light, deep powder. It's conditions like this that gives Kicking Horse reason to call itself the "Champagne Powder Capital of Canada." That was certainly true today.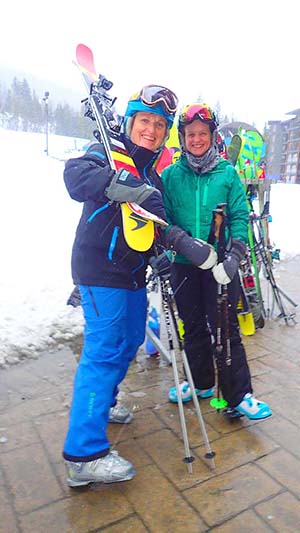 Tina and Molly
When You Go
To plan your trip to Kicking Horse Resort, visit the websites at www.skiinggolden.com, www.kickinghorseresort.com  and tourismgolden.com. The sites have information on accommodations, guides and current conditions.