Downhill skiing in towering mountain peaks that mimic the European Alps. Snowshoeing along a Columbia River wetlands past beaver ponds and tree-top egret nests. Cross country skiing on nearly 20 miles of butter-smooth groomed tracks. Dining at a variety of restaurants, most memorably atop a dramatic mountaintop and at others with down-home atmospheres and surprisingly scrumptious food.
Call it the Golden time of winter.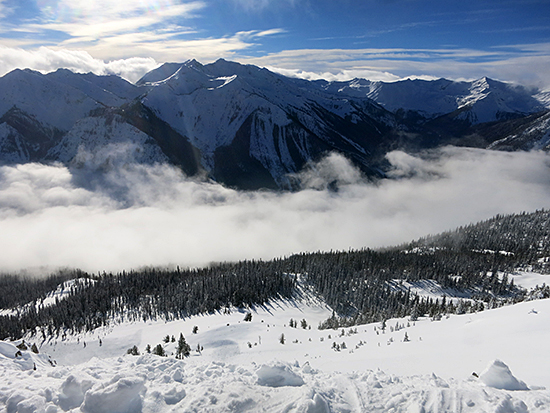 Alps-like views at Kicking Horse
Golden is a community of about 4,00 people in the Kootenay region of southeastern British Columbia. Skiing is taken seriously in Golden. Some Golden businesses allow employees a free day off from work if there's 20 centimeters, or almost 8 inches, of fresh powder, at Kicking Horse Mountain Resort. Winter visitors can strike it rich with a variety of outdoor offerings, especially at nearby Kicking Horse, a downhill ski/snowboard area that offers everything from gondola rides to the highest restaurant in Canada to seriously challenging ski runs to a groomed run past the home of Boo, the resident grizzly bear slumbering in his 22-acre enclosure.
| | | | | |
| --- | --- | --- | --- | --- |
| | | | | |
| | A skier takes off   | | A view from the top | |
My trip started with skiing mostly groomed trails at Kicking Horse, a ski area I remembered from a years-ago visit, for its eye-popping scenery and daunting expert runs. My memories proved accurate. During a morning with a mountain guide, our group toured runs off the Golden Eagle Express Gondola, which rises from the base village to its drop-off point at 7,700 feet, site of the Eagle's Eye Restaurant. In the hours before lunch, we toured an amazing maze of intermediate and expert runs. For variety, we rode the Stairway to Heaven chair that accesses make-your-route runs into Crystal Bowl.
During the gondola rides, we learned Kicking Horse's name stems from an 1858 incident when James Hector, a geologist with the Palliser Expedition, was kicked by a packhorse. Depending on who's telling the story - and I heard several versions, including some "Revenant"-like tales - Hector was initially believed dead.  As he wrote in his diary, "In attempting to re-catch my own horse, which had strayed off while we were engaged with the one in the water, he kicked me in the chest." He said his companions, thinking him dead, dug a him a grave and were preparing to put him in it when he regained consciousness. The pass and nearby river have been known since as Kicking Horse Pass and Kicking Horse River. The ski area, originally called the Whitetooth Ski area, was renamed Kicking Horse in 2000. It's impossible not to wish he'd been kicked by an ass.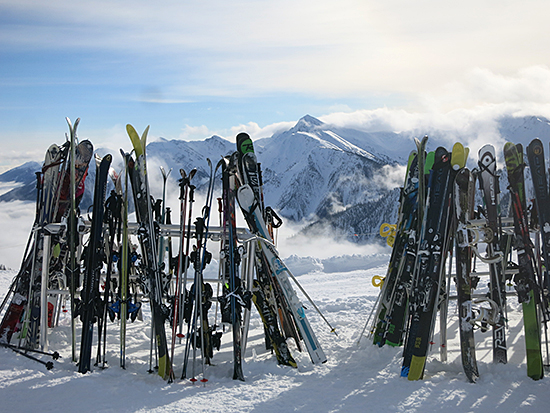 Skis taking a break
Kicking Horse is also the home of Boo, who's made his home at a Grizzly Bear Refuge on the ski area's slopes since 2003. At 22 acres, it's the world's largest enclosed and protected grizzly bear habitat. We didn't see Boo. During winter months Boo brumates, a hibernation-like state that allows bears and other mammals to survive cold winters. Summer visitors, however, are often treated to his antics. Boo and another orphaned bear, Cary, who later died, were found abandoned in the Cariboo Mountains, hence their names, Cary and Boo.
| | | | | |
| --- | --- | --- | --- | --- |
| | | | | |
| | The Eagle's Eye Restaurant | | The Eagle's Eye eagle | |
We dined at the Eagle's Eye, where, as good as the meal was, it's impossible for even delectable food to surpass the expansive views. After lunch we filled our afternoon with more yo-yo trips up the gondola and down a 31-flavors variety of runs.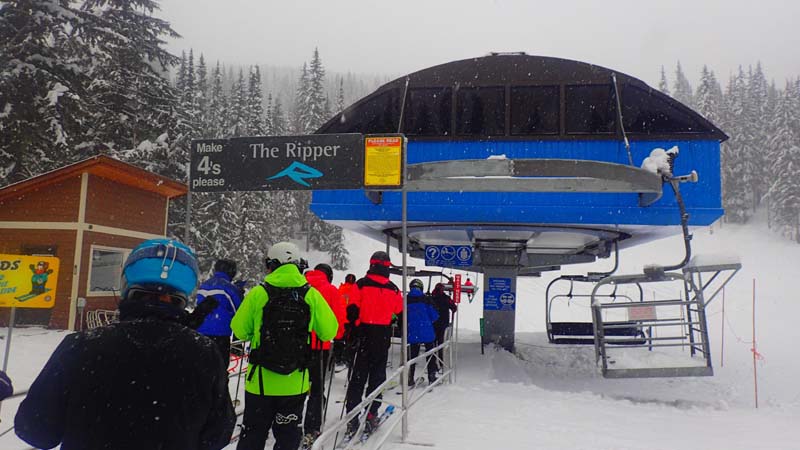 Lining up at The Ripper at Revelstoke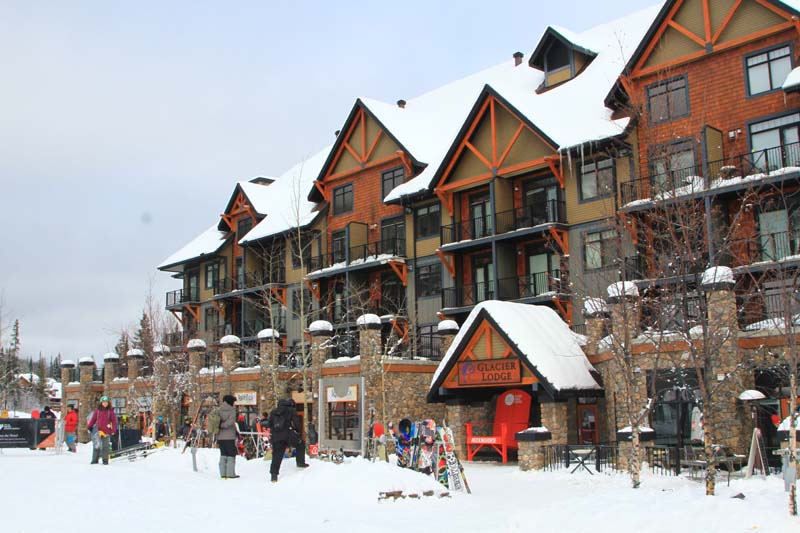 Glacier Lodge at Revelstroke
A day later, a bus ride took our group to Revelstoke Mountain Resort, which boasts the most vertical ski terrain in North America, 5,620 feet. The rides begin from Revelstoke Lodge with a fast-moving Revelation Gondola to the MacKenzie Outpost, then riding The Stoke high-speed quad to Sub Peak, an elevation of 7,677 feet. We skied top to bottom, but not before spending most the day taking runs off The Stoke and The Ripper chairs. Unlike the see-forever day we'd savored at Kicking Horse, clouds and, eventually, rain, obscured the views. So we focused on runs that weaved through forests and paralleled ridges where crazier skis slip through chutes. While Kicking Horse is best appreciated by expert skiers, along with bonsai runs, Revelstoke offers friendly runs for beginners and intermediates.
| | | | | |
| --- | --- | --- | --- | --- |
| | | | | |
| | Skiing at Dawn Mountain | | Dan kicking and gliding | |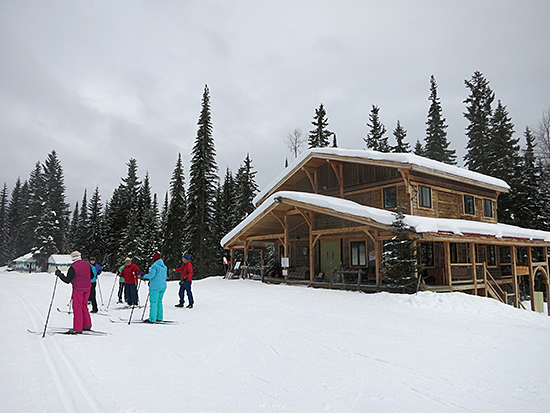 Lessons outside the lodge
The next day dawned, appropriately, at the Dawn Mountain Nordic Trails near Kicking Horse's base village. Dan Giesin and I joined Bob Toothill, a local who led us kicking and gliding over several miles of the 20-mile network of groomed terrain. Sometimes we skiing through mixed conifer forests, sometimes along marshes. Although Golden is a community of less than 4,000 people, the Dawn Mountain ski has 620 members.
| | | | | |
| --- | --- | --- | --- | --- |
| | | | | |
| | Snowshoeing along the river | | From here to there | |
Instead of skiing, my final day was supposed to include dog sledding tour followed by a snowshoe walk along the Columbia Wetlands. Rain washed out the sled dog trip, but not the snowshoe hike. Our 3-plus mile walk wove along a tributary to the 1,243-mile long Columbia River, which begins in the nearby Canadian Rockies. Our stroll followed wetlands, flanked trees with vacant egret nests and ponds created by abandoned beaver dams, included a walk over a wobbly bridge to a cabin, then ended with a fireside lunch at the office. Winter is a relatively slow time for Columbia Wetlands Adventures, who offer guided float tours and self-guided wetlands paddles during the summer.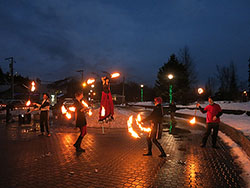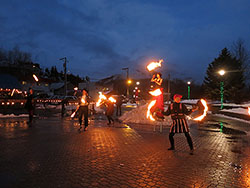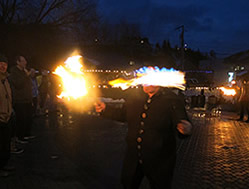 A fiery performance by the Muspe Troope
Before the following day's three-hour ride back to Calgary, our group was treated to a walking tour of downtown Golden, a dazzlingly fiery performance by the Muspe Troope, and a stroll across the Kicking Horse Pedestrian Bridge, which claims honors as Canada's longest freestanding covered timber frame bridge.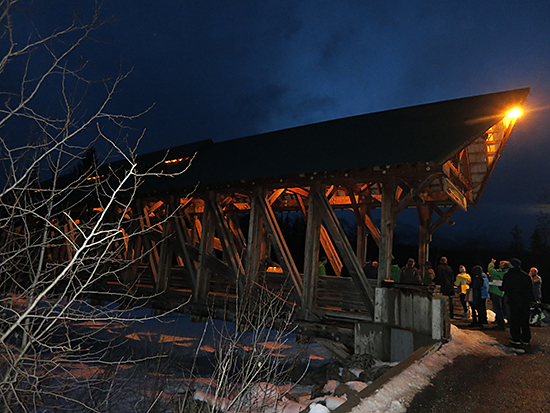 The wooden bridge
Our travels included meals at a potpourri of eateries, from the cafeteria-styled offerings at Kicking Horse's day lodge and Revelstroke's mid-mountain Relevation Lodge to snacks at Lush Mountain to downtown Golden gourmet eateries like the Cedar House, Eleven22, Whitetooth and Turning Point restaurants.
| | | | | |
| --- | --- | --- | --- | --- |
| | | | | |
| | Kicking Horse's challenging burgers | | Classy times at the Eagle's Eye While it's true that all that is gold doesn't glitter, it's also true that glittery Golden rules. | |
* * *
When You Go
For information about Golden contact Tourism Golden at www.TourismGolden.com. Information about other offerings mentioned in the story is available at: Columbia Wetlands Adventures at www.wetlandsadventures.com; Golden Nordic Club at www.goldennordicclub.ca; Kicking Horse Mountain Resort at www.kickinghorseresort.com; and Revelstoke Mountain Lodge at www.revelstokemountainresort.com.
Golden is located about three hours from Calgary International Airport to the east and about three hours from the Canadian Rockies International Airport in Cranbrook to the south. The city is at the junction of the Columbia and Kicking Horse rivers and became a base camp for the Canadian Park Railway during its westward expansion in the early 1880s.
* * *
About the Author
Lee Juillerat is a former reporter-photographer for a Southern Oregon newspaper. He is a freelance writer and photographer for various newspapers and magazines, including Southern Oregon Magazine, Northwest Travel, Alaska Beyond (Horizon Airlines in-flight magazine), and Range, among others. He recently published a book, "Images of America: Lava Beds National Monument," and previously authored and co-authored books about Crater Lake National Park. He can be reached at 337lee337@charter.net.