The ancient Hawaiians had a stringent and strictly enforced kapu system which maintained the delicate balance between the people and their gods. Even an inadvertent transgression could bring retribution unless the perpetrator was punished, usually death by stoning, clubbing, drowning or strangulation. Only by reaching a pu'uhonua or place of refuge, and having the kahuna pule or priest perform a cleansing ritual, would the gods be appeased and your life spared.  

Fortunately a number of these sanctuaries were established on each island, and Pu'uhonua o Honaunau on Hawaii Island is one of the last examples to be found. More commonly referred to as the "Place of Refuge," this National Historical Park has become a must-see for many visitors to the Big Island. Originally built around 1550 on the shore of Honaunau Bay, it has been carefully restored. From sketches and written descriptions, authorities believe that this renovation looks very much like the refuge would have in the 1700s.

Breaking a kapu or sacred rule could involve an act, a place, a food, or contact with the ali'i or royalty. Husbands and wives could not eat together; it was ruled that their food must be prepared separately. Certain fish ponds, coconut groves, beaches and valleys were kapu, set aside for the ali'i. Women were forbidden to eat certain foods including pork, bananas and coconuts. There was kapu for birth and death, and for governing the building of canoes, houses and heiau or temples.

Reflecting on the spiritual power of Pu'uhonua o Honaunau, which is still revered for its great mana.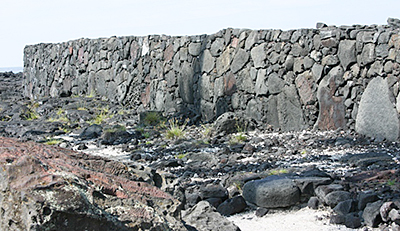 Cleansing rituals were performed on Alealea platform, built atop the lava rock shoreline   
Once the main temple for this site, now only the base of Alealea Heiau remains. Most likely it had ki'i, carved images with spiritual significance, frequently referred to as tikis, with thatched structures on top. If the kapu-breaker reached this platform, the priest could then conduct cleansing rituals, restore their mana, and free them spiritually to resume their lives. No blood could be shed within a place of refuge. Its sacredness stemmed from the mana or spiritual power of the ali'i who were buried at the site.
Hale o Keawe sits on a small promontory across Keone'ele Cove.
It originally held the bones of nearly two dozen of King Kamehameha's ancestors.
The Hale o Keawe (House of Keawe) once sheltered the remains of 23 ancestors of King Kamehameha the First, including his great-grandfather Chief Keawe. Honored as a god, Keawe was protector of the site.
The most spiritual energy is believed to surround the two ki'i located in front of Hale o Keawe,
facing the sea (above left). Behind the Hale is a forest of towering carved ki'i,
where ho'okupu or offerings are still presented (above right).


The Great Wall was a massive construction, built in the traditional Hawaiian method
of drystack masonry known as uhau humu pohaku.
Up to ten feet tall and seven feet thick, the Great Wall stretches for more than 1,000 feet and encloses and separates the sanctuary from the royal compound, where the tasks of everyday life went on. Taro was pounded into poi, fishponds were tended, meals were prepared and games were played.
Carved into the lava rock, kanoa bowls were used for various purposes
including pounding 'awa root into kava, evaporating seawater to make salt, and dying cloth.


Heleipalala was a spring water and saltwater pond where fish were raised for consumption by the ali'i.


The Kaahumanu Stone is where Queen Kaahumanu is said to have hidden to escape the anger of her husband, King Kamehameha (above left). The Hawaiian game of konane is now played with small stones atop an original papamu or stone-playing surface (above right).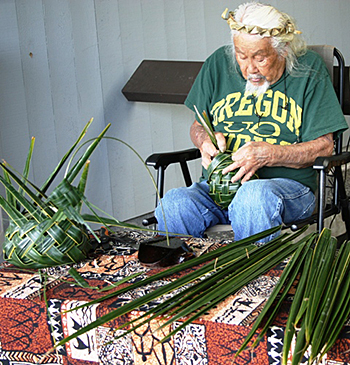 Cultural demonstrations at Pu'uhonua o Honaunau
include weaving, carving, and talk-story (story telling).
It was serendipitous that this basket-weaver was
wearing an Oregon Ducks shirt from my home state.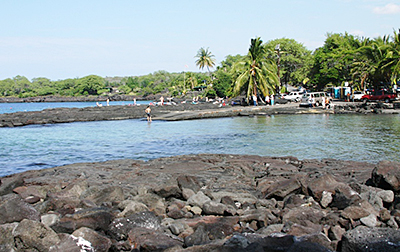 Two Step, accessible just before entering the parking lot for Pu'uhonua,
is a popular snorkeling spot where dolphins often join the swimmers. 
Directions to Pu'uhonua o Honaunau National Historical Park: From Hwy 11, turn makai (towards the ocean) at about mile marker 104, onto Route 160/City of Refuge Road. Follow this all the way to the shoreline.    
Off a side road on the way to Pu'uhonua o Honaunau, St. Benedict's Painted Church stands in complete contrast to the sacred Hawaiian site on the oceanfront below. Originally known as St. Francis Regis Chapel, the original structure was built in 1842 on the shore of Honaunau Bay, near the heiau. By the 1880s the locals were moving upslope on Mauna Loa, relishing the more fertile soil and cooling winds.
The lattice work and belfry are particularly stunning. St. Benedict welcomes visitors.
After arriving from Belgium in 1899, Father John Berchmans Velghe had the church dismantled and hauled uphill where it sits today, overlooking Kealakekua Bay. When Honolulu Bishop Ropert came in 1902, he consecrated the church and named it in honor of St. Benedict.    
The three-dimensional design of the interior is a dramatic visual masterpiece that should not have been possible, but succeeds in conveying a sense of depth reminiscent of a vaulted Gothic cathedral. Three columns on each side sweep upward into palm fronds rising into a sky adorned with clouds, birds and stars. Written in Hawaiian on the white ribbons encircling each column are mottoes from St. Benedict's medal.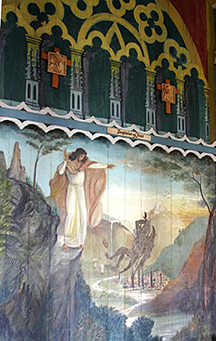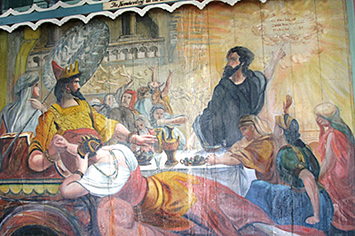 Although literacy was widespread among Hawaiians, Father Velghe found it easier to convey the meanings of the scriptures in pictures. With no formal art training, using simple house paint on plain wood, he embellished the interior with six beautiful paintings depicting scenes from the scriptures. These three (above, left to right) include the Temptation of Christ, Handwriting on the Wall, and St. Francis receiving the Stigmata. Sadly, Father Velghe's health declined and after only four years working on his undertaking, he had to return to Belgium. His uncompleted panels still remain.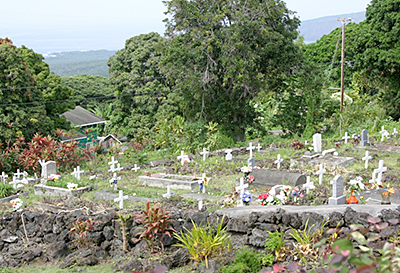 A final resting place at St. Benedict's, overlooking Kealakekua Bay  
Listed on the National Register of Historic Places and the Hawaii State Register of Historic Places, St. Benedict's still celebrates Roman Catholic Mass on most days. Hawaiian Mass is conducted the second Sunday of each month, with readings and music in Hawaiian.  
Directions to St. Benedict's located in Upper Honaunau: From Hwy 11, turn makai (towards the ocean) at about mile marker 104, onto Route 160/City of Refuge Road. Proceed about one mile to the first road to the right, Painted Church Road. Watch for the King Kamehameha sign on the left. Continue on Painted Church Road about a quarter mile. The Church will be on your right.

Truffles visits the statue of King Kamehameha in Hilo.
Hale o Keawe was built to honor his great-grandfather,
Chief Keawe, who ruled the western side of
Hawaii Island in the early 1700s.