As our readers may recall, the Blishaks are a family of railfans. Ted recalls getting so excited about riding a Pennsylvania Railroad commuter train into Pittsburgh at age 9, that he couldn't eat his breakfast. In a previous story, Ted bought a "Learn to Drive a Locomotive" trip for his brother George's 70th birthday. Let's join George now as he invites Granddaughter Lila Lee aged 13, Grandson Johnny, aged 9, and his daughter Anna aboard Amtrak's Southwest Chief from Los Angeles to Chicago. Ted & Sylvia Blishak.

Los Angeles Union Passenger Terminal! Is there a more dramatically beautiful starting point for a transcontinental rail trip?

As we entered the high-ceilinged, art-deco hall with its lavish Spanish tile, I recalled the many Hollywood stars who'd added their own glamour to this iconic station—a station which, in its own right, has been featured in movies from the 1930s on.

Actress Kim Novak arriving at Los Angeles Union Passenger Terminal circa 1958

My destination was a return trip home to Pittsburgh, PA, following a California visit. I had made transcontinental Amtrak trips a number of times, usually alone, although I'd traveled with my kids, Anna and Greg, several decades ago. This time I would be accompanied by my daughter Anna and her children, thirteen year-old Lila Lee and nine year-old Johnny. Residents of California, they would accompany me as far as Chicago. They were excited about "seeing what it's like to sleep on a train!"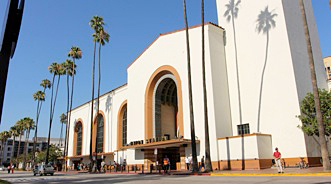 The Iconic Los Angeles Union Passenger Terminal
We enjoyed lunch at the Musso and Frank Grill, Hollywood's oldest restaurant, and a family favorite. We would have dinner aboard the Southwest Chief, scheduled for a 6:15 PM departure.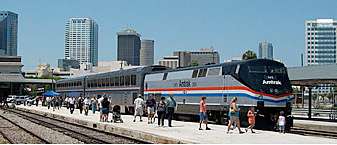 Train platform at LA Union Passenger Terminal
It was a hot August day in L.A. Upon arrival at the terminal, we were very pleased to be directed, with our luggage, to the recently established Metropolitan Lounge, on an upper level of the building. We placed our luggage near the reception desk, selected cold water and soft drinks from the complimentary beverage counter, and settled into our chairs.
Anna commented, "Cool and comfortable. I definitely don't want to leave this room until train time."
Not the least of the features of the striking new Metropolitan Lounge are clean and well-maintained restrooms. This is in contrast to the large restrooms in the terminal's main concourse, often overcrowded with hurrying Metrolink passengers, as well as by other Angelinos who wander in and out from nearby neighborhoods.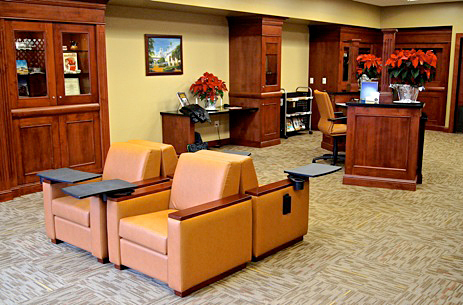 Metropolitan Lounge, the sleeping car passengers' waiting area.
As departure time approached, redcaps arrived with electric carts outside the rear of the lounge, where they assisted several passengers in need of their services. The rest of the passengers were alerted to get their luggage and follow the lounge staff member through the front door and into the elevator.
I led the long walk to and through the subterranean passageway beneath the train platforms where, on about the next-to-last platform, we spotted a directional sign to the Southwest Chief.
| | | | | |
| --- | --- | --- | --- | --- |
| | | | | |
| | The author with Johnny and Lila Lee | | Johnny and Lila Lee trying to Keep Calm | |
Boarding went smoothly. Our travel agent, my brother Ted, had arranged for the four of us to be on the same Superliner sleeper car. I settled into a downstairs roomette.
Anna and the kids were delighted to have an upper level bedroom. Our car was directly behind the dining car and sightseer lounge, which would make for conveniently short walks to those cars.
Before the train started, Johnny sat down in the bedroom, looked around at his accommodations, and made a remark that would never be heard on an automobile or airline trip. He clasped his hands behind his head, and stated, "This is the life!" The Southwest Chief departed LA exactly on time, and as we rapidly accelerated to 79 mph, Johnny and Lila Lee tried hard to remain calm.
We soon made the first of what would be many unscheduled stops throughout the trip. These stops would eventually result in a six hour and forty minute late arrival in Chicago, leading to problems for passengers hoping to make connections. (Having experienced a missed connection in Chicago more than once, I had chosen, with the wise suggestion of my travel agent, to stay overnight in Chicago, which eliminated the "Will we make the connection" anxiety and made for a much more relaxing journey.)
I will not fatigue the reader by listing all of them, but the first two stops will give an idea of incidents that can, and sometimes do, lead to late arrivals at Amtrak destinations.
As we came to a stop near railroad yards east of downtown L.A., the conductor informed us via the public address system that dispatching in this region was done by Metrolink, a very busy commuter rail system that serves five Southern California counties. The dispatcher stopped our cross-country train for over twenty minutes, after which a Metrolink commuter train of about three cars sped by. The dispatcher then permitted the Southwest Chief to proceed, and we arrived 25 minutes late to the first scheduled stop at Fullerton.
The Southwest Chief came to another unscheduled stop after entering Riverside County. This stop lasted much longer than the first. It was caused by a trespasser somewhere on the tracks ahead, resulting in the dispatch of law enforcement officers. We arrived at our second scheduled stop of Riverside well over an hour late.
But enough negatives! The positive attributes of Amtrak travel are many. An outstandingly competent and very pleasant lady, originally from Wales, was in charge of the dining car.
The dining car meals were very good, and the servers were efficient in every way. The wait staff clearly reflected the professional management and training of the Welsh lady. They appeared to enjoy their quite challenging jobs, and that was appreciated by the passengers.
| | | | | |
| --- | --- | --- | --- | --- |
| | Many of the diners were enjoying meeting new people and sharing tables with them as community seating is customary in an Amtrak dining car. However, a number of diners, predominantly males, and sadly, of all ages, were dressed in get-ups that were barely appropriate for a gym workout. I am old enough to remember when men wore coats and ties to the dining car. One disappointing example of 2015 style was a silver-haired man in his early fifties who came shuffling in for dinner, making what he thought were humorous quips to the wait staff. He was clad in shower shoes, baggy short pants, and, to complete the ensemble, a tank top. | | | |
| | | | Johnny signed his first ever dining car order card | |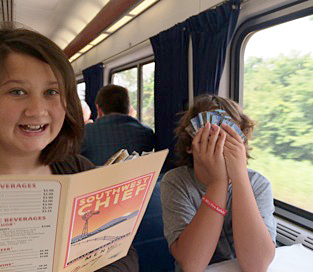 Ordering from the menu in the dining car
Johnny took the picture of the New Mexico scene below left. It echoes the theme he observed on the cover of the Southwest Chief's dining car menu above.
| | | | | |
| --- | --- | --- | --- | --- |
| | | | | |
| | | | Lila Lee shopping on the Albuquerque train platform | |
We were fortunate to have an excellent sleeping car attendant, a lady who had been with Amtrak for only four months, after many years as an airline flight attendant. In her own quiet way she was courteous, attentive and professional. We all immediately took a liking to her. An unpleasant and stressful situation occurred at the Kansas City station, where a family of four boarded our sleeper. The man of the family used vulgar language in expressing his disappointment at the lateness of the train. (This was unusual, as seasoned Amtrak passengers have learned that, if you're in a hurry, you must cram yourself into an uncomfortable airline seat. )
Our attendant remained calm, and told him, "This is a family train. Language like that will not be tolerated!" As an afterthought she stated, "And I will not be bullied!"
She reported the issue to the conductor, who took the man aside and apparently read him the "riot act." To his credit, I noticed that the man was calm, quiet and courteous throughout the remainder of the trip.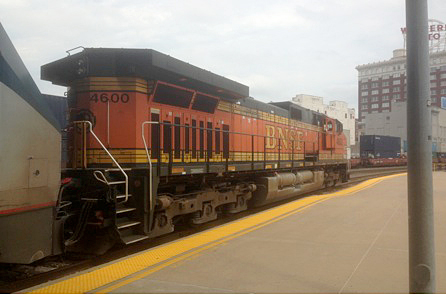 BNSF Engine 4600
At Kansas City, we were able to take a close look at the BNSF engine that had been coupled to the front of our train during a maintenance stop in Albuquerque. This unit led the train all the way to Chicago, but we did not hear an explanation of why it was done.
Johnny's mother Anna remarked that her son, like many children in his age group, was accustomed to using electronic devices frequently to play games, text, etc. At the beginning of the trip, however, Johnny made the decision—on his own—to forego electronics throughout the trip, in order to fully appreciate his first long-distance train ride. Johnny accomplished his goal, which tells us a lot about how interesting an Amtrak trip can be for children.
The kids were comfortable navigating their way to the sightseer lounge car, conveniently next to our sleeper, occasionally visiting the snack bar in the lower level. They enjoyed panoramic views from the upper level. So did I!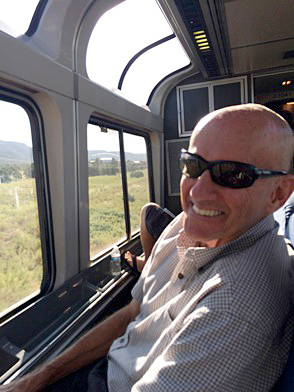 The author in the Sightseer Lounge Cafe car upper level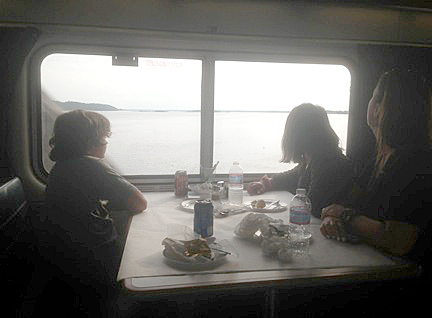 Watching from the dining car, the young travelers were very
interested in crossing one of America's iconic landmarks,
the Mississippi River.
As we entered Illinois, the conductor began making sugggestions for options for passengers who would be missing their connecting trains in Chicago. We tried not to look too smug about our previously made hotel reservations for an overnight stay in the Windy City.
Lila Lee, noting that our delay would extend our arrival past dinner time, said, "I'm getting hungry," and asked me if we would have to miss the unscheduled meal, as we were six hours and forty minutes late. I had been on a very late train a few years previously, and recalled crackers and nuts being handed out. We were not surprised to discover that our very well-organized dining car staff had something better in store for us. Dinty Moore stew served over rice on paper plates was hot and nutritious! It immediately reminded daughter Anna of many of our family camping trips when she was a child.
We detrained from Amtrak's eastbound Southwest Chief at Chicago, provided generous gratuities to our outstanding car attendant, and were met by Anna's husband (familiar with Amtrak's late arrivals) who had flown to the city. Checked baggage arrived at the station carousel very quickly. We were soon on our way to the Hilton Palmer House Hotel.
Family travel by train has many advantages over air or automobile trips. We enjoyed meals together in the dining car at booths for four. We were all relaxed and able to move about freely (no taking off our shoes at security lines, or fastening seat belts). It was quiet enough to converse easily. There was something magic about being on a train together, eating and sleeping and chatting on board, and we'll always cherish the memories of this trip. ...........................
Amtrak provides special discounts for children. For details, call 1 800 USA RAIL, or one of the few travel agents who handle Amtrak trips.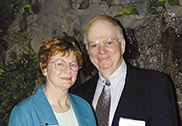 We are Ted and Sylvia Blishak, who not only write about trains, but also plan customized North America vacations -- with more experience booking rail trips than any other travel agents in the US!
Our travel agency, Train Travel Consulting, has been named as one of the World's Top Travel Specialists by Conde Nast Traveler Magazine since 2002.
Are you a vacationer who wants to travel at your own pace -- to destinations that you choose?
Please visit http://www.traintravelconsulting.com, email sylvia@traintravelconsulting.com, or phone 1-541-887-6025.