Unless your quiver of toys includes skis or snowboard, or you're an avid sledhead, Quebec may not appear on your bucket list of winter vacation destinations. You need to reconsider, and make tracks to Quebec City.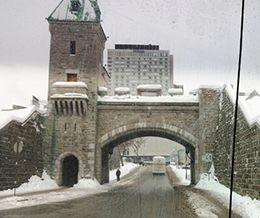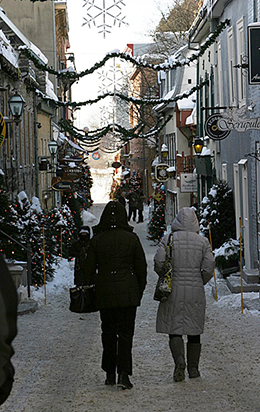 Designated a UNESCO World Heritage Treasure, Old Quebec City is enclosed by
massive walls nearly three miles in length. Cobble-stone pedestrian streets
twist past fine dining establishments, brasseries and intriguing shops.
Situated along the St. Lawrence River, Quebec City is the only walled and fortified city in North America. First settled in the early 1600s by the French as a fort and trading post, it quickly became the religious and governing center of New France. The English coveted its prime maritime location and in 1759 they took control of the city. Four years later France formally relinquished Canada to the British, but Quebec, and particularly Quebec City, still remain an enclave of French culture and French-speaking inhabitants.
| | | | | |
| --- | --- | --- | --- | --- |
| | | | Claiming to be cloned from his original body, buried in the late 17th century, our guide's knowledge spanned the breadth of Quebec City's storied past. Capital of Quebec province's Parliament building's façade includes 22 life-sized statues of major players in Quebec's tumultuous history. | |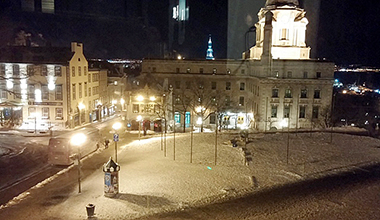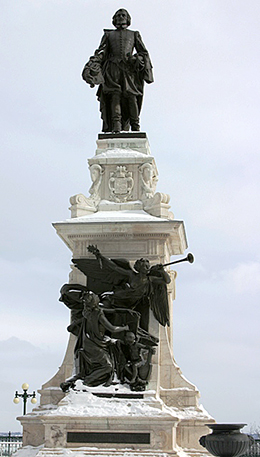 Adjacent to the Chateau Frontenac, Dufferin Terrace (above left) offers incredible views of the
St. Lawrence River and is home to a massive statue of Samuel de Champlain (above right),
the "Father of New France". A lively plaza in the summer, winter layers it with its own
beauty and entices speed-loving folks with a long snow slide at the edge of the terrace.
Quebec City is a hub of activity in the winter. Nearby you will find dog sledding, snowshoeing, major ski resorts, snowmobiling, ice climbing, sugar shacks, and an ice hotel. Best of all, the City is host to the world's biggest winter carnival.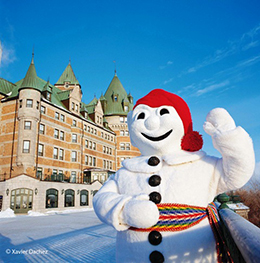 His image omnipresent, Bonhomme is the King
and symbol of Quebec City's Winter Carnival
(image courtesy Quebec Winter Carnival)
Early French colonists gathered each year just before Lent for a boisterous and often unruly celebration. In 1894 this celebration was organized into the first carnival, stretching from the end of January to mid-February. The largest winter carnival in the world, it ranks #3 behind the Mardis Gras celebrations in Río de Janeiro and New Orleans.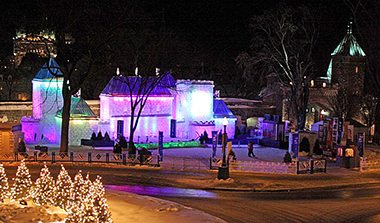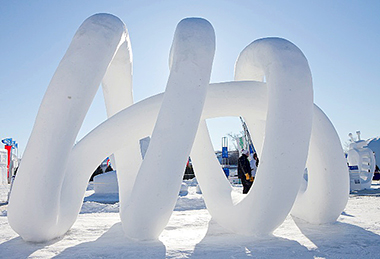 Center stage for many Carnival events, Bonhomme's Ice Palace watches over the Snow Sculpture garden, where international artists compete in one of the world's oldest snow sculpture contests
(images above left and right courtesy Quebec Winter Carnival).
Nearby, Bonhomme's Winterland draws families who enjoy sleigh and dogsled rides, bumper cars on ice, sugar shack and eateries, hockey and skating rinks, and snow and ice slides.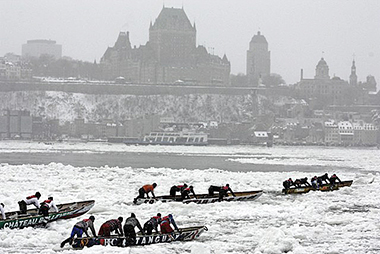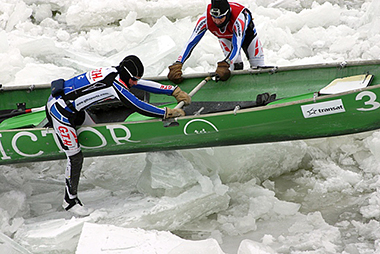 One of the more bizarre events of the Carnival is the Ice Canoe Race, where some fifty teams battle the winds, current and ice floes along a two-mile course in the ice-clogged St. Lawrence River. Just to make sure the Elite Men's class is thoroughly challenged, these competitors get to "paddle" the wretched route twice.
(image above left courtesy Quebec Winter Carnival)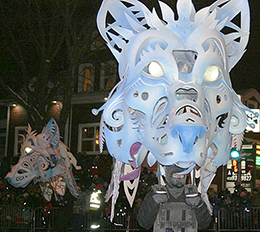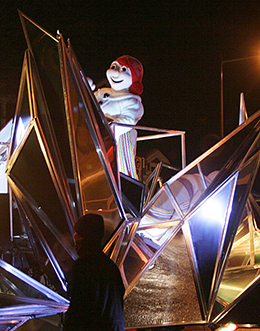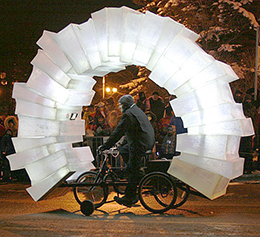 Two night parades draw thousands of spectators to cheer wild displays of characters, lights and musical floats.


Quebec Winter Carnival Video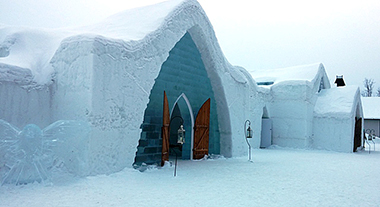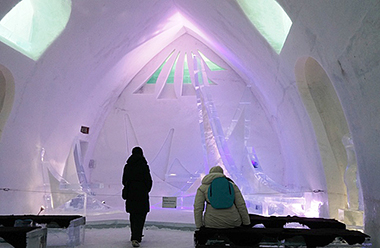 | | | | | |
| --- | --- | --- | --- | --- |
| | To appreciate what can be done with a lot of creativity and a specially frozen supply of ice, head ten miles out of town to the Hotel de Glace, or Ice Hotel. Artwork is carved throughout the 44 rooms and theme suites, ice bar and other spaces. The Ice Chapel (above right) provides a unique wedding venue. Open from January through March, it is open to the public for a one-of-a-kind overnight experience in a on-of-a-kind environment or for a shorter tour of this amazing construction. | | | |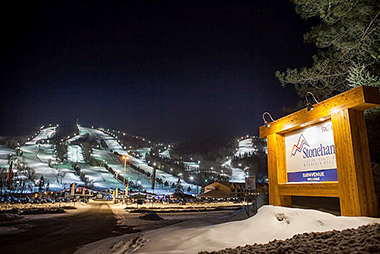 (image courtesy Stoneham Mountain Resort)
Less than 20 miles from Quebec City, Stoneham Mountain Resort is close enough to catch a few night runs on almost as many trails. Stoneham has one of the largest number of trails open for night skiing in all of Canada. During the day, 42 runs across four mountains are accessible by seven lifts including one detachable bubble-top quad, 2 quads, one double, and three surface transports.
If you don't feel like playing on the hill, head to Le Quatre-Foyers for libations and live music, or enjoy a soak in one of the Arctic Spas Zone hot tubs on the terrace near the bar, with towels and lockers available for rent. If you're hungry, try the tasty options at Le Feu-Follet.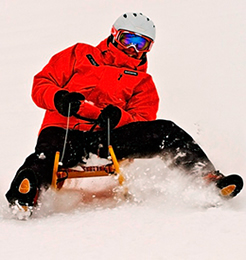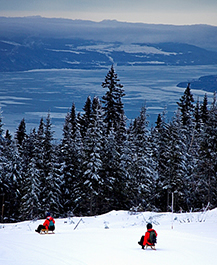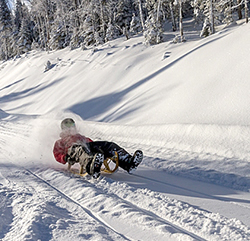 (images above left to right courtesy Le Massif de Charlevoix. Benjamin Gagnon and A.Blanchette)
Snow sliders heading to Le Massif de Charlevoix, about an hour north of Quebec City, enjoy 52 trails and glades draped over 2,526 feet of vertical. But hidden along the meandering terrain of Mont Liguor is the Piste de Luge, which puts a new spin on the concept of snow sliding.
The longest and most unique in North America, Le Massif's Sled Run meanders over four-and-one-half miles down the mountain, with glimpses of the ice-packed St. Lawrence River. After a snowcat ride to the top, you'll enjoy two hours of pure, child-like fun.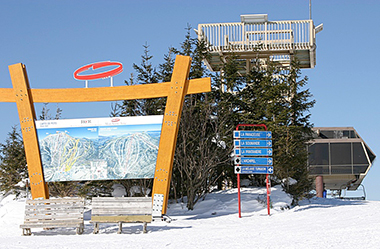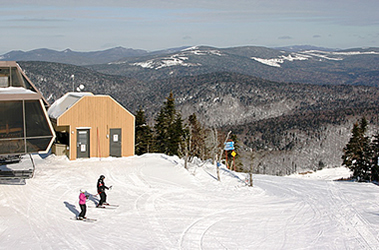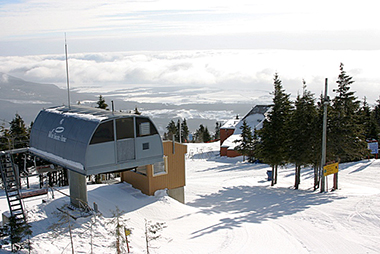 An observation tower (top) perched at the 2,625 summit above Monte Sainte-Anne's trails provides
horizon-stretching views of the Laurentians (left) and the St. Lawrence River (right).
A high-speed gondola, two detachable quads and four surface lifts provide access to Monte Sainte-Anne's 71 runs. Fewer than 30 miles from Quebec City, the village at the base of the ski area has a small ice rink and is home to the Quebec Ski Museum.
The Museum is packed with historic photos and illustrations, memorabilia, old ski maker's tools, and equipment that spans more than a century. The oldest pair of skis in the collection are handcrafted walnut from the late 1800s, which belonged to the Norwegian/Swedish consul in Quebec.
| | | |
| --- | --- | --- |
| | | |
| | Especially interesting are displays of the ski boot's evolution, and the humble ski pole as it transitioned from bamboo to space-age materials. Founded in 1989 by Francois Pichard, designer of Mont Sainte-Anne ski area, you'll even find a Snurfer tucked among the Museum's collection of snowboards. | |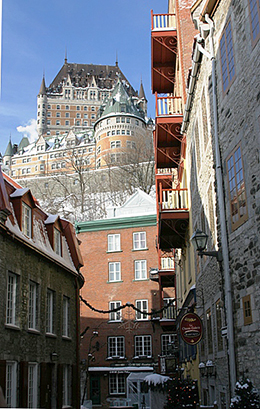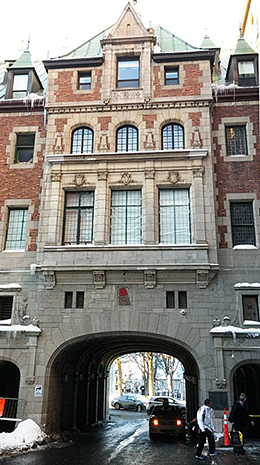 The Chateau Frontenac perches high above Place-Royale (above left),
and the hotel's castle-like exit from the courtyard onto the city street
echoes the fortified walls of the Old City.
One of the most photographed hotels in the world, the Fairmont Le Chateau Frontenac sits on a promontory inside the Old City, overlooking the St. Lawrence River and many distinctive buildings of Old Quebec. Built in the late 19th century as a Canadian Pacific Railway hotel in a combinationof Middle Ages and Renaissance architectural styles. The 611 guestrooms and suites, multiple restaurants and spa are a welcome retreat and the perfect choice for a stay in Quebec City.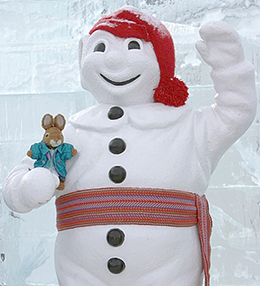 Truffles enjoys a Carnival welcome from Bonhomme
Quebec QuebecRegion.com/en/
Quebec Winter Carnival Carnaval.qc.ca/en/
Le Massif le Charlevoix LeMassif.com/en/
Mont Sainte-Anne Mont-Sainte-Anne.com/en/
Stoneham Ski-Stoneham.com/en/
Fairmont Le Château Frontenac Fairmont.com/Frontenac-Quebec