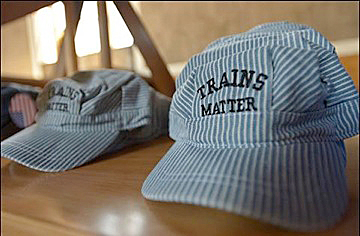 National Train Day, with the theme "Trains Matter", celebrates its eighth year on May 9th 2015 with the aim of sharing information about the advantages of traveling by rail to the general public. It is celebrated every year to attract new riders to Amtrak.
We traveled to Seattle on Amtrak, stopping at Portland's historic station, with its iconic tower.

In the past seven years, over 300 communities in all 50 states have celebrated their love of trains on National Train Day. This year, Amtrak is expanding the celebration to better support all communities and evolve it into a traveling, community-centric experience under the new name of Amtrak Train Days.

If you'd like to attend, find a station near you celebrating the event on Saturday, May 9th, 2015.
One of last year's events occurred at the freshly renovated King Street Station in Seattle. We traveled there on Amtrak.

Dozens of rail-oriented organizations man display booths, such as Amtrak's "Cascades" group, which operates the Talgo-built trains between Vancouver, BC and Eugene, OR. Displaying a replica of the Bistro car's coffee service, Seattle's Best coffee is served to attendees. Most of the booth offer fun freebies, such as pens, luggage tags, bill hats, kid's watches, refrigerator magnets, etc. Various rail equipment is parked on the tracks outside, and they are open for inspection.
Former Amtrak president Alan Boyd is on hand to speak. Boyd is pleased by Amtrak's increasing ridership figures.
The Mt. Rainier Railroad Club has a huge HO gauge layout set up, with several Amtrak train models.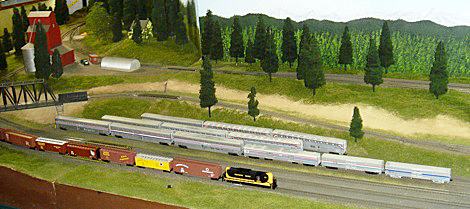 National Park Rangers from the "Rails to Trails Conservancy" are on hand to explain their philosophy of maintaining abandoned roadbeds, in case future generations of Americans find a need for these rights-of-way for the operation of rail service again.
| | | |
| --- | --- | --- |
| | | The San Francisco Tourist Board has a booth here to promote their city. "Our aim is get Coast Starlight passengers interested in including San Francisco on their next trip. Amtrak doesn't go through San Francisco, but passengers see the Golden Gate Bridge from the east side of San Francisco Bay. Amtrak takes passengers across the Bay by bus, so it is an easy destination for tourists to reach." |
On our way through Portland, Oregon yesterday, we had seen other evidence of the San Francisco Tourist Board's activities at the Portland station as it was being prepared for their own National Train Day celebration.

The board had "wrapped" one of Amtrak's coaches, using it like a billboard.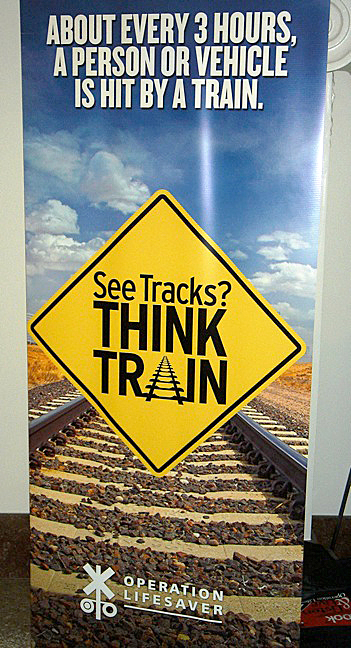 Operation Life Saver announces their motto with a poster that says, "See Tracks, Think Trains." The gentleman manning the booth is passionate: "Three people every day are struck by trains in the US," he says. "Distracted by iPods and smart phones, they walk in front of moving trains."
Well-known railroad artist Craig Thorpe, is busy displaying and selling his popular posters.

"I've always been interested in rail, as well as art," he says. "As my career unfolded the two have melded. What I'm doing with art is showing what trains used to be, and can be.

"How important trains have been to our economy and our culture! My message is the same as the theme of today's event, "Trains Matter".
The Canadian tourist railroad, Rocky Mountaineer Vacations, wisely chose today -- with the station full of railfans -- to launch their new route between Vancouver BC and Seattle.
They have a ticket booth set up inside the station, sporting colorful brochures.
We pick up two tickets, then climb aboard for a trip to Canada.
Amtrak Train Days is kicking off at Chicago Union Station on May 9th, 2015, and then hits the rails, traveling to over 20 locations across the country from May through October. While the touring event canŐt stop in every community, Amtrak invites local stations, rail industry colleagues, and communities to join in the celebration by hosting their own Amtrak Train Days events. Please mark your calendar for May 9th this year. Visit www.amtraktraindays.com for more information.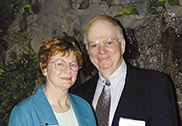 We are Ted and Sylvia Blishak, who not only write about trains, but also plan customized North America vacations -- with more experience booking rail trips than any other travel agents in the US!
Our travel agency, Train Travel Consulting, has been named as one of the World's Top Travel Specialists by Conde Nast Traveler Magazine since 2002.
Are you a vacationer who wants to travel at your own pace -- to destinations that you choose?
Please visit http://www.traintravelconsulting.com, email sylvia@traintravelconsulting.com, or phone 1 800 347 0645.