Despite the beauty of Fljotshlid's serene location, there's a hint of sulfur in the crisp morning air. Horses graze in the shadow of Eyjafjallajokull, world-famous for its 2010 eruption which shut down European airports for over a week. I scan a landscape which was inundated by flood when the eruption melted its massive glaciers. Fortunately I can dismiss E15 (as it is often referred to) as the culprit because less than a hundred miles away is the newly active Bardarbunga, a rift eruption which opened shortly before my visit and was currently belching 24,000 tons of sulfur into the air each day.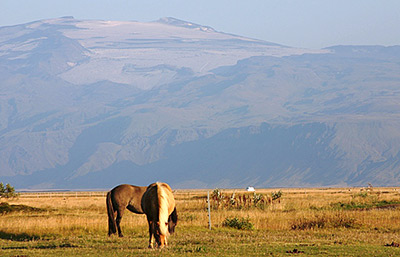 Icelandic horses graze below the glaciers of Eyjafjallajokull.
To keep the breed pure, Icelandic law prohibits the importation
of other horses and if a horse leaves the country, it is not allowed to return.

The largest volcanic island in the world, Iceland covers 40,000 square miles, about the size of the state of Kentucky and a bit larger than Portugal. Sixteen billion years ago it was an ancient sea bed, but now sits atop the Mid-Atlantic ridge just south of the Arctic Circle, and boasts some 35 active volcanoes and 269 named glaciers. This combination of geological activity covers 4,500 square miles in barren lava and envelopes another 5,000 with glaciers.
Its population of 325,000 is concentrated along the coastline, with two-thirds of Icelanders residing in the capital city of Reykjavik. This leaves 80% of the island uninhabited, resulting in room for a lot of outdoor and backcountry adventure possibilities and a nice variety of outfitters and guides around the country.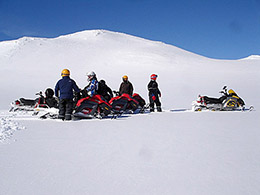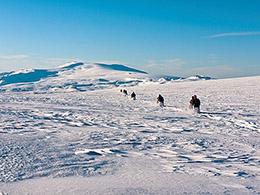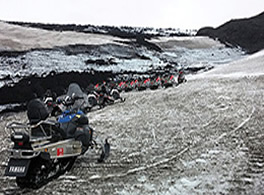 Arcanum Adventure Tours is a great way to explore Myrdalsjokull glacier, although late summer might find the slopes dusted with volcanic ash from Katla. (photos above left and middle courtesy of Arcanum Adventure Tours)

Year-round sledding is enjoyed thanks to Iceland's many glaciers. Katla, one of the country's largest volcanoes, was considered the gateway to Hell in ancient times, but is now home to the country's fourth largest glacier – Myrdalsjokull. It has been nearly a hundred years since Katla erupted, but she still rattles the ground and spews ash.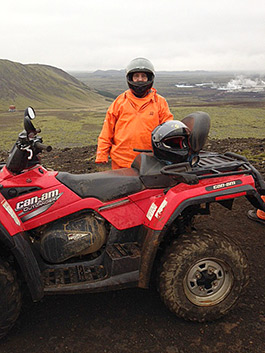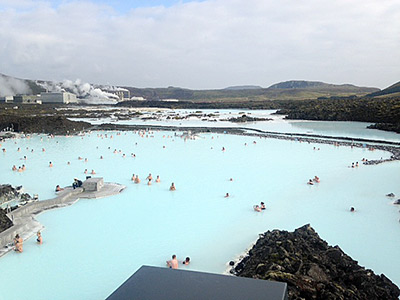 David Rockland models his ATV Adventures Iceland gear (above left), perfect for whatever weather or
conditions he encounters while exploring the Reykjanes Peninsula. Behind the Blue Lagoon (above right)
is the hill (largest hump in the distance) on which David is standing. In the picture of David, the steam
plume behind him is the one that originates from the power plant behind the Blue Lagoon.
(photos courtesy of "the dashingly handsome ATV-riding expert" David Rockland)

ATV Adventures Iceland, based out of Grindavík harbor on the southwestern coast about 45 minutes south of Reykjavik, offers a variety of tours that can include snorkeling or jet boating, caving or indulging in the mineral-rich thermal waters of the Blue Lagoon. Iceland's varied terrain and scenery provides opportunities to explore volcanic landscapes and rugged Atlantic Ocean shorelines. Follow trails and climb hills to open the vista of a country rich in natural wonders and history.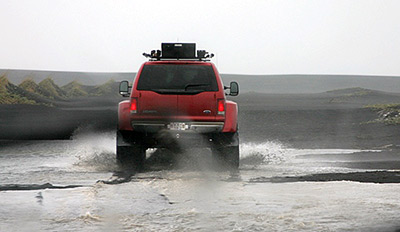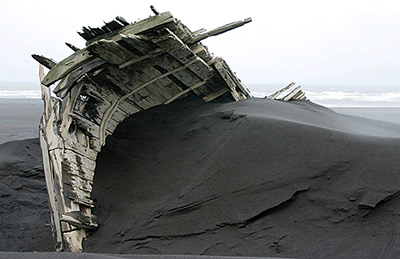 Although a somewhat soggy day at Landeyjahofn, the GPS assured us that the Westman Islands were right
there in front of us. A shipwreck from Heimaey's fishing fleet stands lookout over the volcanic archipelago.
Situated off the southwest coast of Iceland are the Westman Islands (Vestmannaeyjar in Icelandic). In 1963 a volcanic explosion gave birth to the newest addition, Surtsey, named for Surtur the fire god of Icelandic mythology. Ten years later, an eruption on Heimaey buried 360 homes in the archipelago's only town under a deep layer of volcanic ash. Fortunately the fishing fleet was in harbor and evacuated all the inhabitants. On a clear day the Westman Islands can easily be seen just nine miles from the black sand beach Landeyjahofn. At least that's what the GPS told us.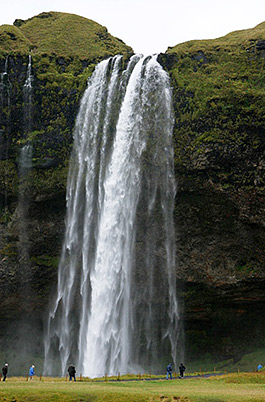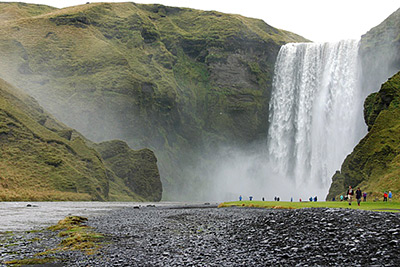 Following the Seljalandsa river a few miles inland from the coast, you'll encounter
Seljalandsfoss plunging 200 feet over an old sea cliff (above left). Less than 20 miles to the east,
Skogafoss dives over the same ancient coastline in a 82-foot wide, 197-foot tall torrent.
Magnificent as it is, Seljalandsfoss is just a hint of the topography a few miles ahead, in Thorsmork National Park.
An early Viking settler named this area Thorsmork, dedicating the region to Thor, the Norse god of thunder. A trio of intertwined valleys are guarded on three sides by active glacier-draped volcanoes, dotted with backcountry huts, and laced with popular hiking trails including one of Iceland's most famous, Fimmvorduhals.
You'll also find many, many rivers to cross. Thanks to Nature's fiery fury and glaciers in every direction, no matter the time of year there are watery channels to be faced.
Most of Thorsmork is accessible only by high-clearance 4-wheel drive vehicles with aggressive off-road tire tread. Common sense dictates checking current depth, type of river bottom (gravel, sand, rocks), and force of the flow.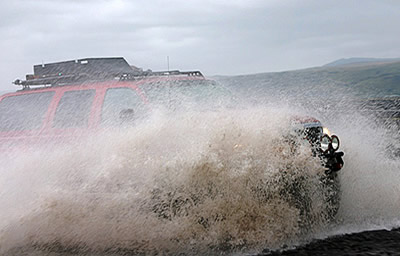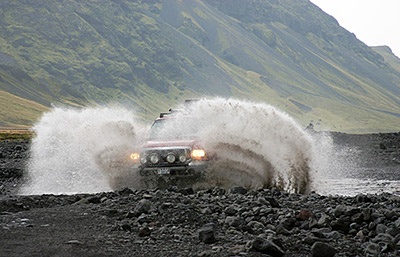 The Krossa is the most challenging of Thorsmork's rivers, infamous for sudden fluctuations in water level. Marking the southern "border" of the Park, it is a tributary of the Markarfljot, which is considered the northern edge of Thorsmork.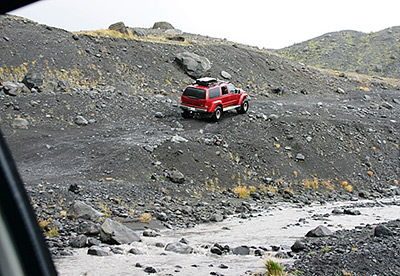 Husadalur is the western-most of Thorsmork's three valleys, which also include Basar and Langidalur,
all bounteous in glacial rivers.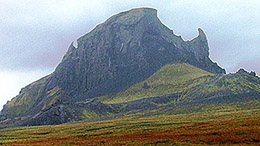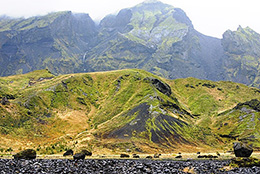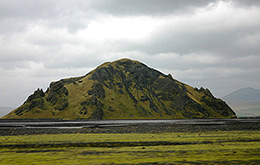 Husadalur Valley reveals interesting topographical elements around every turn, including Einhyrningur (aka Unicorn Mountain, above left). Formed by volcanic eruptions from beneath the glaciers, the lava in Thorsmork is soft tuff,
easily sculpted and eroded by the elements.
Perfectly situated for exploring the Park on foot or vehicle, Volcano Huts nestle into the hillside along the Husadalur Valley. Accommodations include cottages, dorms and a camping area, and a restaurant/bar and sauna. And did I mention there are a lot of rivers? By the time you reach Volcano Huts, you may have crossed up to two dozen of them.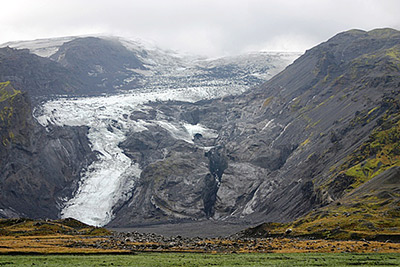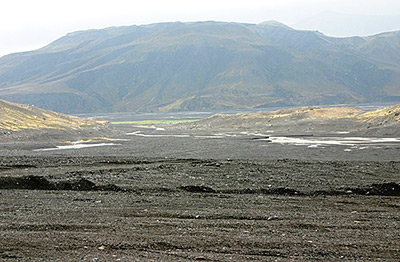 Gigjokull (above left) is a glacial tongue descending from Eyjafjallajokull into the Basar Valley.
The enormous lake it once drained into disappeared in E15's 2010 eruption, scouring a vast flood plain (above right).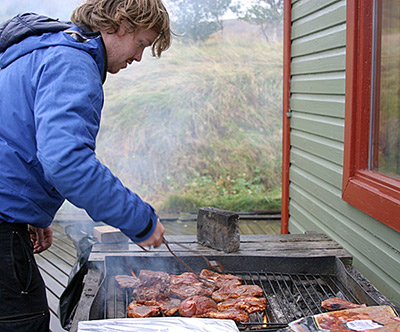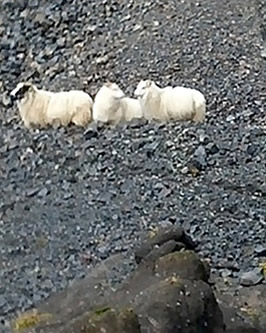 South Iceland Adventure guide Sigurdur (Siggi) Sveinsson serves up marinated lamb chops for the perfect lunch at a backcountry hut in Langidalur Valley. Many sheep call Thorsmork "home," at least until rounded up by their owners before winter sets in.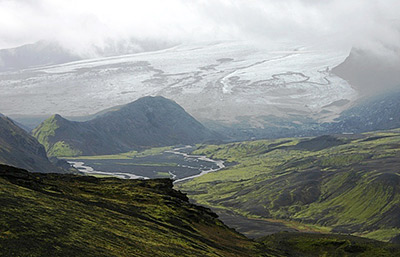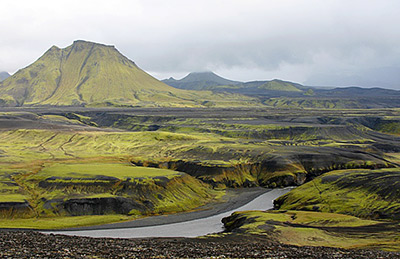 View of the stratovolcano Tindfjallajokull and its glacier (above left). The Kroksleio Trail meanders up hills
and down valleys, across swollen rivers and barren lava fields (above right).
Ambling in a westerly direction just north of Tindfjallajokull is the Kroksleio Trail, although "trail" is a rather grandiose name for this old farmer's path. Most people don't even know it's there, but Siggi Sveinsson and our other guide, Siggi Robertson, took us where most visitors (and locals) have never gone before.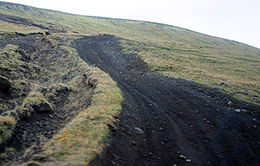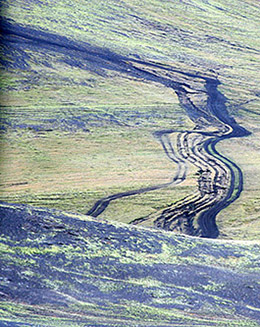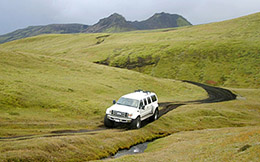 Sometimes the Kroksleio Trail is well-defined, other times you just aim for ruts in the distance. Siggi Robertson built his own off-road conveyance (above right), hitching the front end of a 2008 Ford F350 to the back section of a 2004 Ford Excursion. A first-rate creation, the seam is nearly undetectable and his design definitely does the job.
Off-roading adventures in Iceland can be enjoyed any time of the year, in dirt or snow, on sand or lava, fording glacial waterways or challenging tough hills. It's your choice, but you need to do it. Just make sure you have knowledgeable guides and the proper vehicle. You'll have an unforgettable adventure on a piece of Earth's real estate that must be seen and experienced to be appreciated.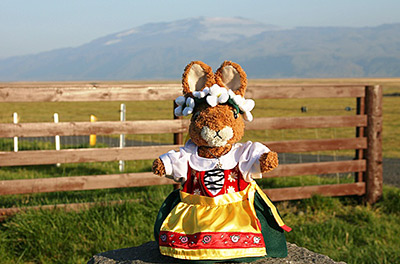 Truffles enjoys the view of Eyjafjallajokull from Fljotshlid
411

Arcanum Adventure Tours www.Arcanum.is
info@arcanum.is, tomas@arcanum.is
ATV Adventures Iceland www.atv4x4.is info@atv4x4.is
South Iceland Adventure www.siadv.is info@siadv.is
Siggi Robertson siggijack@gmail.com
Stefan Helgi Valsson www.StefanGuideInIceland.com
bike@icelandbike.com
Volcano Huts www.VolcanoHuts.com volcanohuts@VolcanoHuts.com