"Go Baroque" Drinking Beer in Brussels
Enjoy the art, architecture and a cornucopia of Belgian tastes
It was a perfect fall night in a perfect setting. We strolled through Brussels's Grand-Place, a medieval marketplace that after dark is a brilliantly lighted fairyland of magnificently gilded facades of Baroque houses and elaborate, towering Gothic structures. I goggled at the imposing Town Hall, built in the early 1400s, the tall-spired Hotel de Ville, and the fastidiously ornate Maison du Roi, or King's House.
Beyond the Grand-Place, we wandered along a maze of cobblestone streets, past a tempting variety of pubs and cafes where tourists and residents stopped to chat at street-side tables. We found a table at an outdoor restaurant along the rue des Bouchers, a nighttime serpentine tunnel of shimmering lights. My cousin Michael, a London banker on a Brussels work assignment, studied the menu. I quaffed a large glass of stoutly refreshing draft beer and drank in the city's vibrantly cosmopolitan atmosphere, surreptitiously eyeballing the stream of musicians, street vendors and arm-in-arm couples.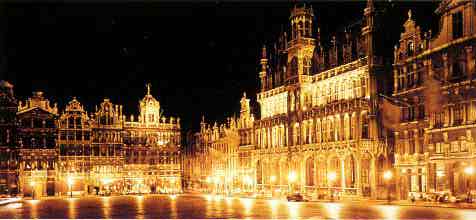 Nighttime scene at the Grand-Place (Courtesy: Belgian Tourist Office, BTO)
It was my last night in Europe and, fittingly, I was back in Brussels, where my extended journey had started a few months earlier. I felt just as intoxicated with Brussels now as that first summer day, when, under sun-brightened skies, I had strolled about the Grand-Place's architectural fantasyland of buildings, stupefied by the avalanche of languages, and invigorated by the sense of being someplace else.
Brussels's Magic
Brussels is truly "someplace else." With a population of a million people, the city is officially bilingual, French and Dutch. English is also commonplace. A major tourist and cultural center, Brussels is the national capital of Belgium. Its status as headquarters for the European Union also makes it a major center of international commerce. Visitors find Brussels to be a city energized by art and fueled by a cornucopia of foods: sweetened by sumptuous chocolates; and topped by hundreds of varieties of pilsner and specialty beers. At some of the city's classic buildings, it's easy to "go Baroque" drinking beer.
| | | |
| --- | --- | --- |
| Artist at Grand-Place | Flower market at the Grand-Place | Guildhouse pennants |
It's easy and enjoyable to spend several days touring Brussels. Walking within Brussels city center, or Old Town, is a convenient way to see the central sites and enjoy the ambiance. An elaborate network of public transportation, including subways, trains and buses is easily accessible for broader excursions. Organized guided tours, and information for self-guided tours are available at the tourist board, Tourism Information Brussels (TIB), situated in the Hotel de Ville at the Grand-Place. The board's services include making reservations for hotels, theater, and concert events.
Taste Testing
Much of my time in Brussels was devoted to taste-testing. I gorged myself on a bounteous array of delectable cheeses, buckets of fresh mussels, frites (fries fried twice), creamy Belgian chocolates, local specialties like waterzooi (a sumptuous creme soup) and, of course, some of the more than 400 types of beer.
| | |
| --- | --- |
| Beer kegs (Crtsy: BTO) | About the beer! Beer drinking has been a national passion since the Middle Ages when enterprising monks did much of the brewing. Nationwide, Belgium boasts the greatest number of beer drinkers in Europe. Brussels has two beer museums, the Maison des Brasseurs (Brewers House), a magnificent Baroque building that houses the Belgian Brewers Association, and the Musee de la Gueuze (Grueze Museum), near the Midi train station. The Belle Vue Brewery, located in Brussels alongside the Brussels-Charleroi canal, offers tours by reservations. A variety of cafes, including La Brouette, Le Roi D'Espagne and La Chaloupe d'Or, all in the Grand-Place, offer samplings of beer in an art nouveau setting. Popular brews include Chimay, Stella Artois, Maes, Jupiter (Belgium's best selling beer) and Duvel, which appropriately means "devil." |
Irreverent Spirit ...

If Duvel boasts a devilish flavor, the city touts a devilish sense of humor. One of Brussels most visited attractions is the Manneken Pis, a statue-fountain of a small naked boy urinating. On a typical day the tiny statue, originally made in 1619, is frequently clothed with a variety of costumes. A Brussels landmark, it embodies the city's "irreverent spirit." The original statue was stolen several times, most notably in 1817 by a French convict who smashed it into pieces. The culprit was publicly branded on the Grand-Place and sentenced to a life of forced labor. The Manneken's shattered fragments were used to create a mold.


Costumed Manneken Pis
... and Evocative Art
A higher degree of culture is visible at museums, including the Musee Royale d'Art Ancien and Musee d'Art Modern, both within walking distance of the Grand-Place. Featured works include Flemish and Dutch masters, such as the three Bruegels (Pieter and his sons Pieter and Jan), Paul Delvaux, Anthony Van Dyck, Peter Paul Rubens and, most evocatively, Hieronymus Bosch.
An art nouveau building houses the Belgian Center of the Comic Strip while the Musee de Costume et de la Dentelle displays examples of antique and contemporary lace. Legend says that Brussels has 10,000 lace makers.
A multitude of churches exhibit some of Brussels most interesting architecture. St. Catherine's Church is particularly interesting. It's distinguished by its creamy, curvy tower. The church also houses a 14th Century Black Madonna that, as legend has it, was chucked into the Senne River by Protestants, but fished out while floating on a clod of peat. The city's oldest church, the Notre Dame de la Chapelle, built between 1210 and 1300, houses the tomb of Pieter Bruegel, the Elder, the master artist.

The Atomium

Varied Attractions

Nearby regional attractions are varied, from the battlefield of Waterloo, where Napoleon was defeated, to Mini Europe, a miniature reproduction of the famous sights of 15 countries. Near Mini Europe is the Atomium, the centerpiece of the 1958 World's Fair. This structure is an iron replica of a molecule, enlarged 165 billion times. Visitors can reach the top with its commanding views via escalator.

But the heart of Brussels is the Grand-Place and its neighboring streets. On a clear fall night it is the perfect place, especially with a tasty plate of mussels, waterzooi and, of course, a glass or two of heart-warming beer.
Click here for details to plan your own trip to Brussels, Belgium.
Lee Juillerat
Article and photos