When You Go

Utah Skiing
Getting There: The Salt Lake International Airport, just 10 minutes from downtown, handles more than 700 flights from 11 airlines daily, including non-stop flights to 67 cities.. The 1-800 phone numbers and Web sites for these airlines are available on this magazine's Airlines page. Another travel option is the train, Amtrak, phone: 1-800-USA-RAIL.
Buses run from the airport to most of the ski areas (Utah Transit Authority, phone: 801-287-4636). If you decide to rent a car, all the major U.S. car rental companies have offices at the airport. The 1-800 phone numbers and Web sites for these auto rental companies are available at this magazine's Autos page
Staying There: There are over 11,000 hotel rooms in Salt Lake City, with prices to match almost any budget. A variety of lodging is also available in the Park City area, with excellent shuttle bus connections to the ski areas. Lodging is also available at each of the ski areas highlighted in this article. For a current list of available choices at all of these locations, contact the Salt Lake Convention and Visitors Bureau at 801-521-2822, or call the numbers or click on the websites below.
Lodging:
ALTA-Alta Lodge (800) 707-ALTA, Alta's Rustler Lodge (888) 532-ALTA;
BRIGHTON-Brighton Lodge (800) 873-5512;
THE CANYONS- Accommodations at The Canyons (800) 645-4762;
SNOWBIRD- Cliff Lodge and Spa (800)-385-2002;
SOLITUDE Inn of Solitude (800) 748-4754;
SUNDANCE- (800) 892-1600.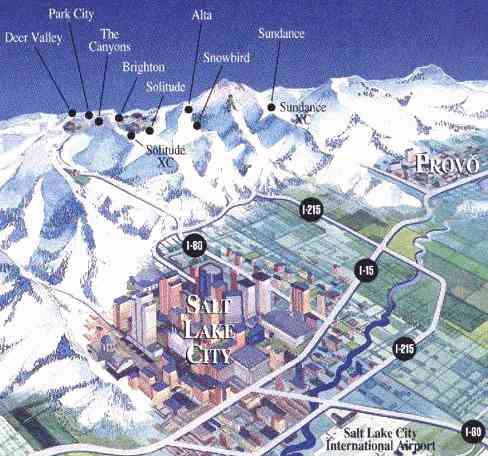 Credit: Ski Utah
Ski Area Information and Web Links:
ALTA (801) 359-1078
BRIGHTON (801) 532-4731
THE CANYONS (888) CANYONS
SNOWBIRD (800) 385-2002
SOLITUDE (800) 748-4754
SUNDANCE (800) 892-1600, fax (801) 226-1937
Other Considerations:
Utah Snow Conditions: (801) 521-8102,
Utah Weather Service: (801) 975-4499,
Highway conditions: (801) 964-6000
Utah is high altitude skiing. Check with your doctor or a knowledgeable source about the precautions of being at high altitude. Also, Utah has made purchasing liquor more convenient in recent years, but there are some confusing regulations. Check with the lodge where you stay about the regulations.
Other Useful WWW sites for the Salt Lake region:
Official Site of the Utah Ski Association: Ski Utah site with links to resorts, lodging, events, transportation (801) 534-1779
Salt Lake Convention and Visitors Burea: travel info, walking tour of Salt Lake City, lodging, dining
AMI On-the-Snow: Comprehensive ski info with snow reports, equipment, weather, news
www.pcski.com: Park City Ski Area Web site
Utah's Powder Paradise: Snowbird and Alta Ski Resort -- recent High On Adventure article
Ski Utah's "Interconnect" -- recent High On Adventure article on this back-country downhill ski tour connecting Park City, Solitude, Brighton, Alta, and Snowbird ski areas in a single ski day.