WHEN YOU GO:

New York City, New York
Getting There: Major airlines serving JFK or LaGuardia Airports include American, Continental, Delta, Northwest, TWA, United, and USAir. You can find their Web sites and phone numbers on this site's Airlines page.
Staying There: For convenience, it's recommended to stay in a hotel just south of Central Park. There is a large selection of hotels there, admittedly high-priced. The Plaza Hotel is perhaps the best known. The Wyndham Hotel is close to the Plaza, but has much more reasonable rates, starting around $150/night for a double. Other nearby hotels include the Park Lane Hotel, the Essex House, Hotel Nikko New York, Helmsley Windsor Hotel, Four Seasons Hotel, Best Western Woodard, Gorham Hotel, Shoreham Hotel, Peninsula New York, and New York Hilton and Towers.
| | |
| --- | --- |
| For a run-down on all the Manhattan sites and recommendations on hotels and restaurants, Frommer's New York City, and Fodor's New York City are good choices. Be sure to confirm the days and hours of operation of those sites which you plan to see each day. Some sites are closed on Sunday or Monday. Most Broadway shows are closed on Sunday, but not all. An excellent resource for getting around the burough is Manhattan Block by Block, a pocket map book of every block that points out landmarks, museums, hotels, theaters, playgrounds, schools, etc., including subway maps. These and other guidebooks are available via the amazon.com ad link to the right. | |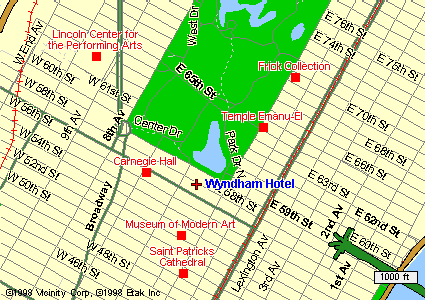 South Central Park Area (See Map Blaster for your own maps)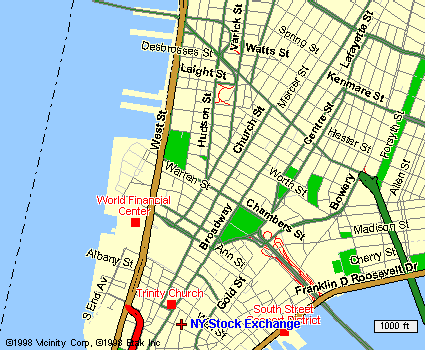 Lower Manhattan (See Map Blaster for your own maps)
Fast Facts:
New York City is still the most populous in the U.S. with approximately 8 million people. It's the business, entertainment, and publishing capital of the country. New York also has the busiest port in the world. Spring and fall are generally good times to visit, with mild days and cool nights. Manhattan Island is the oldest and smallest of the five boroughs, which include Queens, the Bronx, Brooklyn, and Richmond (Staten Island).
Most avenues are one-way and are alternately northbound and southbound. In general, even-numbered streets are eastbound and odd-numbered streets are westbound. Don't do your own driving in Manhattan unless absolutely necessary. There are plenty of subway stops and taxis. The itinerary in this article was laid out to minimize retracing of routes.
Useful WWW sites for New York City:
Cityinsights New York: hotels, shopping, restaurants, travel, museums, and more
City Search New York: just about everything under the sun in New York City
Broadway Theater Online: for reviewing shows and buying tickets online