WHEN YOU GO: Snowbird and Alta Ski Resorts
Getting There: The Salt Lake International Airport, just 10 minutes from downtown, handles more than 700 flights from 11 airlines daily, including non-stop flights to 67 cities.. The 1-800 phone numbers and web sites for these airlines are available on this magazine's Airlines page.
Snowbird and Alta are located in the Wasatch-Cache National Forest, about 25 miles southeast of Salt Lake City. Located in Little Cottonwood Canyon, the resorts are on State Highway 210. From the airport, take I-80 east to I-215 east. Exit 6200 South (Hwy 210) and follow signs to the ski areas.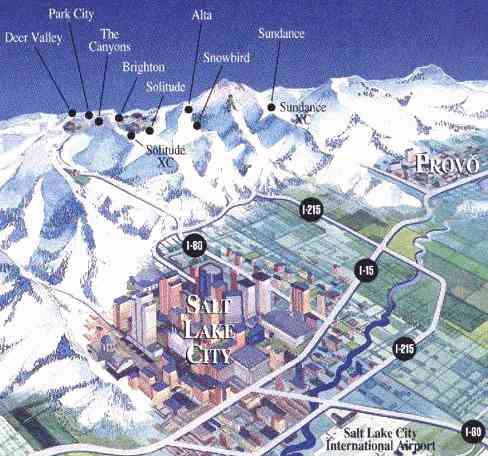 Credit: Ski Utah
Staying There: There are over 11,000 hotel rooms in Salt Lake City, with prices to match almost any budget. A variety of slopeside lodging is available at both Alta and Snowbird, from dorm room accommodations to hotel rooms and condominiums. For a current list of available choices, both in the city and on the slopes, contact the Salt Lake Convention and Visitors Bureau at 801-521-2822, or click on the websites below.
Transportation to the slopes can be achieved by rental car or through the many ski shuttles that operate in the city. Information on these companies are available in the web links below. For car rentals, the 1-800 phone numbers and web sites are available in this magazine's Autos page.
Snowbird Fast Facts: Snowbird's average annual snowfall is over 500 inches. There are 2,500 skiable acres and 3,240 vertical feet of continuous skiing. Base elevation: 7,760 feet; Top elevation: 11,000 feet. Terrain: 20% Beginner, 40% Intermediate, 40% Advanced. Lifts: 1 Qaud, 7 Doubles, 1 Tram. Adult All-Day Lift Pass ('97-'98) $39; including tram, $47. Snowboarding is welcomed.
This year, Snowbird has dressed up its slopeside package and is offering two new wilderness adventures. A new high-speed detachable quad, GadZoom, replaces its Gad 1 double chair in Little Cottonwood Canyon. GadZoom will provide access to the Gad 2 and Little Cloud lifts. It's the first high speed quad at the area. Snowbird will also offer 400 acres of guided snowcat skiing in the pristine Mineral Basin Bowl located south of the top of Hidden Peak. In addition, mountain guide service in the Wasatch back country will offer skiers and snowboarders an escape in the solitude and beauty of this challenging terrain.
Alta Fast Facts: Alta's annual snowfall is about 500 inches. Alta has 2,200 skiable acres and a vertical drop of 2,020 feet. Base elevation: 8,530 feet; Top elevation: 10,550 feet. Terrain: 25% Beginner, 35% Intermediate, 35% Advanced. Lifts: 6 Doubles, 2 Tows. Adult All-Day Lift Pass ('97-'98) $28. Snowboarding is not permitted.
Alta is committed to preserving and protecting the ski environment. They attempt to match the number of skiers with available facilities and terrain. When the parking lot is full, ticket sales are suspended. However, if you come on a ski bus, you will be able to purchase a lift ticket. Projected 1997/1998 opening is the week before Thanksgiving.
Useful Phone Numbers:
Alta Snow Report: 801-572-3939
Snowbird Snowline: 801-742-2222 ext. 4285
Useful WWW sites for Salt Lake region are:
Salt Lake Convention and Visitors Burea: travel info, walking tour of Salt Lake City, lodging, dining
Official Site of the Utah Ski Association: links to resorts, lodging, events, transportation
Snowbird Ski Area Home Page:
Alta Ski Area Home Page:
AMI On-the-Snow: Comprehensive ski info with snow reports, equipment, weather, news