Lake Oswego
Oregon's Hike-Oar-Bike Paradise
While travel articles are our normal route, my wife and I have increasingly found "there's no place like home." We've lived in the beautiful community of Lake Oswego for twenty years and the town ambiance and natural abundance continue to spur our interests. It's no wonder that Lake Oswego, population 38,000, was named one of Money Magazine's "Best Places to Live" in 2007. This in turn has brought heightened interest in the town as a travel destination, only ten miles south of Oregon's grand city of Portland. Fortunately our penchant for walking, kayaking, and cycling tours can be sated from our own front door.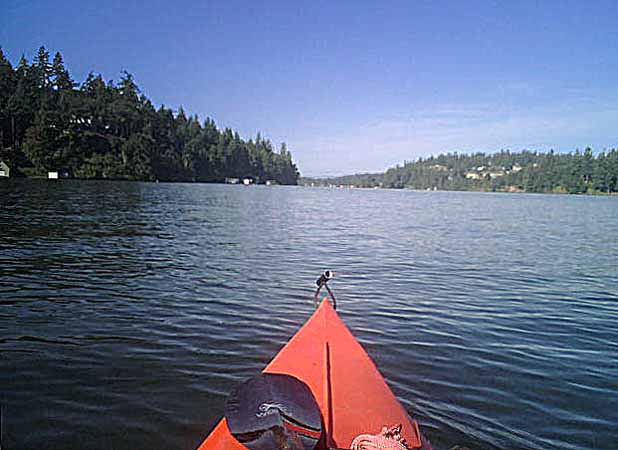 Oswego Lake from a kayak vantage point
A Town With Heart
Lake Oswego's center is its namesake lake lined with beautiful homes. The lake's eastern terminus of Lakewood Bay borders on the downtown core with Millennium Plaza Park and Lake View Village filled with shops, cafes, and restaurants. Nearby lies the city hall, post office, library, supermarkets, and convenience service shops. Within a quarter mile lies the Willamette River that forms the town's eastern boundary, including three major parks. The southern boundary of the town is the Tualatin River and the rolling hill neighborhood of Palisades, while the northern boundaries are formed by expansively forested Tryon Creek State Park and the rolling hill neighborhoods of Forest Highlands and Mountain Park. With its multiple water views, mix of flat and rolling terrain, thousands of trees, and views of 11,000-foot Mount Hood, Lake Oswego is ideally situated.
| | |
| --- | --- |
| Lake View Village - shops, cafes, restaurants | Farmers' Market |
The friendly town ambiance is perhaps best experienced on a summer week-end at Millennium Plaza Park. The Farmers' Market opens early in the morning and is filled with people buying fresh produce, flowers, and collectibles. Musical groups are featured each week. Food stalls serve up great morning fare, the surrounding cafes, such as Peet's and Saint Honore's serve a host of hot drinks and tasty pastries, while nearby restaurants such as Zeppo and Manzana serve full breakfasts. On Sunday afternoon and evening there is a weekly concert series that brings out multiple picnicking residents and visitors enjoying the lake scenes and relishing the sounds. Special summer events include the June Arts Festival, the July 4th weekend show, and in August the Wooden Boat and Classic Car Show. Walks from Millennium Plaza Park can take in the historic neighborhoods dating to the late 1800s of First Addition and Old Town, a loop around Lakewood Bay, a foray into Tryon Creek State Park, or the Willamette River at Foothills, Roehr, and George Rogers Parks. On returning from one of these great walks a stop at Lake Oswego Creamery at the corner of A and First Streets for an ice cream cone is hard to beat.
| | |
| --- | --- |
| Wooden Boat Show | Classic Car Show |
It's the Water
We've done years of canoeing and kayaking in the Willamette River, Tualatin River, and private Lake Oswego, always with nature-viewing opportunities. Diving ospreys, bald eagles, great blue herons, mallards, Canadian geese, barn swallows, northern river otters, painted turtles, water lilies, carp, and bass... these are but a few of the sights that we've experienced along the waterways. Access to the Tualatin River is provided at the boat launch along Dogwood Drive, just off of Childs Road. This peaceful, narrow waterway provides miles of good paddling both eastwards to the Stafford Road bridge (don't go further due to oncoming rapids) and westwards to Cooks Park in Tigard. Access to the Willamette River is provided at George Rogers Park. Since there are power boats in this river, we keep close to the forested shoreline and paddle southward for a mile to Rock Island or to Cedar Island a mile beyond before returning. Oswego Lake is private, but a walk around Lakewood Bay or a cycle tour around the lake affords numerous opportunities to view the lake and its wildlife.
| | | |
| --- | --- | --- |
| Water Lily in Blue Heron Canal | Canadian Geese Family | Great Blue Heron |
Hike, Oar, Bike
With so many neighborhoods, nature parks, and shopping malls with cafes as start/stop points for a loop, there are many choices for walking and cycling tours. In addition to those loops mentioned above centered from Millennium Plaza Park, there are a number of interesting loops which start from Mercantile Drive with its multiple cafes near the junction of Lower Boones Ferry Road and Kruse Way. Nearby nature parks include Iron Mountain, Springbrook, and Waluga. Another good start/stop point is the shopping center at the junction of Pilkington Road and Jean Road. Interesting nearby nature parks are Bryant Woods and Canal Acres. A great cycling route includes a tour around the lake (clockwise direction recommended) and through George Rogers Park to Old River Road which borders the Willamette River into the town of West Linn to Mary S. Young State Park. Lake Oswego provides an excellent on-line recreation map for planning such outings.
| | | |
| --- | --- | --- |
| Jantzen Island Boat House | Cycling Around Oswego Lake | Lakeside Home |
To the Extreme
Over the years my wife and I have developed a number of routes to exercise our passions for walking, kayaking, and cycling. During the summer we often have a "Hike/Oar/Bike" outing where we'll enjoy all three activities during a morning or afternoon spree. This year I went off the deep end and challenged myself to an all day event. Starting at day's first light and continuing until twilight I met my 20/20/100 goal: 20 kilometers hiking, 20 kilometers kayaking, and 100 kilometers cycling. No rush, just another day of enjoying Lake Oswego's neighborhood and natural scenes from my own front door. Highlights of the day included breakfast at Millennium Plaza and the great array of bird life viewed throughout the day.
Join in the Fun
Plan your own visit to Lake Oswego soon, perhaps centered around one of the many event weekends offered throughout the summer. Bring your walking shoes, a bicycle, and a canoe or kayak to sample the town and its natural offerings.
Motels/Hotels: many options for lodging are available. Lakeshore Inn on State Street provides the advantage of being the only hotel directly on Oswego Lake and within steps of Millennium Plaza Park and the downtown core. The Marriott Residence Inn on the west side of town offers condo-like lodging, only 10 minutes from the town center and with good access to I-5 for for exploring the greater Portland metropolitan area..
Bicycle and kayak rentals:
- Veloce bicycles, Hawthorne Boulevard
- Portland Kayak Company, 6342 SW Macadam Ave Suite G, (503) 459-4050
Les Furnanz
Photos by Rita Furnanz