Patagonia's Paine Circuit
A 100-Mile Trek of Chile's Breathtaking Massif
| | |
| --- | --- |
| The first view of the Paine Massif was almost unreal as it suddenly emerged from the vast Patagonian steppe. Our Mountain Travel Sobek trekking group was in transit to its embarkation point. We had stopped for lunch just outside the park, but I was much more interested in the view than eating my lunch. The weather was perfect – clear blue skies – and I could see each and every one of the famous peaks that until now I had only heard or read about – Paine Grande to the left, the famous three towers, Torres del Paine, in the middle, Los Cuernos to the right, and the Patagonian Ice Cap to the very far right. | The Paine Massif |
As we got farther into the park, we encountered a large group of charming light brown, fluffy-looking guanacos. It was the time of year when females breed, and we saw several newborn guanaco calves, also know as "Chulencos."
The morning after reaching our first campsite, we set out on our trek's first long hike to one of the most famous vista points in Torres del Paine. We hiked along Rio Ascencio into Valle Ascencio, through beech forests and up rough talus and boulders to a viewpoint where we had a clear view of the three towers and the glacial lake at their feet. It wasn't against a blue sky, but it was good timing as we enjoyed views of the towers for half an hour before clouds and rain descended, covering the tower tops.
On the third day of the trek we arrived at Lago Paine and what became my favorite campsite. We were in the middle of nowhere with absolutely nobody around. The tents were set up behind a hill in an attempt to get some shelter from the wind sweeping over the pampas. At night the wind picked up, and there were times when I was sure that there was a train roaring next to the tent. This was Patagonia as I imagined it would be – remote, rough, wild, pure, and absolutely beautiful.
| | | |
| --- | --- | --- |
| Guanaco parents with calf | The Three Towers | Lago Paine |
It was still pretty windy when we woke up the next morning, and we had to catch a couple of run-away tents before camp was packed up. I was hanging back on the day's trek, enjoying the beautiful scenery. An explosion of colors surrounded me: the turquoise lake; blue sky; white mountains; green grass peppered with scrub bushes; and red, yellow, pink, and white wildflowers.
That day we took advantage of our packhorses and horse-ferried across the river. We hiked through the forest to a Zodiac that zipped us to our camp under the Escudo Cabeza del Indio, or Indian Head Peak. We didn't get much of a view of the peak, however, since it was a misty evening. It was a good opportunity to hang out chatting with the trekkers in the spacious dining tent or with the gauchos around their campfire as they dined on barbecued lamb – my fleece top still bears the scent!

Glaciar de Los Perros

Most people trekking or hiking in Torres del Paine National Park do the loop known as "the W" through the heart of the park to see the three most famous vistas – Torres del Paine, Los Cuernos, and Glaciar Grey. We did the loop and along the way we got the added bonus of seeing Glaciar de Los Perros and its lake. However, to be honest we almost did not see it, as unbelievably strong winds came from the glacier. We could barely stand, breathe, or open our eyes, so I felt very lucky to have an auto-focus camera to catch a photo.

The next day was our longest trek. By 6:00 a.m. we were on our way toward Paine Pass, elevation 4,000'. We started out picking our way carefully through a bog. We had to wear gaiters to keep the mud out of our boots, and most important, keep our boots on our feet. Then we had a steep ascent on a rocky, barely visible trail, traversing some snow before finally reaching the top of the pass for views of the Patagonia Ice Cap and the 25-mile-long Glaciar Grey. We made it into camp just in time for pisco sour happy hour served with "fresh-picked" glacier ice.
Half of the group arose early again the next morning, opting for an optional hike on spectacular Glaciar Grey. While the other half of the group had a leisurely morning, we boarded a Zodiac and motored across the lake for the adventure. We scrambled up some rocks, received instruction from our guides, strapped on crampons, roped up in small teams, and took off. I just love ice and snow, and enjoyed every second walking and admiring up close one of the world's most impressive glaciers.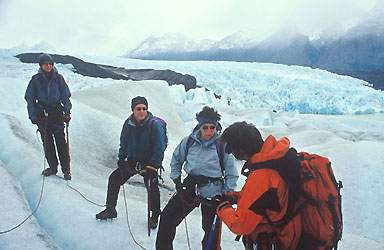 Roped up on Glaciar Grey
Patagonia is notorious for its unpredictable (some would say "bad") weather, but we had been blessed with clear views of most of the trek's phenomenal sights. It was the second to last day of the trek and we woke up to another beautifully clear day. Six of us opted for a long hike including a five-hour trek to the viewpoint of Valle del FrancÚs, reportedly the most incredible view in the park. As we made our way up the trail we had nonstop views of Lago Pehoe behind us and the frequently calving Glaciar del FrancÚs in front.
Little did we know that we were in for a taste of "real" Patagonia. Once we approached the Valle del FrancÚs, clouds moved in and covered up every possible peak. It was raining steadily and the wind was increasing. We quickly took a picture of the sign saying "Mirador" just to have some proof that we made it and started our descent back down.
| | |
| --- | --- |
| Lago Pehoe | Rainbow on Lago Nordenskjold |
The last hour of the hike followed a trail along Lago Nordenskjold, and as we got closer we could see the wind blowing up clouds of water spray on the lake's surface. "I think we might get wet" was my comment to the others, but this was not all. As we reached the exposed beach side of the lake I had to throw myself down on all fours so the wind wouldn't blow me off balance. Right when my hands touched the ground I saw Susan literally flying by me and landing in the bushes 20 feet away. And then I was knocked over by Wendy, who rolled into me like a bowling ball hitting a bowling pin! We were laughing so hard that we could barely get up, and we halfway hiked and halfway crawled into camp. The next day, Lago Nordenskjold was relatively calm, and out came a stunning rainbow.
After eight days on the trail we celebrated the completion of the 100-mile circuit with a river-cold beer. This was a great group of travelers – all seventeen of us, including guides and camp staff, were fun and adventure-loving people.

I have always been amazed close-knit a group of complete strangers can become after two weeks on the road together. It was as if I had known this group all my life; we were already planning future adventures together.


Our Paine Circuit trekking group
Back at Las Torres we got the last views of Torres del Paine before the towers disappeared in the mist. We transferred via bus to spend our last night at charming Hosteria Mirador del Paine with its spectacular views of Los Cuernos. It was Christmas Eve 2002 and it felt good to have a hot shower and put on clean clothes before joining the group for a delicious celebration dinner.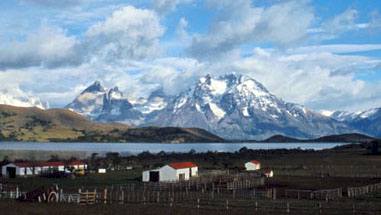 Los Cuernos
As I peered through the window to watch the sun set behind Los Cuernos my only thoughts were on returning to Patagonia as soon as possible.
Camilla Hvalsoe, Article and Photos

Camilla Hvalsoe is Mountain Travel Sobek's "webmistress." Last winter, she spent two months in Chile and Argentina – horseback riding in Valle Nevado, trekking around Torres del Paine, hiking in Los Glaciares National Park, climbing Aconcagua, and tango dancing in Buenos Aires.


Camilla Hvalsoe
If there is one place on earth where stark, pure beauty takes your breath away, it has to be Patagonia. Located at the southernmost tip of South America, the Patagonian Andes are shared between the two delightful countries of Chile and Argentina. Here, almost at the end of the world, you'll find an unspoiled wilderness of soaring pink and white granite rock spires, jagged snowy peaks, golden grasslands bright with wildflowers, dramatic ever changing skies, glaciers forgotten by the last ice age, and a wealth of sparkling lakes of the most incredible hues.

Click here for info on this and other Patagonia adventures
by Mountain Travel Sobek.

Mountain Travel Sobek U.S.
1266 66th St., El Cerrito, California 94608
1-888-MTSOBEK (687-6235) or 1-510-594-6000
Fax: 1-510-594-6001