A Taste of Sicily

Three Great Courses — Il Vecchio Frantoio, Cefalý, and Taormina
We dipped our large slices of mangia Sicilian bread into the world's best olive oil. We knew it was the best — we'd just brought it back home, freshly pressed, from Il Vecchio Frantoio. My wife and I had stayed at this large olive farm in Sicily's mountainous Madonie region and enjoyed incredible Sicilian cuisine. Now, in remembrance of our trip we'd prepared a Sicilian meal: antipasti of prosciutto, artichokes hearts, tomato slices, mozzarella; primi piatti of penne pasta with vegetables and fennel; secondi piatti of pork loin with mixed fried vegetables; and dolci of cannoli, deep-fried pastries filled with sweetened ricotta cheese. While our preparations may not have quite measured up to those we enjoyed in Sicily, each course brought back memories of our tastes of Sicily, the great places that we had sampled in our week's visit — the olive farm, north coastal Cefalý, and west coastal Taormina.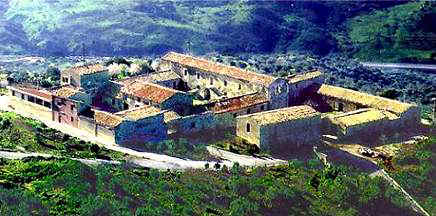 Early morning view of Il Vecchio Frantoio homestead
(Photo credit: Il Vecchio Frantoio)
Antipasti — Il Vecchio Frantoio
We started our sampling of Sicily at a beautiful 250-acre farm overlooking Scillato Valley from its perch at 2,000-feet altitude. Il Vecchio Frantoio, or the Old Olive Press, was started in the 17th century. The homestead boasts a long tradition of olive oil production with the ownership of the current family dating to the 1800s. After a recent remodeling of rooms surrounding the central courtyard the farm opened as a country B&B, or agristurismo — so much the better for visitors who can now experience the setting framed by majestic mountains and surrounded by the sights, sounds, and aromas of traditional Sicilian agricultural.

Central courtyard



Carrado Cipolla and his oil
(Photo credit: Il Vecchio Frantoio)


Salon and 19th century press

We were only a twenty-minute drive from Sicily's north coast for further taste samplings of Sicily, and we were able to return each evening to the simple, yet elegant meals provided in the small dining hall. The main salon featured an old olive press from the 19th century. Part of the farm's adventure came from our very limited Italian language skills. Carrado Cipolla, the farm's current owner, spoke a little English and he told us about the farm as we walked with him and his dogs, Spartico and Lefundo. The highlight was seeing the oil storage room full of large ceramic vats. It wasn't hard for him to convince us to purchase a bottle of his most recent pressing as a souvenir.
Primi Piatti - Cefalý
| | |
| --- | --- |
| The ancient town of Cefalý was our next Sicilian "course" after our initiation at the farm. With its narrow streets and setting on the sea below a huge rock cliff, we were enticed to return here three days running. Cefalý has retained its medieval charm, centered on the Norman cathedral built by Roger II in the 12th century. The huge structure sits off charming Piazza Duomo and the main thoroughfare, Corso Ruggiero. The fisherman's quarter, with its old houses clustered along the seafront on Via Vittorio Emanuele, neighbors a stretch of beach that is boasted to be the finest on the northern coast. We wiled away wonderful afternoons on the sand and exploring the town. | Coastal Cefalu, dominated by its Norman cathedral |
Cefalý's highlights included the cathedral with its unique mosaics, the terrace cafes at the Piazza Duomo, the Museo Madralisca with collections spanning from Greek times to the Renaissance, and alleyway discoveries such as the Port Marina gate and the ancient fountain and town laundry spot, U'Ciuni.
| | |
| --- | --- |
| Cefalu Cathedral | View from Marina Port gate |
We also explored along the coast east of Cefalý, coming upon several unique treats: Castel de Tusa, a small village with a resort beach, 14th century castle, and narrow alleyways; Halaesa, the excavated Greek ruins of a 5th century BC colony; and Santo Stefano di Camastra, a leading Sicilian ceramics town.
Secondi — Taormina


Taormina's Piazza IX Aprile, with its view of Mount Etna

Our Sicilian "main course" was beautiful Taormina, perched high on a hillside above the western coastline. After spending several days enjoying the town we agreed that it had won our hearts as "favorite Italian place." We started with a visit to the Greek Theater, built in the 3rd century BC with its panorama of the coast and volcanic Mount Etna. With these views, ancient drama attendees would have had a hard time considering it to be a real "tragedy." There were many other historical highlights: the Roman Odeion; Palazzo Corvaja built with a castellated facade in 1411; Piazza del Duomo with its Baroque fountain and San NicolÚ Cathedral; and Palazzo del Duchi di Santo Stefano, a palace built in the 1200s by Arab artisans for the dukes of Spain.
The main pedestrian thoroughfare, Corso Umberto I, was full of interesting restaurants and shops displaying ceramics, clothing, jewelry, and art. Each night we'd dine in a new restaurant to sample more Sicilian dishes. A favorite hangout was Piazza IX Aprile, a panoramic terrace bordered by two small churches and great cafes, such as the Wunderbar. The famous cafe was a favorite haunt of Richard Burton, Elizabeth Taylor, and other celebrities.
| | |
| --- | --- |
| Coastline view from Taormina's Greek Theater | Alleyway scene |
Dolci — Hotel Baia Taormina
To top off our Sicilian meal, we stayed at a resort hotel a few miles outside of Taormina. We were able to enjoy pedestrian-only Taormina by taking the periodic 20-minute shuttles provided by the resort into town and also enjoy the coast. Auto explorations along the shore brought us to communities such as Mazzaro, Letojanni, and Giardini-Naxos, as well as the beautiful and exclusive bay with Isola Belle, a small private island. Each community had beautiful beaches and interesting cafes and restaurants. After a morning of explorations, a great afternoon "top-off" was lounging around the pool, looking southward down the coastline to Taormina and its surrounding hills.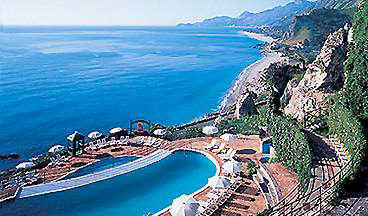 Coastline from hotel pool, with Taormina in far distance
(Photo credit: Hotel Baia Taormina)
Added to our visits of Il Vecchio Frantoio and Cefalý, we felt that Taormina and the Hotel Baia Taormina completed an excellent weeklong Sicilian repast. Our samplings have inspired thoughts of future visits to other sites such as Syracuse, Agrigento, and Palermo — more tastes of Sicily.
Click here for details to plan your own trip to Sicily.
Les Furnanz
Photos by Rita Furnanz