Who knew that a trip down the Middle Fork of the Salmon River would bring a new verb into my vocabulary. "Duckying", as in "to ducky," means to run a river in a rubber kayak
—
by oneself. Well, I usually duckied by myself
—
except when the Mountain Travel Sobek river guides scooped me out of the water after zigging when I should have zagged. Duckying, I discovered, is an incredible adrenaline rush.
Our group on the Middle Fork last July was mixed - lots of fly fisherman, some avid rafters, a family with two teenagers and different friends and family who love the outdoors. The great thing about our trip was that we got to choose how we went down the river. On the oar boat, the river guide did the work. His passengers enjoyed the view, fly fished off the back, or caught some sun. On the paddleboat, eight paddlers, all soon to be best friends, paddled together to get through the rapids. And on a 'ducky', the kayaker goes it alone on a craft that is far more forgiving than a hard shell kayak. There were four 'duckies,' named for the fact that they followed in a row behind the paddleboat…just like ducks behind Mother Hen.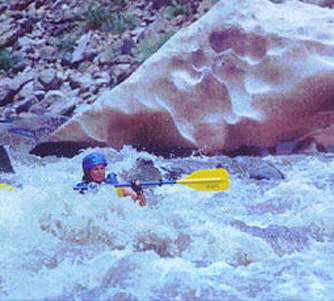 Running Salmon River rapids in a "ducky"
Photo credit: Robyn Gorman