North Island "Down," South Island "to Go"


New Zealander Realizing His Windsurfing Dreams


Imagine yourself on a windsurfer riding in the Pacific Ocean at speeds up to 60 KPH, climbing up a swell, then jumping and flying back down to take on the next. Sounds like fun for an hour or two, but now imagine doing this non-stop for months at a time. Add the danger of sharks and killer whales, the frustration of windless days, and the ultimate challenge of windsurfing over 7,000 kilometers around New Zealand — like Jarrod Armitage is doing.

Jarrod has held his dream of circumnavigating New Zealand — "crazy," some say — for a good portion of his young life. When he and his board zipped under Auckland's Harbor Bridge in January 2003 he proved to himself and the world that his dream may not be so crazy. He had just completed a three-month-long, 3,000-kilometer circumnavigation of the North Island! This October he plans to start sailing around the larger South Island to complete the realization of his dreams.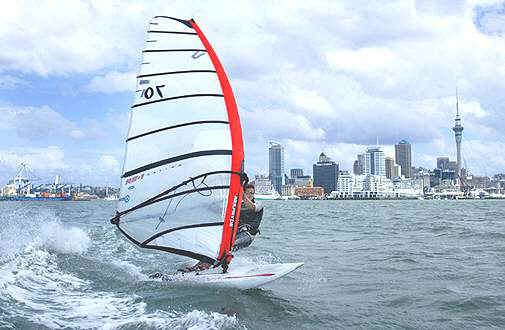 Jarrod Armitage sails back into Aukland Harbor, January 2003
The Dream Takes Shape
Jarrod, 27, started windsurfing 12 years ago. "My friend's dad had recently gotten into the sport and he took us with him," explained Jarrod. He found balancing on the board difficult at first, but the more he practiced, the more he liked it. He found himself falling in love with the sport. "I started windsurfing every day!" he enthused. The more he improved, the more daring he became. Soon he started thinking big, and he developed his dream into a plan for windsurfing around the North Island.
Much effort, planning, and money went into the project. Industrious Jarrod sold one of his businesses for some of the cash that his plan required. It took two years of preparation, and this was not an adventure he could accomplish by himself. Accompanying him were two cameramen to film the action for an upcoming documentary, one person to drive the chase boat, and one person following on land to handle accommodations, fuel, food, repairs, and dealing with the local media. Three windsurf boards were brought along for different wind variables. "I had one board each for light, medium, and strong winds," he explained.
Jarrod started his physical training a good six months before the trip. "I would sail everyday, do lots of running and concentrate on preparing my triceps and back muscles for the long journey," he said. His body and his dream were taking shape.
Setting Sail
Jarrod's voyage began on October 14, 2002 from the Auckland Harbor Bridge and involved three months of pleasure and pain, trepidation and drama. He sailed an average eight or nine hours a day. He strapped a water pack to his body for liquid and ate energy bars for nourishment. After dinner and a good night's sleep he would start the new day's sail from his last GPS-marked position.

The longest that Jarrod windsurfed in a day was 14 hours, and his longest day's distance was 215 kilometers. He generally stayed between ten and sixty kilometers off the New Zealand coast. "Since there are many capes around the North Island, the water can be quite rough close to shore, so I would try to stay a good distance away," he related. If the wind conditions were too rough, he would have to wait it out in the chase boat before continuing on.


View from the chase boat of Jarrod sailing
This wasn't the case all the time as sometimes the wind was very light. "It can be very frustrating when the wind is only 2 KPH and you hardly move anywhere all day," Jarrod said. At one point he faced four weeks of little or no wind.
The Roaring 40
Lack of wind may have been a problem at times, but that wasn't a danger. It was the high winds around the southern part of the North Island that was almost Jarrod's undoing. As he sailed between Napier and Wellington in the area known as 'the roaring 40' the winds picked up quickly and powerfully. Jarrod soon found himself way out in front of his chase boat in four to five meter swells. "I couldn't see anything except for a wall of water. My VHS two-way radio wasn't working so I couldn't keep in contact with my crew!" he explained.
Nearly two hours later, Jarrod was still alone in the rough water and conditions were worsening. Jarrod was remembering the story of a French windsurfer, Arnaud De Rosnay, who was lost at sea between China and Taiwan about 15 years ago. Just as he was really starting to grow weary and worried, a fishing boat happened upon him. No sight was ever more welcome. The boat's crew contacted Jarrod's chase boat and guided them in for the pickup, averting a "lost at sea" outcome or a remake of 'Castaway.'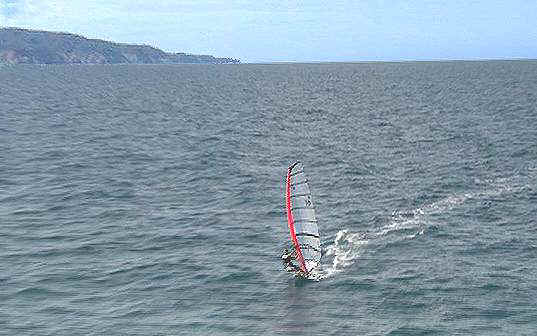 Off the North Island coast (moderate winds)
Whales, Sharks, Dolphins…All in a Day's Sail
Another interesting experience came when Jarrod played cat and mouse with some Killer Whales. "They were chasing me and trying to figure out who I was and why I was there," he said. Killer whales are known for their playful attitude and rambunctious behavior. There have been reports of the mammals playfully nibbling on the fins of scuba divers, and then letting go, only to do it again.
Sharks are a different issue. While they usually scare easily and will leave a person alone, they are also very unpredictable. On one afternoon's sail Jarrod noticed something 'fishy' just ahead of him — black and shiny lurking 18 inches under the water. There wasn't enough time to divert his windsurfer and he hit an 8-foot Mako shark as if it were a speed bump.
Mako sharks are not as well known as their cousin, the Great White, but are considered as dangerous and can be extremely aggressive. The Mako is the fastest of the sharks and has been known to attack fishing boats, jumping into them and turning would-be hunters into the hunted. They can also jump twenty feet out of the water and snatch off the head of a windsurfer.

In the sailing groove

"Bumping into that Mako made me pretty nervous ," Jarrod related. "I had no idea what he had on his mind." Fortunately, Jarrod stayed calm and the shark swam away. Maybe it had just eaten, or it admired the way the board carved through the water, or, just maybe, the shark wanted to see Jarrod Armitage complete his venture.

The marine life wasn't all scary. Once when Jarrod was off the coast of Napier, a large group of dolphins came to keep him company. He estimates a hundred of the friendly mammals swam with him doing flips and showing off. "It was just breathtaking," he said. "It's hard to find words to describe it. The dolphins were circling me and doing somersaults...so close I could touch them."
The Physical Ordeal
The elements truly presented a challenge for Jarrod. The water was often cold. "I would wear a dry suit in the colder water and switch to a wet suit when the water warmed up some," he said. There were other physical problems for Jarrod. Since his feet were constantly in water, he had to deal with skin damage and cracking. "It was very painful," he said. "I would use a special steroid cream and try to keep my feet as dry as possible. When I was actually in the water, though, my feet never hurt, so it was possible to keep going."
Another problem Jarrod had to handle were hallucinations. It's a common occurrence for sailors to hear mysterious sounds when on the water for long times. "When I would become dehydrated I would sometimes hear someone calling my name," he said. One must wonder if it was Davey Jones, the royal scribe of King Neptune, calling him to Davey's locker. "That was spooky but I just put it out of my mind and kept going," he related.
North Island Down, South Island to Go

"This has been my dream," Jarrod said. "What kept us going through all the rough times was our need to fulfill this dream. The people around the coast were also an inspiration," he said. At times entire communities would come out to greet him, provide food for the crew, and even do repairs on their equipment.

Jarrod hopes his experience will motivate young people to follow their dreams. "New Zealand has one of the highest suicide rates for young people in the world," he said. "I think these people are dying unnecessarily, because they don't have dreams."

Jarrod is in negotiations to air his documentary and he plans to windsurf the South Island at the end of this year. He will be training and holding at least one fund-raiser in hopes of securing enough cash to make a go at it. The total North Island circumnavigation exceeded NZ$200,000 in costs, including two NZ$10,000 cameras lost at sea.

"If I complete the trip around the South Island, that combined with my recent trip should be a world record for distance on a windsurfing board," Jarrod enthuses.

We're all rooting for Jarrod Armitage, including the shark, I'm sure.


Jarrod Armitage, pursuing his dream
By Corey Russell
Photos by Jarrod Armitage's crew