WHEN YOU GO

California's
High Sierras
Getting There: Because the Sierra High Route stretches about 195 miles between Kings Canyon and Yosemite National parks, and takes in long stretches of national forest lands, it can be assessed from both parks and from highways off California's Highway 395. Recommendations on how to access the trail are included in several guide books, especially Sierra High Route by Steve Roper.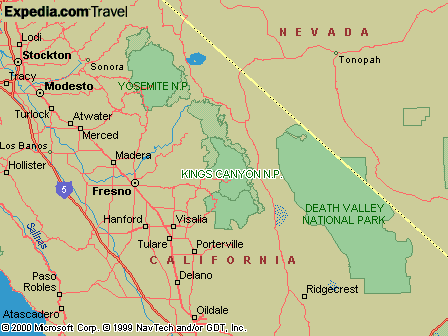 Kings Canyon and Yosemite National Parks: courtesy Expedia.com
Staying There: The High Route is for experienced backpackers, not for novices without a seasoned leader, nor for day hikers. A well-packed backpack will include appropriate U.S. Geologic Survey maps, tent, water filter, warm sleeping bag, extra clothing (even in summer for potentially changeable weather conditions and cold high elevations), food, stove with fuel, and such necessities as mosquito repellent. If you or a trip leader doesn't know the routine, don't go. Black bears are always a possibility. Portable canisters are encouraged as being safer than hanging food from trees.
Permits are available from the Inyo National Forest Wilderness Reservation Service at toll-free (888) 374-3773, Box 430, Big Pine, CA 93513; the Big Pine Visitor Center, 126 South Main Street, Big Pine, CA 93513; Kings Canyon National Park, Three Rivers, CA 93271, telephone (209) 565-3766; and Yosemite National Park Wilderness Center, Box 545, Yosemite, CA 95389, telephone (209) 372-0740.
Like many High Route travelers, we heavily relied on the second edition of Sierra High Route: Traversing Timberline Country, by Steve Roper. Another good source is the second edition of High Sierra: Peaks, Passes, and Trails, by R.J. Secor. Appropriate pre-trip and/or evening reads on the trail include John Muir's The Mountains of California, Jack Kerouac's The Dharma Bums, Mark Twain's Roughing It, and Clarence King's Mountaineering in the Sierra Nevada.
Useful WWW Links:
www.nps.gov/seki: Sequoia & Kings Canyon National Forest and Sequoia National Forest
http://www.sequoiahistory.org/: Sequoia-Kings Canyon Natural History Association
Return to California's High Sierras article.