When You Go:

San Antonio
Getting There: Most major airlines fly to San Antonio International Airport, including Southwest, Delta, American and United. The 1-800 phone numbers and Web links for these airlines are available at this magazine's Airlines page. All major car rentals are available as well. The 1-800 phone numbers and Web links are available at this magazine's Autos page. It is strongly recommended to book in advance to receive the best pricing.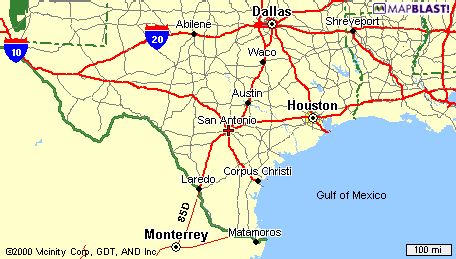 Map courtesy of MapBlaster.com
Staying There: The following inns are recommended by the author: La Mansion Del Rio, 210-225-2581; Marriott River Walk, 210-224-4555; Menger Hotel (next door to the Alamo), 210-223-4361; Fairmont, 210-224-8800; Hilton Palacio Del Rio, 210-222-1400; San Antonio-Save on Motels and Attractions, 210-270-8748.
Recommended restaurants include: The Bayous, 517 N. Flores; Las Canarias at La Mansion del Rio Hotel, 112 College at Presa; Little Rhein, 231 S. Alamo at Market; La Margarita and Mi Tierra Market Square; Joe's Crab Shack on the River Walk (the author's personal favorite). Though San Antonio has a variety of restaurants, the regional Mexican fare and seafood is a must while visiting.
Places to See, Things to Do: Spanish Governor's Palace; Scobee Planetarium at San Atnonio College; State Wildflower Hotline-1-800-452-9292 (the nearby Hill Country is famous for bluebonnets). Cowboy Museum, 210-229-1257; Hertzberg Circus Museum (more than 20,000 items of circus memorabilia), 210-207-7810; Majestic Theatre, 210-226-3333 (one of the finest "atmospheric" theatres ever built combining Baroque, Spanish Mission, Greek and Roman motifs); Sea World San Antonio, 210-523-3611; Six Flags Fiesta Texas, 1-800-IS-FIESTA (473-4378); King Williams Historic District, 210-227-8786.
Annual Events include: Great Country River Festival, 210-227-4262 (January or September); San Antonio Stock Show and Rodeo early February; St. Patrick's day Weekend; Texas Folklife festival early August; Oktoberfest; Greek Funstival in October; Holiday River Parade and Lighting Ceremony, Friday after Thanksgiving; and Fiesta De Las Luminarias throughout December.
Tours: Alamo Visitors Center, 210-225-6490; Yanaguana River Cruises, 210-244-5700.
Visitor Information: San Antonio Chamber of Commerce, 210-229-2100; San Antonio Convention and Visitors Bureau, 210-270-6700 or 800-447-3372; San Antonio River Association, 210-227-4262; Visitors Information Center, 210-207-6748. For "Fiesta," contact Fiesta San Antonio Commission at 210-227-5191. The celebration lasts for ten days in April and most activities free.
Useful guidebooks and interesting reads include:
Frommer's San Antonio and Austin a complete city guide with recommendations on lodging, restaurants, activities
San Antonio on Foot by Diane Capito and Mark Williams,
San Antonio, Portrait of the Fiesta City by Susanna Nawrocki and Gerald Lair
Hemisfair San Antonio Lone Star Guide by Nancy Heston Foster,
Eyes of Texas Travel Guide by Ray Miller,
San Antonio Uncoverd by Mark Rybczyk, and
San Antonio Cuisine: A Sampling of Restaurants and Their Recipes by Karen Haram.
Useful WWW sites:
http://gotosanantonio.com/gotosa.cfm: Complete guide to attractions, restaurants, lodging, and events
http://www.brooks.af.mil/sa_map/sa_full.html: Interactive city map
http://sanantonio.about.com/citiestowns/southwestus/sanantonio/: Events, restaurant reviews, historical info and attractions.
Return to San Antonio article.