Oahu, capital and business center of our 50th State, steeped in history, permeated with an exotic yet familiar ambiance, a dream destination for millions of visitors. She had a rough start thanks to nature's fury and man's aggression but she has managed to persevere, even flourish.
"Oahu – Part 1: A Tumultuous Beginning" explored how the island transitioned from power base for King Kamehameha's Hawaiian Kingdom into a melting pot of diverse people, and how this speck of land became part of a nation 2,500 miles away. Numerous wonders of this tropical paradise were revealed.
Let's delve deeper into what makes Oahu unique, and the legends and history that gave rise to an amazing people with a remarkable story to share.
LEGENDS AND SACRED SITES HONOR THE PAST
Kamehameha Highway (Route 83) along Oahu's windward shore is a scenic 60-mile ribbon of coastline from Kaneohe to Kawela Bay. Along the way look for little treasures like the Aloha Ke Akua Chapel serenely perched on Kahaluu Pond, and views of Mokolii Island. Popularly referred to as Chinaman's Hat, this tiny islet is said to have been formed when a Hawaiian goddess cut the tail off the lizard Mokolii and tossed it into the ocean.
Some Hawaiian legends are still taken very seriously along this shore-hugging roadway, particularly the Night Marchers who appear to descend Kaaawa Valley and march along the beach. They've been seen weaving their way down the mountain ridge known as the "Crouching Lion" above Kahana Bay, once a native fishing shrine, and making their way north along the beach. They are also said to pass through Whitmore Village in north-central Oahu on their way to the Kukaniloko birthing stones at Puu o Mahuka Heiau.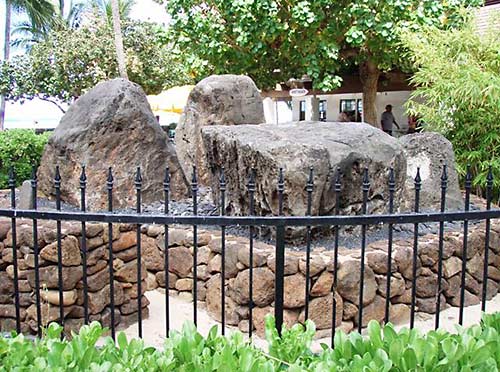 Near the Waikiki police station in Kuhio Beach sit four large unassuming rocks
known as the Na Pohaku Ola Kapaemahu a Kapuni or Kahuna Stones.
According to legend, over 500 years ago four kahuna (teachers) from Tahiti
spent time on Oahu, but before returning home they empowered these four rocks
with their mana (spiritual power).
With such a tumultuous history, Oahu is a hot spot for hauntings. The H-3 Freeway's intrusion upon ancient sacred grounds seems the culprit behind numerous afflictions including apparitions in the tunnel, sickened workers, a levitating bulldozer, and girders falling off for no reason. A house in Haleiwa refused to be painted, and one in Aiea sickened or killed all its construction workers.
A former janitor haunts Kaimuki High School in Honolulu, Waipahu's Helemano Elementary School is plagued with poltergeist-type activity, and that town's Soto Zen Temple seems to have some non-Buddhist residents from another era. Plantation Village, also in Waipahu, is a historic village showcasing the homes and lifestyles of Hawaii's multi-cultural plantation families, but the strange happenings are so blatant and plentiful they have been featured on television "hauntings" programs. Statues at Mililani Cemetery appear to turn and watch visitors, and that's just some of the unexplained occurrences across Oahu.
| | | |
| --- | --- | --- |
| | Held each summer at various venues along Waikiki, Duke's OceanFest pays tribute to Hawaii's most famous waterman with competitions including longboard and tandem surfing, paddleboarding, swimming, surf polo, and one of the most unique and fun battles - the Going to the Dogs SurFUR Contest. (Surfer photo courtesy Duke's OceanFest) | |
Perhaps the best – and very real - Hawaiian legend is Duke Paoa Kahanamoku. Earning three Gold and two Silver medals in the 1912, 1920 and 1924 Olympics for his swimming prowess, Duke is most appreciated for bringing the ancient Polynesian sport of surfing to the world's attention. To mark what would have been his 100th birthday, in 1990 his statue was erected on Waikiki's Kuhio Beach honoring him as the Father of Modern Surfing.
There still exist places where you can connect to ancient Hawaii without having to envision it sans towering buildings or expanses of concrete. Waimea Valley encompasses 78 noteworthy archaeological locations including house sites, fish ponds and shrines. Among its heiau is the island's largest, Puu o Mahuka Heiau State Monument, a nearly intact war temple overlooking Waimea Bay. Kaneaki Heiau in Makaha Valley is a fully restored heiau once used for both war and agricultural ceremonies. Keaiwa Heiau State Recreation Area includes remains of a healing heiau and garden of traditional Hawaiian medicinal plants.
Kukaniloko Birthstones State Monument venerates the sacred location where women of royal families came to give birth among lava rocks, which were believed able to ease the pain of childbirth. The legendary menehunes are credited with building Ulupo Heiau in a single night by gathering stones from across the island to build this massive terrace measuring 140 feet by 180 feet with walls as high as 30 feet.
| | | |
| --- | --- | --- |
| | Some shrines are more modern such as one on Makapuu Beach paying homage to the dangers of what may be Hawaii's most famous bodysurfing/boarding waves. At Halona Point, referred to as Bamboo Ridge for the fishing poles used by early Japanese fishermen, the Honolulu Japanese Casting Club Shrine implores the Guardian Spirit of Protection to watch over them. | |
| | | | | |
| --- | --- | --- | --- | --- |
| | The customs and traditions of Hawaii's immigrant population are greatly revered. Purportedly the oldest in the United States, Oahu's Chinatown is filled with interesting shops and architecture, worth a daytime visit to avoid the less savory night frequenters of this district. Worshippers still present offerings at the Kuan Yin Temple and the Mu-Ryan-Sa Korean Buddhist Temple. Numerous festivals throughout the year celebrate the multi-ethnic background of Oahu's residents. | | | |
The Byodo-In Temple is a faithful reproduction of the 900-year-old Japanese temple depicted on the back of Japan's ten-yen coin. It has been nearly a millennium since a wooden Buddha as large
as this Temple's was hand carved.
A PECULIAR PAST
At the Bernice Pauahi Bishop Museum, considered the world's largest and finest collection of Hawaiian and Pacific Rim material, I wander in amazement through centuries of Hawaiian history. A complex of six main buildings includes the three-story lava-rock Pacific Hall filled with artifacts from Hawaiian culture and its monarchy, watched over by a 20-foot sperm whale and Fijian fishing canoe suspended overhead.
The only royal residence in the U.S., Iolani Palace was a marvel when constructed in 1882 by Hawaii's "Merrie Monarch" King David Kalakaua. Now fully restored and housing many original items, the palace included such modern amenities as telephones, indoor flushing toilets, outdoor electric lights, and was the first residence of any national leader in the world to be illuminated by incandescent bulbs. The Palace also hosts a free concert by the Royal Hawaiian Band every Friday at noon.

For a self-guided tour of Waikiki's storied past, print a copy of the
Waikiki Historic Trail (WaikikiHistoricTrail.org) and follow the 23 bronze
surfboard-shaped markers along a route of discovery. The once narrow street
bordered by tacky shops and old hotels has transformed into modern accommodations,
upscale stores and a landscaped walkway meandering along the beach.
Originally Pearl Harbor was bountiful in oysters, gathered by the Hawaiians for food and utilizing the mother-of-pearl for fishhooks and decorations. As the largest natural lagoon in the Islands, whalers and sandalwood traders made the placid waters a key port in the Pacific. America eyeballed it as a base for their Pacific naval fleet. Converting it into a harbor began in the 1840s, and by the end of the 19th century the oysters had been obliterated by sediment and rubbish. By the time December 7, 1941 had come and gone, the Harbor was beyond belief.
Often referred to as the "tears of the Arizona", the submerged 608-foot battleship still seeps almost nine quarts of oil a day, while the USS Arizona Memorial's Casualty List is a sobering reminder of the lives
lost that horrible day.
It's official name is the WWII Valor in the Pacific National Monument. To most folks it's simply The Arizona, but the Monument includes other historic sites worthy of a visit. Showcasing aviation's contribution to winning the war, the Pacific Aviation Museum includes interactive dioramas and more than 30 planes housed in WWII hangers on Ford Island. The USS Bowfin Submarine Museum & Park highlights the vital part subs played in the war, having sunk 44 enemy ships herself as she prowled the Pacific.
The Arizona is a thoughtful and stirring experience which I had deliberately avoided on prior visits to Oahu, but when I finally made the excursion I wished I had done it years earlier. I've had a couple of tours of Mighty Mo, the world's last battleship ever built, and she overwhelms with both history and capability.
| | | |
| --- | --- | --- |
| | Built astride the sunken battleship, the USS Arizona Memorial commemorates US members of the armed forces and the civilians who did not survive the Japanese attack on Pearl Harbor. The designation "USS" is only used for an active-service ship, the Arizona so honored because over 1,100 servicemen are still on board. The 887-foot Battleship Missouri Memorial, aka Mighty Mo, stands guard over the Arizona, fitting since this was the ship on which the Instrument of Surrender was signed by Japan and General McArthur on September 2, 1945, effectively ending WWII. | |
Designed for speed, the Battleship Missouri could charge through the seas at more than 30 knots per hour. Her firepower was legendary, a main battery of nine 16-inch-barrel guns -- the largest ever placed on a Navy vessel -- backed up by twelve 5-inch-barrel anti-aircraft guns. Each 65-foot-long main gun could lob a 2,700-lb shell 23 miles in 50 seconds with pinpoint accuracy.
"Mo" carried out bombing raids of Tokyo, provided firepower in the battles of Iwo Jima and Okinawa, and in the war's final month she served as Admiral Halsey's flagship. She patrolled the Korean shoreline during that "Police Action," and launched Tomahawk missiles against Iraqi positions during Operation Desert Storm. But her most memorable moment may have been when her deck served as the site of Japan's unconditional surrender to the Allied Forces, ending WWII in the Pacific theater.
I recommend reserving tickets for the USS Arizona but you don't need a formal tour for the Battleship Missouri since complimentary guides, most often retired veterans, are available when you board the ship. Do both for the full experience. An excellent historical movie precedes the shuttle to the Arizona and despite all the "Pearl Harbor" shows I've seen over the years, I saw images and learned things I'd never encountered. Figure about a half day for both. And do it.
ENTERTAINMENT GALORE
| | | | | |
| --- | --- | --- | --- | --- |
| | | | Oahu beguiles visitors with big-city amenities including a number of performing art centers, live theaters and the Hawaii Symphony Orchestra. In addition to the Bishop and various military museums are many others including Queen Emma's Summer Palace, and the incomparable Shangri La, a 14,000-square-foot ocean-front home built in 1937 incorporating Islamic architectural features and filled with more than 2,500 pieces of Islamic art. | |
Art lovers need to check out some of Oahu's numerous galleries such as Art on the Zoo Fence, The Arts at Marks Garage, Clark Little Gallery, and galleries devoted to world-renown artists like Robert Wyland and Peter Lik. The Honolulu Museum of Art hosts ARTafterDARK highlighting current exhibits accompanied by food, live music and dancing.
Shopping is elevated to an art form, especially in Waikiki where some of the names along Kalakaua Avenue make you think you're strolling Hollywood's Rodeo Drive. The four-story 310,000-square-foot Royal Hawaiian Center houses more than 100 shops plus dining options and entertainment venues. Opening in 1956 as a gathering of eclectic jewelry, handicraft and souvenir stalls, the International Marketplace's recent 3-year renovation revamped it into a collection of more than 80 stores and hosts cultural entertainment in the evenings. A nostalgic loss to the quirky original gathering of vendors, but now with many more options.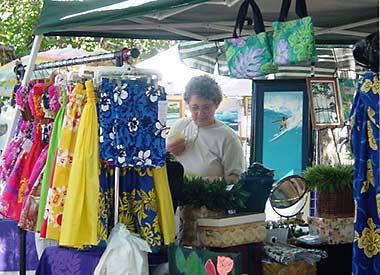 When Ala Moana opened in 1959 it was the largest open-air shopping center in the world: 87 shops in 650,000 square feet of retail space. Today it's still the biggest, now covering 2.4-million-square-feet of retail space including over 350 shops and more than 100 dining choices.
But Oahu also offers less-toney options with some great finds. A couple days a week more than 400 vendors gather for the Aloha Stadium Swap Meet which has been offering good prices on handicrafts and everyday items for four decades. Check out Bailey's Antiques & Aloha Shirts whose inventory of over 15,000 new, used and vintage pieces have enticed customers including Jimmy Buffett, Anthony Bourdain, Nicolas Cage and Peter Fonda. Great bargains can be found at the Jams World Factory Store, one of my favorite lines of Aloha wear for their easy-care fabrics, colorful prints and comfortable styles.
EXPLORING A CULTURE THROUGH ITS GASTRONOMICAL OFFERINGS
| | | |
| --- | --- | --- |
| | Farmers' Markets all over Oahu offer a chance to talk with the growers, learn about and sample unusual items, and discover new flavors to enjoy. Food trucks and carts also offer all sorts of take-away edibles, including Giovanni's – grandfather of the shrimp truck scene having started the craze in 1953. | |
Culinary experiences can enhance or even define travel, and if you arrive on Oahu expecting great local eats, fine dining and adventurous options, you won't be disappointed. Award-winning chefs create Pacific Rim fusion creations that tempt the palate of their five-star patrons, with Hawaii's plantation background providing locally-sourced farm to table fare. Down-home eateries offer comfort food like Mama made back in simpler times. Luaus are a popular starting place for sampling traditional items including kalua pork, haupia and – of course – poi.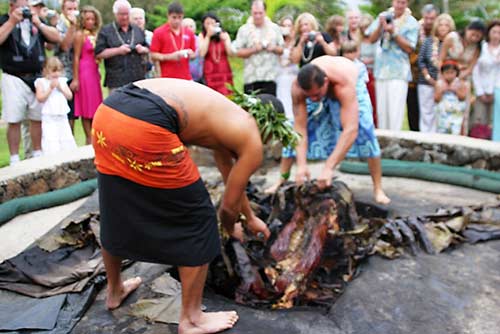 Most commercial luaus offer craft and culture displays and exhibitions
while the kalua pork is roasting in its imu or underground oven,
but when it's time for the Dish of Honor to emerge, everyone gathers round.
Food tours are popular and a great way to learn about the local "grinds" including mainstays from Oahu's diverse range of immigrant countries: Portuguese malasadas, Japanese sashimi and mochi balls, Korean man doos, Chinese manapuas (steamed pork-stuffed buns), bowls of saimin and of poke, Spam musubi, lomi salmon and lau lau; the ubiquitous plate lunches and Loco Mocos; and of course shave ice: thin slivers of frozen vapor infused with fresh tropical flavors, creamy-smooth and never to be confused with a sno-cone.
When Chinese immigrants packed their native char siu bao into the fields for lunch, the savory pork-filled buns quickly became a prized morsel with fellow plantation workers. Savvy entrepreneurs began bringing extra manapua, as they became known, to sell. When plantations started shutting down in the 1970s, many of the manapua workers mobilized and became pioneers of the food truck movement.
A number of farms and producers offer tours including some less-than-common providers. The bivalve mollusks at Kualoa Ranch Oysters mature in half the normal time due to Hawaii's nutrient-rich fishponds. Traditional native Hawaiian sugar cane varietals are used by Manulele Distillers to product small batches of rum. At Waiahole Poi Factory, a local fixture for over a century, you can watch taro pounded into poi and sample the fresh results, entirely different than what you'll spoon up at a luau. The Honolulu Fish Auction at Pier 38 is a lively arena of grading and purchasing the daily catch.
DÉJÀ VU?
Sometimes you seek out iconic filming locations, other times you stumble into the middle of a production, say as you're cruising along the North Shore near Dillingham Field.
(I tried to convince them I was Kono's stand-in, which gave them a laugh as they waved us through.)
Many Oahu locales are eerily familiar thanks to television series like Hawaii Five-O (both the original and current remake), Magnum PI (ditto), Lost, and Dog the Bounty Hunter. It has provided an exotic film backdrop since 1913 when director John Griffith Wray filmed the pre-talkies "Hawaiian Love" and "The Shark God." Some films are self-evident from the titles: Elvis' romp in "Blue Hawaii," 1963's "Diamond Head" with Charlton Heston and James Darren, and the 2001 "Pearl Harbor" starring Ben Affleck, Alec Baldwin and many other A-list actors.
Adjacent to the Waikiki Zoo, the Queen Kapiolani Hibiscus Garden is a self-guided stroll among
numerous hibiscus varieties and tropical beauties including Japanese Honeysuckle and Red Ginger.
It wouldn't be "Hawaii" without its bounty of flora, and numerous arboretums and botanical gardens offer the chance to discover amazing species. The 400-acre Hoomaluhia Botanical Gardens and its 32-acre lake is a county park in Kaneohe boasting the largest collection of tropical plants and trees in the U.S. The Harold L. Lyon Arboretum, a 194-acre botanical research facility at the University of Hawaii, cultivates more than 5,000 tropical species including native Hawaiian flora and a vast collection of palm trees.
The Arboretum and Botanical Garden in Waimea Valley is comprised of three dozen botanical gardens with thousands of mostly indigenous species, labeled for easy identification. In Waikiki, pick up a pamphlet at the Royal Hawaiian Hotel's concierge desk for a self-guided tour of the 12-acre Royal Grove oasis, with color photos and background helping to identify and explain the origins and uses of the plants.
WHAT'S OAHU REALLY ALL ABOUT?
Two-thirds of Hawaii's 1.4 million residents reside on Oahu, a piece of real estate about the size of Massachusetts. The island's multitude of historical places, and its rural hideaways of small towns and quiet stretches of beach, are in stark contrast to Hawaii's capital city. Honolulu is a cosmopolitan metropolis with lofty high-rises and traffic congestion, but spiced up with the entertainment, dining and nightlife you'd expect from a big city.
This is the principal feature that sets Oahu apart from the other Hawaiian islands: more residents and tourists equates to more options for tempting your palate, more locations to imbibe and boogie the night away, more opportunities to balloon the contents of your luggage for the trip home, and more festivals and events to celebrate.
| | | |
| --- | --- | --- |
| | The Royal Hawaiian Hotel, its pink exterior still a stand-out among the well-developed shoreline of Waikiki, and the Moana Surfrider were the first two hotels to open on Waikiki in the 1920s, when annual visitor numbers were in the low tens of thousands and the original Waikiki Beach Boys, including Duke Kahanamoku, were showing them how to play in the surf. Now nearly 5.5 million visitors descend on Oahu each year, most of whom never visit another Hawaiian island. | |
A bevy of big resorts offer beautifully landscaped properties, a range of dining choices and a sampling of cultural activities, but if you explore beyond their confines you can still find some "authentic Hawaii". Check out food trucks and mom-and-pop eateries, stop at roadside farmers markets and talk story with the locals, hang out at lesser-known beaches and play with the keiki (children). You need to holoholo, just wander about and enjoy the moment, have fun and be ready for unexpected flashes of serendipity.
Over two centuries ago Kamehameha's forces drove Oahu's defenders to their death but the people rebounded and thrived under the Hawaiian Kingdom. Whalers and traders decimated the native Hawaiians with "Western" diseases, and misguided bible thumpers attempted to squelch all traces of their language and way of life, yet Hawaiians managed to maintain their cultural heritage.
Masses of foreign sugar and pineapple plantation workers descended on the island but the spirit of the Hawaiians shone bright and true. U.S. businessmen spearheaded overthrow of the legitimate monarchy, but even today Hawaiians manage to honor their royal legacy. Airborne warriors from far-flung shores devastated the island and its people, yet they pulled together and overcame great adversity. While this mayhem was overcome, some struggles remain.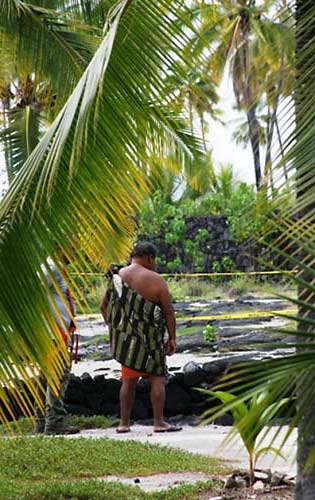 It's not gridlocked drivers or locals defending their favorite surf break from hordes of haoles. It's the Native Hawaiian Sovereignty Movement, a grassroots campaign to return self governance under an independent nation for native Hawaiians (Kanaka Maoli). In the late 20th century the group was able to establish the Puuhonua o Waimanalo Village in the foothills of the Koolau mountains, with around 100 people calling it home. When Hawaii was annexed, the native population weren't even given "reservations" -- as ridiculous as that concept is for any people whose land was forcibly stolen from them -- to call their own and govern as they desired.
Oahu is one of those locations you can both respect and disparage. There is much about it the casual visitor never sees, and much that cannot be understood without understanding the context in which it evolved. It has suffered atrocities not seen by its sister islands but has risen above them. Take a step or two beyond the tourist-oriented exterior and probe the island's history, explore amazing natural wonders, enjoy the amenities of Honolulu, frolic in the surf on beaches high-profile or secluded. Pick your flavor, pick your Oahu.

Truffles insisted her picture be taken with Manana Island, aka Rabbit Island.
Once used as a warren for raising the little long-eared critters,
they were removed from the 63-acre volcanic cone due to habitat destruction
and it is now a protected seabird sanctuary.
Driving on Oahu

First, you need to understand that locals don't use compass points to indicate direction. To go "ewa" ("w" pronounced as "v") means traveling toward the western tip of the island where the town of Ewa is located. "Diamond Head" is toward the eastern tip, "mauka" is inland (toward the Koolau range) and "makai" toward the sea. As with other Hawaiian islands, "windward" is used in general for the eastern side of the island and "leeward" for the western side.
For years Honolulu has been infamous for its traffic which, due in part to military facilities all over the island and workers commuting from all directions into downtown, can be horrendous at any hour. But it is improving. In 2012 it held the "top" spot for worst traffic of any city in the U.S. In 2013 it "slipped" to #2, then #10 in 2015, and now holds the #19 spot. Thank goodness for progress.
A great alternative to a rental vehicle is utilizing the nearly island-wide system called TheBus. A $5.50 all-day pass (2018 Adult pricing) allows you to circle almost the entire island with unlimited stops at beaches and towns along the route.