Victoria
Walk, Paddle, and Pedal to Enjoy This Canadian Marvel
Victoria sits like a gem at the southeastern tip of Vancouver Island. To the south lies the Strait of Juan de Fuca with views of Washington State's Olympic Mountains. To the east lies Haro Strait with views of the San Juan Islands and snow-capped Mount Baker. The city is famous for its British style so well captured in the Empress Hotel and the government buildings that ring the inner harbor. Exploration of the downtown core's numerous shops, cafes, and restaurants is always a joy, and the adjoining harbor's non-stop carnival of ferries, yachts, and zooming float planes adds to the attraction.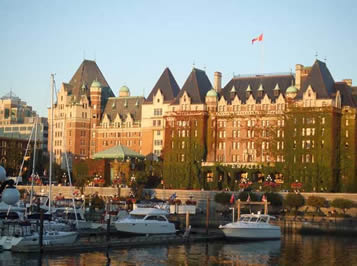 Victoria's Harbor and Empress Hotel
My wife and I have been vacationing in Victoria for years. Although we never fail to miss the main tourist sites mentioned above, what most brings us back to Victoria is that it's the perfect outlet for our passions of walking, paddling, and bicycling. Throughout the year we take long city walks which take in water and village scenes. During the spring, summer, and fall we also bring our kayaks and bicycles for incredible paddling and cycling tours. Join us for our favorite hike-oar-bike ventures. You'll be sharing the land and seascape with the friendly locals.
Victoria Walks
Unbeknownst to most tourists are Victoria's "villages" such as James Bay, Cook Street, and Oak Bay, each with an inviting and unique blend of shops and surrounding neighborhoods. The following 4-5 mile walks, highlighted in red on the map below, have convenient village cafe rest stops and seascapes galore.
1 - Victoria Harbor Walk
This walk requires retracing your steps to your starting point, but the continually changing harbor scenes will have you wanting more. You can start anywhere on the harbor periphery. Walk along the southern shore pathway as far west as Fisherman's Wharf with its houseboats, then return to the float plane wharf (Wharf Street), cross the Johnson Street Bridge and walk along the northern shore pathway to the first islands which face south to the harbor entrance. Spinnaker's Brewpub at 308 Catherine Street (near Kimba Road off the northern harborside trail) provides a convenient rest and nourishment stop. A downtown recommended deli-cafe stop is Paradiso Di Stelle on Bastion Square off of Wharf Street looking over the harbor. A recommended restaurant for lunch and dinner with great evening jazz is the Superior Cafe at 106 Superior Street (near Fisherman's Wharf Park).
2 - James Bay Village, Cook Street Village & Sea Walk
A convenient starting point is at Menzies and Simcoe Street in James Bay Village. From here walk south on Menzies to the shore and take the seaside trail past Beacon Hill Park to Cook Street. Walk north on Cook to the village and choose an establishment for a rest stop. A recommended coffee shop is Moka House at 345 Cook Street across from Starbucks. Continue west through Beacon Hill Park, past ponds and flower gardens back to the James Bay neighborhood.

Map of Victoria with recommended walks (red), paddles (blue) and pedals (green)
3 - Oak Bay Village & Sea Walk (South)
Start at the beach on McNeill Bay where Monterey Street meets Beach Drive. Walk along Beach Drive following the sea east and then north to Oak Bay Marina, then follow the signs to Oak Bay Village on Oak Bay Avenue. Choose a coffee house or restaurant for your rest stop and meander the shops of the village. Ottavios's Italian Bakery and Deli is a real winner, as is the famous Penny Farthing Olde English Pub. Complete the loop by returning south on Monterey Avenue through a pleasant neighborhood back to Beach Drive.
4 - Oak Bay Village and Sea Walk (North)
Start at Willows Beach Park on Oak Bay (at the end of Dalhousie Street off of Beach Drive). Walk north along the beach to Cattle Point Park, take in the beautiful seascape, walk southwest along Beach Drive to Dorset Road, walk west on Dorset, turn south on Musgrave and continue as it becomes Hampshire Road to Oak Bay Village. Choose a coffee shop or restaurant for your rest stop (see comments above), meander the shops, then continue east on Oak Bay Avenue to Beach Drive and back north to Willows Beach Park.
| | |
| --- | --- |
| Willows Beach Park on Oak Bay | Victoria Seascape |
Victoria Paddles

Surrounded by usually calm seas and with an inner harbor and gorge, no large city has better paddling opportunities than Victoria. The first three paddles are indicated in green on the map above, while the fourth paddle starts at the Brentwood Bay ferry terminal just north of Butchart Gardens, a 30-minute drive north up the Saamich Peninsula from downtown Victoria.
1 - Inner Harbor
The waters north of the Johnson Street Bridge provide good paddling with scenes of houses, parks and waterfowl. If renting a kayak, there is a convenient shop just north of the Johnson Street Bridge: Ocean River Kayaks at 1824 Store Street. If you have your own kayak, a convenient put-in spot is at Bamfield Park off of Craigflower Road (near the blue number 1 on the map).
2 - Gorge Park
Just northwest of the inner harbor along Gorge Road East is Gorge Park which provides access to calm and beautiful waters extending for two miles, bordered with beautiful homes. Put in at the boat ramp of the park. Avoid trying to connect up with the waters of the Inner Harbor under the Tillicum Street Bridge, since dangerous currents run through this narrow gorge with both incoming and outgoing tides.
| | | |
| --- | --- | --- |
| Kayaking in Brentwood Bay | View from Butchart Gardens | Oak Bay scene and harbor seal |
3 - Oak Bay
Put in at Cattle Point Park (at the blue number 3 on the map above), then paddle north and south to take in beautiful homes, seascape, waterfowl, and harbor seals. Willows Beach Park is a convenient place to disembark and grab a bite at the snack shop or lounge on the beach. It is on the southern extreme of your paddle, at the middle of Oak Bay.
4- Brentwood Bay (Butchart Gardens)
Put in at the park near the ferry terminal at Brentwood Bay. Paddle south through the bay's marina area and follow the shoreline to Butchart Gardens. You can disembark and tour this renown botanical delight, then continue along the shoreline to the end of the beautiful fjord-like inlet before returning to Brentwood Bay (3-4 miles total).
Victoria Pedals
The cycle tours are indicated on the above map in green. Each tour has plenty of opportunities for rest stops and sight-seeing. If you need to rent a bicycle, a convenient location is Cycle BC Rentals at 950 Wharf Street above the harbor.
1- Harbor to Oak Bay Tour
The best cycle tour in Victoria is only about 10-12 miles round trip and takes in the harbor, James Bay neighborhood, the entire southern sea shore, Oak Bay, and Oak Bay Village. This village is a suggested stop for lunch or a snack before returning west on Oak Bay Avenue and Pandora Ave to the downtown core and harbor. As mentioned above, Ottavios's Italian Bakery and Deli is a real winner, as is the famous Penny Farthing Olde English Pub.
| | | |
| --- | --- | --- |
| Butchart Gardens pond | Butchart Gardens fountain | Butchart Gardens scene |
2- Galloping Goose Trail: Harbor to Royal Oak Dr.
Victoria's Galloping Goose Bike Trail starts close to where the Johnson Street Bridge meets Esquimalt Road and extends both north and west for tens of miles. This recommended ride of just 15-20 miles starts at the southern terminus and extends north past neighborhoods, ponds, fields, and forests to Royal Oak Drive before returning along the same route.
3- Elk and Beaver Lake Tour
Less than a 20-minute drive from downtown Victoria along Route 17 brings you to Elk Lake and Beaver Lake. Follow the signs to the park, then bike around the lakes on a beautiful trail through forests and along the shoreline. It's only about 8 miles total. An option for an extended ride is to hook up with the Galloping Goose trail one mile to the east and continue north to Lochside Drive before returning (makes for an additional 15 miles).
Join in the Fun
Cars with kayaks and bikes atop or in tow are welcome on the ferries from Port Angeles or Vancouver to Victoria. During the summer, be sure to have reservations if you take the Port Angeles ferry (www.cohoferry.com). If you'd prefer to rent cycles or kayaks in Victoria, there are rental shops available in the downtown core area, including those referenced above. The suggested routes merely scratch the surface of an unending variety of choices. When you next visit this incredible city be sure to enjoy the land and seascape to the fullest with your own hiking, oaring, and cycling tours.
Les Furnanz
Photos by Rita Furnanz