EUGENE, OREGON: CITY OF ART AND OUTDOORS
Article and Photos
by
Larry Turner
Eugene: the World's Greatest City of the Arts and Outdoors. So it reads on the downtown signage and on the cover of Oregon's Visitor Guide for Lane County.
The boldness of the branding statement may not be that far off, though many other cities equally would live up to this marquee.
I was pondering this as I strolled along a paved path through beautiful Alton Baker Park beside Willamette River, knowing that just a few days ago opera diva Renee Fleming had performed in Eugene's Hult Center for the Performing Arts, an architecturally riveting building with a peaked roof representing the nearby Cascade Mountains' Three Sisters. Two days ago my son Steen and I had camped and fly-fished a solitary stream with a nearby view of the 10,358-foot South Sister, Lane County's highest point. Today I was en route to the 4000 seat outdoor Cuthbert Amphitheater to catch the last set of the three-day Willamette Valley Folk Festival.
I stopped on the bike/walking path, listening to the sweet, melodious sound of a nesting tree sparrow mating pair. An occasional bicyclist came by in this verdant zone, a world apart from nearby downtown Eugene and the University of Oregon.

| | | |
| --- | --- | --- |
| | | |
| Camping Outside Eugene | Author's Son Steen Flyfishing | |
AMERICA'S No. 1 GREEN CITY
The proximity of the city to the outdoors in Eugene is immediate and amazing, equaled by few cities. Recently Eugene was recognized as America's No. 1 Green City. Mayor Kitty Piercy made the announcement in the very park where I was walking, saying, "We are 'Green Eugene'—the best, the healthiest, the most beautiful, the most livable city in America. This is one more reason we know we are the "World's Greatest City for the Arts and Outdoors.'"
Sixteen percent of Eugene's land is green space along with 2500 acres of public wetlands. Green space includes parks, walking and biking pathways, athletic fields, gardens, waterfront and trails. The Willamette River walking and biking trail is world class, meandering for miles along this picturesque river, framed by a rich variety of native trees, scrubs and seasonal wildflowers. One of my favorite walks is to be dropped off at Greenway Bike Bridge near Valley River Center. I walk across the bridge and follow the trail at Maurice Jacob Park to the Owen Rose Garden where one is treated to 5000 blossoms in June along with one of America's largest cherry trees. I then cross back to the other side of the river and walk to McMenamin's River House for a pint of Scottish ale. Sometimes I lose count and have two. Continuing, I walk to Alton Baker Park and cross the Willamette over Peter Defazio Bike Bridge, which leads into downtown Eugene or the University of Oregon. The walk is always filled with measures of pleasure with the solitude, bird life along the river, glimpses of people fishing and the rich mix of the natural and manmade plant world.

| | | |
| --- | --- | --- |
| | | |
| Downtown Eugene Church | Willamette River Sunset | Alton Park Walking Bridge |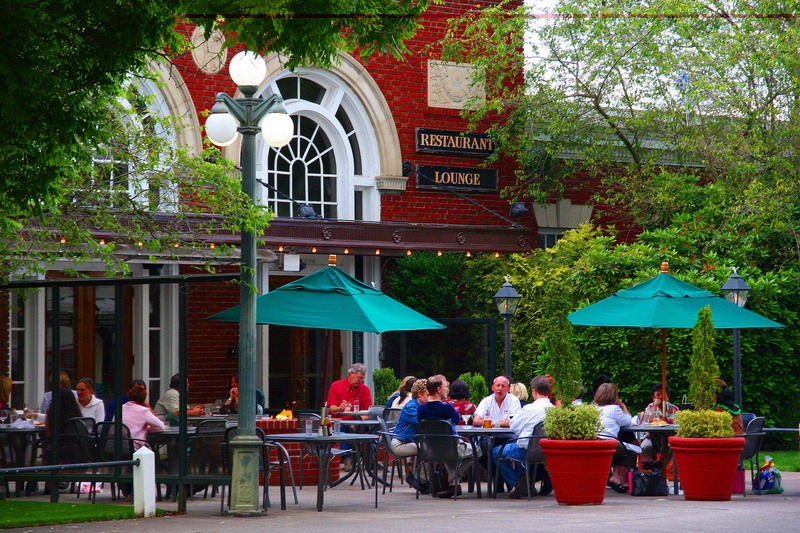 Outdoor Café
ART in the CITY
Art permeates the city life of Eugene, from opera divas to flamboyant transvestite shows and gallery showings that span the range of traditional to cutting edge. Eugene is home to the Oregon Bach Festival (www.OregonBachFestival.com ), Dance Theatre of Oregon ( www.dtodance.org/ ), Actors Cabaret ( " www.actorscabaret.org ), Eugene Ballet Company (ww.eugeneballet.org), Eugene Opera ( www.eugeneopera.com ), Eugene Symphony (www.eugenesymphony.org ), Oregon Festival of American Music ( www.ofam.org ), Willamette Repertory Theatre ( www.willrep.org ), McDonald Theatre (ww.mcdonaldtheatre.com), Oregon Festival Choirs (www.oregonfestivalchoirs.org ), Lord Leebrick Theatre Company (ww.lordleebrick.com) and the Shedd Institute for the Arts (ww.theshedd.org). The Shedd, a converted church in downtown, is a fascinating concert hall and my personal favorite along with WOW Hall ( www.wowhall.org ).
Throughout downtown Eugene, there are a variety of unique public sculptures—the latest of the recently deceased noted Oregon author Ken Kesey reading to a group of children. Close by is DIVA (Downtown Initiative for the Visual Arts), which is home to a wide variety of artists, represented in six galleries, all in the same building.
Jordan Schnitzer Museum of Art at the University of Oregon and the University of Oregon's Museum of Natural and Cultural History should not be missed.
Eugene also boasts America's longest continuously running Saturday Farmer's Market. Art, food, crafts and entertainment are also available at this ongoing colorful event.

| | | | |
| --- | --- | --- | --- |
| | | | |
| University of Oregon | The Art of Dance | Beat Poetry and Music | |
| | | |
| --- | --- | --- |
| | | |
| Willamette Folk Festival | Music at Cuthbert Amphitheater | Asian Festival Dance |
| | | |
| --- | --- | --- |
| | | |
| Sunday Afternoon Chamber Music | Saturday Market | |
TRACK TOWN, USA
One would be remiss to write about Eugene and leave out its storied track and field history, associated with venerable Hayward Field and the University of Oregon. Often, Eugene is mentioned as Track Town, USA and the Jogging Capital of the World. Hayward Field and Eugene will be host to the 2008 Olympic Track and Field Trails. This hallowed field—named after Oregon's first track coach Bill Hayward, an athlete on par with Jim Thorpe in his heyday—created the legends of Steve Prefontaine (known as Pre) and Nike co-founder and longtime University of Oregon coach Bill Bowerman. At one time the Oregon native Prefontaine owned every American long distance track record between 2,000-10,000 meters. He was tragically killed in a car accident in 1975.
Throughout Eugene, there are abundant jogging paths, most notably Amazon Park and Alton Baker Park. Alton Baker also offers a piece of heaven for bicyclists, canoeists, family picnickers, Frisbee throwers, bird watchers and fisherman. There is an enclosed dog park at Alton along with Amazon. Hayward field is also open to jogging when not in use for track and field.

| | | |
| --- | --- | --- |
| | | |
| Hayward Field | Pre's Memorial Rock | Oregon Duck Football |
THE WINE COUNTRY
Eugene is a mecca for indoor and outdoor wine excursions. A dozen plus vineyards surround Eugene and the city is home to several tasting rooms, including LaVelle's at Fifth Street Market in downtown. Sundance Cellars on Alder Street is a great place to go for tastings every Friday and Saturday evenings from 5 to 7.
A drive outside Eugene into the wine country is reminiscent of some of France, Italy and Germany's wine country. The Lorane Highway drive is a must with stops at King's Estates, Chateau Lorane, Sweet Cheeks, Hinman and Iris Hill (by appointment). June is a good month with their summer barrel tours. Information is available at: www.wineriesoflanecounty.com.
Though not known for wine, Max's Tavern along 13th street is a favorite local watering hole for beer, pickled eggs with a fiery attitude, pool and philosophic conversation. It is the tavern of note in the television series The Simpsons.

| | | | |
| --- | --- | --- | --- |
| | | | |
| Chateau Lorane Wine | | Kings Estate Vineyard | Max's Tavern |
THE NEARBY OUTDOORS
Within a short driving distance from Eugene is abundant scenery and recreation. Fern Ridge Reservoir has noted sailing, fishing and bird watching. McKenzie River is world renown for fly fishing (twodudesflyfishing@yahoo.com or 541-349-9519) and is not too scabby for kayaking, canoeing and rafting (1-800-820-7238 and www.oregonriversports.com ). Aufderheide Drive is one of the McKenzie's three Scenic Byways and in my book, one of the finest backcountry drives in America (541-896-3330). Nineteen of Oregon's 56 covered bridges are in Lane County. A summer drive can lead a traveler to adventure at Oregon Skyway near Odell Lake which hosts Oregon's fastest gondola/chairlift. It moonlights as Willamette Pass Ski Area in the winter www.willamettepass.com).

| | | |
| --- | --- | --- |
| | | |
| Goodpasture Covered Bridge | Fishing the McKenzie | Fern Ridge Sailing |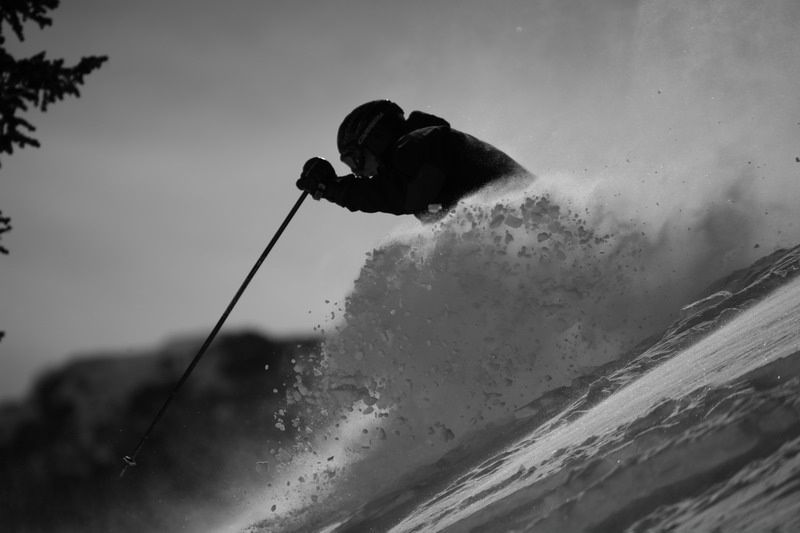 Skiing Willamette Pass
Eugene: The world's Greatest City of Arts and Outdoors. Hum, they might be right!

IMPORTANT INFORMATION: Convention and Visitors Association of Lane County 1-800-547-5445, www.VisitLaneCounty.org
Prints may be purchased by contacting Larry at Skiturn789@yahoo.com.